Many saints are housed within the Catholic religion, and some are pretty popular: Saint Francis of Assisi, Saint Valentine, and Saint Michael the Archangel are a few of the most renowned. But there's no actual Saint Alfred. "We used to have a joke in the early days of the shop that Saint Alfred was like the patron saint of soles," Saint Alfred manager David Robinson says with a smile.
The Chicago shop first opened its doors in August 2005, created by the same people behind the shoe store KICKS/HI. Back then, the shop was much smaller and only stocked a few items, but it has steadily grown over the years, now selling more than 30 brands. From its inception, Saint Alfred has collaborated with all the top sneaker companies, including Converse, Reebok, Asics, and New Balance; the lifestyle shop has become one of the most respected in the country.
Robinson was brought on board a few years after the shop opened, first doing a little photography for the store. He soon became a regular employee and was promoted when one of the managers stepped away. Now, he, along with general manager Frank DiGiovanni and brand manager Joe Shaefer are, "the three-headed monster that pretty much run the shop," Robinson says. All three are from Chicago and the city's surrounding suburbs; all three wear different hats, sharing the workload.
And indeed, it is Chicago over everything.
"Above all, what we try to do is two main things: We try to make [our in-house line] clean, very timeless," Robinson explains. "And everything is an homage to Chicago. We have been fortunate that this city has embraced the shop; this city, at this point, has become synonymous with the shop. So we try to do everything, at first have it resonate here, resonate in Chicago. [Then, have] it resonate elsewhere, on a nationwide, as well as a global scale."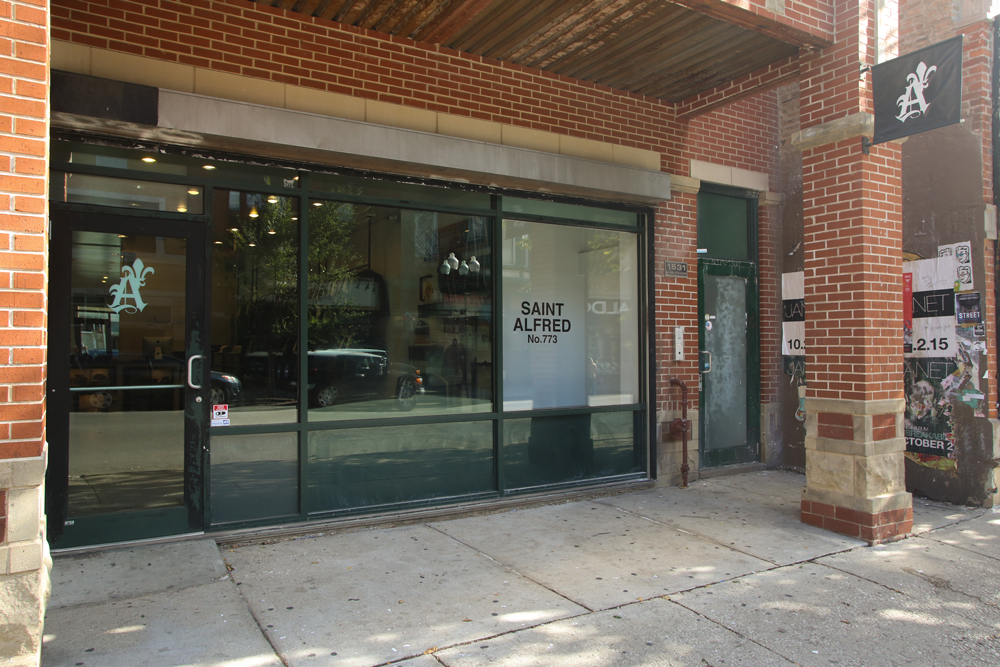 In the past, Saint Alfred has created clothing lines that are pay tribute to the city's sports players, like St. Michael and St. Payton. They've done Chicago Bulls-centric designs, and their collab with Asics was directly inspired by a running path along a nearby lakefront near Lake Shore Drive. At its core, Saint Alfred revolves around Chicago, illuminating its pleasant qualities. But the one unfavorable slant that hangs over Chicago, often overshadowing anything positive about the city, is its violence.
According to the economics site Fivethirtyeight, Chicago is the most segregated city in America. Though the city is rich in diversity—it is an immigrant city, and was a beneficiary of the Great Migration—its neighborhoods aren't, which means neighborhoods are racially segregated. The city unfairly earned the moniker Chiraq in 2014, a term the media has since ran with. Most recently, director Spike Lee has thrown in his two cents: This week, his movie Chi-Raq debuts in theaters, a comedy where black women in Chicago conclude that the only way to end the city's violence is by withholding sex—a truly odd spin on the meaning of Chiraq.
By concentrating on Chicago's positives and openly discussing the negatives, Saint Alfred's stance is to fight any violent portrayals of Chicago head-on. "The issue I have with a lot of people that discuss the city is like they blanket it. 'Oh, the west side's bad, the south side's bad.' That's not true. You gotta take the time. It's just like how there are people and individuals in neighborhoods that want to strive for better things for themselves—it's the same deal in those areas. You can't blanket it, like, 'Oh, this is bad, I'm not going to go there.' The city is a mirror, if you come open, if you come respectful, it [will be] a really polite city… You can't necessarily believe all the hype that the media may speak on," Robinson says, highlighting the discrepancy between neighborhoods, but the continuous fight for equity across all of Chicago.
Saint Alfred, and other Chicago-based stores like Fat Tiger, Leaders, RSVP, and Jugrnaut, are proof that fashion can unite a city in the face of adversity; Chicago's music scene, highly active since 2012, is proof that music can unite a city in the face of diversity. "Definitely due to artists like Kanye West, Common, Lupe, Crucial Conflict, to now, we got Vic [Mensa], Save Money crew, Mick Jenkins, Thelonious Martin—people are looking at the city that much more and taking various cues."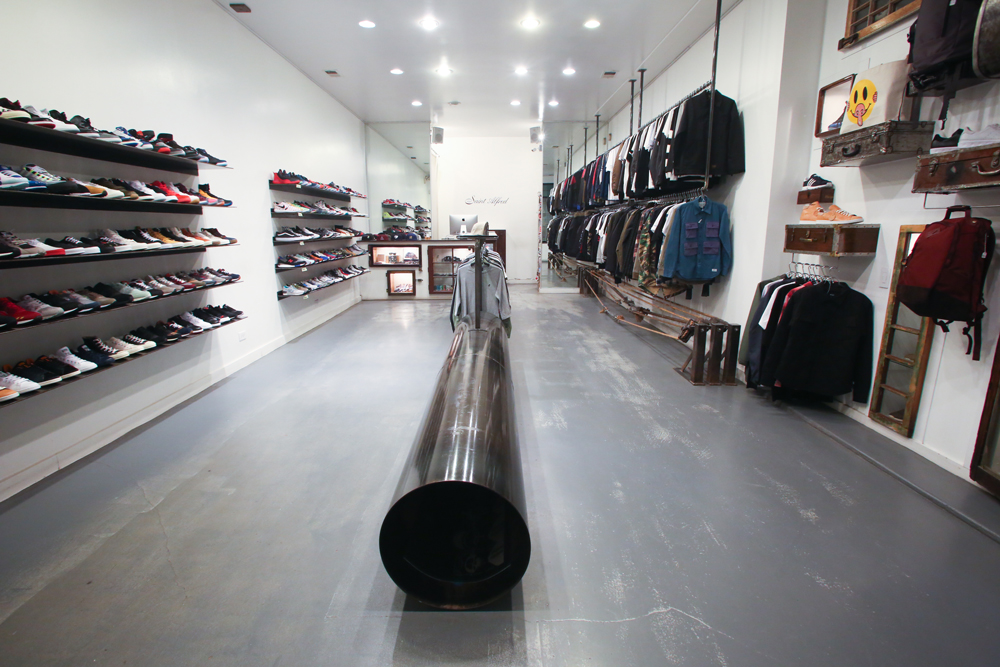 Though many in Chicago feel like the city is overlooked for New York or Los Angeles, what's happening in Chicago's creative community is bigger than that. Chicago has a lot of different camps, and for Robinson, it's as simple as drawing maps and writing lists: Encouraging customers to explore the city and visit other neighborhoods besides Saint Alfred's Wicker Park location.
"I don't like and I don't want St. Alfred to be the only store, or for there only to be a handful of stores. It's only for the betterment of the city. I feel like the pie is big enough for everybody to eat [from]." The eyes that have turned to Chicago—for its music, its art, its fashion—are uplifting the city, giving it confidence, and allowing Chicago to band together. By taking the time to map out Chicago, Robinson and the Saint Alfred staff are bridging the neighborhoods, which helps the city grow, and helps unite the deep racial segregation the city endures.
What's particularly special about Chicago fashion is that the city takes elements from other cities and incorporates them into their own look. Don C, for instance, put on early for Chicago. He was the first to capitalize on the customized buck fifties, what he dubbed "Just Don" hats, a baseball cap that's characterized by faux python detailing and was a favorite for Chicago drug dealers in the 1980s. The hats became a small streetwear subculture, and Don C would personally make them for Kanye—whom he consults with—and for friends like Jay Z and Big Sean. The Just Don hats popped on both national and international scales, throwing some shine on Chicago, almost around the same time that Chief Keef and the Chicago music scene really started bubbling.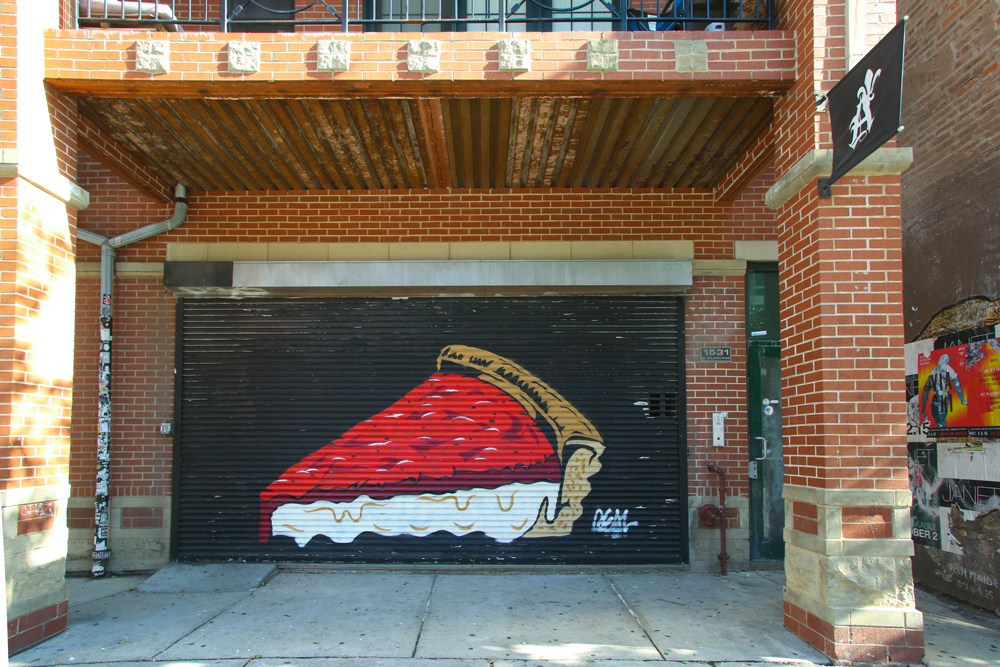 Now, guys like Robinson, Fat Tiger's Joe Freshgoods, Vic Lloyd and Terrell Jones, and Leaders' Corey Gilkey, among others, are building off the foundation Don C laid, taking fashion cues from the city but developing it towards something different—towards something that can sustain the city and finally shed some positive light. It can be seen in their collabs with national companies, like Nike, or with local collectives, like the Treated Crew.
"That sort of aspect, artistically, creatively, musically, fashion-wise, it all ties into one big gumbo," Robinson comments, "and I'm happy that people are finally checking for us, checking for Chicago and what we're doing, how we do our own thing. How we free our own sort of expression."
***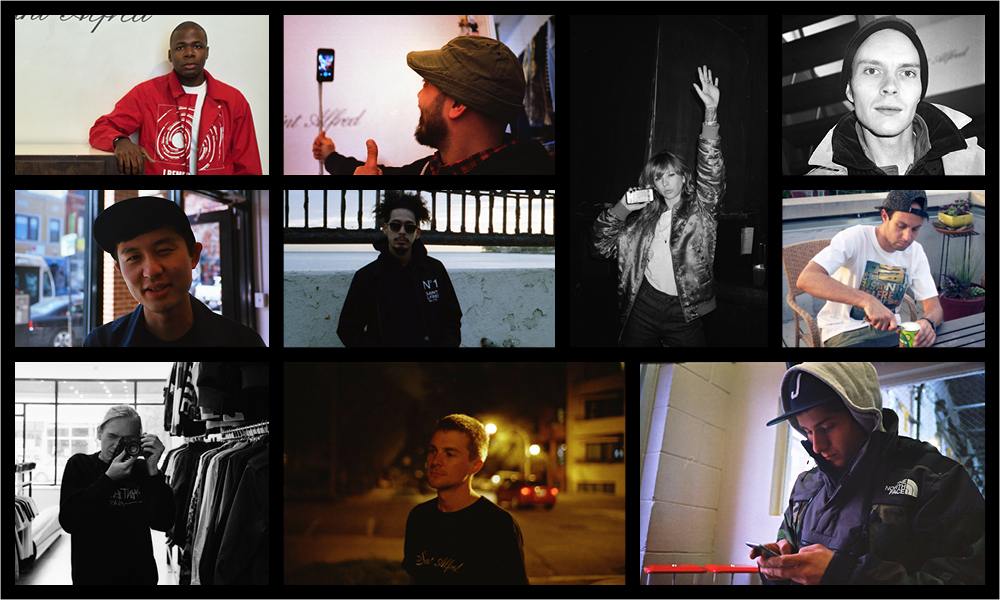 THE SAINT ALFRED STAFF. Photos by Sam Schmieg.