Aziz Ansari showcases his best work yet, tackling the themes of our hyper-connected generation from family to love to feminism and beyond.
With the overload of shows available to us on Netflix, Hulu, HBO GO, and even PornHub (if you want to take it there), it's very hard for a fledgling show to break through the noise of our overly-saturated online world. However, it's a little easier to take a piece of the mindshare when you already have a few blockbuster movies under your belt, and an instantly recognizable TV character on a major network. So it wasn't hard for Aziz Ansari aka Tom Haverford aka Raaaaaandy aka the random Indian dude in the Otis video, to get our attention. That being said, anyone who is a fan of Ansari's work can safely say Master of None is his biggest departure yet from the hyperactive, over the top personality he so often portrays in all of his roles—and it certainly is his best.
The show follows Ansari's character, Dev, a 30 something actor living in modern-day New York dealing with the everyday delights and struggles of family, relationships, and friends. It's a perfect blend of Louie and Seinfeld, with stylistic nods to Woody Allen circa Annie Hall and Manhattan. His semi-autobiographical character is perhaps the real man behind the rambunctious comedian we see in his TV and film roles: a deeply thoughtful, empathetic, and poignant person. Ansari and co-creator Alan Yang (a writer on Parks & Recreation) essentially created a show that is a social commentary of our modern world. Each episode tackles a different theme within that narrative—from relationships, to parents, to sexism, racism, hyper-connectivity, and more. And it does so in an uncomfortably honest and intelligently-nuanced fashion. I found myself watching the "Parents" and "Finale" episodes, feeling oddly unsettled but simultaneously inspired and introspective. It's been a long time since a TV show has been able to make me feel that way.
It's not laugh out loud funny, but it makes up for that in its stylistic approach, diverse cast, uncomfortable topics, and some incredible one-liners. You can see that MON is a culmination of a series of efforts Ansari has been making in the past few years—from his latest Comedy Special at Madison Square Garden to his book Modern Romance, co-authored by NYU sociologist Eric Klinenberg. While those concepts were hard to deliver in a book or a stand-up gig, the show successfully dives into the topics without being self-indulgent or preachy.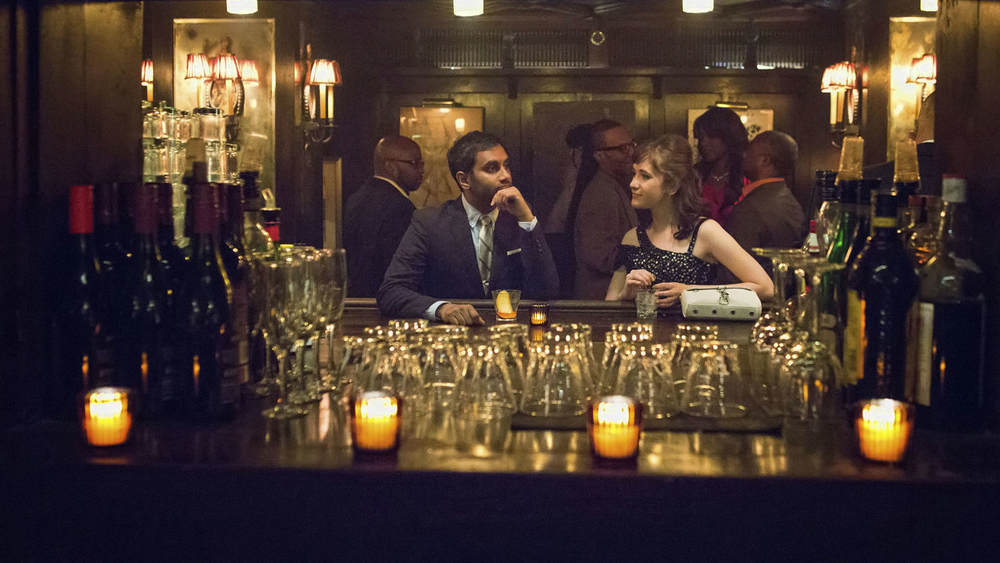 Perhaps the best episode of the 10-episode season is "Parents," which stars Ansari's actual parents, who took time off from work to be a part of the show. Although it sounds like a risky move, it works perfectly at pulling your heartstrings in all types of directions. The episode starts off with Dev and his Asian-American friend Brian sitting with their dads, who both request their sons to do the least time consuming tasks for them—in Dev's case, setting up his dad's iPad. Both sons quickly say no so they can rush to the movies to catch the trailers. It then hilariously zooms into their dads' eyes, bringing us to a flashback of each of them emigrating from India and Taiwan respectively, struggling day in and day out until they finally bring their sons into the world—a clear triumph for them. It's shockingly honest and makes you want to pick up the phone to call your parents right away. This is an art the show masters in each of its episodes: making you talk about the uncomfortable topics that we think about, but don't necessarily talk about out loud. And it does this with carefully constructed montages, a brilliant soundtrack, semi-autobiographical characters, and highly realistic scenarios (unlike Louie, where surrealism is often used to bring home the message).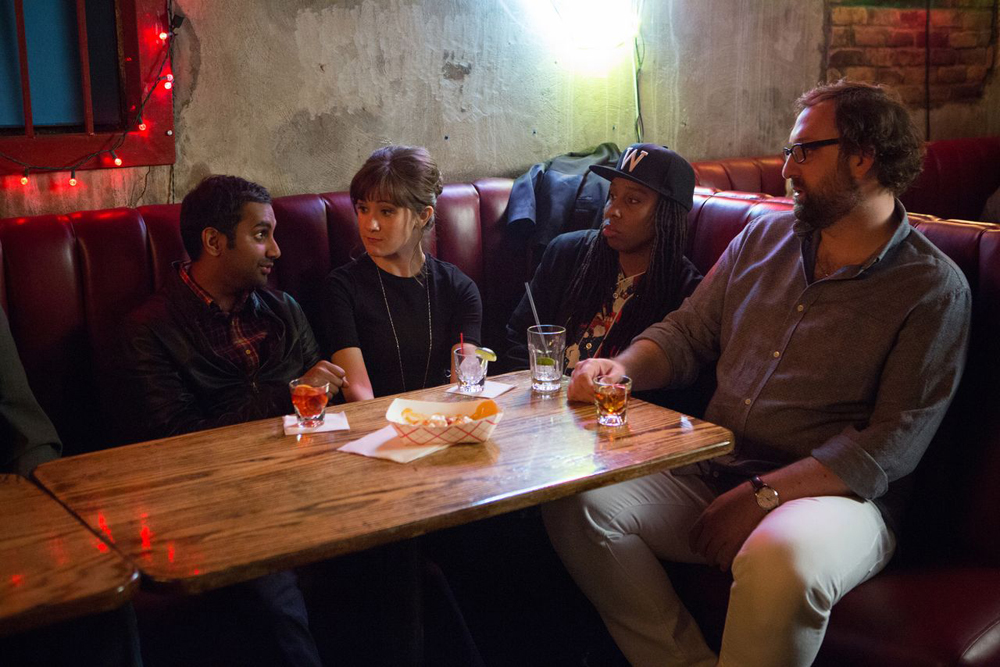 Photo: theverge.com
It's hard to pick a favorite episode, however. The montage of Ansari frantically Yelping for the best taco place in New York is all too telling of the biggest problem our generation grapples with: the paradox of choice—a concept by psychologist Barry Schwartz that argues that more choices causes us greater anxiety. Ansari's character, Dev, and his girlfriend grapple with indecisiveness too, trying to decide what move to make next in their lives. Dev is frequently shown sitting around at a table with friends on his smartphone, dictating the conversation around the device.
In the final episode, Dev and his girlfriend attend a wedding. While Dev is watching the couple exchange vows, it breaks into a heartbreaking, but hilarious hypothetical scene of him and his girlfriend also exchanging vows, essentially telling each other that they are completely unsure if they want to marry each other, yet saying "I do" because it just seems to make sense at the moment. Another allusion to our generations indecisiveness—not only can we not decide where to eat tacos, but we can't decide if we want to stay with the person we're with because, heck, there might be something better out there. This comments on perhaps the biggest theme of the show—hyper-connectivity. Each episode takes a nuanced approach to exposing the plights of our millennial generation.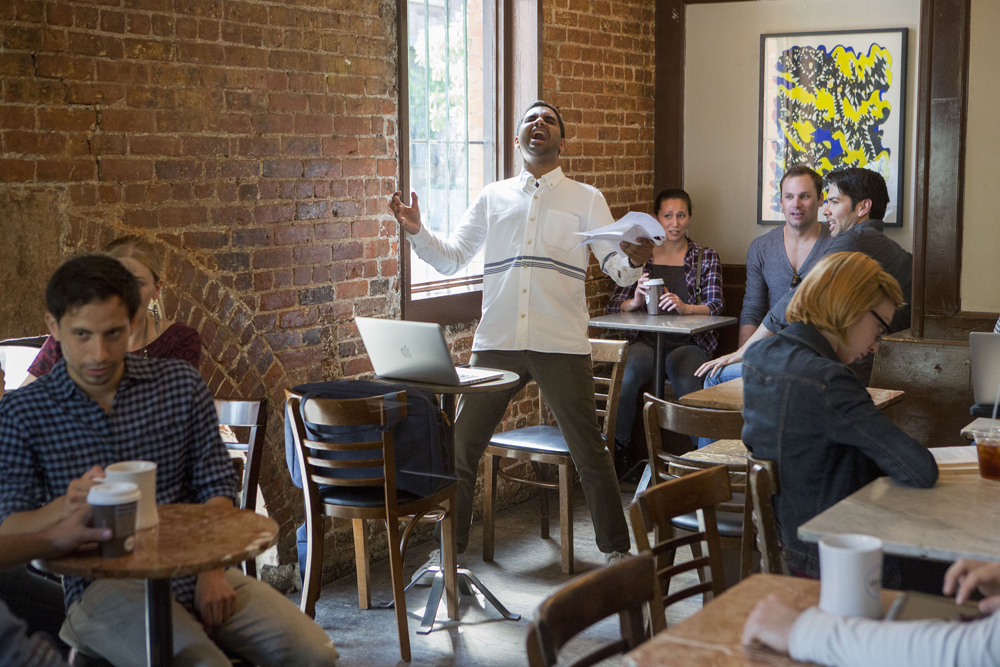 Photo: theverge.com
Unlike Narcos or Jessica Jones, you can just throw on any episode and feel as though you've watched a full body of work. It tackles heavy topics in a clever, nuanced, and artistic way, while still remaining light-hearted. So when you're scrolling through 75 different options no Netflix tonight trying to decide if you should watch the new episode of Orange Is the New Black or House of Cards, I would say Master of None is your best bet.
***