Much in the same way that a painter or visual artist looks at a blank canvas and can imagine a multitude of different possibilities, the same can be said in a fashion context for the plain, white T-shirt, which has launched thousands of brands and subsequently bankrupted hundreds more.
While there's no tried-and-true method for emerging from nothing and becoming something, most people agree that you have to start fresh. Although a brand like Mitchell & Ness was catapulted onto the national stage by making something old, new again, that is the exception and not the rule.
For a certain generation, this blank T-shirt was of the Hanes variety and probably reminds you of your father or uncle who would wear them so often that the cotton ended up feeling like silk and the area around the armpits turned the color of Mountain Dew.
But in a contemporary context, the reigning champion is Gildan.

Unlike other manufacturing juggernauts, the Montreal-based brand is still in its relative infancy after being founded in 1984 by the Chamandy family and then subsequently controlled by brothers Glenn and Greg.
The fourth-generation siblings of Lebanese and Canadian descent inherited the would-be empire from their grandfather who had focused his attention on the children's sector and found trouble increasing sales after the NAFTA agreement—which was championed by then President George Bush and signed into law by President Bill Clinton—which eliminated most tariffs on products traded amongst Canada, Mexico and the United States.
Instead of looking to completely reinvent their model, the brothers opted instead for a much more reasonable and forward thinking approach: what items transcend trends and are recession proof?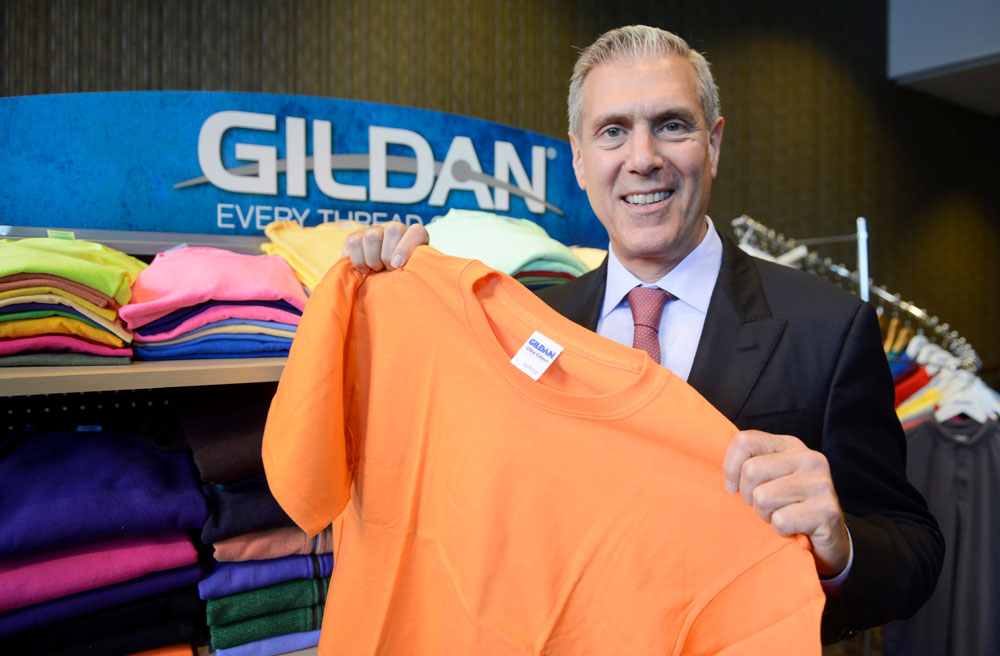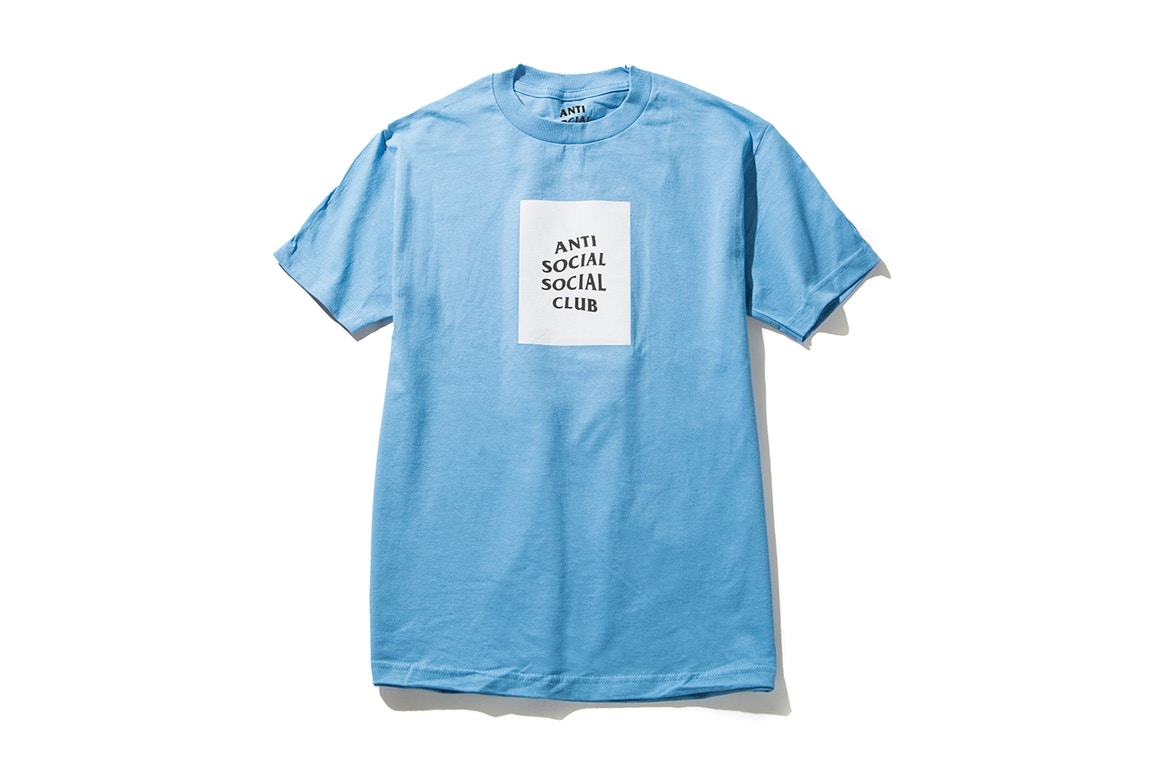 The Chamandy's answer was T-shirts and sweatshirts, which continue to be staples that could just as easily be utilized by a long-haul truck driver as it could be by a person looking to build a streetwear brand.
"We knew that by starting from scratch we could make a better product for less," Greg told Forbes. "We didn't have the built-in disadvantages of an entrenched company. We don't try to be all things to all people. We wanted to only produce where we knew we could be the low-cost producer."
Gildan has a monopoly on the business of blanks. Their revenue for 2016? $2.59 billion USD.
In the first year of this new strategy, sales hit $34 million USD. In the next four years, sales increased by half each year. This upswing in success was buoyed both by the new game plan, and shifting manufacturing from Canada to places where costs could be considerably lower like in Honduras, Nicaragua, Haiti and Mexico.
"This is all about cost of supply," said Marshal Cohen, NPD Group's chief industry analyst for retail. "They could lose a multimillion-dollar deal just for a nickel [per T-shirt]. They had to be the people who were building the product at the lowest-cost supplier."
According to Fast Company, "Gildan chose to take a decentralized manufacturing strategy, rather than pursuing the more obvious path of making all of its products in China."
The happy byproduct of forgoing cheap labor in China was that by having factories close to the U.S., it meant it could fulfill orders quicker than their counterparts—thus leading to Gildan getting a stranglehold on the market just as would-be entrepreneurs were considering launching their own fashion ventures.
Whether they had soothsayer qualities is still unanswered, but the brothers did seem to grasp the idea that they were providing a solid blueprint and encouraging other brands to build their own castle.
Most streetwear brands that have come along in the new millennium have relied on one of three companies to provide a blank T-shirt.
The first, Comfort Colors, was headquartered in Northfield, Vermont and had dyeing, packaging, and distribution operations in facilities there and in New Bedford, Massachusetts. Gildan executives saw a synergy between what they were doing, and what Comfort Colors was achieving by perfecting methods that made T-shirts look "broken in" and "vintage."

Comfort Colors swatches
In 2014, Comfort Colors generated net sales of approximately $95 million USD. However, $40 million dollars of that money went directly to Gildan and proved to the latter company that they were actually strengthening their own competition.
In turn, Gildan acquired the brand—which they indicated was the leading supplier of garment-dyed undecorated basic T-shirts and sweatshirts for the North American printwear market—for $100 million USD.
"They take these shirts and put them into a dye machine and convert them into a color," Glenn Chamandy said. "But it's more of a weathered look like pigment dye... which is very, very strong today with the colleges, college bookstores, resort shops."
If the shoe was perhaps on the other foot, Comfort Colors may have looked to acquire Gildan. But Gildan was still the more financially viable company despite a net profit that quarter of $390.6 million USD—down 13.5 percent compared to the $451.4 million the year prior.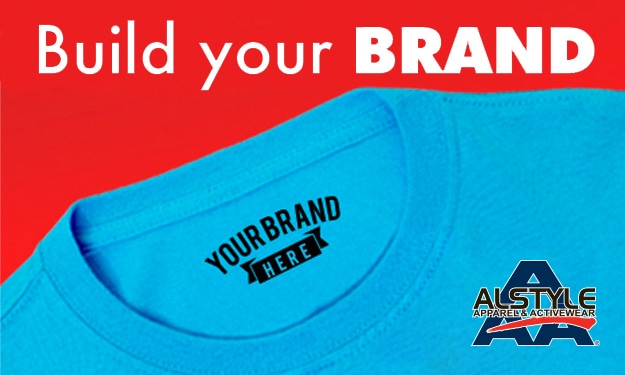 Alstyle encourages brand-builders to use their blank T-shirts
Alstyle was another prominent maker of blank T-shirts. A subsidiary of Ennis Inc., the company was cut from a similar cloth as Gildan and relied on a decentralized production model with factories in the United States—specifically in the Western portion—Canada, and Mexico. Upon its acquisition, Ennis noted that the California-based company doubled the size of the company to more than $500 million USD in revenue.
In 2016, the company registered income of $183 million dollars before taxes.
Gildan opted to purchase Alstyle that same year for $110 million USD. Marketwatch noted, "the acquisition will allow Gildan to enhance its competitive positioning in the Mexican printwear and retail markets. Further, manufacturing operations in Mexico will allow Gildan to take advantage of preferential trade agreements which provide duty-free access to markets in South America."
A year later, Gildan announced its acquisition of American Apparel for $88 million USD—although that price had little to do with the physical infrastructure the brand had created through the United States—and was aimed more at increasing their printwear channels.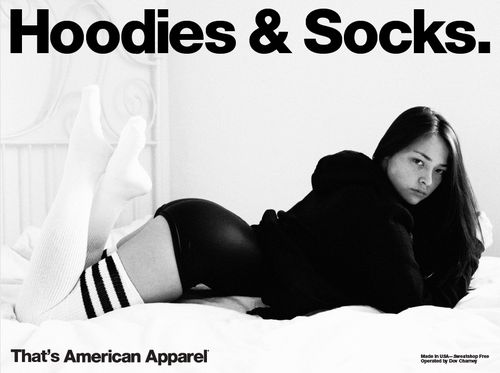 An American Apparel advertisement.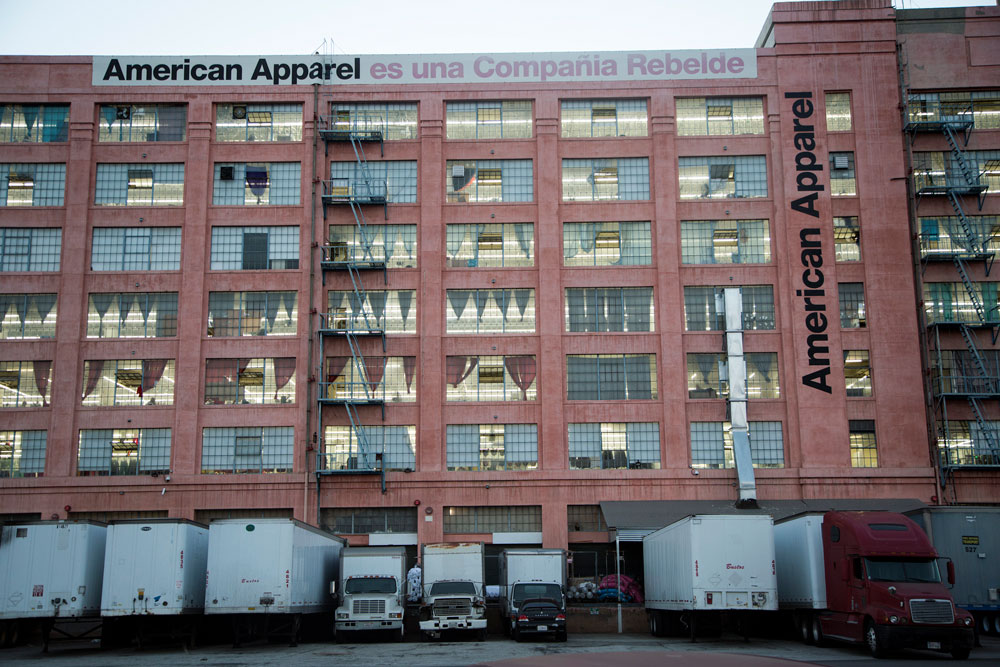 "We see strong potential to grow American Apparel sales," Glenn Chamandy said in a statement. There is potential "to drive further market share penetration in the fashion basics segment" both in North America and internationally.
At the time, the Gildan empire had grown to a global workforce of 48,000 employees—with 90% of its 42,000 employees in low-cost Caribbean and Central American countries.
With the acquisition, Gildan now had the potential to market both as low cost via its Comfort Colors and Alstyle imprints, and "Made in America" for those wanting a more ethical and patriotic garment.
"[The basic tee] functions like a screen on which we project our current cultural preoccupations." –Vogue
Essentially, Gildan has a monopoly on the business of blanks. Their revenue for 2016 reflected just that: $2.59 billion USD.
As streetwear once again enters a new phase where brands explore direct-to-consumer routes as accounts shrivel up and die due to a number of factors, this pivot also coincides with the rise of the celebrity-aided "pop up shop."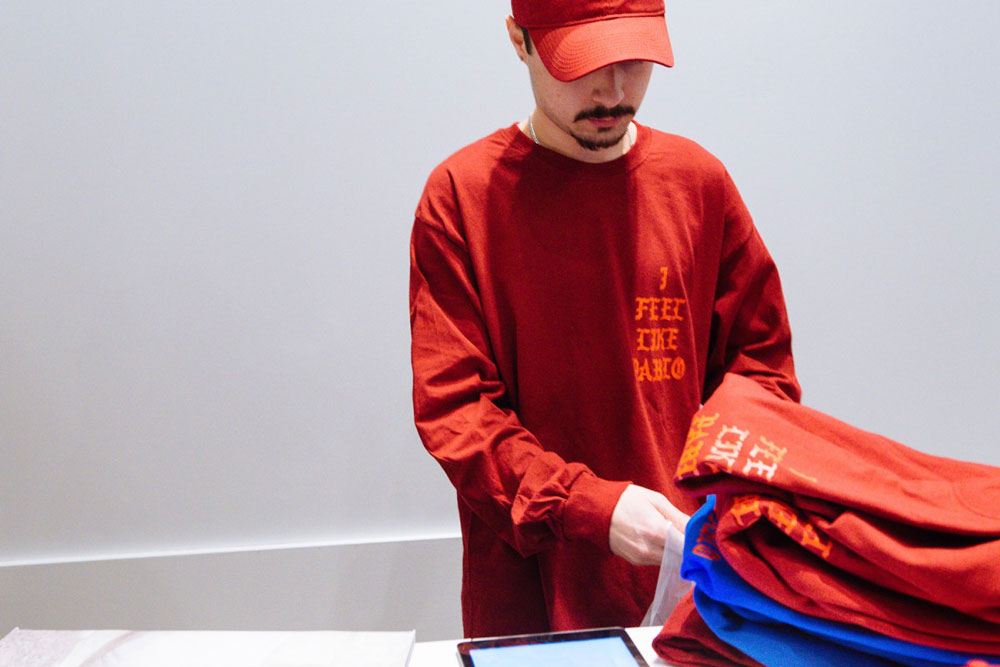 Not surprisingly, Gildan figured prominently in most of these endeavors—highlighted by Kanye West's Life of Pablo where $1.50-$4.00 USD blanks—if bought in bulk and wholesale—were retailing for $55 USD.
Buyers found similar markups when Justin Bieber presented his Purpose Tour merchandise at Urban Outfitters. But these impromptu and spliced together merchandise experiences by celebrities weren't the only examples of Gildan's emergence in "hype" culture. Brands like Anti Social Social Club, VLONE, and Fear of God have found themselves the target of Internet hate for allegedly producing T-shirts by Gildan—when in many cases this is the only viable outlet to receive blanks these days.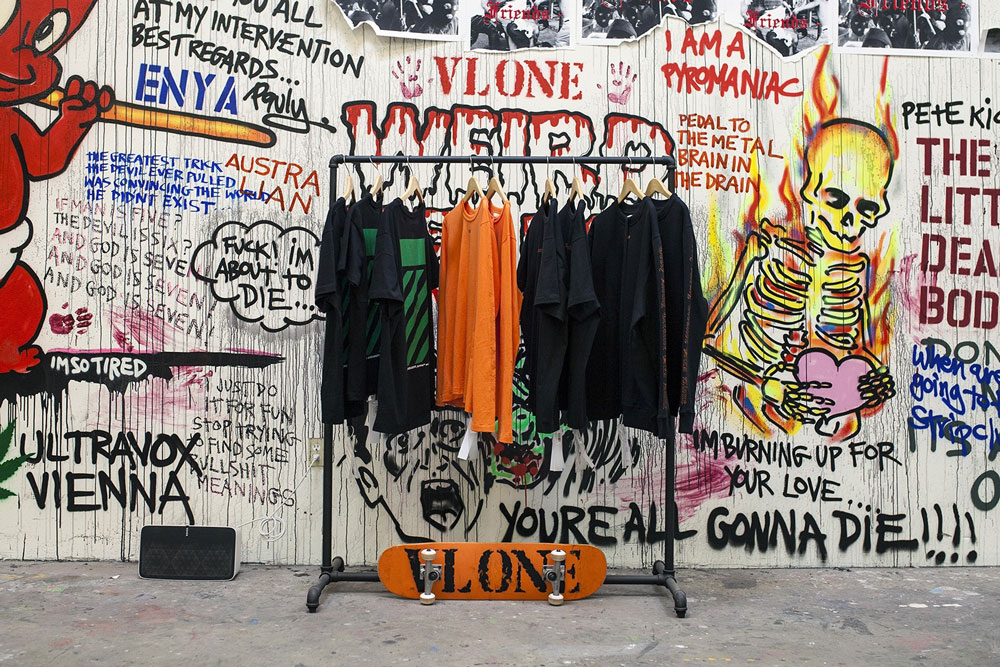 Many brands find themselves having to quantify why certain pieces cost certain prices. But the very nature of commerce dictates that they are going to charge what they think they can get for an item.
Even as hype builds, the tools and materials don't necessarily have to change from a manufacturing standpoint. Whether it's Kanye West's $120 USD A.P.C. T-shirt, Rick Owens' $255 version, or a $215 USD Margiela piece, each is manufactured in a country where labor costs are low and boasts 100 percent cotton construction—the same aesthetics of Gildan products.
That's the irony. Whether it's streetwear or high fashion, it's essentially the same product when it comes to T-shirts. The only difference is couture houses can rely on century's worth of prestige and a streetwear brand has to literally grab your attention and usually has limited resources as it grows. That's what makes Gildan so attractive to upstarts, and why luxury brands can sell people on quality over the transformative property of their designs.
As Vogue so succinctly put it, "The basic tee, after all, is the simplest, easiest piece of clothing imaginable—its blank-page quality functions like a screen on which we project our current cultural preoccupations."
It seems our latest preoccupation isn't what our clothes say about us, but what our clothes really say about who is the current "King of Streetwear"—Gildan.
***
For further reading, check out "When You Sell, Are You a Sell Out? :: The Politics of Selling Out" by Alec Banks.
For two different perspectives on manufacturing and branding, check out "The Man. The Myth. Mossimo." and "Meet Your Maker: The Alyasha Owerka-Moore Story," both by Bobby Hundreds.