How much does it cost to feel like Pablo? For the thousands of fans at the 21 pop-up shops Kanye West opened worldwide last weekend, this meant racked credit debt, hours of practicing patience, and most likely a dead cellphone battery. Some shelled out hundreds of dollars, piece amounts ranging from $45 for a hat, $55 for a T-shirt, to $350 for a bomber jacket—all exclusive merchandise inspired by Ye's recent The Life Of Pablo album as well as customized designs for the cities hosting them. For these same attendees, it meant patiently waiting in a line that wrapped around city blocks to enter the shop—with reports of the wait being up to 9 hours long—while others camped the night before opening. Coinciding on the same weekend, Frank Ocean dropped his long-awaited and highly anticipated studio album, Blond(e), by first impromptu scheduling "Boys Don't Cry" pop-up shops in four cities last Saturday. At these pop-ups, a free 350-page zine was given out that included a physical copy of the album. It's now reportedly being flipped and sold on eBay for $1000 dollars. And other artists—Justin Bieber, Drake, and Beyonce, to name a few—have already been aligning pop-up shops and tour merchandise to go hand-in-hand with their concert tours and album releases.
One copy of the book per person. For free. Frank Ocean's Boys Don't Cry Pop Up pic.twitter.com/xnyP7V8lkL

— Big Chai (@dharmicX) August 20, 2016
It's not just a trend. Innovating with tour merch has become part of a musician's business model—a new means to fight against shrinking music sales caused by streaming platforms and illegal downloads. With album sales dropping by 13.6% in the first half of 2016 (making it the "worst year of album sales" according to Spin Magazine), the biggest payout a musician can expect today is revenue from live concert productions and revenue from merchandise sales. Album or tour-focused merch has assisted in the longevity of their projects, building strong and memorable associations between artist-to-album or tour titles like Justin Bieber's Purpose world tour, Drake's Views, Beyonce's Lemonade, and Kanye's The Life of Pablo. Some of these very titles have crossed one million dollar unit sales. Fans and listeners waited in anticipation as OVO and Views-related merch surfaced months before the drop and a surprise pop-up shop opened a week before the album officially released. With 2.6 million album units sold, Drake's Views is this year's most successful album yet. At the end of the day, how many thousands of streamed plays will equal a $60 T-shirt transaction?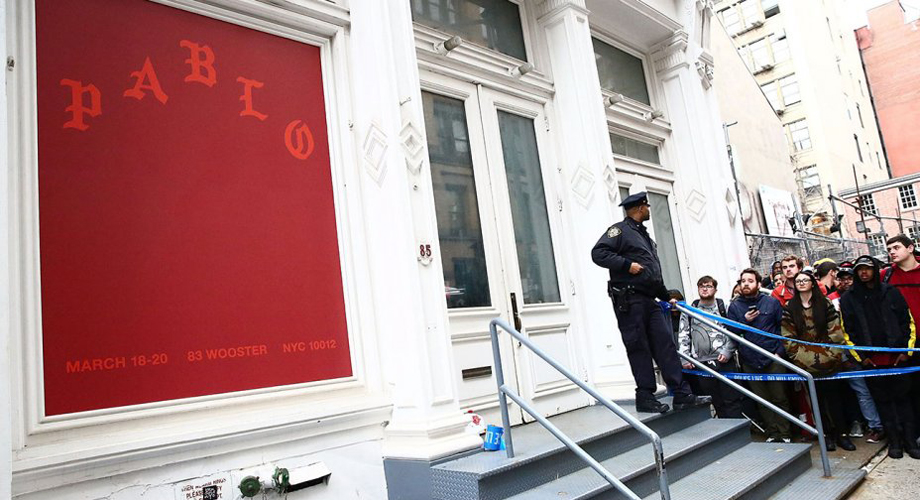 ASTRID STAWIARZ/GETTY IMAGES
While a price can be capped for its limited supply, there's room for larger price margins to romanticize an exclusive product that involves a piece of time and culture. Justin Bieber connected with fast fashion retailer Urban Outfitters to sell "Purpose" merchandise that ranges from $35 to $89, concept streetwear boutique VFiles for pieces ranging from $30-$360, and took exclusivity a step further by collaborating with high end retailer Barneys that included a leather jacket selling at $1,695. In his TED talk, "The Origins of Pleasure," Paul Bloom explains that expensive, luxurious products and exclusive events are experienced in a heightened way, and has been proved to give us pleasure. How much we are willing to consume and pay for culture? Are we buying the experience and solidifying memories through tour merch, or have we fallen victim to being monetized in exchange for social clout?
ASTRID STAWIARZ/GETTY IMAGES
Shopping for tour merch has become a reactive,  multimedia experience for fans, heightening the future concert they plan to attend or serving as a trendy substitution to a sold out tour. These experiences are further elevated when shared on social media platforms, placing tangibility on emotions of excitement and hype by giving real-time proof of being present in line, at a pop-up, or in concert. In that sense, Instagram, Snapchat, and Twitter have transformed how we experience moments and why we purchase products. We are in an era of the experience economy—a concept that memory of the experience itself becomes the product. Our sharing builds hype and trends that in turn generate cult-like actions from listening, buying, or sharing an album, copping tickets to a concert, attending a pop-up, and purchasing merch. While people may be more encouraged to attend pop-up shops to tap into an exclusive and fleeting experience to stunt attendance and share on social media, purchasing merchandise or a "souvenir" becomes lasting, tangible proof that you were there.
Revealed that the TLOP pop-up shops were selling T-shirts with Gildan tags still attached, fans were not only still willing to pay for a piece of pop culture history, but for its perceived authenticity. While there has been countless imitations of artist Cali DeWitt's Nemek Gothic style and plays on Kanye West lyrics on clothing since TLOP was released, the hype of the moment—the experience—is authentic. When a consumer is devoted to that experience, they will purchase the product regardless of the expense.
Kanye made you pay £50 for a Gildan Tee, that's robbery. pic.twitter.com/7CbzqfFDzP

— c (@CLINT419) August 19, 2016
Tour merchandise is arguably now a new branch of streetwear—our generation's version of sneakerhead lines, circa late '90s to mid-2000s. While those releases have evolved into online lottery systems, pop-up shops and tour merchandise have resurrected the hypebeast, the camps and lines, and the meaning of "limited" to "exclusive." Artists these days collaborate with designers like Fear of God's Jerry Lorenzo. The current inspiration for this market is luxury streetwear, high-end athleisure styles that are inspired from cuts by Vetements or design signifiers with a repurposed attitude. It's this type of high end streetwear that wouldn't usually be affordable that make new accessibility even more appealing. A direct reflection of the trends in streetwear fashion and the culture surrounding it, tour merch has become symbolism of an ultimate membership club not only supporting music but a new cultural lifestyle of branding that paints millennial culture today—music, marketing, art, fashion, celebrities, and social media. Each product represents this, and this generation seeks to find identity within collectives.
In 2016, pop-up shops and tour merchandise have become a treasure hunt for a myriad of exclusive experiences, uniformed with stylish merchandise, and hyped to value by social media. Even artists like iLoveMakonnen are getting in on the trend–even if they don't have as established of a fanbase as a Drake or Justin Bieber. His scheduled pop-up shop is selling items at $100 a pop, but with one catch–cash only.
***