When Takashi Murakami first came to New York in the '80s, he was unsure of his place in the contemporary art world. His insecurity was fueled from memories growing up in post-WWII Japan, a time when Japan's future was lodged in uncertainty from the ongoing terror of nuclear destruction. He marveled at artists such as Anselm Kiefer who explored themes of nationalism, Julian Schnabel who experimented with materials, and picked up visual cues from Basquiat and Koons, who used American pop cultural imagery as a platform for commentary.
Three decades later, we see an evolved artist: an artist known for equally his fine art as well as commercial output who's been called our modern-day Warhol as he works with hundreds of assistants at his Kaikai Kiki studio "factory." His art gets reworked and commercialized as products from luxury houses to streetwear brands (he even has breath mint candies). With a mix of his training in Japanese traditional painting techniques like Nihonga, paired with a contemporary, anime approach, Takashi's larger than life paintings, sculptures, commercial collaborations, and tchotchkes have established him as a celebrity artist that toys with the idea of being a corporate entity. This blurring of boundaries between art and commerce is a part of his signature style and art theory, Superflat.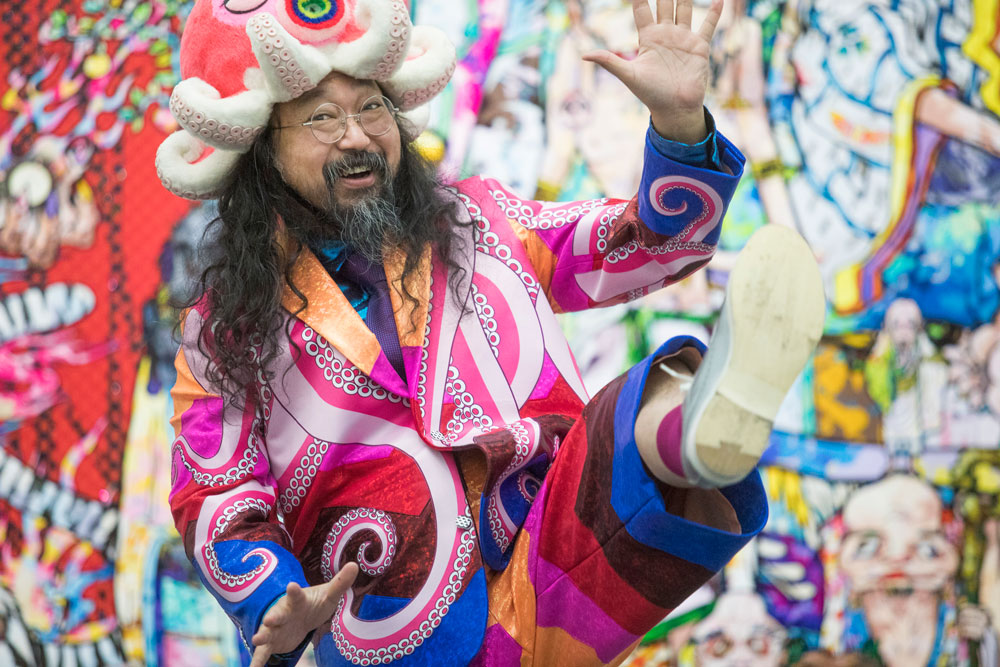 Takashi Murakami, Photo: Maria Ponce Berre
At the Museum of Contemporary Art Chicago early last month, Murakami gave a Q&A dressed in colorful satin garb topped with an octopus plush hat that matched his current exhibition title: "Takashi Murakami: The Octopus Eats His Own Leg." The museum's Chief Curator, Michael Darling, said that "one can better appreciate the masterful orchestration of contradictory concepts and impulses that makes [Murakami] such a potent commentator on our contemporary global condition." During his practice, Murakami has been able to blend together an interpretation of how Japan and the United States consume art—fusing Japan's postwar otaku subculture, and mixing it with the rich American legacy that ties art with status and affluence.
The show is the artist's most highly anticipated retrospective yet, showcasing over fifty works from the last three decades of Murakami's career, ranging from his earliest, humble paintings to his most recent and never-seen-before pieces. "The Octopus Eats Its Own Leg" runs from June 3rd to September 24th and unveils his development, studio processes, and consistent exploration between Eastern and Western values.
While he's become widely-recognized for his commercial output, his interest in the power of branding and global reach was steadily built through each collaboration that aimed at a different audience or created high-to-low products and low-to-high art. Each creative partnership paved way for larger reach, making Murakami increasingly relevant by inching him towards becoming a recognized household name, much like a corporate entity. At every turn he's enticed audiences to consume his art—whether it be through admiring luxury pieces, owning a Graduation CD, or collecting his art as a new, untraditional experience.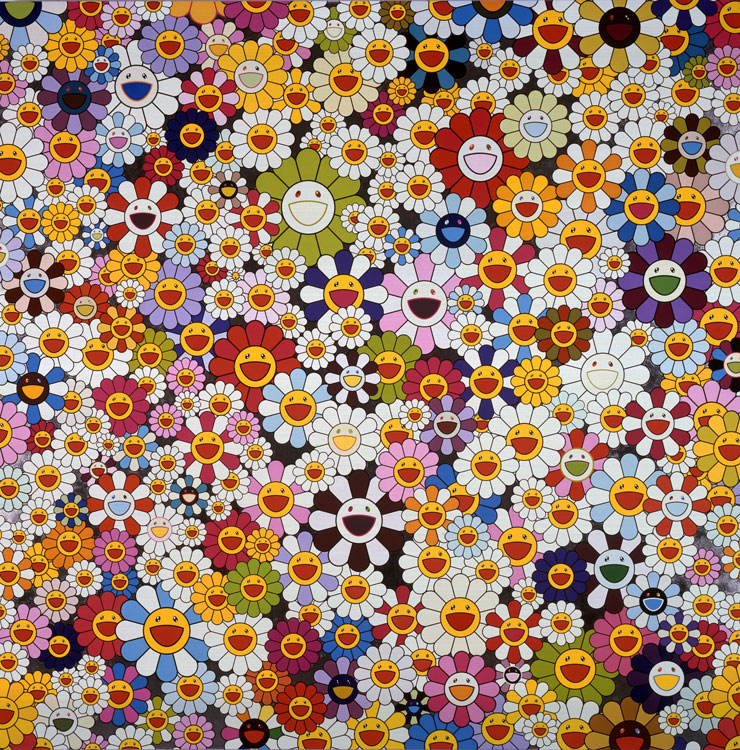 Flowers, flowers, flowers, 2010
In celebration of his retrospective, here's 5 different instances where his art has had profound impacts on pop culture.
1. 2003 Murakami Multicolor Monogram with Louis Vuitton
One of the most lucrative accessories collections ever, this partnership with Louis Vuitton began in 2003 and lasted 13 years. Products ranged from handbags and luggage to home goods like rugs. Using the classic LV monogram, Takashi reinterpreted this affluent signature with a kawaii twist in a colorful palette, leading to other playful designs that remixed the luxury brand's iconography such as the Monogramouflage, Cherry Blossom, and Character Bag collections.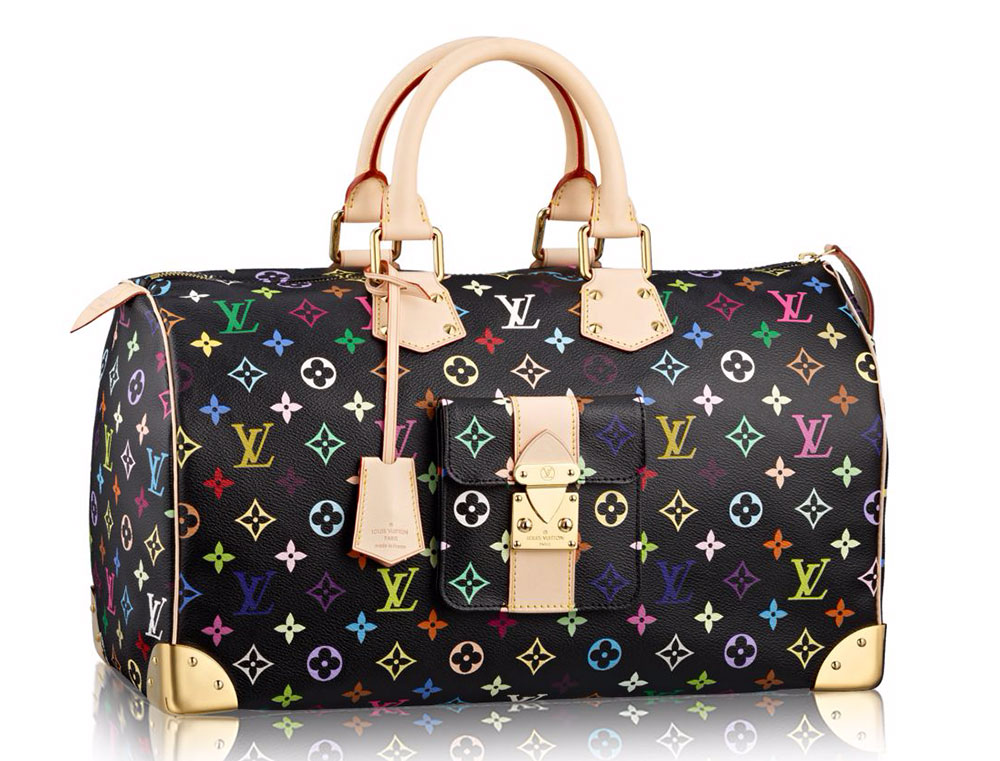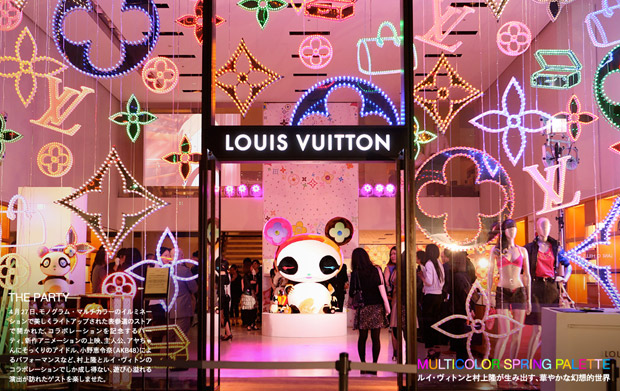 These collaborations, under the creative direction of Marc Jacobs, was an early glimpse of Murakami's ability to crossover. What resulted was an expansion of his commercial reach. We saw the beginnings of the artist's popular acclaim alongside celebrity culture. Working with Louis Vuitton would lead Murakami to one of his most important relationships in pop culture: Kanye West.
2. Kanye West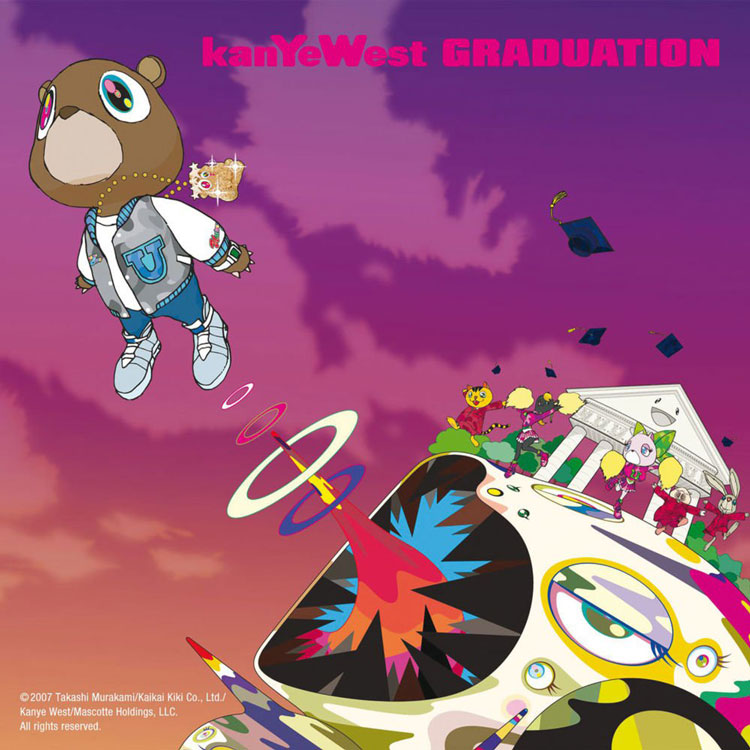 In 2007, Murakami found himself at the pedestal of pop culture in his most well-known commercial collaboration yet with Kanye West. Creating the cover art for West's third studio album, Graduation, then animating the music video to "Good Morning," Murakami successfully branded Kanye West as an iconic character dubbed "Kanye Bear."
This important relationship between the two brand-conscious moguls in the creative industry catapulted Murakami's popularity into hip-hop's audience and relative subcultures. This crossover is an ongoing example of his developing Superflat theory—which not only describes an aesthetic of flat planes and forms influenced by anime, Manga, popular culture, and Japanese consumer culture, but also a deeper movement of converging boundaries. In this case, Murakami attempts to flatten high and low culture, celebrity and household name.
3. Brand collaborations in streetwear
Over the years, Murakami continued to build his brand through commercializing his art in memorable projects and collaborations. Like Warhol, he fused high to low and self-promoted using his commercial, consumer-culture driven, and cartoon-inspired aesthetic in novelty products. The products ranged from T-shirts to key chains, cell phone charms, enamel pins, shoes, skate decks, mouse pads, plush dolls, vinyl figurines, and more.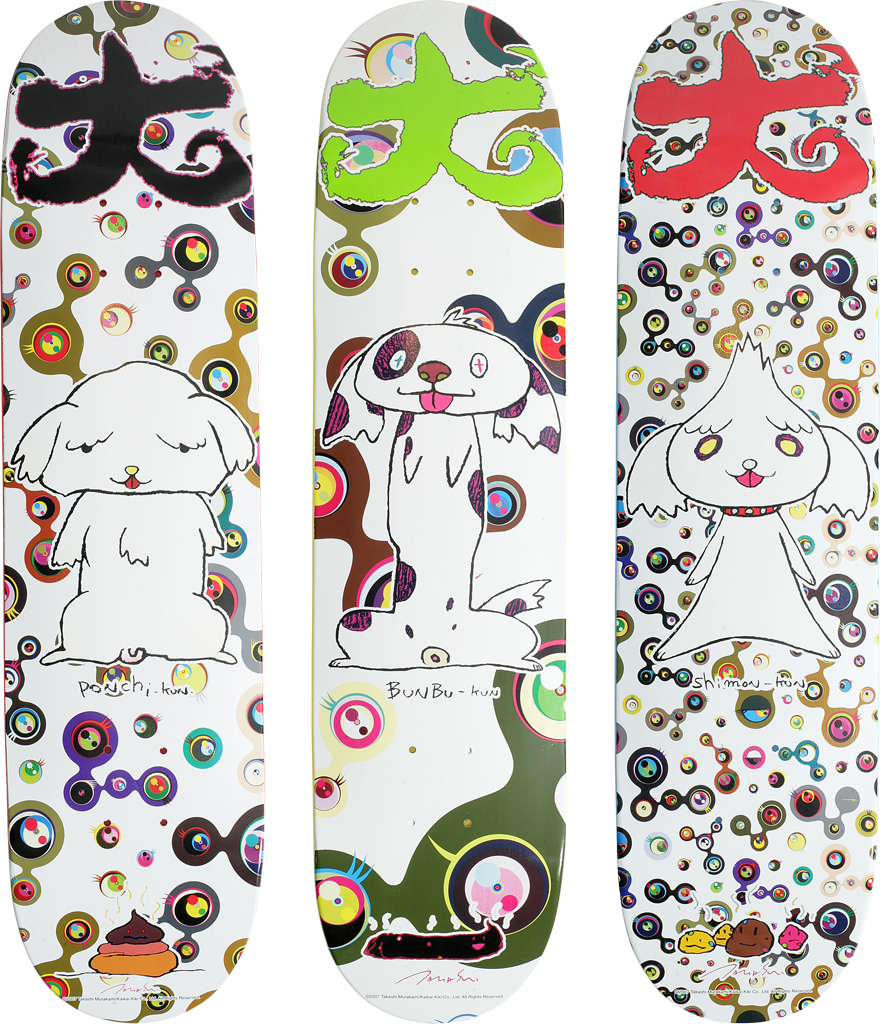 Supreme X Takashi Murakami skate decks
He collaborated with brands like Supreme, visvim, Vans, G-Shock, and Pharrell's Billionaire Boys Club. Going from luxury to streetwear, he says the move was inspired by his Japanese heritage, which Murakami says "[doesn't] really have a difference or hierarchy between high and low."
4. ComplexCon
Last November, Murakami served as the artistic director for ComplexCon—a convention that converged streetwear, fashion, art, music, and food in a 2-day internet-to-reality event. For the convention, Murakami curated various visual spaces with his infamous Mr. DOB, Flowers, and Kaikai Kiki and friends characters. The ComplexCon pop-up shop, however, carried some of the most coveted merchandise at the convention, featuring exclusive limited-edition Murakami merchandise.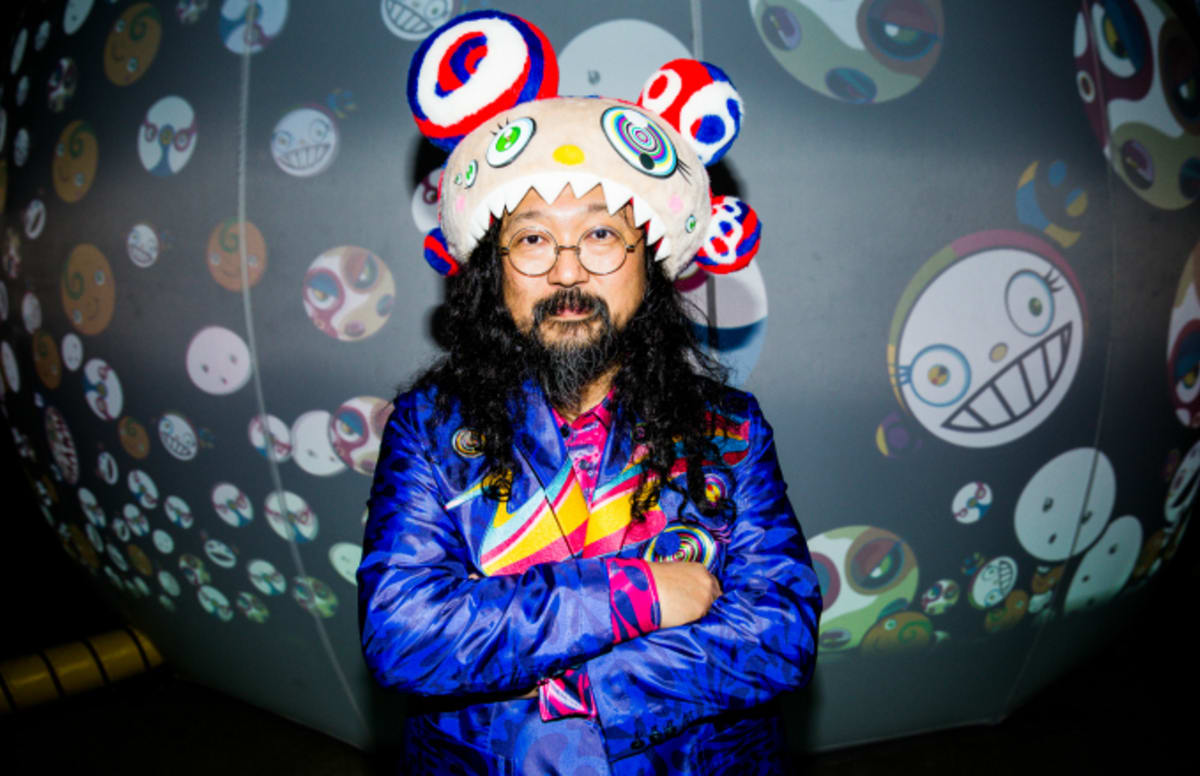 Takashi Murakami at ComplexCon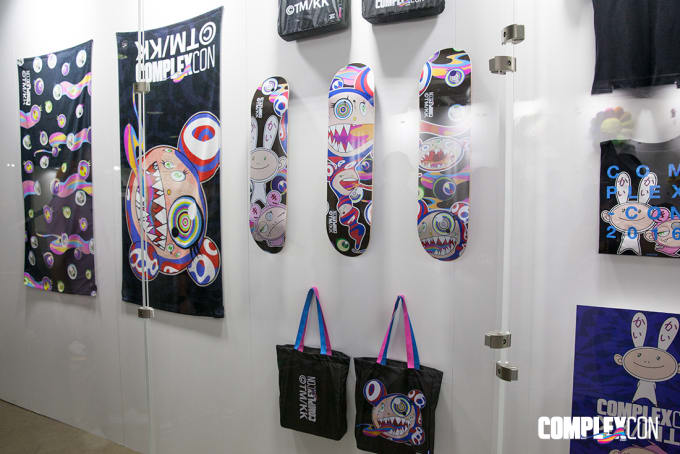 Takashi Murakami's merchandise for sale at ComplexCon
Days later, merchandise appeared on eBay at a triple mark-up in which Murakami shared, "wasn't something expected and was double encouragement." According to a recent announcement by ComplexCon, Murakami will resume his position as an artistic director and host committee member and will "oversee the design and overall experience of the festival."
5. MCA Chicago Exhibition
In addition to MCA Chicago's own exhibit merchandise, the current exhibit is also in partnership with ComplexCon in a collaborative pop-up experience. Parked outside of the museum's plaza from Fridays to Sundays, a pop-up truck is decked out with art inspired by Takashi Murakami's new exhibit, offering limited edition and exclusive merch from June 6th to July 30th. The pop-up experience continues to be a torchbearer for immersive art installations and interactive experiences in which Marc Ecko hopes "will bring and invite new museum goers and inspire a new generation."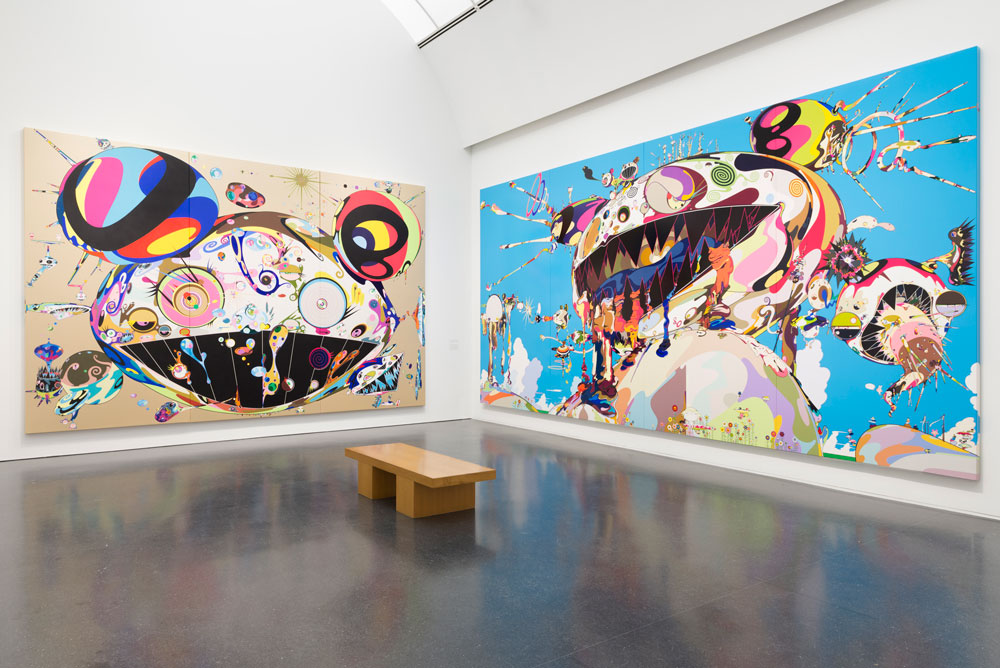 Installation view of Takashi Murakami: The Octopus Eats its Own Leg at the Museum of Contemporary Art Chicago, Photo: Maria Ponce Berre
***