Legendary comedian George Carlin once quipped, "Just when I discovered the meaning of life, they changed it." While his observation about the human condition definitely rings true, I believe it is especially valid for the fickle and hard-to-understand world of fashion. The rules in the past were quite simple—come up with a product that filled a need. Later on, fashion felt less utilitarian and represented personal freedom thanks to the aesthetics of a specific decade. Now, there seems to be no rhyme-or-reason to anything that is happening. It's equal parts commercialism as it is nihilism.
I'd like to believe that of the thousands of clothing lines that have sold products, they all started with a shared belief. And no, it's not to "change the world." That's bullshit. That's something that is written by someone in the bio section of the Cargo Collective webpage before things take off and a brand can purchase a web domain without URL modifiers.
The number one goal of a clothing brand is to make money. Without it, there's no second T-shirt. Without it, there's no office space. Without IT, there is no business. You're a lemonade stand with no sugar.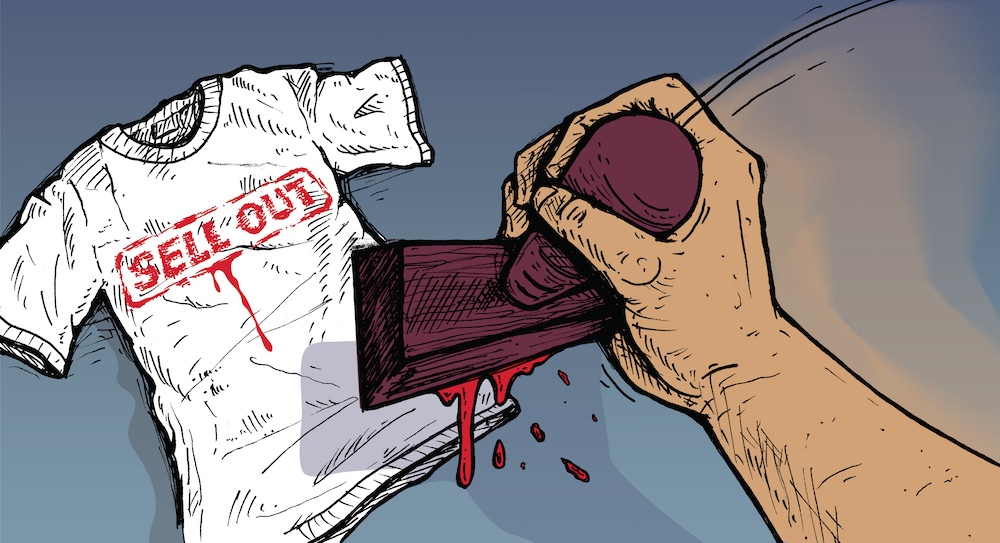 In recent years, the marketshare of revenue to be had through owning a clothing brand—specifically in the streewear sector—has become less and less thanks to a number of factors.
In 2014, Bobby Hundreds told WWD in an article titled Streetwear Sees Major Comeback, "True independent streetwear was always a secret club, but the web cracked the mystery wide open. But the biggest reason why the culture and style have become so prevalent today is because of desktop publishing, the facility to print T-shirts and manufacture apparel, and the lowered barrier to entry for a newcomer to participate in the market. Just a decade or so ago, kids wanted to grow up to be rappers, baseball players, or movie stars. Today, the youth aspire to own a brand and have a streetwear label."
A year later, and Bobby Hundreds wrote, "This was one of our worst years on record," citing the Kanye West effect on design, mall culture, and the Internet.
With new brands popping up everyday ready to become the "next big thing," more established companies are being forced to decide if their goal is to stay relevant, or to keep the lights on and employees paid after surviving streetwear Fight Club. What is certainly not helping older brands is that the new kids on the block are channeling the "devil-may-care" attitude, which made streetwear so popular and polarizing in the first place.
When you're a one-man shop, you can take a "me against the world" approach.
"That's the beauty of doing this without a business partner or some big distribution deal: you can just do whatever the fuck you want," said Zac Austin Clark of upstart Los Angeles label FTP.
"We get offers all the time to put our shit in big stores or whatever, but that's not what we're about," says Mikey Alfred of Illegal Civilizaton. "I think if you make clothes just to make a ton of money, you're whack. I didn't come into this thinking about blowing up, I just make the things that I'd want to wear."
I'm not going to go as far as calling Alfred a liar, but I'd argue that if his brand was further established, and was in the fortunate position to be able to choose between hype and expanded channels to move units, the latter situation is obviously the wiser choice by business standards. Like in the aforementioned George Carlin joke, brands have different wants and desires based on their position and thus have different priorities as it relates to pulling in income. When you're a one-man shop, you can take a "me against the world" approach. But when you're beholden to investors and responsible for employees, it's not so cool to turn down lucrative opportunities just to remain a streetwear unicorn.
In an interview with VICE following his departure from Supreme and subsequent launch of his own brand, Noah, Brendon Babenzian said, "I don't have any money. I'm not a corporation. This is a small business, a family business. And all we're trying to do here is do well enough to have a nice little life. We can have a successful business without selling everything under the sun. We don't need to be filthy rich. But I guess I'm worried that, well, we won't even do well enough to have a nice little life. I mean, I have a wife and daughter. I need to make sure they're looked after. For every choice we make, it's a question of money. It's about greed. How much do you need? How much is enough?"
Babenzian's approach is refreshing, strengthened by the fact that he has decades-worth of experience in the business and responsibilities that a 21-year-old kid simply doesn't understand at that point in his/her life.
"All we're trying to do here is do well enough to have a nice little life… For every choice we make, it's a question of money. It's about greed. How much do you need? How much is enough?" – Brendon Babenzian
The year 2000 proved to be an important one for streetwear. On the digital side of things, Greg Selkoe founded Karmaloop in his parents' basement—marrying the hype of streetwear with the ease of purchase of a service like eBay. On the retail side, Zumiez began competing with independent stores by handpicking several upstart brands in the sector.
As Bobby Hundreds noted in his 2013 "The Year in Streetwear," "Zumiez, Pac Sun, Tilly's. This was the Streetwear story of 2013. We (the collective 'we,' which includes every major American Streetwear brand on the market, as well as newcomers) had long held them at bay (although crossover brands like Diamond have sold to the mall for over a decade now). But there are infinite reasons why you start opening mall doors: make more money, more notoriety, capping out with your existing boutique accounts, or the independent stockists give up on you (Cool is defined—and fated—by not being Cool forever). The essence of modern Streetwear is about staying limited, exclusive, and out of reach of the mainstream, yet at some point in the last several years, the underdogs became the top dogs. We used to make and wear this stuff because we didn't want to look like everyone else in Ed Hardy or Southpole or Abercrombie. But today, we stand as the Goliath."
Ultimately, the move to mall locations for certain brands proved to be a win-win situation for both company and retail venture. However, with less exclusivity, the brands themselves ran the risk of losing their mystique because malls unto themselves have always been viewed as a buffet-style experience whereas streetwear in the past had been more of a curated bite.
Not surprisingly, brands who made the jump were labeled as "sell-outs." As a sports fan, I most commonly equate the term to when a player signs with an inferior team rather than his own. It tells the world, "Money means more to me than winning does." But in that scenario, it is a better business decision.
"The essence of modern Streetwear is about staying limited, exclusive, and out of reach of the mainstream, yet at some point in the last several years, the underdogs became the top dogs." – Bobby Hundreds
I actually see a huge similarity between sports and streetwear. The average NFL player's career spans only 3.3 years. Whether it's because of injury or because there's always another player ready to take your spot, there is a finite amount of time to cash in when you're viewed as a commodity worth investing in. Similarly, in streetwear, you can either accept that the beginning of something also signals the end, or you can look for other ways to help the team. In both scenarios, speed and flash fade, and veteran savvy needs to take over.
The idea of "selling out" has been a part of The Hundreds vernacular/story since a 2009 profile in The Los Angeles Times, aptly titled, "The Hundreds Wants to Sell but Not Sell Out."
Ilse Metchek, a retail analyst and president of the California Fashion Assn., weighed in on the brand's growth, which had gone from $900,000 USD in sales in 2006 to $4.8 million USD in 2008.
"If they focus on their core customer base, they could create long-term credibility based on the loyalty they seem to have," Metchek said. "That limits just how big they can get. But getting too big would ruin the allure of their brand, so they have to grow and stay small. That's hard to do."
Grow and stay small? I don't know if there is a better representation of irony in streetwear than that sentence. It reminds me of Common's "The Questions," when he asked, "Why do I need I.D., to get I.D.?"
Consider a single press release from Macy's from 2012 as a sign of just how much big box stores and streetwear/skate brands are in cahoots these days. Their partnership included deals with G-Star Raw, Ezekiel, Rogue Status, Plan B, and Stussy. While they are definitely at different end of the spectrum when it comes to tried-and-true streetwear, all at one point or another were viewed as a hidden discoverable for consumers rather than something they were mass-fed.
Grow and stay small? I don't know if there is a better representation of irony in streetwear than that sentence.
Besides Macy's, PacSun's name from a retail standpoint has been used a lot to represent the convergence of commerce and streetwear—with notable partnerships with the likes of The Hundreds, Diamond, Crooks & Castles, and Fear of God.
In a 2014 interview with The Hundreds, PacSun CEO, Gary Schoenfeld, commented, "The reason I came to PacSun is: I'm a brand guy through and through. Almost 20 years ago, I thought there was an opportunity to take a small Southern California footwear manufacturer and turn it into a brand with its roots in Southern California, and skate and surf and BMX, and I just continued to love how the marketplace has grown as new brands like The Hundreds, like Diamond, like Crooks & Castles continue to bring excitement and innovation and relevance that creates opportunities for all of us."
With the shuttering of Karmaloop as we knew it, and the April 2016 announcement that PacSun was filing for bankruptcy, I'm left to ponder what longevity in streetwear will look like now. With exclusivity and higher-price points the hallmark for new collections, it seems like upstart brand owners might be using the guise of premium materials and hype to create capital that would have further been achieved down the road. In that situation, they will never be forced to "sell out," because there are simply less opportunities to do so these days.
One of the last remaining alternatives for brands is to land on the roster of Iconix Brand Group who boast a who's who of past streetwear/lifestyle royalty like Ecko, Rocawear, Zoo York, Starter, and Mossimo. More a retirement home for past legends than hospice care, most would view those brands as failures rather than "out to pasture" because what they started as, and what they've become, are quite different. But is that such a bad thing?
If there has been a brand that has successfully toed the line, it's Stussy. Despite earning $50 million USD in 2015, they are still viewed in the context of cool because they have remained independent. But have they really? Sure, no one else owns them. But they rely heavily on partnerships with Trés Bien, colette, ASOS, and Urban Outfitters to move units and make money. You can't stick a fork in the eye of a brand for appearing in Macy's or Zumiez, but give Stussy a pass for cozying up with Urban Outfitters.
"Whatever we do with Urban [Outfitters], we're very careful that it's not because Urban Outfitters wants to make more money; it's because it's something we feel is genuine to Stüssy," said day-to-day Stussy head, David Sinatra.
If I were to read between the lines, Sinatra insinuates that Urban Outfitters fits Stussy's brand vision. Again, I'm not saying he's lying, but I do think his justification for partnering with Urban Outfitters—which sounds like a harmonious marriage—is actually more like, "We fuck with you, you fuck with us, and we give birth to all these T-shirt babies."
With the changing retail landscape, Amazon's stranglehold on commerce, and the re-sale market booming, it remains to be seen what will constitute "selling out" in a year's time. We may have even reached a point where it isn't even possible anymore. I'm sure there are a lot of brand owners muttering one of, if not all of George Carlin's seven dirty words right now as they ponder all their hard work and the uncertainty of the medium.
***
Illustration by Eddie Viramontes (@e.viramontes).