As The Hundreds gears up to release another collaboration with legendary hardcore band H2O, we're right in the middle of a bunch of projects. Everyone at TH is grinding and feeling the heat as we come together and try to crush everything we're working on right now. Collabs, seasonal collections, events, new media ventures, a fucking BOOK. There's just a lot. It would be daunting for most, but we survive because we always remember the mantra:
Ok, that's not actually the mantra, that's just hilarious. In reality, the only way to make it through the mud and come out the other side victorious is to keep a positive mental attitude. It's so fitting we're working with Toby Morse and H2O again right now because Toby and the gang have been on that PMA for decades, maintaining a positive outlook for themselves and promoting it to their fans around the world.
Over the course of seven albums, six EPs, countless singles and covers and rarities and b-sides, H2O has dropped an infinite number of life affirming nuggets in their lyrics that can help turn your most difficult day into a foundation upon which you can build your best self.
We dug through H2O's discography to find some gems that you can tuck away and use when you're feeling discouraged or down.
Someday maybe I'll find a way / To make all my fears go away ("5 Year Plan")
We've turned some bad times into good / Always knowing where we stood ("Thicker Than Water")
Do you feel an evil in the world? / Do you chase the dollar or the girl? / What's the motivation in your life? / Is it to feel alive? ("Universal Language")
And no one said it was gonna be easy / And I'm not afraid to try / And with the odds stacked up against me, I will have to fight / One life, one chance, gotta do it right ("One Life, One Chance")
Do you remember when we were afraid? / Crossing our fingers we'd turn out ok / No faith in the world cause we doubted ourselves / But in time, came to find, the hard times had made us strong ("Found The Truth Within")
lifetime ago it seems you gave up on your wildest dreams / but i refuse to let mine go / I took an oath, you can find me here / with an open heart and ears / refusing to surrender / I can't believe they don't remember / what it feels like to be young ("What Happened?")
And here it comes that empty feeling again / I wanna help you out / I wanna make you understand what it's about / I'm not just here to be your fairweather friend / We'll see this to the end and get you on your feet again ("On Your Feet")
I'm going through changes to find what's best for me – day by day / I know where I am and I know where I'm from / So I got to face the future and take it as it comes ("Day By Day")
Somebody tell me what I'm doing here / I can't find the answers in the dark / You want to know about my biggest fear? / It's wasted time, time, time / Am I wasting time? ("Shine The Light")
I feel so lonely in your world / So disappointed in your world / I'm making my own way / Trying to learn from my mistakes / 'Cause I've got no role model / No footsteps I can follow / I'm making my own way ("Role Model")
This is the life I chose / this is the only thing I know so don't pass judgement on me / The places that I've been / forever written on my skin / so don't pass judgement on me ("Heart On My Sleeve")
Still here, sincere, after all these fucking years / Where did you go? / To all the new kids this is a way to live / it's not a passing trend, a way to fit in / I never preached shit, I just spoke my mind / to live a positive life and don't waste you're time ("Still Here")
Hard times have come our way, we held it down and kept the PMA! ("Nothing To Prove")
---
The Hundreds X H2O will be available 9 PM PST on Friday / Midnight EST in The Hundreds App and Online Shop.
On Saturday, H2O will be playing LIVE at The Hundreds HQ on Saturday, with opening sets from SHARP/SHOCK and Toby's  son Max's band Rend. It's a FREE all ages show, so bring the whole family! Vegan food trucks and FREE water will be available to all, going to be a legendary show.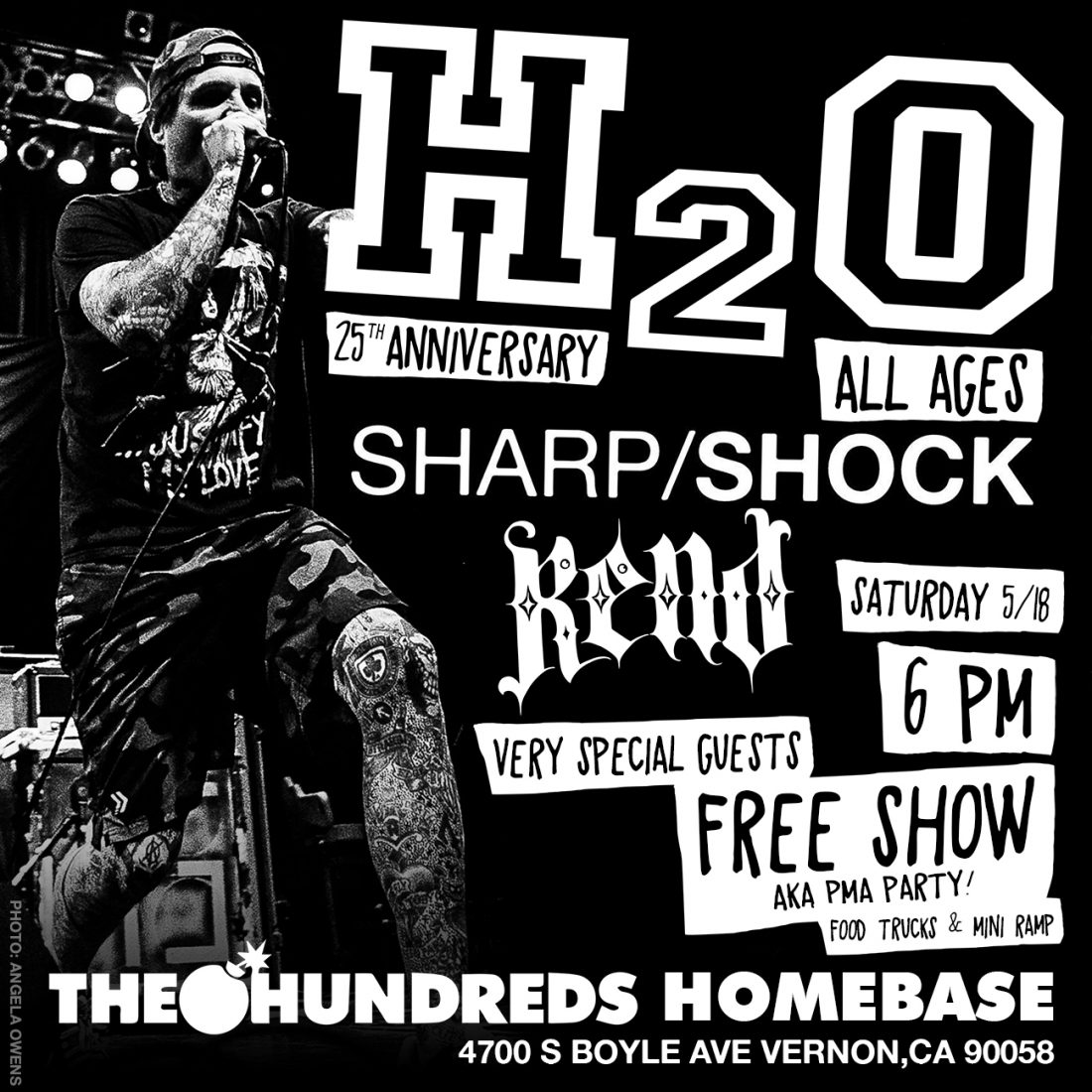 ***