In the canon of athletic footwear, skateboarding-specific trainers are a relative newcomer. A random shoe called the Randy 720 came out in 1965, manufactured by the Randolph Rubber Company. It featured a grippy "RANDYPRENE" and was made... in Randolph, Massachusetts. What's noteworthy here is that the Bay State boasts not only Plymouth Rock, but the first skate shoe. One of Randolph's employees named Paul left the company for California, forming a company with his brother Jim named Van Doren Rubber Company, before officially morphing into Vans. The following 50-plus years of skate shoes consist of many different iterations of the Randy/Vans ERA and vulc soled, simple shoes, minus a stretch in the mid-'90s into the 2000s. That's it.
Yes, tech-forward shoes have made a major return, but it's worth noting that a fifth of the skate shoe's life has been rather tame until brands in the '90s started to add spoilers, air bubbles—many of which didn't really do anything—stash pockets, cord laces, wild colors, tons of plastic, and other running/hiking inspired adornments in an effort to stand out. It was the equivalent of tricking out a Honda Civic or adding a bunch of cut outs to a board shape a.k.a "money bumps" in order to be a presence on the shelves.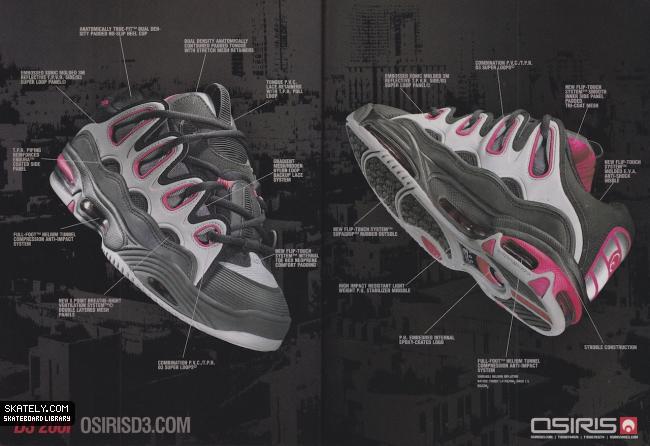 Osiris D3 2001 features ad, 2001. Photo: skately.com
At the height of this renaissance, no shoe was more boisterous and divisive as the Osiris D3. The shoe and its 2001 iteration are the stuff of Limp Bizkit legend. They owned the racks, the industry, and also the feet of most food court drug dealers, as well as the mosh pits of the Family Values Tour. The shoe also made several people a lot of money, including former professional skateboarder Dave Mayhew, who has claimed design credit on the original D3. While it's generally understood that most pro athletes don't actually run a 3-D imaging program and create their footwear, they do have input, but the Osiris D3 was actually created by a skateboarder cum designer/creative director, from Laguna Beach, California, named Brian Reid—and if you don't believe me, just reference the "bagel" tongue of the original D3, which bears his name following the words "designed by."
Mayhew's done interviews addressing the shoe, a cartoon version of it has graced T-Shirts, enamel pins, a Dustin Dollin deck, and made Jenkem's list of "Most Terrifying Skate Shoes" in 2013 mentioning that the "laces [are] seemingly an afterthought rather than a functional feature," but little has been written about Osiris's co-founder Reid and his involvement with one of the alleged best-selling skate shoes of all time, other than this forgotten Transworld interview from 2000.
"Dave [Mayhew] has his side of the story and I have mine," Reid says. "I still get upset because I've been designing shoes for 23 years and all of a sudden he says he designed that shoe. We went shopping, found some shoes, chopped them up, and I put it together and that makes him a designer?"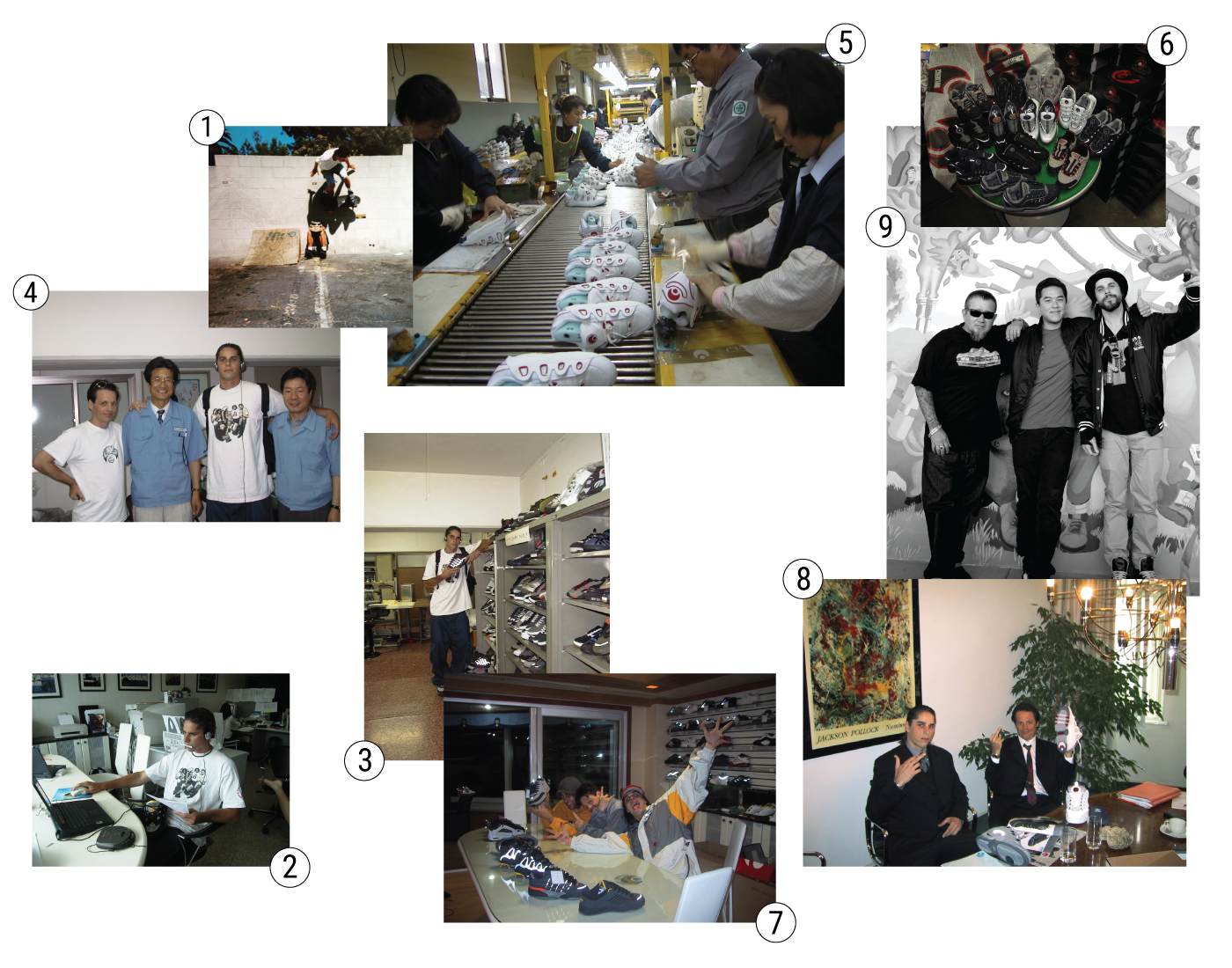 To understand the D3 is to embrace serendipity. Like lotto balls bouncing around a plexiglass box, Reid's path has been anything but linear, but he first hit in skateboarding in 1995, when he moved to San Diego to attend San Diego State. While his degree didn't pan out, he ended up becoming a filmer while living in a typical skatehouse apartment in El Cajon with Jarret Berry and Mayhew. (Berry would later gain notoriety for being an openly gay pro who also nosegrinded a handrail in assless chaps.) Out of necessity he began logging footage for his friends, including Evol pro Adam McNatt whom he previously filmed for Powell Peralta's Celebraty Tropical Fish (1991), and at local contests, before being offered a job with Evol, which was Tony Magnusson's post-H-Street brand.
"I remember filming this little contest at Missile Park in San Diego," Reid recalls. "Chad Muska—they call his name for the street course, but he's not there. This van pops open—a straight up Fast Times in Ridgemont High moment—smoke comes out, he runs out, goes to the top of the ramp and yells, 'Smoke chronic!' then drops in and lands a frontside 270 kickflip. I didn't even know he could do that trick."
Reid eventually became Team Manager of Evol before convincing Magnusson and Tony Chen to rebrand their namesake footwear company as Osiris—a name he found in a local bookstore. The pivot was productive, as board brands that make shoes don't have longevity and the beloved Wu-Tang Clan was about to release their second album, Forever, featuring a lead single proclaiming that O.D.B. is the "Osiris of this shit" in the opening moments—something that would be costly in today's pay-to-play placement culture. In 1997, it was just lucky.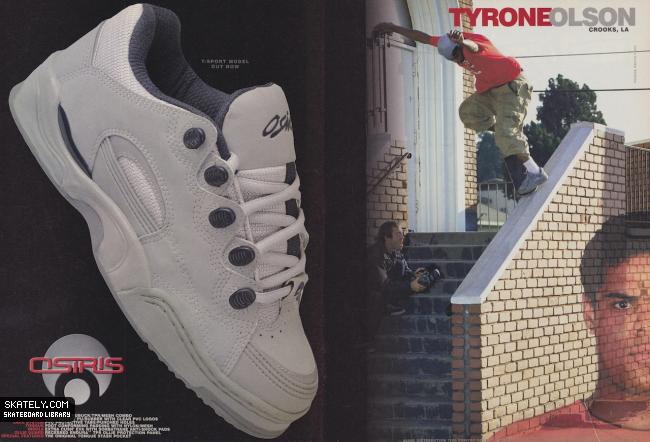 Tyrone Olson Osiris T-sport ad, 2000. Photo: skately.com
"At one point, it was going to be called Unit," he says. "I was like, 'That's terrible.' A unit is a dick."
Mayhew was also lucky in that the shoe he wanted as his pro model wasn't available, thus being part of the drive behind the D3. Initially he wanted his signature model to be an Osiris silhouette that entered the market as the Guru, but it was too deep into marketing and production to change the name. Instead, he and Reid headed to a shopping mall to get design inspiration for Mayhew's shoe, creating a gumbo of vamps, lace loops, and sidewalls corralled by Reid by hand.
"I wasn't a typical shoe designer—I was self-taught, so my style was a bit more animated," he says. "Not like Eightball and graffiti, but more organic and larger than life. I didn't didn't realize [early on] that if you show [a factory] a drawing like that, they'll make it that way. I'm drawing stuff a little bit more dope with a little more flair in there, so that's why you saw like the sole get bigger... a little bit higher, larger, and chunkier. Also, at that time, the team were a crew—like hunters. We'd all wake up, grab breakfast together, skate all day, and then go out. You're wearing baggy pants and they're hitting the ground and fraying, and if you take a piss at a urinal, you get piss on the bottom of your jeans. You wanna look dope in the club and piss doesn't look cool. That's probably why the bigger shoe design took off, because it kept your pants from dragging on the ground. The D3's older brothers were the Gorgon and the Guru, because they were crazy layered shoes—I was all into Robotech and shit. The side panels just stuck up in the air, the panels were thick. It created a larger than life shoe."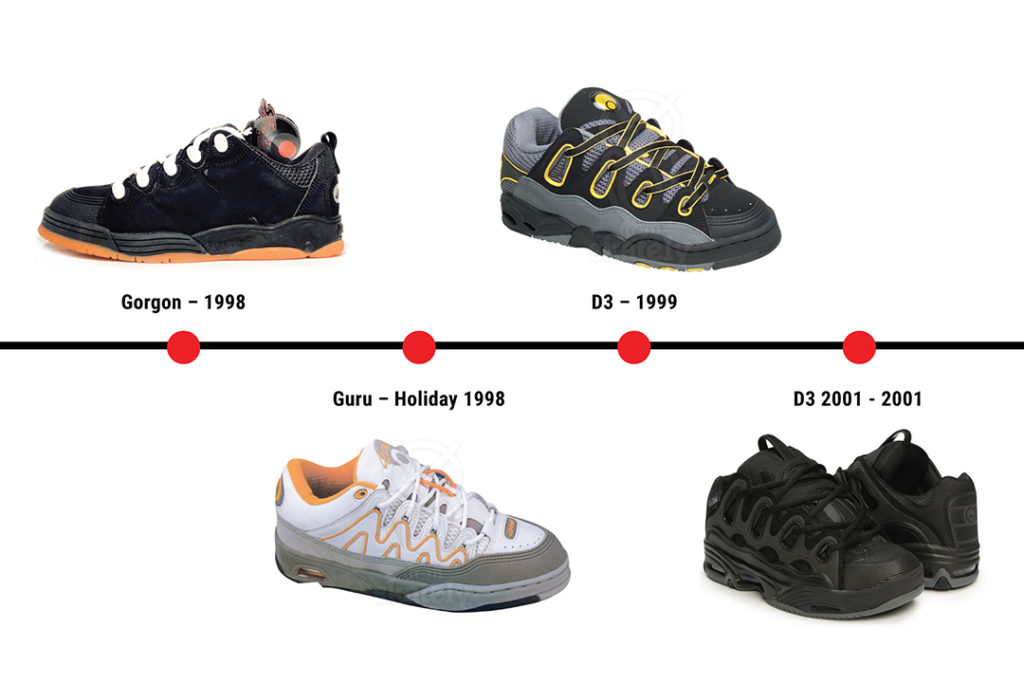 Unlike most brands on the market in the mid to late-'90s, Osiris was not only rider-driven footwear, but they also gave every pro a model, regardless of their status. This isn't to say that the roster which included Mayhew, Gershon Mosley, Adam McNatt, and Tyrone Olson wasn't loaded with talent, but more a referendum on how the industry worked, with only a handful of pros having their own shoe. Rather than stopping there, Osiris's disruptive ethos pushed into the red after their subdued entrance, as they stylized the rider's models with flair, matching the big personalities on the team.
"I was all into Robotech and shit… it created a larger than life shoe."
"Sales were up," Reid says. "Tyrone [Olson] would get like 20 grand a month, while most guys were making one thousand or maybe five if you're Eric Koston. That's when some of the hate started to come in. The production numbers were so large that when I was on a solo trip to Korea tasked with moving production from one factory to the next, during a business dinner at a 5 star restaurant with the factory owner, I was told through a translator that, 'The factory owner would like to inform you, that he can kill a man in this country and their body will never be found so you might want to change your decisions too.' My phone was tapped, my stay at the hotel was monitored 24/7, I had two armed thugs seated in the lobby of the hotel, and they would follow me in around in a blacked out car, wherever I went. I had to shake them by jumping out a fire escape and checked into another hotel under an alias. Some James Bond shit."
So how did Osiris—a small player in a small market—break out and hit numbers that were rumored to be the highest ever for a single shoe, and without the benefit of star power? Maybe it is as simple as circumstance and image, as well as backing up their their audacious image with their first full-length video The Storm (1999). And what better branding play than a shoe that was so cartoonish and exaggerated that you could notice it beaming at you in a skate contest, a quarter page photo, an Avril Lavigne CD cover or a festival stage, while William Frederick Durst did it all for the nookie? With its exaggerated plastic lace loops and sidewalls, as well as three separate air bubbles in the sole, the D3 was essentially a walking logo and the subsequent D3 2001 was even more recognizable.
In the wake of the D3 and Osiris's storming success, Reid and Magnusson ramped up their production pilgrimages to Korea. Magnusson specifically was compelled to super-size an already blockbuster idea with Reid helming design, leading to the the addition of bright yellow to the colorway and its, in Reid's words, "full airbag, TPVR (thermal plastic venal resist) 3M reflective, sublimated mesh, ribbed TPR toe cap, super sick embedded logo in ribbed TRP, and enough high density foam padding to make a custom couch." Born to be boisterous, the D3 2001 took form.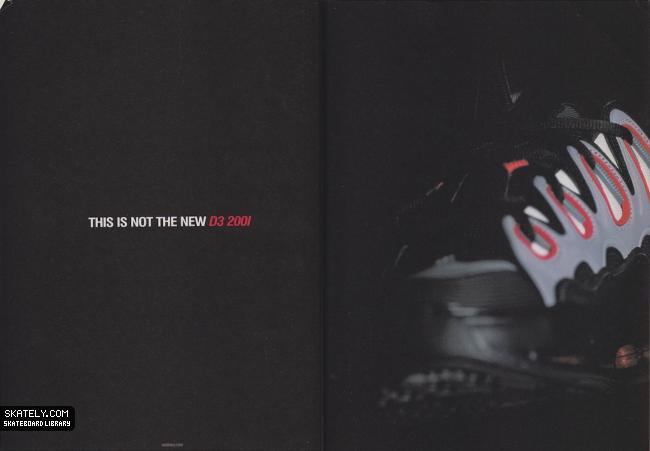 Osiris D3 2001 ad, 2001. Photo: skately.com
When I asked Reid about the leap the shoe made from core skateboarding to the mainstream, there were little answers or logic. There were no media-buys, no "influencers" were seeded, product wasn't placed strategically in music videos, and in all likelihood, at lot of the shoe's astronomical sales were bolstered by celebrity stylists who chose the D3 over a DC at the local shop that they pilfered for edgy looks. Like anything that achieves trend status, the shoe was shunned before it resurfaced in a mix of nostalgia and satire—a pop culture icon, regardless if you're taking the piss out of it. Even when sales faded in 2004, the D3 stayed in skateboarding's lexicon and recently came back in the conversation when people noticed its direct lineage to A$AP Rocky's debut Under Armour shoe, complete with terribly photographed ollie for authenticity.