The timeline of footwear designed for skateboarding is odd, especially considering how paramount shoes are to the act itself. Yes, this sounds kind of dumb, but dumb is threaded into the history of skate shoes, as there's been so many designed seemingly and sometimes actually without logic. A large part of the difficulty is that riding a skateboard destroys your shoes at a rate that is higher than almost any other activity, and reaching a balance between durable and functional is tricky. You can completely ignore any cares about wear and create something that feels better than it lasts and that's fine too. When we step back and look at the timeline, skate footwear is hardly a linear path, dotted with spurts of innovation, jumps backward and forward in aesthetics, and also, is often impossible to predict. I don't envy those entrenched in it.
What's interesting in looking at some of the most iconic silhouettes in skateboarding, is that few were actually designed specifically for skateboarding. There's a few reasons for this, the largest being factory limitations; it's easier and more affordable to adapt something that exists to skating, rather than bringing it to live soup to nuts. Another major factor is that it's often hard to adapt and evolve a product for an activity that changes so rapidly. For example, when Vans created its first shoes specifically for skateboarding in 1976 with Tony Alva and Stacy Peralta, most of the tricks—including the ollie—didn't exist yet.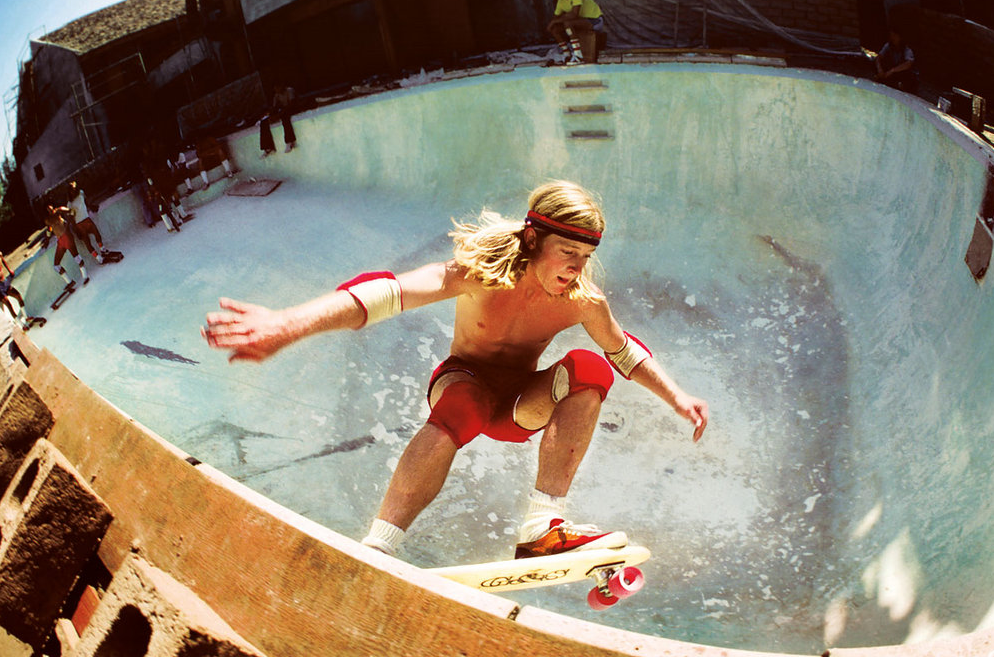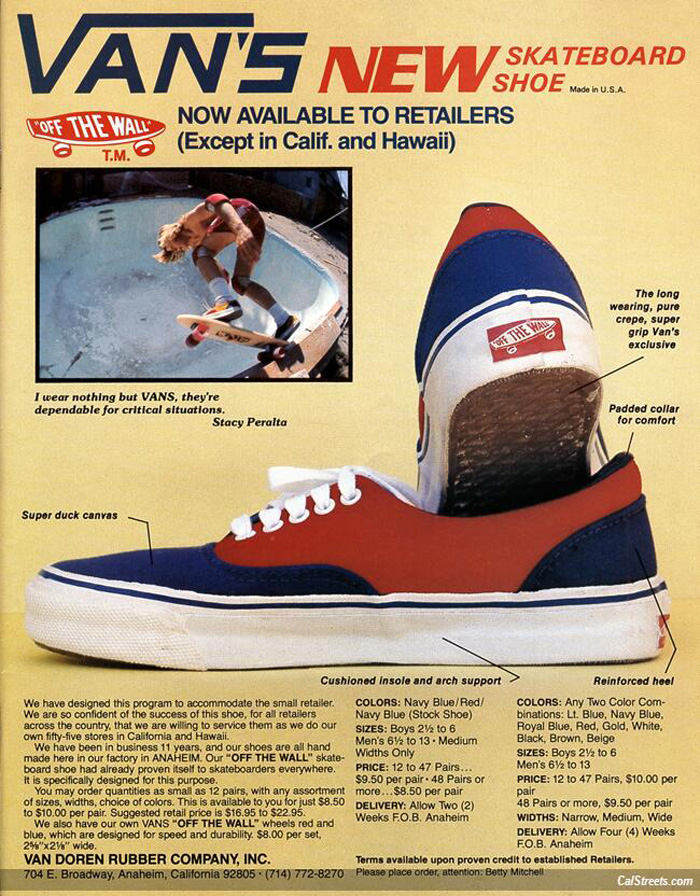 Stacy Peralta wearing Vans, 1977. Photo: jacobsmithdesign.wordpress.com
What should be intuitive in skate shoe design, is taking inspiration from shoes geared towards foot sports. It seems basic, right? It's not. If you start to drill down, especially into years of DC and Osiris sneakers, you see a lot of bulk, bells, whistles, and things that don't—on the surface—look tooled for something where feel and flick is paramount. This doesn't mean that every shoe should be a modified indoor soccer model, but it's logical they tend to function really well. Another consideration is that low, mid, and high top shoes all essentially provide the same protection from injury, as Vans Footwear Design Director Neal Shoemaker told me in an interview, a shoe would have to have the height and stabilization of a snowboard boot to prevent ankle rolling or breaks.
By ripping up that playbook, we're left with a playing field as wide as one-piece vulcanized uppers and "money bump"-covered, tech-leaning designs commingling on your shop's shoe wall. The intangible in all of this, is that if you feel confident in your set up, you're less likely to get hurt even if you're jumping down a grassy knoll in the thinnest pair of vulcs.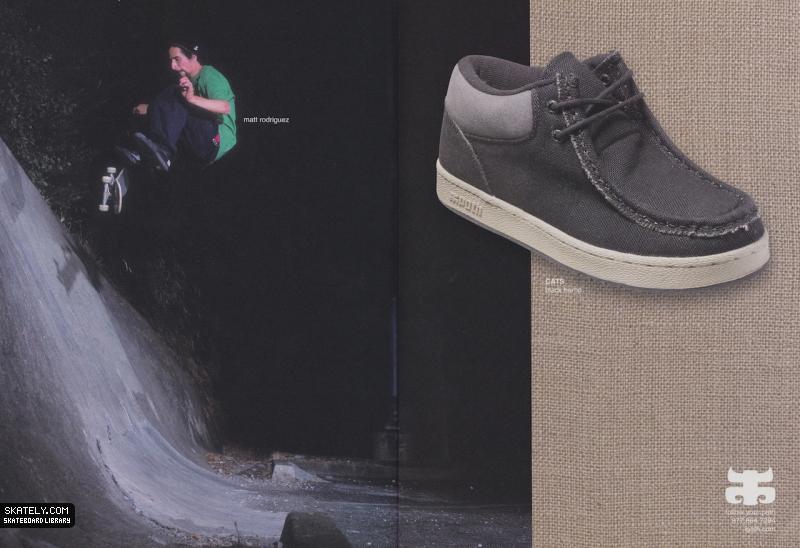 A 2004 ad for the Clarks Wallabee-inspired iPath Cat, featuring Matt Rodriguez. Photo: skately.com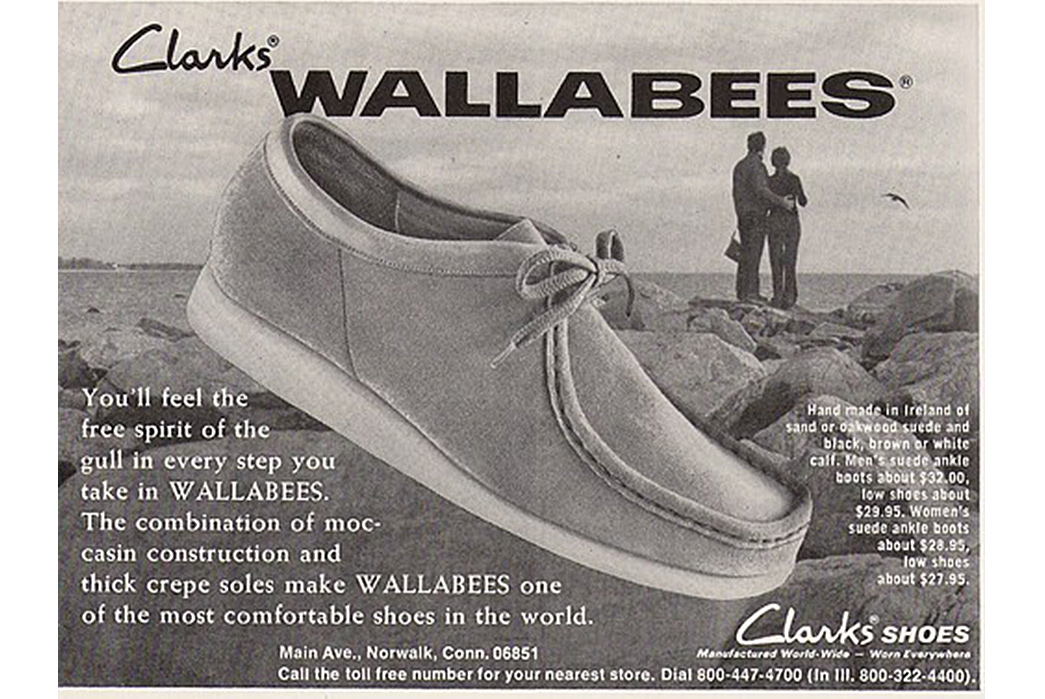 So, yeah, skateboarding has seen its share of memorable and popular "from scratch" designs, but many of the most beloved shoes and staples were evolved from other sports and sometimes, other art-driven activities, such as modern dance. I shit you not. A decade plus before Dylan Rieder's disruptive Gravis slip-on dropped, I knew of a designer scouring the Upper East Side of Manhattan for deadstock mens Capezio dance shoes for R&D. Definitely more obscure than Matt Rodriguez repurposing a Wallabee for skating as the iPath Cat, but a similar example of outside the box thinking.
The earliest example of the outside influence is skateboarding's first true signature shoe, released in 1987 by Etnies, who were based in France. Natas Kaupas based some of the aesthetics of his namesake shoe on an Ellesse high top sneaker that he, Mickie Reyes, and Jim Thiebaud popularized.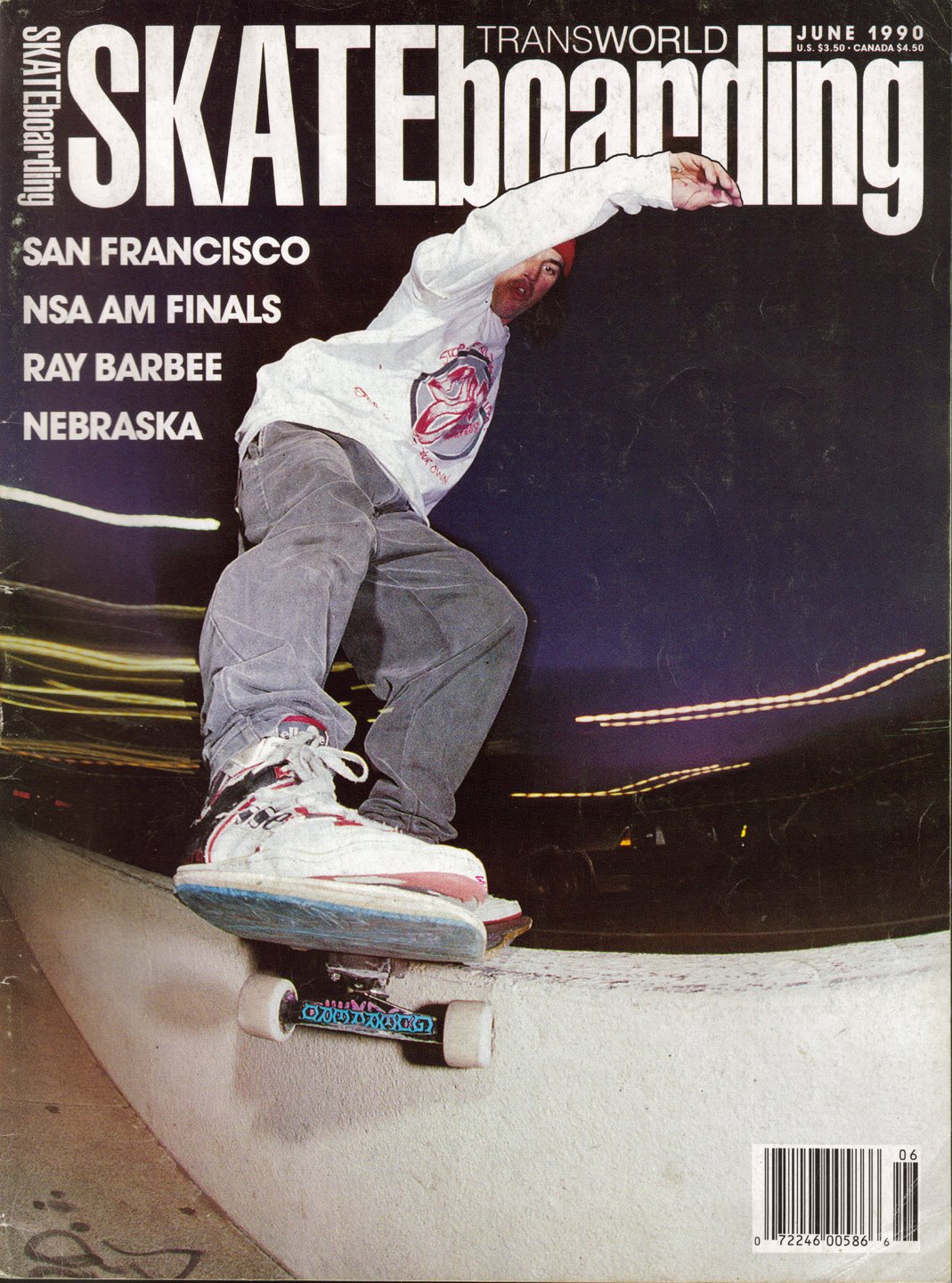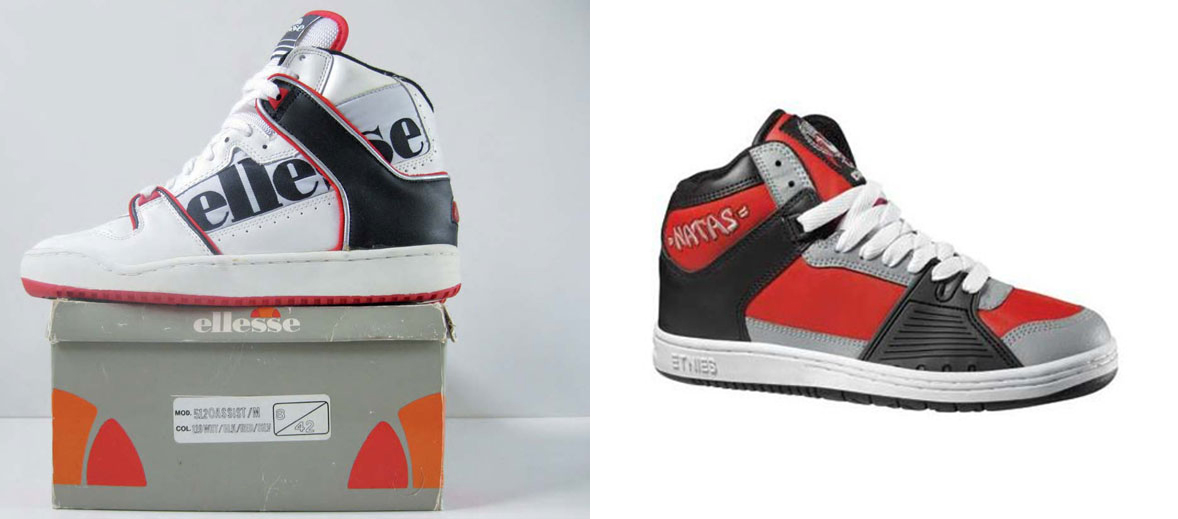 In the 1980s, shoe deals were seldom more than a small check and free product with limited offerings, it was common to scour closeout stores and sale racks for shoes that "could" work for skating. This was integral in the popularity of the Air Jordan 1 in skateboarding, even years after the shoe was released in 1985, as the demand for the shoe was so high that it ended up being overproduced, which led to it being deeply discounted and widely available. The toe box and sidewalls were perfect for skating's new ollie-driven direction, and the price was the lynchpin. Airwalk—one of the only skate shoe manufacturers at the time—picked up on this and repurposed the Jordan/Dunk shape for the Prototype in 1988.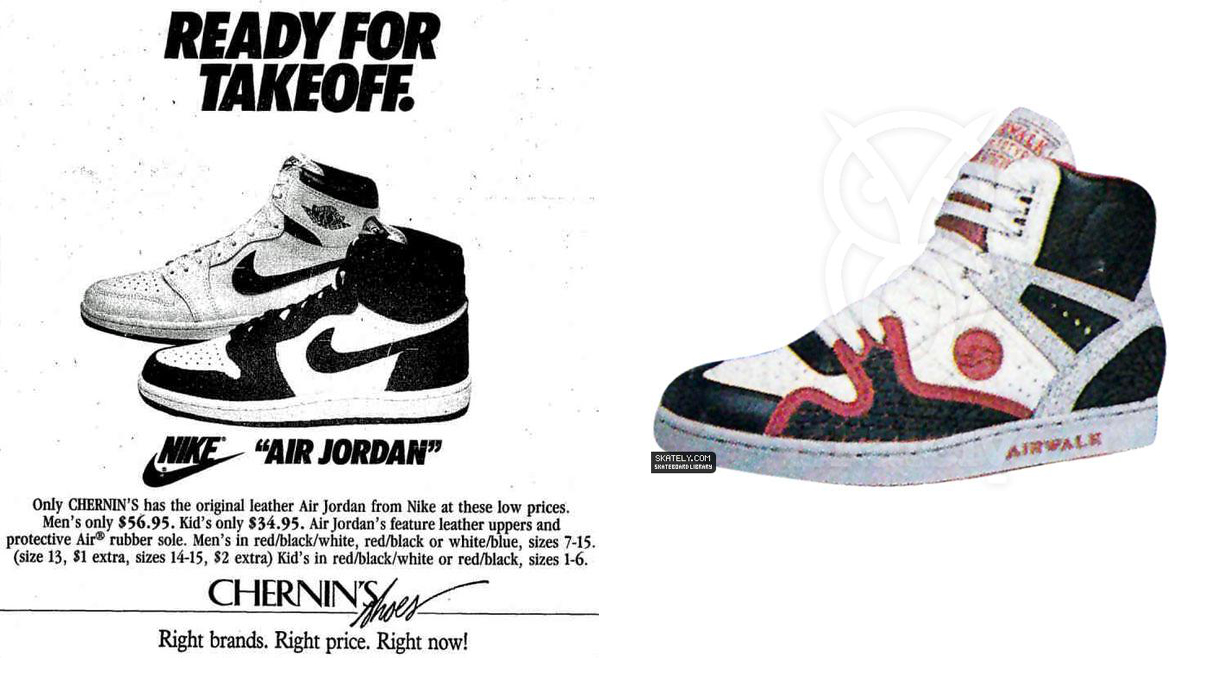 While the elongated sidewalls seemed to offer more ollie protection, the plastic ankle adornments and mix of suede and leather led to a fit that was both stiff and floppy in the middle. Regardless, with top pro Mike Vallely sporting the shoe throughout his part in Public Domain, the Prototype was a hit and perhaps fueled the brand to not only continue to add plastic to their designs—most notably the NTS that was like 90% rubber—but also to make the highest shoes in skateboarding until getting dethroned by the Muska Skytop. As they continued to experiment with materials and design, many of Airwalk's different high top iterations shared the commonality of the Air Jordan One as they evolved, specifically the 540 and the beloved Enigma.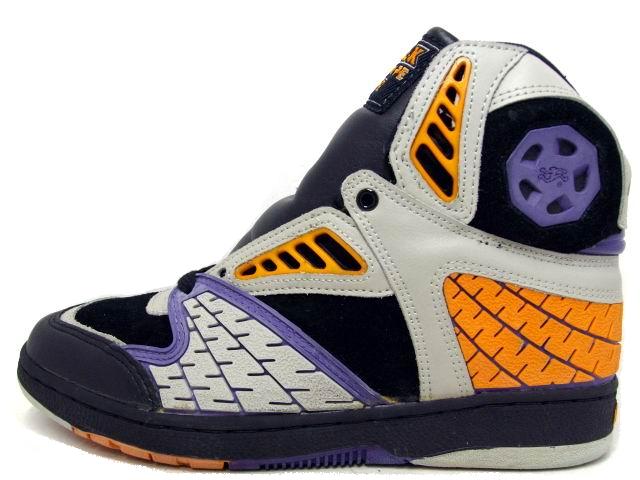 Airwalk Velocity. Photo: easternhellbender.com
The Jordan Brand has remained influential in skateboarding, specifically through one of its most underrated pros, Sal Barbier. Barbier's first model debuted in 1994, featuring a slim profile for the time, with minimal, but purposeful features, as well as an embroidered "23" on the heel—an homage to MJ. The Sal 23's success not only led to multiple colorways—including a UNC themed tribute to Jordan—but also the formation of the Etnies subrand éS, intended to be a vehicle for tech-driven shoes.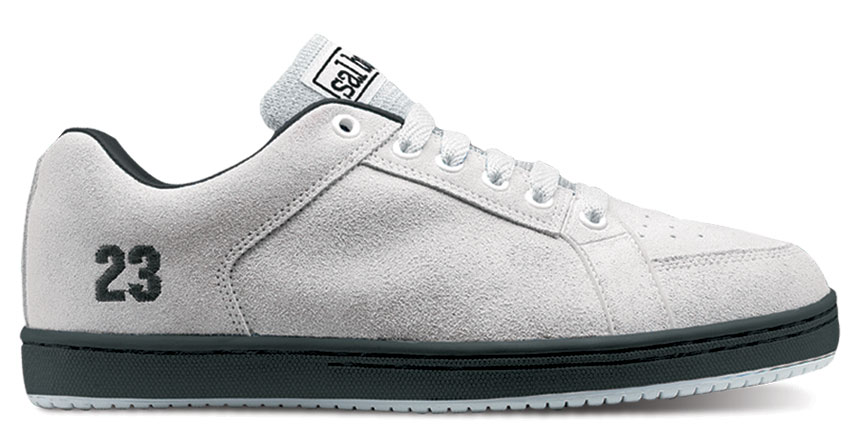 Etnies Sal 23. Photo: skateboardingstartswithes.com
éS fired out Barbier's SLB shoe in 1995, inspired by the Air Jordan IX and its stylized, perforated upper. With DC Shoes introducing tech into skating, including cord lacing systems and other refinements for durability and wear, Barbier and éS rolled out the first internal neoprene sock in skateboarding. The SLB also created a harmony between look and tech, resulting in a model that had a distinct look, without overstating itself. Part of that lineage continued on through Eric Koston, who was Barbier's teammate and has always given nods to Jordan, The Lakers, and basketball in general in his signature shoes. His fourth shoe for éS was also an homage to one of the ugliest shoes ever created. Related to Jordan-inspired design, it's a good space to mention that Chad Muska has namechecked several of them for his various shoes, as well as naming most of the other shoes discussed in this piece for Complex.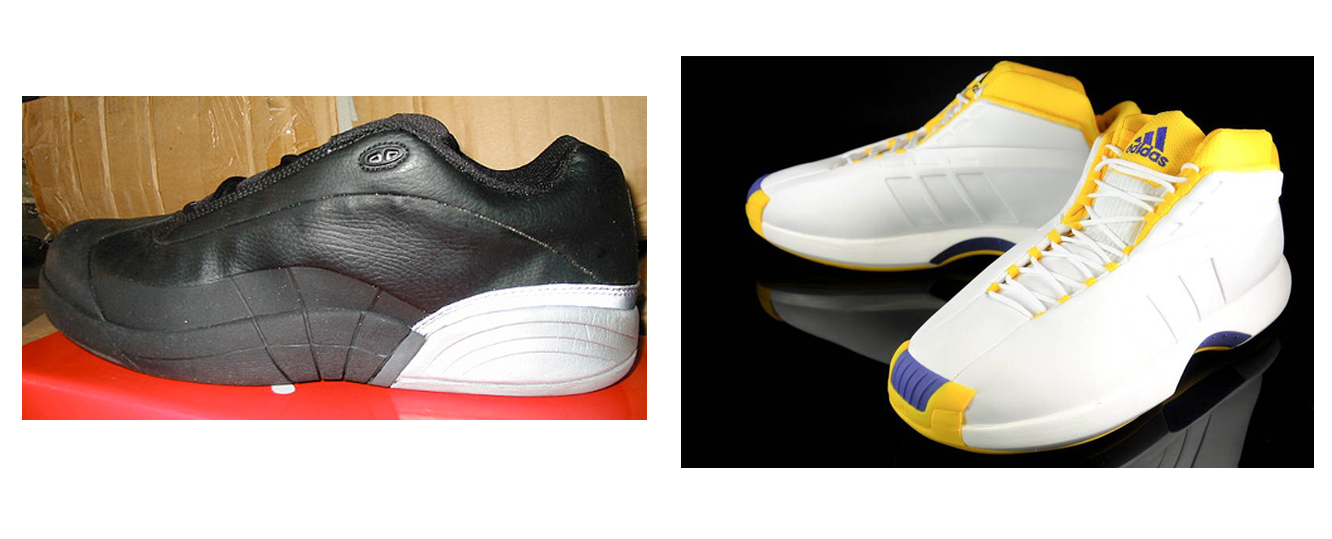 In a pivot from technology, an upstart brand entered skateboarding in the early-'90s, seemingly out of nowhere, with Mark Gonzales and Julian Stranger as the marquee riders on their roster, later adding Jamie Thomas. Started by Eric Meyer, Simple's ethos was insanely forward-thinking, and perhaps downplayed to their detriment. Meyer's goal was to create a low price point shoe, with real benefits, including his proprietary SimpleGum™ rubber, from the most eco-friendly materials available. Aesthetically, their initial launch looked to be inspired by hiking shoes or chukka boots, scaled back for skating, but around 1994-ish, they made another advanced and equally retro move by releasing a suede cupsole shoe with a a leather toe cap, lifted from the Converse Chuck Taylor. The low top was bulkier than a Chuck and didn't have a vulcanized sole, as vulcs were years away from making a comeback, and unfortunately for Simple, even the Gonz and a trend-forward toe couldn't keep them in the market.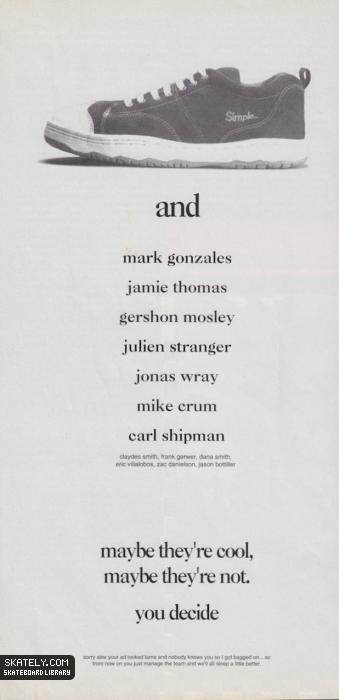 A Simple ad from 1994. Photo: skately.com
Ironically, all the prior attempts at toe-capping, including models by Airwalk and Vision Street Wear, who both offered their take on the Chuck Taylor, failed to have staying power. VSW had a stronger run, as their bold suede and canvas models had strong branding and mainstream crossover and have been retroed several times. Still, the brand was rendered irrelevant by about 1990, partly by Gonzales departing and starting his own brand, Blind. Also, why would you wear anything but a Chuck if you want to wear a Chuck?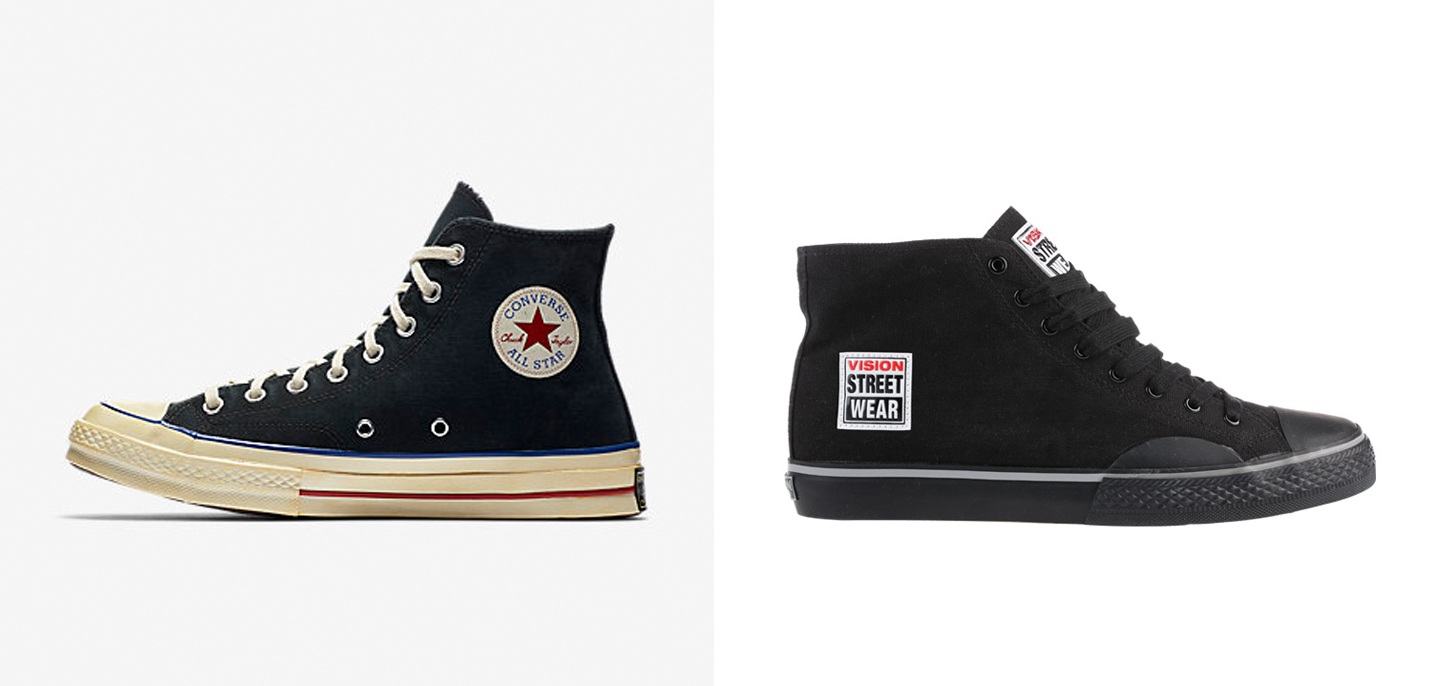 Side note to the whole toe cap thing: you're probably curious as to why the Chuck Taylor was popular in skateboarding when its construction seemed a bit counterintuitive. Once again, the price was a factor, especially with Converse Factory stores popping up in the suburbs of New England, but also because the toe held up well if you rode vert and had to knee slide out of tricks—the same reason why those disgusting "lace covers" were created by Airwalk and maybe people opted to cut them off. Another factor in the Chuck Taylor's run in skateboarding, regardless of Converse actually having a program or not, was that as a canvas shoe, it was one of the only options, along with a grip of Vans models, for a non-leather "skate" shoe out. You'll notice that when Mike V went vegan in the early '90s, he immediately started running Chucks, as did many vegans and vegetarians, as it would be years before synthetics entered the market.
Playing off simplicity, as we dig back into the '90s shoe landscape, there's several big shifts in production and design, but none as impactful as the take over of low tops. As the '80s were all about height, the '90s—even with the brief period of oversized clothing—would be about refinement. As boards got narrower, wheels shed durometers, trucks were redrilled, and style and execution became part of trick selection, there was a push towards shoes that were slimmer. Airwalk and Vision weren't addressing this need and for some reason, and Vans' most popular shoe was the Half Cab, so it opened a lane for Etnies, Dukes, Duffs, and even DC, who initially entered the market with fairly basic shoes. Etnies was the most reactive, offering low tops that drew from the shoes people were skating, which were highly inspired by fashion as well as function.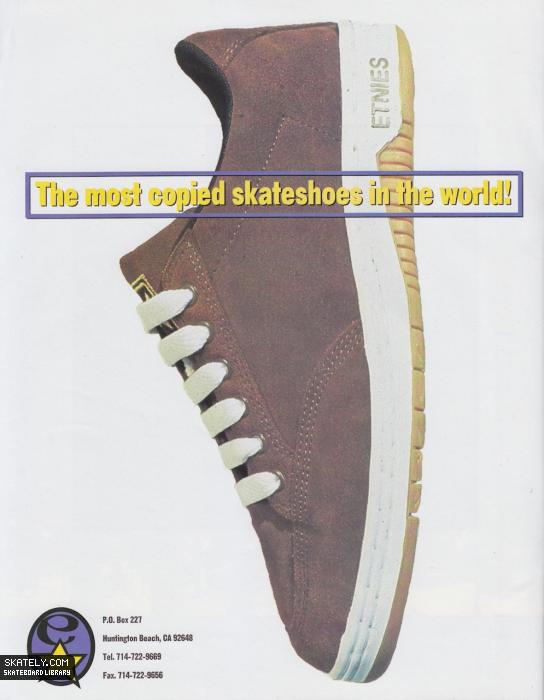 A 1994 Etnies ad. Photo: skately.com
To isolate a flash point, The Beastie Boys released Check Your Head in the spring of 1992. While the culture existed prior to the album's release, Check Your Head's visuals and the Beastie Boys' style put a lens on vintage sneakers. Other than the Chuck Taylor, which has remained a cultural constant, it's hard to find a period in time prior to 1992 where the youth was seeking out old sneakers intentionally. For context, even though the Air Jordan 1 is an undeniable classic, if you were wearing them in 1990, you were fucking weird and people probably thought you were poor. When a new Jordan came out, you retired the old model and moved on. With the Beastie Boys and the X-Large store championing vintage/deadstock adidas and Pumas, the trend hit skateboarding hard; the adidas Campus, Gazelle, and Superstar, as well as the Puma Clyde, were perfect not only for skating, but for the technical street skating that was emerging. Suddenly, you had top shelf pros, many of whom had shoe sponsors, logging footage in old sneakers.
Etnies and Airwalk answered back with several models that drew from heritage models, in fact, it became a "thing," to remove the big "E" logo from the side of your "lo-cuts," a model that had a pointed toe cap, derived from an indoor soccer shoe. Prior to the "floating E" Lo Cut model, Etnies had released a Fresh Lo-Cut in 1992 that looked a lot like an adidas Campus or Gazelle hybrid, with the rotated "E" logo mimicking adidas's "three stripes" logo. Airwalk's contributions included the One in 1992, which pretty much looked like a Puma Clyde with a chunkier sole and displaced stripe. In some ways, seeking out deadstock sneakers in the early-'90s was relatively easy, as there was no eBay price gouging and less vintage dealers in general. It could be as easy as going to any local sporting goods store, heading to the sale rack, and going through some dusty boxes. But if you were a skateboarder in say, rural Maine, good luck. The One and Lo-Cut filled a need, as you could get them in shops and mail order, and in the case of Airwalk, they'd end up in department stores.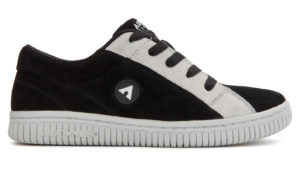 Photo: stormfashion.dk
The One, along with another popular model, the Jim, both were co-signed by the Beasties who wore them on stage and in photographs, giving the shoe another layer of authenticity and validity, rather than a consolation prize for those that couldn't find Puma Suedes in their size. As for the Jim, rather than drawing from soccer, its simple lines called back to the adidas Stan Smith. Of course, if you didn't like having that "A" on the side of your foot, the Stan Smith was relatively easy to find as it was being produced at the time, along with the Gazelle and several other heritage models, by adidas. Skateboarding's role in sneaker culture is seldom brought up outside of the context of the Nike SB Dunk phenomenon, but the early-'90s retro resurgence in skateboarding was directly responsible for several shoes returning to production. In some sense, skateboarding was responsible for the retro market even existing. Wild, right. Fast forward to 1998 and the DC Shoes Legacy model, which integrated the Air Max 95's wavy aesthetic and was worn by the Beasties during the promo for Hello Nasty, but also, people straight up skated in the 95 as well.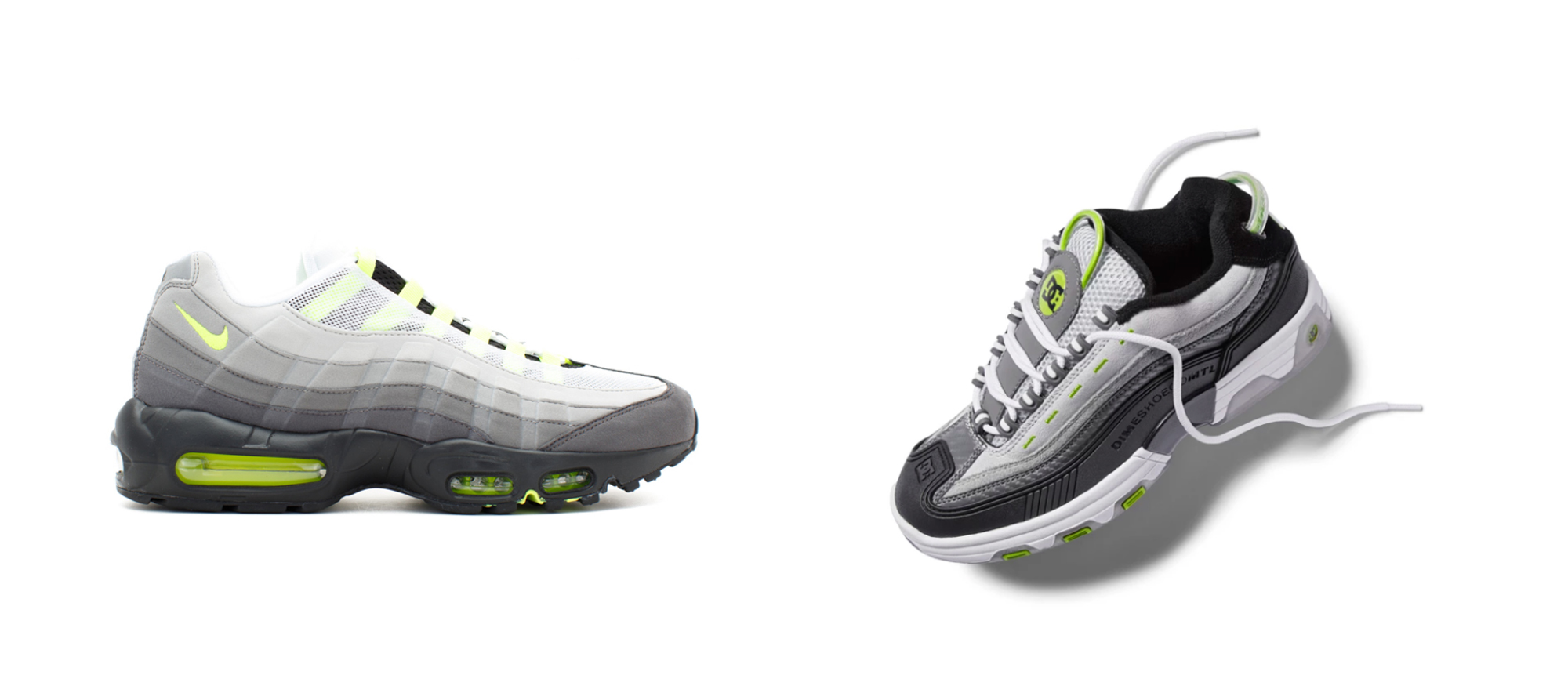 Back to the Stan Smith for a minute, as the shoe truly is a proto-skate shoe without being aware of it, so much so that it has been tapped several times by the industry for different models. Along with the Jim, Tim Gavin's DVS shoe was almost an exact replica of the Smith and was so well received that it became a cornerstone model of the brand, going through different design tweaks over the years, as the brand toyed with both tech and sleek directions, as well as a major directional uppercut by releasing a Jason Dill shoe inspired by a Prada sneaker in 2002. DVS also released a now highly sought-after Keenan Milton shoe in 1996, that mashed together a reduced Air Force One with a Reebok Workout Lo, and added cord lacing, creating an interesting example of past, present, and future in a functional shoe that silently stood out. Save Rick Howard wearing a few stray pairs, even with the retro buzz, few skated in Reebok. In an almost act of defiance, Kareem Campbell not only skated in the Workout Lo in the early/mid-'90s, but he streamlined it into his KCK signature shoe for Duffs in 1995. The KCK's gum sole monochromatic upper allowed the silhouette to fluidly showcase how an informed vision can be as bold as any design flair.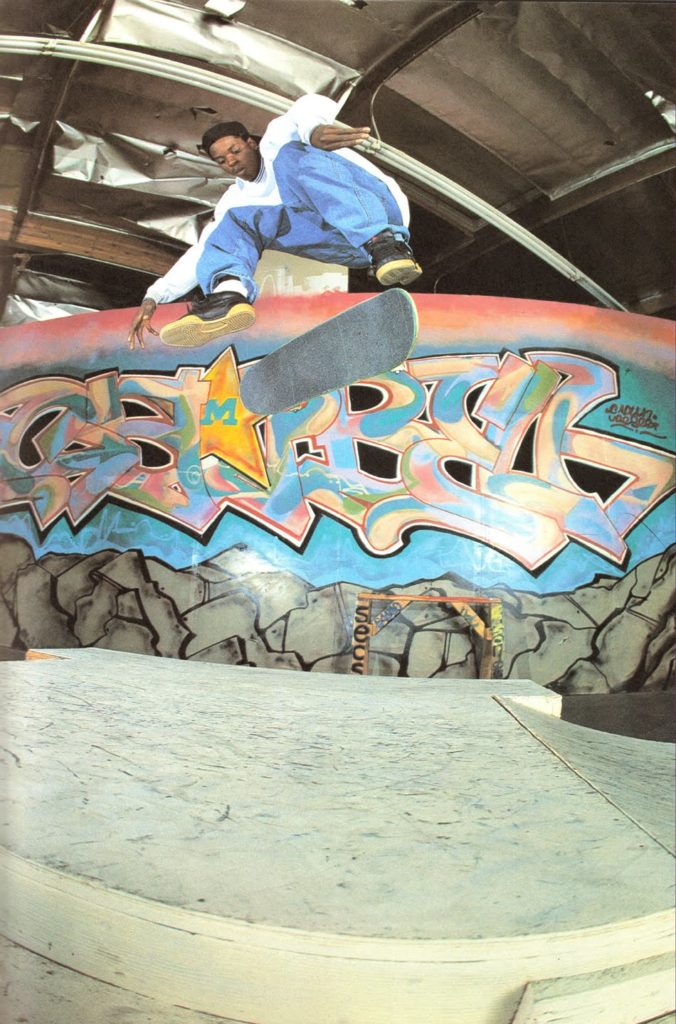 Kareem Campbell in Reebok Workout Los. Photo: noneco.wordpress.com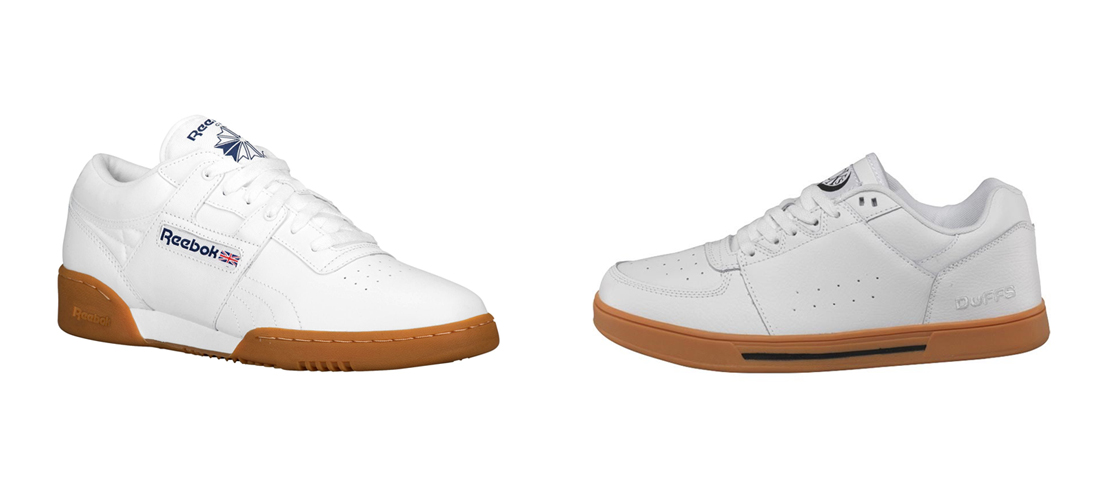 Though the KCK and many of the shoes detailed here had their moments in skateboarding to different degrees of success and adoration, few permeate mainstream culture or achieve "classic" status. The Airwalk One and Jim crossed over, but perhaps due to the brand misplaying their hand and becoming too mainstream, the One didn't stick, and subsequent reboots—most recently with Jeff Staple's input—haven't brought them back to relevance. Perhaps the reason is simply that they're inspired by other existing shoes that have more of a story behind them—shoes that people already feel familiar with and are defined.
Conversely, the skate shoes that do crossover are usually the ones that are unmistakably designed for skateboarding. Sometimes that manifests in a Vans Old Skool or a Stefan Janoski Nike SB, but it can also take an unpredictable form, best evidenced in one of skateboarding's bestselling (allegedly) shoes of all time, and also one of its most visually offensive, the Osiris D3. Add to this the barrier many norms have of not wanting to wear a skate shoe, because they don't skate, even though they wear basketball shoes and aren't in the NBA—or whatever.
***