A couple of months ago, LA artist Six Sev visited The Hundreds HQ, took a tour, met the team, and showed us some of his work. We were blown away at what Six Sev, Tay Hundreds, Kazi (who you'll learn more about in another story later this week), and the rest of their Crenshaw creative circle were making. The fact that they were doing it with little to no outside resources made it exponentially more inspiring, given how much they've had to teach themselves along the way.
Well, they did have someone showing them the way. Crenshaw's greatest treasure, the late Nipsey Hussle, was a beacon of hope for kids like Six Sev. He was Crenshaw's most vital natural resource, feeding knowledge to a community that was hungry to thrive.
During a meeting in Bobby's office, Sev noticed the larger-than-life The Hundreds "$3 Million" chain that Ben and Bobby commissioned from Ben Baller years ago. In Bobby's office-slash-toy-museum, the golden behemoth sometimes gets lost in a sea of BE@RBRICKS and skate decks and pieces from The Hundreds past but it stuck out to Sev and Bobby knew why.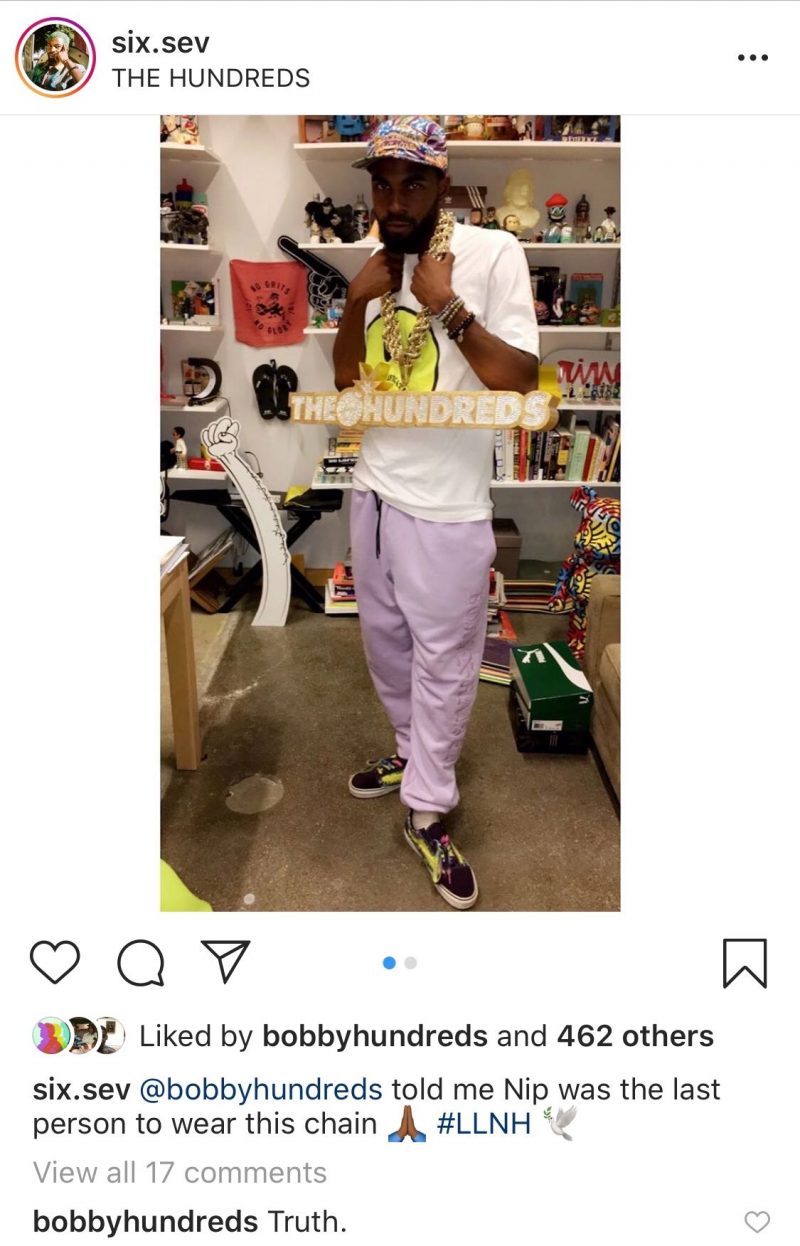 "Nipsey was the last person to wear that," Bobby said as Sev laid the chain over his head and onto his shoulders.
Sure, people ask about it here and there, and we've shown it on our social channels sometimes, but nobody ever really puts it on. It's not a conscious thing we're doing, avoiding wearing the chain. It's just really heavy.
But that didn't bother Nipsey, and that doesn't bother Sev. Heavy is the crown.
"I felt chills going through my body," Sev recalled when I spoke to him recently about that day in Bobby's office.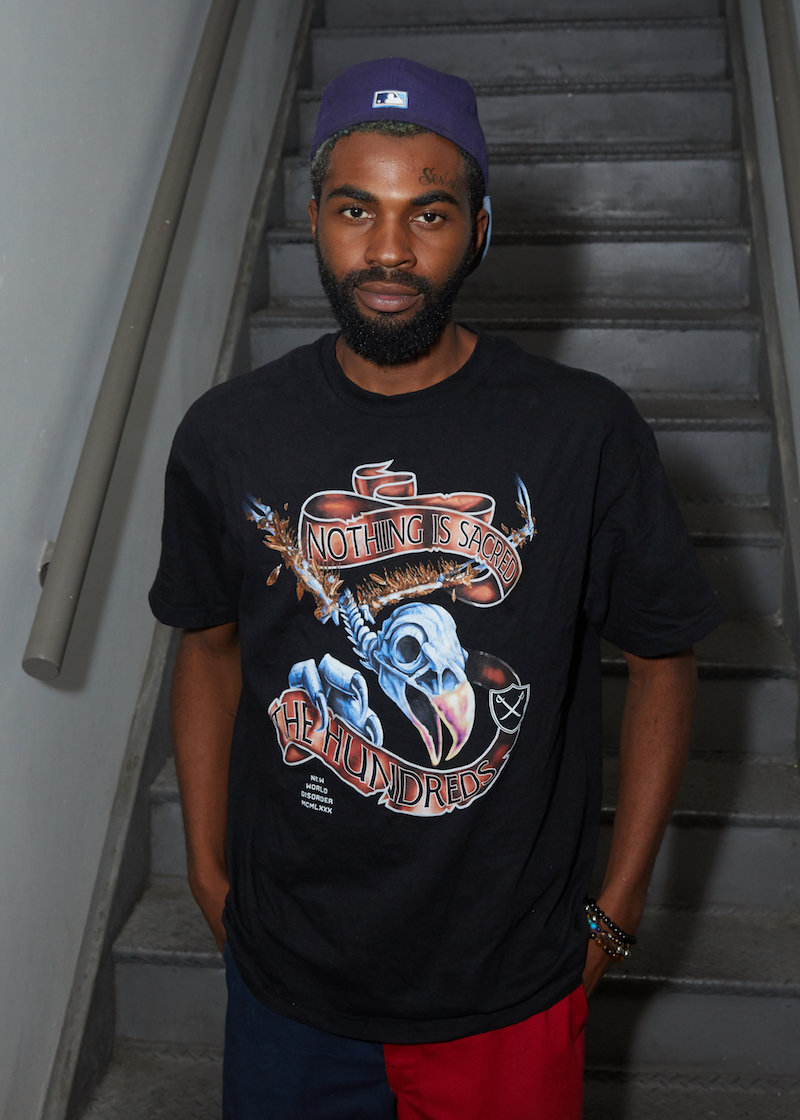 "Nip used to say, 'Never let a hard time humble us.' That's a motto I try to keep everyday. Be the change you want to see."
Six Sev and the rest of the Crenshaw District's rising tide of talented artists and creatives serve as an extension of Nipsey's ultimate vision, lifting up his neighborhood and changing Crenshaw for the better. They're making a huge impact in their community, not with gentrification but rather education, support, and a guiding light for the people who have been living there through it all. Though Nip was tragically taken from us earlier this year, that light to lead the way is still burning, guiding countless young people in South Central and beyond who are looking for a path to overcome the adversity that faces them.
A few years ago, Sev ran into Nipsey completely by chance while he was at Hungry Harold's in the Slauson Donuts parking lot. Though he didn't want to bother Nip, a friend convinced Sev to go show Nip what he was working on. This random encounter led to a meeting at Nip's office and ultimately saw Sev designing Nipsey's SLAUSON SUPER MALL capsule with Puma. Nipsey used his platform to help amplify the talents of a kid from his neighborhood, and now that kid is continuing Nip's legacy, creating his own platform to lift up those around him.
"He wanted to see more black businesses," Sev explained. "So, he bought up the block and started businesses."
"I wanted to see young people have a platform in Leimert Park, so I talked to the elders, connected the dots, started doing events, go to community meetings, do clean-ups, and hold flea markets. There's a whole platform for black economics and culture in Leimert Park now. I feel like I'm kind of forefronting it for this generation. I think I learned that from Nipsey, and when he died, I started being more and more in that position. I have to forefront this."
His Pray For The Hood series of events have grown each of the four times Sev has organized them. The fifth one, taking place on November 29th at Leimert Village Studios, has already moved twice as many tickets as the last one. The movement is growing. People are seeing the light.