A couple of months ago, LA artist Six Sev visited The Hundreds HQ, took a tour, met the team, and showed us some of his work. We were blown away at what Six Sev, Tay Hundreds, Kazi (who you'll learn more about in another story later this week), and the rest of their Crenshaw creative circle were making. The fact that they were doing it with little to no outside resources made it exponentially more inspiring, given how much they've had to teach themselves along the way.
Well, they did have someone showing them the way. Crenshaw's greatest treasure, the late Nipsey Hussle, was a beacon of hope for kids like Six Sev. He was Crenshaw's most vital natural resource, feeding knowledge to a community that was hungry to thrive.
During a meeting in Bobby's office, Sev noticed the larger-than-life The Hundreds "$3 Million" chain that Ben and Bobby commissioned from Ben Baller years ago. In Bobby's office-slash-toy-museum, the golden behemoth sometimes gets lost in a sea of BE@RBRICKS and skate decks and pieces from The Hundreds past but it stuck out to Sev and Bobby knew why.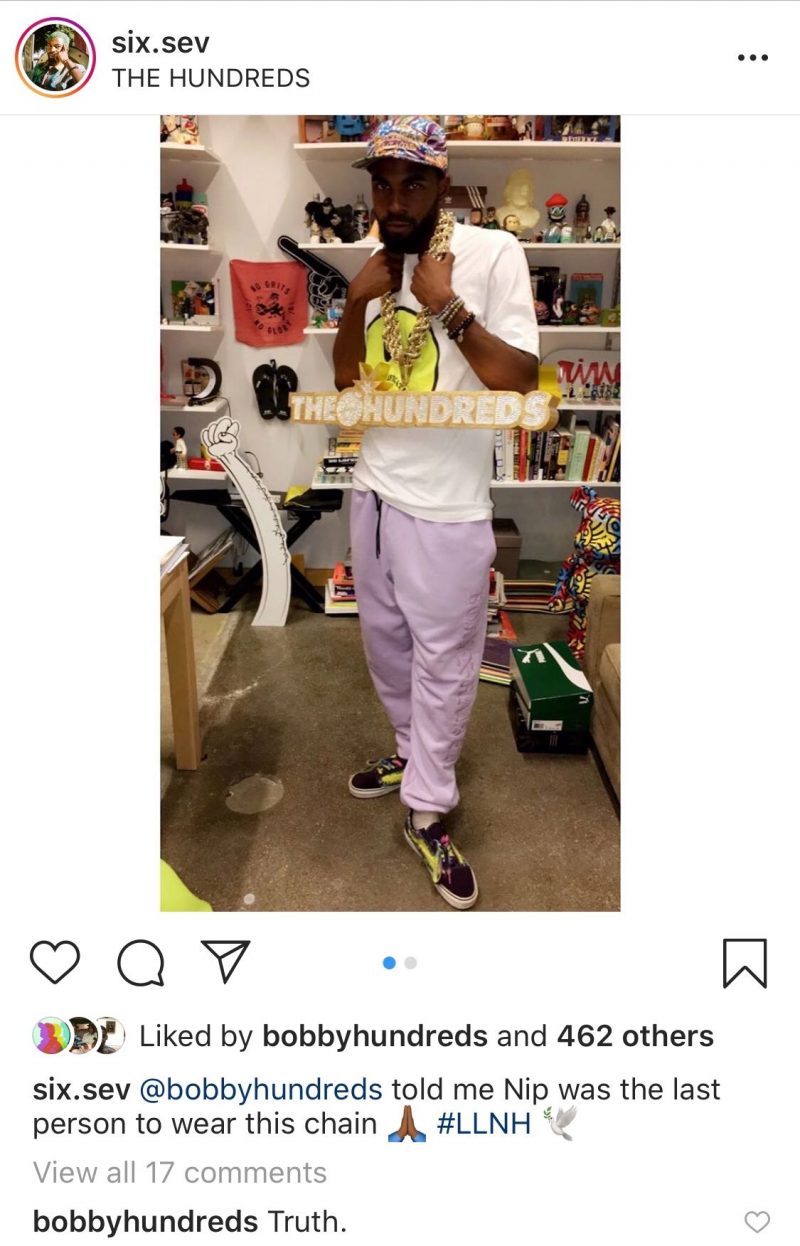 "Nipsey was the last person to wear that," Bobby said as Sev laid the chain over his head and onto his shoulders.
Sure, people ask about it here and there, and we've shown it on our social channels sometimes, but nobody ever really puts it on. It's not a conscious thing we're doing, avoiding wearing the chain. It's just really heavy.
But that didn't bother Nipsey, and that doesn't bother Sev. Heavy is the crown.
"I felt chills going through my body," Sev recalled when I spoke to him recently about that day in Bobby's office.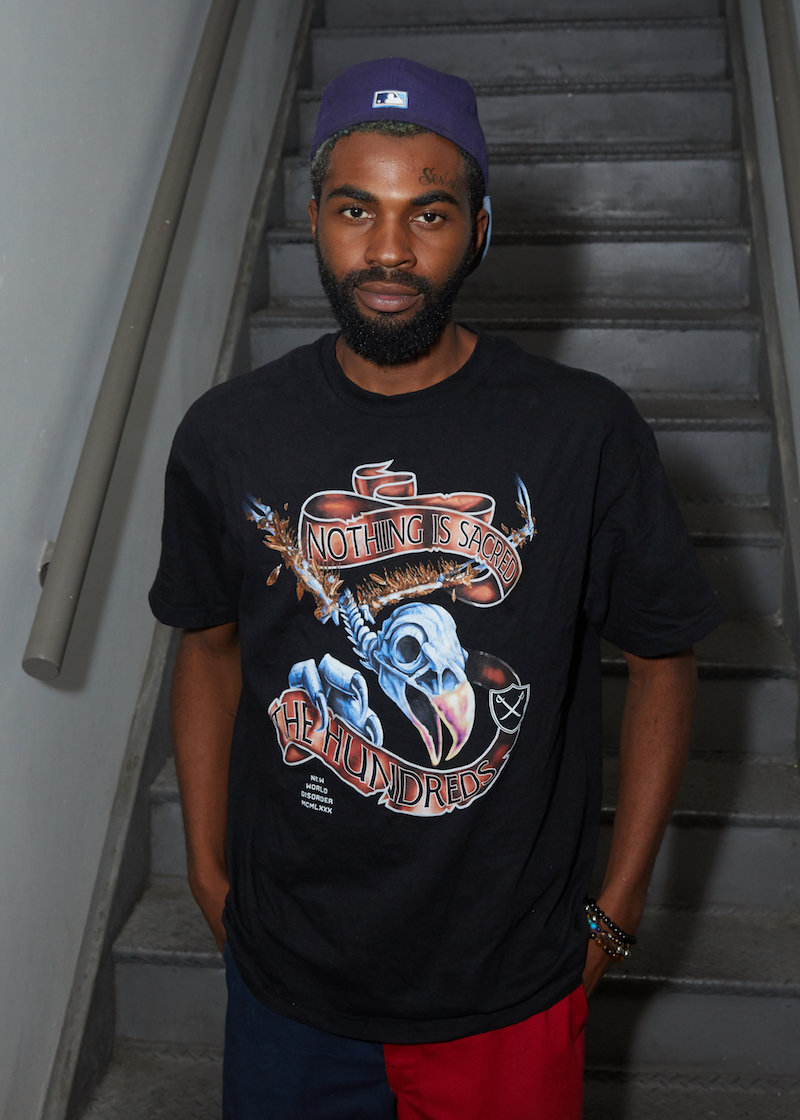 "Nip used to say, 'Never let a hard time humble us.' That's a motto I try to keep everyday. Be the change you want to see."
Six Sev and the rest of the Crenshaw District's rising tide of talented artists and creatives serve as an extension of Nipsey's ultimate vision, lifting up his neighborhood and changing Crenshaw for the better. They're making a huge impact in their community, not with gentrification but rather education, support, and a guiding light for the people who have been living there through it all. Though Nip was tragically taken from us earlier this year, that light to lead the way is still burning, guiding countless young people in South Central and beyond who are looking for a path to overcome the adversity that faces them.
A few years ago, Sev ran into Nipsey completely by chance while he was at Hungry Harold's in the Slauson Donuts parking lot. Though he didn't want to bother Nip, a friend convinced Sev to go show Nip what he was working on. This random encounter led to a meeting at Nip's office and ultimately saw Sev designing Nipsey's SLAUSON SUPER MALL capsule with Puma. Nipsey used his platform to help amplify the talents of a kid from his neighborhood, and now that kid is continuing Nip's legacy, creating his own platform to lift up those around him.
"He wanted to see more black businesses," Sev explained. "So, he bought up the block and started businesses."
"I wanted to see young people have a platform in Leimert Park, so I talked to the elders, connected the dots, started doing events, go to community meetings, do clean-ups, and hold flea markets. There's a whole platform for black economics and culture in Leimert Park now. I feel like I'm kind of forefronting it for this generation. I think I learned that from Nipsey, and when he died, I started being more and more in that position. I have to forefront this."
His Pray For The Hood series of events have grown each of the four times Sev has organized them. The fifth one, taking place on November 29th at Leimert Village Studios, has already moved twice as many tickets as the last one. The movement is growing. People are seeing the light.
Sev and his friends have incorporated community activism into their business model, making sure their neighborhood grows right alongside them. He has taken cues from Nipsey creatively as well on that front, ensuring that his music always means something, both to him and the listener.
The 23-year-old grew up on Crenshaw and in Leimert Park, so he's seen it all. The good, the bad, the ugly. He told me as an 8th grader at Audubon Middle School, you're pressed to choose sides, as the decision you make regarding which high school to attend carries consequences far outside of school grounds.
"From Audubon, you either go to Dorsey or Crenshaw High," he said. "Dorsey is known as the blood school. Crenshaw is the crip school."
Sev ended up at Crenshaw High School and somehow, some way, avoided that life.
"By the time we get to high school, there's heavy gang culture in the school. If you came out of Crenshaw and you're creative and you're your own person, I have to give you props because you didn't let the situation where you're from influence you."
When I asked Sev how he was able to navigate Crenshaw High without giving in to the pressures surrounding him, he credited his Mom. "My older brothers were out of the house and had fucked up in their lives already," he said.
"They did all the reckless shit they could have when they were teens, so with me, she was super protective. She kept me in sports, kind of kept me away from that type of stuff. All I really wanted to do was play sports and design shoes. I knew that by 6th or 7th grade."
By the time Sev got to Crenshaw High, he was focusing more on music than sports. And it was another legendary West Coast rapper who helped make that possible.
"By the time I got in high school, I was writing raps a lot," Sev said. "They built a studio at the school, Snoop Dogg donated some equipment and I made my a song with my friend Smiley. We performed it at the pep rally and it was pretty dope. That was my first experience with performing music."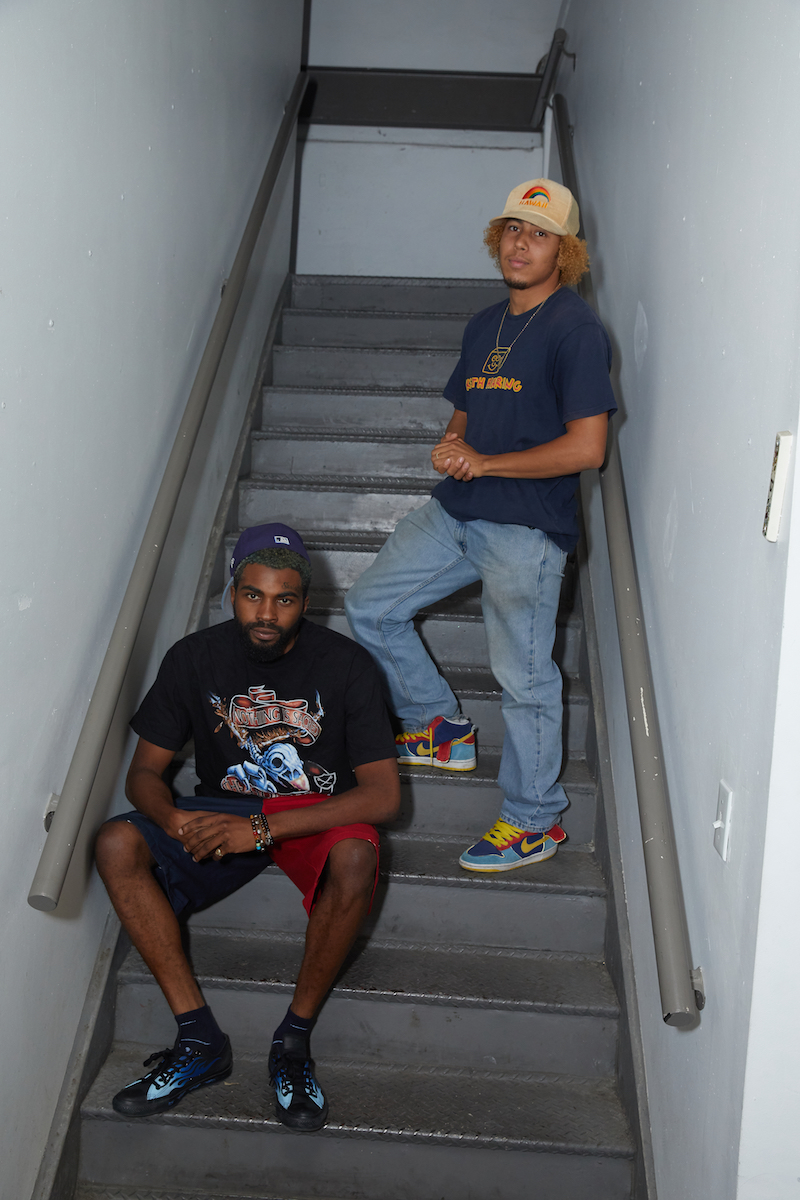 But where Sev is from, you can't be one dimensional and expect to gain traction and find success. You have to diversify and play every hand possible, so Sev learned other skills besides music. Something else garnering his attention in school was graphic design.
"There was this graphic design class and I would always crash the class because I didn't have it but wanted to learn how to do it," he said. "The teacher would let me. I would learn some stuff here and there, and after high school, I started a brand called Capsule and those were my first designs. But I grew out of the idea, it got kind of corny to me."
Around this same time, Sev and Kazi begin making music together, collaborating with many of their friends in the community. And when it didn't hit the ground running, they didn't get discouraged. They figured out a way to make their own buzz, using one another's networks to get the word out.
"We always felt like we were overlooked as far as the music scene," Sev explains. "I was like, 'you know what let's all just repost each other's stuff. Don't worry about these blogs not posting our stuff. We'll make a group chat and when somebody posts something, everybody repost it.' We had a formula doing that and we started getting recognition and traction."
This formula carried over to their live sets, as the entire group would pull up to anyone else in the crew's shows and make sure they were turnt all the way up. And when one security guard at one of the shows hadn't gotten the memo and tried to keep Sev and some others out of one of their friend's events, it sparked their greatest idea yet. They'd make their own event, with their own lineup and their own rules.
"Every show we did was getting shut down," he said. "We almost fought this one dude because he tried to kick us out, like bro our friends are performing. After that it was like 'you know what? We're going to start our own show,' I had this t-shirt I designed called Pray For The Hood and my friends said it would be a dope title for the event. We started Pray For The Hood, I'd say there were probably 30-40 people at the first one. The second one was about 50-60. Then we got this place called Worldwide Tacos to donate some food for the event. We had free vegan tacos at that one. The third one we did at Hot and Cool Cafe and that was crazy. It was about 200 people. We did the fourth one about three months ago and that was over 300 people. It was big."
When I asked Sev what the long term vision was for Pray For The Hood, he told me, "Pray For The Hood is a call to action. The message in the music is be yourself, be positive, start businesses, and create that energy that makes people want to come together. Unity."
"Pray For The Hood is meant to bring everyone together but then we want to feed them resources and give them the tools so when they leave, they'll go into their daily lives and think about the positive things they need to start doing."
Sev explained that Pray For The Hood is a push back against gentrification, that this event builds strength in the community that can be used to fight cultural erasure and corporate greed pushing out the people and businesses who have been here for generations.
"Places that we've been going to for all of our lives aren't there anymore," he told me. "Rent getting higher, they're building new developments with no parking, it's just a lot of crazy stuff."
But Leimert Park and the Crenshaw District are in great hands, as Sev and the others in this community have learned from the greatest teacher they could ever hope for and will accept no other outcome than the one in Nipsey's vision, where the people in this community are growing and learning and shining.
At the 5th Pray For The Hood, Sev will be releasing a collaboration with us and previewing a new music project, Pray for the Hood Vol I: I Wonder If There's a South Central in Heaven, coming in 2020. The event is free and all are welcome. Come celebrate community with us at Leimert Park and see some of the brilliant talent coming out of Crenshaw.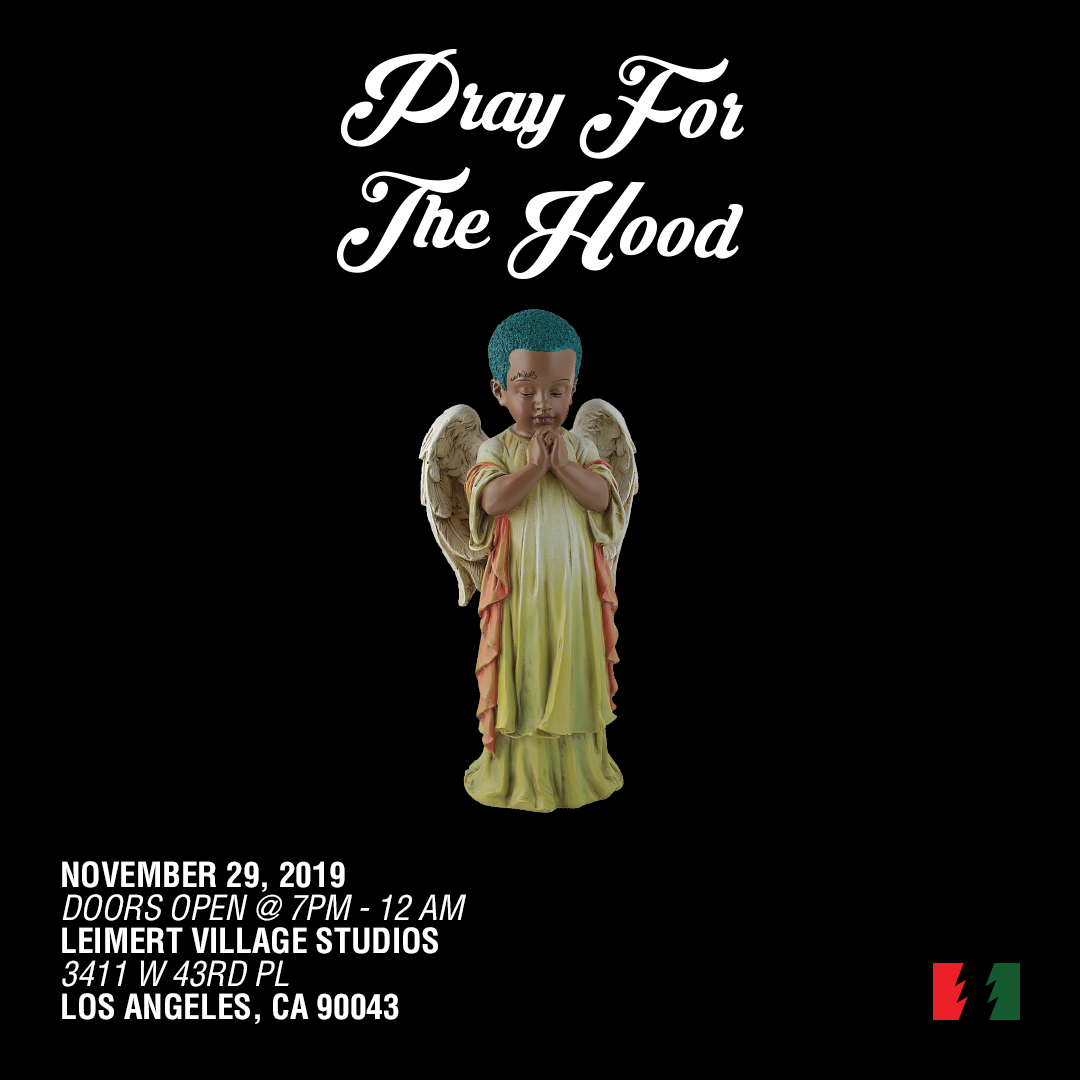 Photos courtesy of Ben Shmikler
***