When you think of Ben Baller, you may automatically think of jewelry and the vast list of hip-hop stars he has iced out, perhaps best immortalized by A$AP Ferg's "Ben Baller did the chain" line on his 2017 Still Striving smash "Plain Jane."
But if Ben had his way, you'd think: Los Angeles. The City of Angels serves as much more than just a home for Baller — it's his base. His headquarters. The epicenter. It's where the money is, it's where his family is. It's home to exotic cars, pretty women, and Hollywood. While the good weather never gets old to a native, LA's sunshine also attracts out-of-towners, infesting the city with their In-N-Out wrappers and Lime scooters. Some even like to talk shit and pretend they know it all, and Ben is not about it.
Born Ben Yang, the legendary jeweler comes from humble beginnings, having seen all sides of the streets while watching Hollywood evolve into what it is today. A CEO in his own right, he's well aware that LA is the mecca of entertainment and where you go to bring your dreams to life, firmly stating, "you have to come to LA to get paid."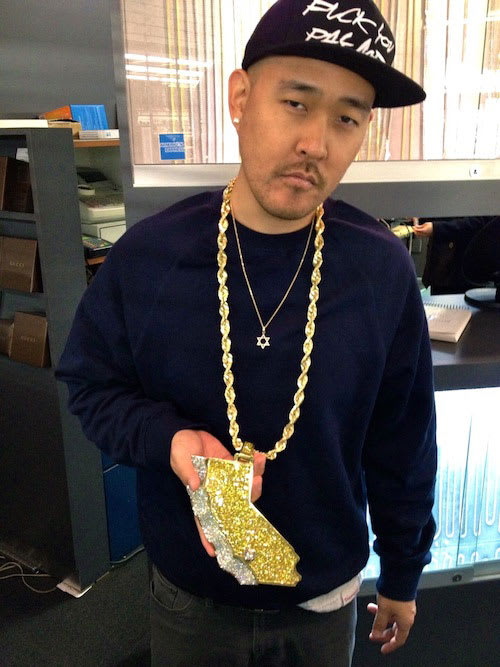 Having spent five years in San Francisco, the city where he graduated from college (SF State), the IF & Co. founder recognizes that even though the cost of living up north is higher than Beverly Hills, you won't find the same levels of clout up there. Littered with Ferraris, Rolls Royces, and Lamborghinis, 90210 is the destination for anybody who's become famous by entertaining or by using "the apps" — Youtube, Instagram, Vine, Snapchat, etc. — a phenomenon we see all too often.
What most people may not know is that Ben started out in the music industry, deejaying and even producing for Dr. Dre. However, those days were never as fulfilling as being able to work for himself and call his own shots. Now, he's created custom jewelry pieces for artists spanning many music genres and generations, from Drake and Kanye West to John Mayer and Justin Bieber.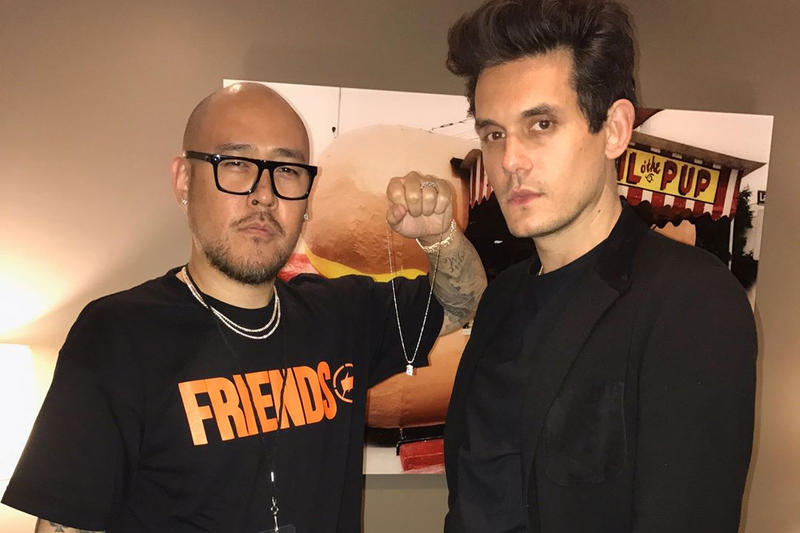 He even made diamond-studded belt buckles for Michael Jackson. In fact, 1995 is the only time Baller can remember being starstruck in LA when he had the pleasure of meeting the late Prince and MJ. Fast forward to 2019, and he's gone from providing style to icons to being a style icon himself. Featured in K Swiss' We Are The West campaign, he's able to tell his inspiring story of creativity, perseverance, and drive, while also challenging audiences to channel their entrepreneurial spirit while striving for success.
The Hundreds caught up with Ben Baller before his panel at the K Swiss launch party at Foot Action in Downtown Los Angeles. The theme? CEOs wear sneakers.
SHIRLEY JU: What was the first piece of jewelry you made that let you know you'd arrived?
BEN BALLER: Shit, it was probably my first or second piece. The first piece was for The Clipse, the second piece was Mariah Carey. Immediately off top, I knew I had made it — literally. Probably around the time of the NBA All-Star game, I think 2007 in Las Vegas, I knew people knew who I was at that time. I had made a name for myself. I don't really go out to events now. You won't see me at the All-Star game, BET Awards, no awards shows. If I'm there for a reason, like if I'm winning an Academy Award, cool.
Even if you're invited?
I'm invited to everything. But being at the All-Star game back then was such a legendary place to be. So much fuckery happened in Vegas. The city will never allow it again, it was the wildest shit ever. People were getting shot, people were throwing dice on the street. It was crazy in Vegas! I solidified a space there because I see Jay, I'm sitting next to Fabolous, whoever was really, really relevant. People were like "who the fuck is this dude?" That's who he is, boom. From that point on, things just got bigger and bigger.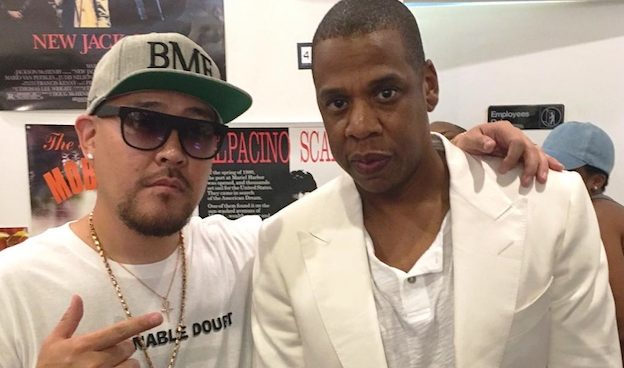 What's it like seeing so many trends come and go in jewelry and fashion?
It's a trip. I always love saying I was there from the beginning. All this shit is just a remix now. I was there from the jump. I'm endorsed by some major brands. I'm blessed so it's tough for me to speak on that. For the most part, I wear a t-shirt from Target, I don't really give a shit. As long as my watch and my ears are lit, it's not really a big deal. I've always been involved or indirectly involved with fashion. More so than that, music trends trip me out more than fashion trends.
What kind of music trends?
I was in a music video for Coolio. I just thought about how far — some people don't know about this person, that person, this person. I remember 13 years ago, I was at a party and these kids just got signed. They were rappers. A song came on, it was Boogie Down Productions "I'm Still #1." This is a legendary hip-hop song. They were like, "yo, who's this?" I looked at the dude and couldn't fucking believe these three kids didn't know who KRS-1 was, or who Boogie Down Productions was. I was just kind of saddened. Now, forget it!
Coolio had a lot of different reasons for being famous, not just for winning the Academy Award but also winning Grammys, etc. Dangerous Minds, that soundtrack was so big. I was in a Coolio video for a song called "Fantastic Voyage." One of the biggest DJs ever in Power 106 history, Big Boy, was in the video with me. This was even before he was a DJ. I've known Big Boy forever.
Anybody 25 and under would have no idea. It's sad to me. I studied everything that was before my time. When I was 18-years-old, that was 1991. I studied everything from 1965 forward, and hip-hop only really started in the late 70s, early 80s. There's a lot to digest in music today but it's sad that these trends come by and people don't understand. They don't get it.
I just saw this flyer today for The Roots Picnic. I'm like "holy shit!" You got The Roots, you got City Girls, 21 Savage, and you have Mos Def. That's a very wide spectrum of hip-hop. To coexist in the space is crazy, it's really super far apart. You're talking about a Chrysler 300 C, then a rare $3M Pagani, then you go over to a Benz, E-Class not even S-Class with the AMG kit, then you go over and see a Lamborghini. It's such a fucking spread. It's a trip.
What are your thoughts on Rolling Loud?
I've been to Rolling Loud twice. I have friends or partners of mine, I own a company with A$AP Rocky so I'm part of AWGE. He headlined the first one, it was way the fuck out past Irvine. It's funny, they had everyone who was super relevant in that world at that point: Lil Yachty, Lil Uzi, Rae Sremmurd, every single person! I met a lot of these people there and they all knew me. They all looked up to me and showed me a lot of respect.
A year later, Rolling Loud was at Anaheim Stadium. I remember Uzi was one of the headliners at that point, I went out there with him. To tell you the truth, I really have no interest in doing that, but me and Cudi became so close he's like "why don't do roll with me to Miami?" I might go out there just to go with him. We might not even stay, just to go to do the show and fly back that night at 2 AM.
You recently made Cudi's chain. What was your reaction when he commissioned you?
It's a really crazy story, I haven't even talked about it yet. TMZ wrote a story about it but I think they hit my publicist about it. I've been on TMZ like every other month. I never go two months without being on TMZ.
How do you feel about that?
I'm almost used to it now. With Cudi, I was at a funeral memorial. Every year on January 25th, a few days before my birthday –my birthday is the 27th, that's why it fucks me up so bad — my best friend Q World Star, who founded WorldStarHipHop, passed away. This was the second annual memorial we had. I just finished up the gravesite. It took 2 years to get his tombstone up, it's beautiful. I got a text from one of my employees saying "yo man, Kid Cudi is looking for you."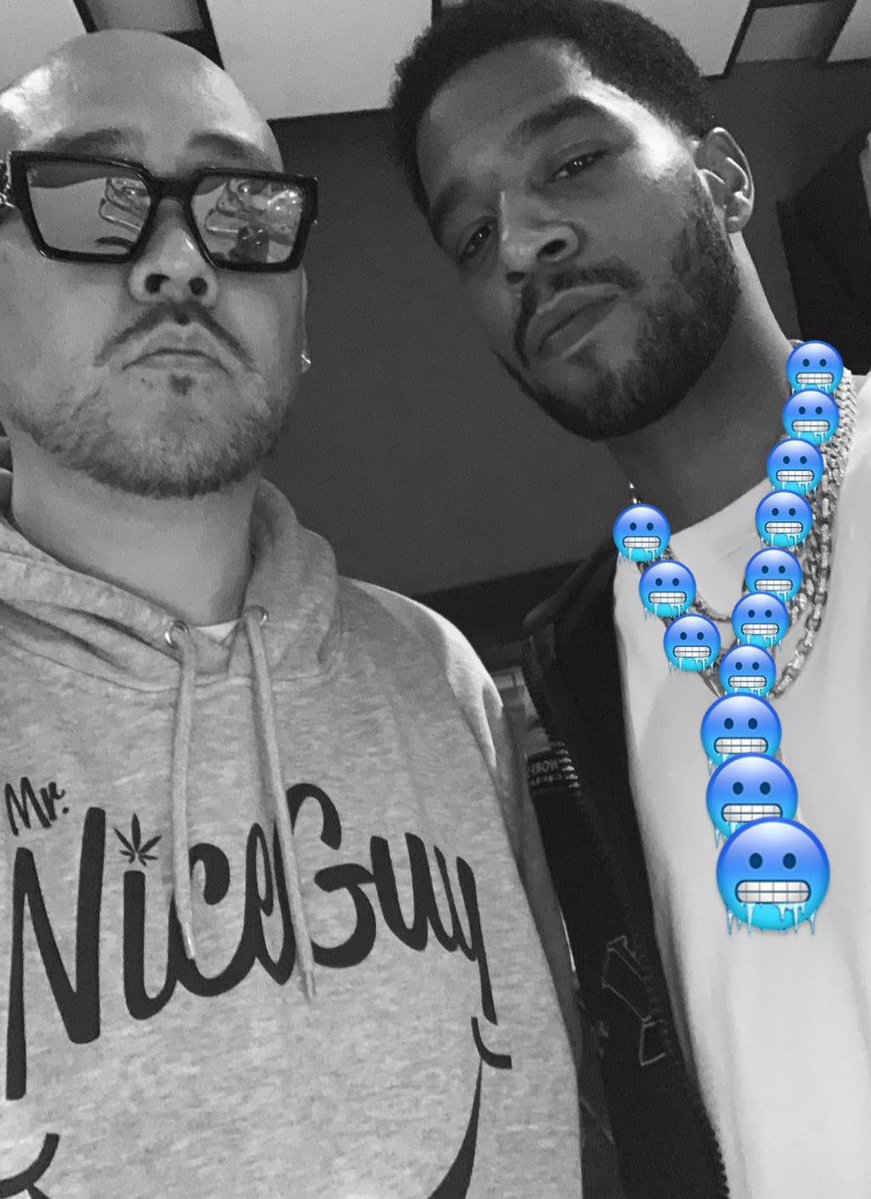 What's your relationship with Cudi?
It's funny. When I receive messages like "Kanye wants to reach out to you," I don't really make a big deal out of it because I'm one degree of separation from everybody. Cudi is kind of a really quiet, private dude. I've met him once before. One of my friends, Brian Greenberg, was on an HBO show called How To Make It In America with Cudi. I didn't know much about him. I fucked with the music. I fuck with him but I don't really keep up with a lot of music in the last seven or eight years. I can think of maybe three things that I was like "oh this was dope." I bump Bob Marley and oldies in my car.
Four or five years ago, Complex asked me, "is there anybody that you haven't made a chain for that you care to make a chain for?" I said, "not really, but Kid Cudi would be cool," and kind of manifested it. I told him that, so he hits me right after the funeral memorial. We talk on the phone. He hits me twice, I was like "Goddamn! Cudi really wants to get this shit going." He was like "hey bro, my birthday is coming up on the 30th." I'm like "what the fuck bro, you're an Aquarius? My birthday is the 27th!" He was like "yeah bro, we're only three days apart." I was like "that's lit man, how'd you get my info?"
He was like, "oh man, Pharrell referred you." There couldn't be anybody bigger — there could be nobody who could cosign jewelry bigger than him. He's the godfather, the GOAT of this hip-hop jewelry world. For Cudi to be like "I wanna get a custom chain, who should I go to?" And Pharrell is like, "yo you should hit up my man Ben Baller," that's crazy. I pulled up to Cudi at the studio, we went over a few ideas. He told me "bro, I got a BAPE capsule coming out." I said, "it's funny you said that man, I'm endorsed by Bape." The Korea side, but it's still a licensed product owned by BAPE, the parent company of I.T.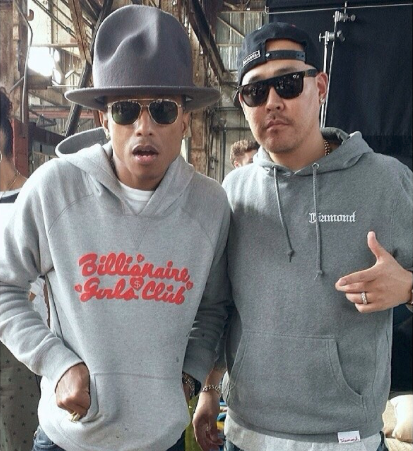 We start talking, and we had way more things in common than I thought. He was actually a little older than I thought as well. There are people out there who are enormous outside of Drake and Jay-Z, you think about maybe one of the biggest artists out there now. He fucked with this at least because I need to know a motherfucker before I can get paid for a chain. I see what people get for a show, whether it's Uzi, Travis Scott — Cudi is still top-five highest paid.
He's headlining every festival.
But I'm talking about the highest paid. I got a lot of respect for dude. We became real cool, real close. He started having some private events, we kicked it and went over this chain idea. The thing that hit so hard was that this was a BAPE design Nigo did when he was still at BAPE. This was a legendary piece already. We went back and forth. At one point during the making of the chain, I had to make an executive decision and be like "yo listen, man, I have to change some shit around." We were very, very close in touch. I talked to Cudi prolly six times a day throughout this six or seven-day process, which is crazy.
I was like, "I gotta do something." He said, "alright man I'll just trust you." I said, "bro you're gonna have to trust me." When it came out, I was like, "you gonna motherfucking love me forever." He was like, "I already love you man, come on!" We go to the studio and he just bugged out. He was like, "fuck this, we need to have a celebratory drink." I don't really drink that much anymore. I'm old, I got kids, I don't turn up or nothing."
The only two times in the past 13 months I've been out in LA after 10 PM because I'm in bed by then, is with Cudi. He brings out 1942 and says "let's take a shot." I said, "fuck it, let's do it." Take the shot, he's like "this is just the beginning, I need you to make another chain." I said "hold up! I gotta finish up some big pieces," because I got some big clients I gotta make a piece for. During this process, he's like "yo man, Ye wants to get a chain," and I was like "fuck, lemme finish your piece and I'ma talk to him."
Because that's a whole different beast. Because I specialize in not just design and artistry but concierge service, I get to provide for high-level celebrities. In fact, Cudi's hit me almost every day since. Two days ago, I was at the Grove and I get a call. He's like "I just want to say thank you again for this chain."
What is it about those BAPE-style cartoon design elements that are so timeless? Why do they connect with so many people?
You see Snoopy, you see Garfield, you Tom and Jerry, you see Goku, Dragon Ball Z, you see Despicable Me, the Minions! There are things that you see and notice immediately. When you notice that BAPE character — I had one of myself, back on Myspace — you think of Skateboard P, you think of a few people. All of the characters more recently like Wiz Khalifa, Lil Yachty, Travis, those were done post-Nigo. No disrespect to them but during Nigo–era, you got Pharrell, you gut Cudi — I can't think of anybody else besides Milo. You just associate that with a legendary streetwear brand.
Talk about your involvement in the K SWISS project. How do you prepare differently to model than if you're behind the scenes designing?
We Are The West, first off, that's me. I'm super universal, I've been to 36 countries in my life. I can go anywhere and blend in, but you're gonna see the LA in me. People see less and less of the LA nostalgia. If you look, I would hope I have an LA glow. All my aura shines Los Angeles. I don't want anyone to forget that I'm from here. I want it to be undoubtedly known that I'm from LA.
Second, CEOs wearing sneakers, that's also me. Being a CEO, being a boss, wearing sneakers is a big deal. Doing those two things is an easy thing for me. Designing, I've been designing for a long time.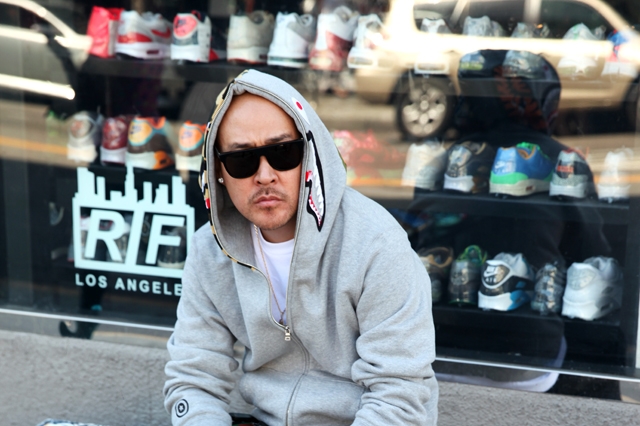 [Barney Waters walks in]
Speaking of the President of K Swiss, he's lit. He kept up. I can't really fuck with anybody who runs a brand and doesn't keep up with what's hot now and what's hot back in the '80s. Dude knows everything about that. The cool thing is all these 90's nostalgia brands are back: Fila, Puma, etc. If I didn't wear K Swiss, it would be tough for me to get a bag from K Swiss but everything made sense. Gonna take a classic and if you're Korean, throw a little Gochujang — that's the Korean Sriracha, spice my little drip out there!
What do you think of chain-snatching culture and how do we stop artists from getting robbed without violence?
To be real with you, LA is the capital of chain-snatching, more than anywhere else on Earth, and NYC is right there a close second, and I'm not proud of it. It's fucked up. It's terrible we have to even use the word culture for that. What a shitty thing to do to anyone. Thank God I've been blessed and I've been really close to the streets for a long time. I've been wearing jewelry for over 25 years, and never even had an incident once. A lot of people have respect.
Also, people knew I was crazy. People didn't want that drama, it wasn't worth it. Either the comeback from the hood that would come after them or the fact I'm so petty I'd spend more money than was lost on finding the person and having them fucked up. It's a shitty thing. The worst thing about it now is that it's all documented. It's on camera. It's on social media.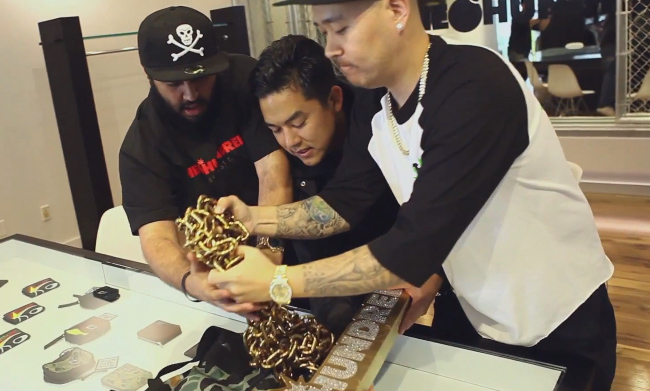 What's even worse is this: no one should get over it. Let's say you're a famous rapper, "Lil Beige," you're young, you get robbed. You don't let it bother you, like "Nah man, it's a new age." Nah dude, you're fucking tripping. It should bother you. It should fuck your career up. That should put you in a bad place even if you did nothing wrong. You got fucking punked. It's a fucking thing. In the words of Suga Free, "if you stay ready, you don't gotta get ready." You should always stay ready. If you're going to wear anything worth some value, always know. You should just have that energy out there.
I've never had security in my entire life. Now, when I go to events, I have to have a security guard. It fucking sucks. Not necessarily to protect me, most of the time, it's more because I don't like people touching me. It's come to that point. That being said, I take a picture with anyone I can but I don't want anyone touching me. My first time being attacked was at ComplexCon this past year. We had about 30 or 40 people pushing and I said, "hey man, listen, y'all gotta move back," and they didn't.
You and Bobby Hundreds pulled an epic April Fools Day prank on fans a few years ago. Are you planning something big for the holiday this year?
Nah. That wasn't an April Fools joke. That's my answer.
***