It's the 10 track commandments, whet?
I like to dig through SoundCloud. Recently though, I had to take a little break from #10trackcommandments. But now I'm back with a force; and no return could be as fitting as a haterade mix (do people still say that?), aptly captioned with the hook from 2 Chainz's anthemic cut "Watch Out." So if you've racked up a lot of haters, if you've come across people trying to tear you down, then my shade mix, my ode-to-those-who-think-they're-in-my-way mix is for you. Let the 10 songs below inspire you to continue your glo up. #TYBG.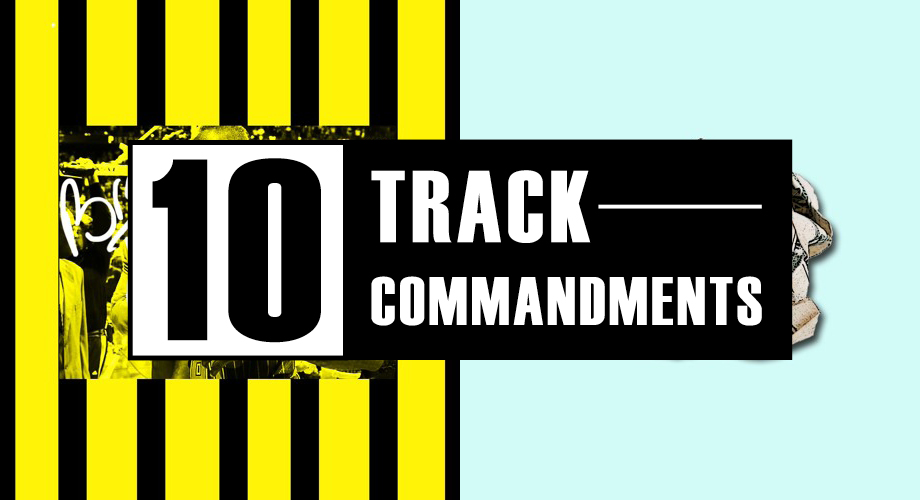 Wil$on – "Ballers"

Wil$on is a #10trackcommandments alum from last September. Fast forward nine months, and the LA rapper has already grown immensely. Lyrically, he's leveled up, essentially introducing his thesis—he wants to be a baller; who doesn't?—before the damn near stunning beat drop at the 18 second mark. The clapping, energetic snare and the sandy texture of something akin to egg shakers or maracas creates a punch for Wil$on's compelling, genuine lyrics about his childhood and his hunger to ball.
Latrell James – "Break The Rules"
More than anything, Latrell James' identifiable lyrics are the driving force behind his latest track "Break The Rules." "Pray for my enemies, I don't feel sympathy / Pour out this Hennessy, I ain't got space in my memory / To be questioning tendencies, questioning energy." "Break The Rules" is about progression, about cutting the toxic people out of your life in order to move forward. Energy—from people or an environment—is a very real thing. And breaking rules… well, that's just as vital to success. Boston stay killing it.
UG Vavy – "Gwap"
While "Gwap" sits at a pretty 157k listens on Soundcloud, the Chicago artist is still largely unknown. On the self-produced track, the dull thud of the bass and orchestral-like layers help to reinforce his trademark melodic flow. Like a lot of us, Vavy isn't here for any handouts; and with a raw talent like his, he won't need any. He's focused on his achievements and holding that gwap for him and his crew.
Nessly – "look at u"
Nessly is definitely a product of 2016, but we ain't mad at it. Over a nouveau trap beat, Nessly spits the hook with auto-tuned vocals, soon trading that in for an un-manipulated, untreated voice. He isn't unaccustomed to hard work, using "look at u" to flex his pen, almost as equally as he flexes his accolades (his breakout single "Giddy Up!" was played on Drake's OVO Sound radio show); he's paid his dues, so that does allow for some braggadocio on his end.
Azizi Gibson – "Perky's Calling"
Remaking a song can be difficult: it's quite easy to make a flop, especially when covering a well-known artist. But Azizi Gibson takes Metro Boomin and DJ Esco's production from the Future song "Perky's Calling"—an almost serene, calming beat—and spits over it with ease. When listening to Gibson's version, it was the first time I fully realized why rappers, and artists in general, are so boastful: It's something about speaking your triumph into existence. "I'ma switch the game, make it mine, my nigga."
Jonwayne – "That's O.K."
With "That's O.K.," Jonwayne tells us how it is, revealing some things about his life that we may not have known. Lyrically, his hook is dry and satirical–clearly he has a lot to say, but he doesn't have to explain himself. The production is sultry, the kind of beat that pairs well when you're baring your soul. He moves how he moves and does what he does; he's his own man.
TWO FRESH. – "TWOsDay IV (Blessings Edit)"
"TWOSDay IV" really does Chance the Rapper's song "Blessings" (the Ty Dolla $ign version) justice. The edit plucks the song's ethos—"Are you ready for your blessings? / Are you ready for your miracle?"—and layers it with sonic elements that are still tinged with the original version's gospel nature, while inserting a dynamic bass and other playful effects.
G.U.M.P. – "Unusual"
G.U.M.P., or Give Us More Power, gives me Kids These Days and The Internet vibes, particularly with the group's latest track "Unusual." While the song remains soulful, it's deeply embedded within post-rock, cast with hip-hop tendencies, still steeped in rock 'n' roll. It's a song about heartbreak, but also about forging ahead: "I don't need you like I used to," lead vocalist Uno Hype sings. Sometimes you just need to cut away the fat.
Trouble ft. Skippa Da Flippa, Quavo, and Young Thug – "Whatchu Doin"
Quavo, Young Thug, and Skippa Da Flippa make their first rare appearance on #10trackcommandments. Trouble and his Atlanta associates keep us on our toes throughout the Zaytoven-produced cut, each emcee adding their two cents throughout. In its essence, all four rappers are working hard to keep their pockets lined—and you're a lame if you even dare do something that'll make you slack, like take a nap.
Lil Bibby – "You Ain't Gang"
The only way I could end this list is with a true Chicago cut, a.k.a. Lil Bibby's "You Ain't Gang," where the hook is so devilishly catchy that I fell asleep with it stuck in my head last night, and woke up with it still there. Bibby moves through the song, gritty, rough, and real as hell. Boss gang shit.
***