I remember watching Seinfeld as a kid with my parents and not understanding the hoopla surrounding what Kramer did for a living. My Dad remarked, "He's a hustler"—a statement that wasn't tangible at all. Due to the context of the episode, and my intuition that Kramer didn't really do anything at all, made me wonder what a "hustler" was. My mom then followed with some sort of dumbed down etymology: "A hustler is a person who does many small jobs to make ends meet." There was the smallest pause and she continued, "And oftentimes some of what they do is illegal."
The proclamations of "pushing weight" as the core tenant of hood-rap hadn't quite become so commonplace during those Seinfeld days, but the verb hustle was around. Shockingly, before Rick Ross was biting cigars in Maybachs, the term can be traced back to Germanic languages, or more precisely, Middle-Dutch before appearing in the English lexicon in the 17th century.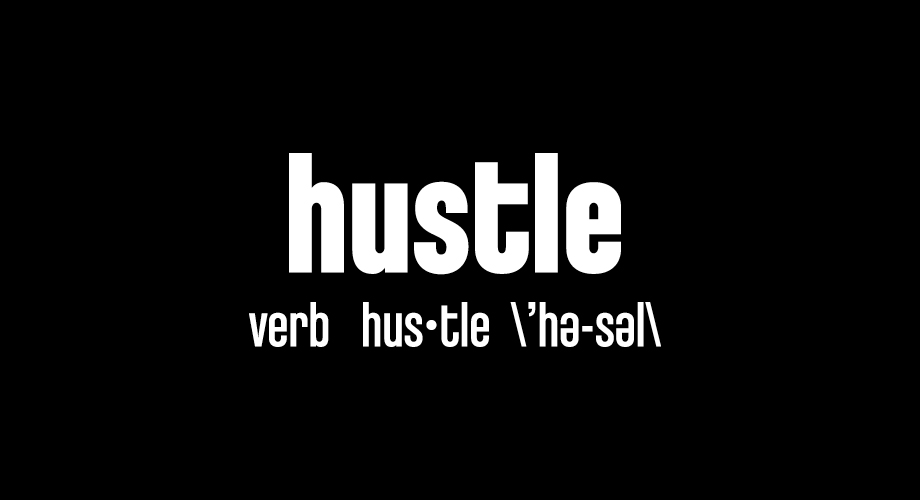 Our current hustle derives from the Middle Dutch hutselen, apparently meaning "to shake money in the game of hustle-cap." Did you just think about shooting dice? Funny how the same hutselen or husselen in modern Dutch refers to shaking or tossing. 
Making its move into more common English vernacular by the 18th century, hustle was defined as "to push roughly; or jostle." Then it moved on to refer to push roughly or jostle in reference to an additional activity—like working, or working toward a desired end with great fervor.
By the 19th and early 20th centuries, two notable Americans have great quotes attributed to them where the term is used much in a context we understand it today. Known chieftain of freedom and O.G. of the beard game, Abraham Lincoln is commonly attributed as having said the following:
"Things may come to those who wait, but only the things left by those who hustle."
I presume he was referring to his crowning achievement of the 13th Amendment to the Constitution abolishing slavery. However, some Lincoln scholars have posited this quote as bullshit, proclaiming that the world "hustle" never appeared in Lincoln's written journals, nor the phrase "things may come."
'I Got $5 On It' by telegraphix

I'd like to be a believer (I mean, it's Honest Abe; what's more honest than hustlin?).
Then we have quintuple O.G. on the mean streets of science, and electricity guru, ya' boy Thomas Edison, whose attributed with the following quote:
"I've got so much to do, and life is so short, that I'm going to hustle."
Boom. Now we got lightbulbs, though. Lightbulbs, breh.
Fast-forward to the more common twist in the American lexicon, as we look toward the 1961 Paul Newman flick, The Hustler. Newman plays a pool shark, in the classic feigning no-skill, and then showing up to beat that ass and take that money sense. This is significant, because it marks a reference point in mainstream American culture in which "hustling" is broadcast in a more underworld sense of the term, as we know it now.
Then comes the '70s dance craze originating in the Bronx, "The Hustle," which spawned many variations and the ubiquitous and catchy as hell Van McCoy hit of the same name—you know how it goes. The one with the little flute ditty. Now it's stuck in your head; sorry, not sorry.
By the 1990s, with the explosion of Gangsta Rap and Hip-Hop into the mainstream, the transmission of the term became synonymous with selling drugs on the streets. See: Jay Z, Bone Thugs-n-Harmony, Tupac, Notorious B.I.G.
In "U Don't Know," Jay Z raps:
"I sell ice in the winter, I sell fire in hell/ I'm a hustler, baby, I'll sell water to a well."
But with hip-hop culture's ever-evolving parlance, to "hustle" has continued to morph and shift into a more encompassing term for various activities. Hustling is about obtaining money by assorted means, any means, not just on the corner. So when your favorite rapper is appearing on that new EDM track by some European DJ you've never heard of, that's hustlin'.
When a very hungover Juicy J is on a call-in radio show at 7:00 am to promote a series of concerts—hustlin'.
When Gucci Mane plays a super-villain in an offbeat movie about teenage girls—hustlin'.
When Ludacris hosts award shows—hustlin'.
"It's that scrappy, heart-pumping persistence into your backbone, perseverance into your pineal gland."
That common use of hustle has now evolved to include the tenacity to achieve success by any means. Despite its black-market context, to hustle is now hardly a pejorative. It's tireless dedication. An unwavering ethic that extends stuffing the work in a baggy. It's that scrappy, heart-pumping persistence into your backbone, perseverance into your pineal gland. So, in that sense, back toward its 18th century origins—that jostling, and pushing roughly.
Now hustle appears on sharp posters in the offices of brogrammers. "Hustle Daily" sits in a frame at your local artisanal bean roastery. A scrawl of "Never Stop Hustling" adorns the wall at your crossfit gym.
Hustlin' or to hustle is a long pothole-laden boulevard. It's a jagged and coarse road packed with hairpin turns, broken glass, and police checkpoints. To undertake the hustle is to throw in a quarter-tank, top off the oil, and set out onto the pave. At the end of the boulevard is achievement. And then another boulevard.
The Hustle.
But for optimum results—according to Rick Ross—it must be done everyday.
***
While there are too many tracks about the act of the hustle to include, here are some of my faves, in case you need to get your Edison on.
E-40 "Hope I Don't Go Back" 
God, I love this classic. Especially the first 15 seconds where 40-Watter proclaims he had the work in a VHS canister. [Insert laughing-crying emoji here].
Yelawolf ft. Paul Wall "Hustle"
Criminally not known about song. Off the mixtape with producer Supahotbeatz, this track has that little cosmic underlay on the beat, and the choppin'-spittery on the chorus is that fire.
Clipse "I'm a Hustla"
Let's be honest. I'd let Clipse re-do anybody else's song ever. Can you imagine a Pusha T verse on "99 Problems"?
T.I. "Respect This Hustle"
Well, I had to include some T.I. Dude probably has a hustle bathmat and toothbrush.
Lil Wayne "Money On My Mind"
This fucking song. Play loud in the car with your grandmother.
***