I don't have to remind of everyone of the bleak times we live in—a spiral of events from the refugee crisis to global acts of war and terrorism to the rise of extremist and hate groups. Street art (and graffiti, but that's another, bigger, story) has historically been directly vocal about these issues. It's a real massive, dynamic communication medium, even if it's frequently ignored and commercialized. Many street artists and activists tend to use their work as a means to express a social or political message, and street art has the ability to expand of the confines of gallery walls, inserting itself into the lives of the larger public, confronting their subjects in a direct and democratic way. Even when devoid of a theme, the act of artists uniting to beautify public spaces stands as an important statement of its own.
NuArt Street Art Festival has run for 15 consecutive years in Norway's city of Stavanger by a dedicated team of professionals and volunteers. Kudos to the people and municipality of Stavanger as well, welcoming such an event for so many years. In their own words:
NuArt Festival provides an annual platform for national and international artists who operate outside of the traditional art establishment. From the first week of September an invited international team of street artists leave their mark on the city's walls, both indoor and out, creating one of Europe's most dynamic and constantly evolving public art events.
Issues like self expression, public space, social activism, and communication are brought up to question at each edition of the event. But most importantly, NuArt is a celebration of art and creativity in large scale. We talked with the festival founder Martyn Reed about the challenges running such an ever-evolving event, keeping the standards high, and being not for profit at the same time.
How do you remember the first edition of NuArt and how it was conceived?
MARTYN REED: NuArt is really the culmination of a lifetime's engagement with art in one way or another, I think most artists have milestones or significant events in their lives related to their early exposure to or experiments with art. Whether this was winning a drawing competition, getting recognition from an uncle for a sketch, having a painting stuck on the fridge by your mom, or having your peers praise your first attempts at a tag on your schoolbook. These milestones tend to be more significant or memorable for those whose lives elsewhere are perhaps not so rosy. Broken homes, a lack of attention, struggling parents, etc. etc. Occasionally this passion or attachment to a subject that offers either attention or an escape leads to art school sometimes, to multiple arrests, fines, and prison—in my case, both. So the conception, or the seed of NuArt, was planted at a really early age.
"…The culture's fluid and we'll always find the cracks."
This probably isn't the best way to explain how an event is "conceived," but I think it's key to understanding what drives artists, authentic events, and, by default, NuArt. There are far too many street art and graffiti related "events" that are being consciously conceived and meticulously planned these days. They're generally set up to primarily to benefit themselves, a sneaking corporatization of the culture. It's an approach that is often the antithesis of street art in its proper form.
NuArt is made up of a very creative, chaotic, messy, fun, often frustrating drink and weed-fueled bunch of dysfunctional, but very dedicated individuals (*supported by a more sober administration). We try and cater to this bestiary of characters, facilitate their ideas, and present them to the world. We're not, "Here's the lift, there's the wall, thanks for your time, here's your 10sec dubstep time-lapse for social media."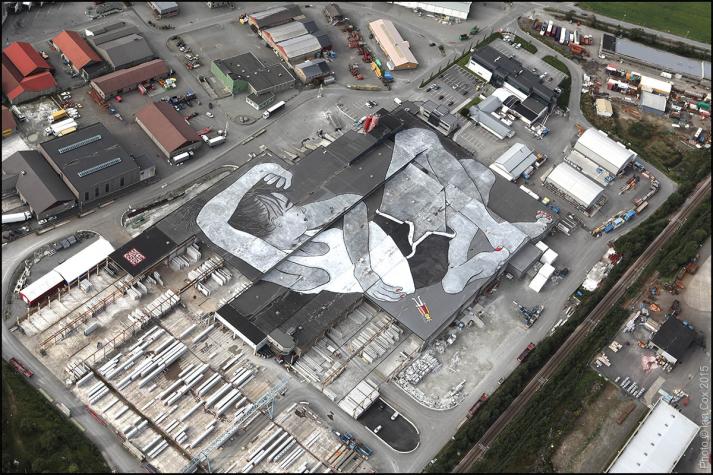 French artists Ella & Pitr's installation.
With all these turbulences in the world, how do you see the world of street art now and the one 10 years ago?
I think if you take an holistic view of street art as a movement, you see the last ten years has left us with an absolutely unprecedented body of influential political and activist-based work. From Saber to Blu, Escif to Banksy, Shepard Fairey to Swoon. In the past you had the likes of Hans Haacke or Picasso's "Guernica" raising awareness of atrocities, and that was it. Influential yes, but nothing like the power and coverage that street art has achieved.
Contemporary art and the media's focus on Ai Wei Wei is pathetic considering just how many artists are tackling these issues where they count, on the street.
"The art world speaks in a different language to that of artists and in particular, street artists. It's either a language of commerce or academe."
And it isn't just the overtly political work that I'm talking about, there's a lot of radical figurative expressionism that is exerting a huge influence on peoples' choices in life—works that are more introspective and offer a deeper understanding of just how fucked up the current system is. I think we have works in our pantheon that are comparable to, for example, Munch's "Scream," and art historians may snigger, but street art has the potential to absolutely change a person's life.
Yes, we have a lot more focus on the decorative and gentrification aspects of Muralism of late, but this is just one small part of a very diverse global culture engaged in producing work that is constantly challenging entrenched notions of what art is, where it should be seen, and by whom.
Futura's installation at last year's NuArt. Video by Brooklyn Street Art.
Do you want to speak of something through NuArt?
It's interesting you use the term "speak." It's perhaps a cliché—too far to say we're giving a voice to the voiceless when street art is so prevalent in the media we consume and artists are able to disseminate their work to vast amounts of people via social media. But in reality, it's what we attempt to do, perhaps not so much [give a] "voice to the voiceless," but more giving a megaphone or loud hailer to those we think have something relevant to say.
I mean, how many messages do we hear from individual artists during the likes of Wynwood? What [do] Wynwood Walls or the many other events actually "say?"
The art world speaks in a different language to that of artists and in particular, street artists. It's either a language of commerce or academe. I'm still uncertain which offers the greater threat, ad agencies and property developers co-opting the culture for profit, or academics and institutions trying to define and categorize it in a way that the general public find difficult to understand. As an artist or organization. whichever one you choose to learn or engage with puts you further away from your own voice. I'm not really sure what NuArt ends up "saying"—we're not the most articulate bunch, but hopefully it's relevant to the culture.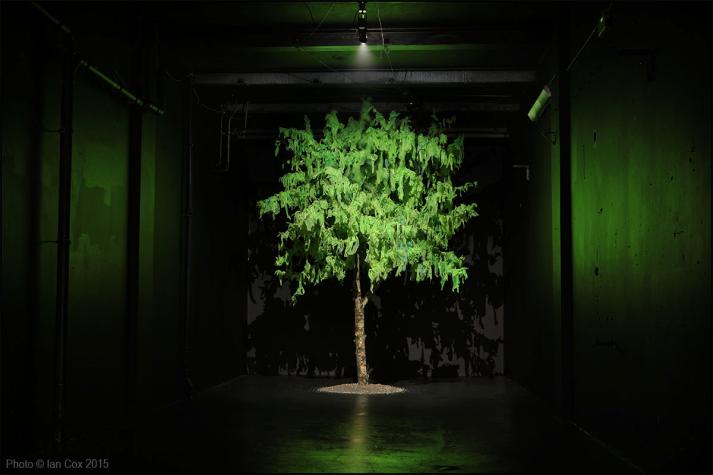 Icy & Sot installation at NuArt 2015.
Has the image of graffiti writers as vandals changed the last years, or is it the same and getting worst? Surveillance cameras and crazy security measures make Europe more like a closed box in my opinion...
When I was growing up, a writer was a writer unless he or she said otherwise, you wouldn't get any thanks for calling a writer an artist or a vandal for that matter. These are definitions usually imposed from above on subcultures. It's obviously easier now to be accepted as an "artist" if that's what you want—there's a market place, publishing industry, magazines, galleries, and burgeoning industries established to support graffiti artists. The perception of a vandal remains the same. Both have something important to tell us, whether it's the conscious vandalism that many urban interventions and billboard takeovers are composed of, or local taggers smashing the city.
Creeping mass surveillance and security measures employed to "keep us safe" are something far more sinister—a lot can be learned from how this technology has been utilized by corporations and public bodies against writers in the past. But you know, the culture's fluid and we'll always find the cracks.
"I'm still uncertain which offers the greater threat, ad agencies and property developers co-opting the culture for profit, or academics and institutions trying to define and categorize it in a way that the general public find difficult to understand. "
NuArt goes beyond the murals and art and offers a wide array of activities—from lectures to street art walks and more...
We just try and reflect the true diversity of the culture, from tags and stickers to pieces to installations. The NuArt Plus conference is composed of the same diversity, from panel debates to talks, artist presentations, performances, and screenings etc. They're held in the same spirit as the festival. It was born from a desire to have something other than a dry academic debate, the key event, Fight Club, pitches teams of artists, academics, and industry heads against each other in front of a public audience. It's held in a pub and fueled by copious amounts of alcohol, this obviously lowers peoples inhibitions and avoids the awkward silences of the usual Q&A's. It's also fun. Something that other conferences generally don't focus on.
We encourage a broad range of participants, from the likes of Juxtapoz and VNA to professors of psychogeography, urban planners, architects, politicians, cultural professionals, and art historians. We try and shoot everything and put it out on our site as an educational resource for others to download and use for free. All events are free entry to the general public.
More importantly, we also run what's possibly the largest "Street Art Education" program in the world. Over 6000 kids have participated in the last 3 events in one way or another, they participate in workshops on site, or we take artists on school visits throughout the region, and run a full practical program of events. It's a great sight seeing bus loads of kids turning up to tour the exhibition and join street art tours. It's important that we change the perception of spray cans in art education, that it's not a weapon or a threat in and of itself, but what you choose to say with it, can be.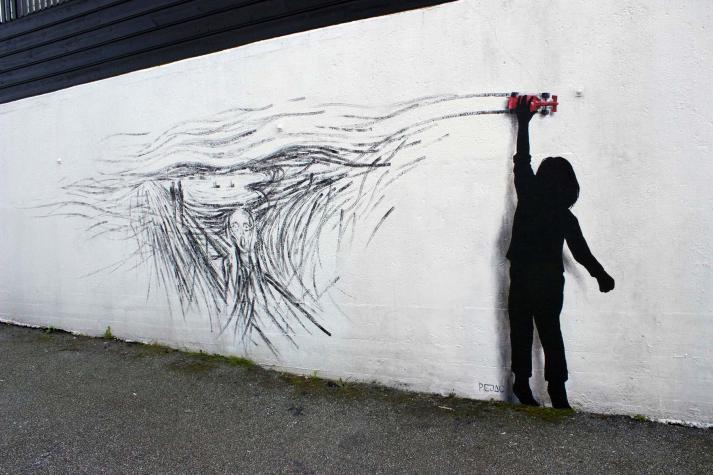 Pejac outdoor installation.
Are there plans to move NuArt to other cities as well? What cities have you visited around the world that had [the biggest] impression [on you] as far as street art goes?
We've worked with other organizations and presented a few projects under the NuArt name in a few other cities, advising on Berlin's "Urban Nation" for example. But for the main, NuArt Festival is attached to a specific place and that place is Stavanger. I don't think we could replicate the model or the level of real engagement anywhere else. We have a local crew of producers, volunteers, and of course an enthusiastic public which we couldn't take with us—NuArt really is part of the fabric of the city now. I'd hate to tour it as an "event" unanchored to place, but I'm sure it's something that's coming, the X Games of Street Art—Red Bull Presents Wynwood Walls Milan with live painting sessions from some of the world leading "street artists." But it's not really us.
What we are doing is developing various side projects supporting specific artists and concepts that we will be presenting at various other cities this year, we'll be giving urban interventionist Fra Biancoshock (Italy) and artist Isaac Cordal, "Freedom of the City" in Ostend, Belgium as part of "The Crystal Ship" Street Art Festival later this year. Basically, a city-wide artist residency where they'll have the freedom to do what they want, where they want. We're also developing a couple of other projects in Oslo, and beyond that it's kind of too early to get into here.
"It's important that we change the perception of spray cans in art education, that it's not a weapon or a threat in and of itself, but what you choose to say with it, can be."
Some stupid question: how do you find new white walls every year? And how have the people of Stavanger have welcomed the festival all these years?
Considering we're living in a small city with wooden slatted houses nestled on the coast of the fjords, [it's] not a stupid question at all. We put out a public "call for walls" each year through local media, and people just start sending them in. We have a portfolio of walls from previous years that we keep adding to and have a list of "key" walls that we'd like. We're not 100% focused on large-scale walls, and there's enough small to medium to keep us going for a few more years yet. Fingers crossed that "go small or go home" becomes a thing.
What's next for NuArt? Too early for 2016 announcements?
This is the first year that NuArt has had a full-time manager. Normally the festival manager leaves in November and we start over the following year. James Finucane joined us last April and is now permanently installed in the office, this has allowed us time to develop projects outside of the festival. We're looking at how new technology can be applied in real time to street art—Jordan Seiler is flying in to work on a billboard project that we have running and we're looking at the potential of augmented reality. We're also lobbying to create a Center for Contemporary Urban Art here in the city and proposing the city take up the challenge of creating a permanent "hub" for the culture. Early days, but we're feeling inspired and confident. Too early to be dropping festival names, but super happy with the progress so far!
***
Keep up with Martyn Teed and NuArt through their Instagram, Twitter, Facebook, and website.