It's the 10 track commandments, whet?
I like to dig through SoundCloud. So here, I present the results of my excavations (in alphabetic order): Nine tracks released in the past month that you shouldn't miss, plus a tenth track that's kinda old but still knocks. Hopefully this'll help get you through the rest of your week, to the blessed lituation that we often call the weekend. #TYBG.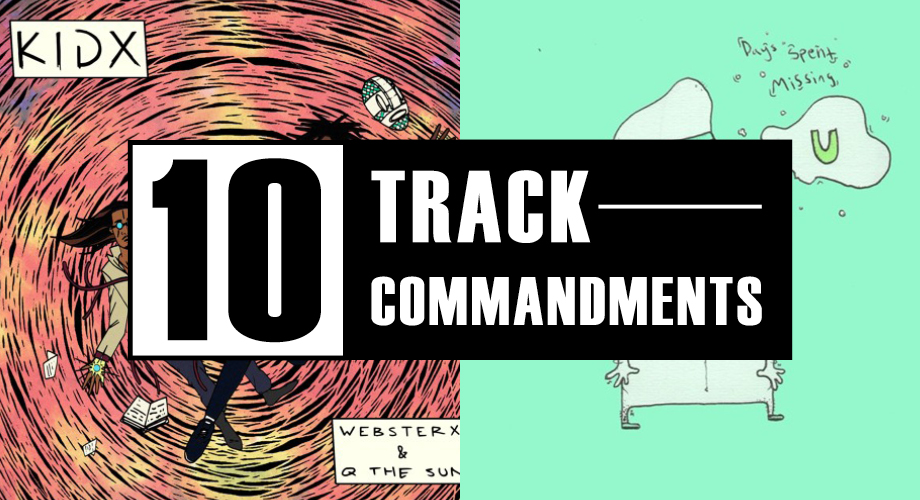 1. Big Leano – "Everything Good" One word that describes Big Leano: hypnotic. While he's only released four tracks, everything we've heard from him is solidly consistent, and in a very similar lane to our other favorite Boston rapper, Cousin Stizz. On "Everything Good," Leano lavishes in women, money, and drugs, serving us a heaping of braggadocio. It's not very complex, but it's pretty good.
2. Black EL – "Silver Surfer" I became familiar with Black EL this time last year, after he dropped his 12 track re-debut L_ST. The project revolved around themes of feeling adrift and depressed, EL using the tape as a tool to pull himself out of it all. Over twelve months later and EL is finally back with the space wave sound that he—and producer team Durkin and Victor Radz—created, its aesthetic synthy, airy. With "Silver Surfer," EL still leaves threads of pessimism and doubt, but is markedly more positive, something we're all happy to see.
3. Daz Rinko – "VIBE WIT ME" With Soulection spurring along its future bounce "Sound of Tomorrow," the aesthetic is seeping into all corners of hip-hop. Indeed, it is a sound that everyone's trying to bandwagon, and often imitation is not the best form of flattery. But Memphis's Daz Rinko's execution on "VIBE WIT ME" takes on a larger scope. He's shaken any kind of Southern intonation, instead opting for a dynamic and spry beat by Soulection producer PYRMDPLAZA, proving that musical precedents don't necessarily have to box you in.
4. Fro-Yo Ma feat. Charlotte Day Wilson – "Spent Missing" First, dude's name is hilarious. Second, his Twitter handle, @yogurtmami, is even more superb. Third, and on a more sincere note, "Spent Missing"—the single from Fro-Yo's first EP Pants—is beautiful. Though overall, its sonic and conceptual intention is fairly straightforward, sometimes that's all you really need. But if you're still looking for something a bit more intricate, Fro-Yo complicates things by throwing a drum solo into the middle of the song. You're welcome.
5. Jimi Tents feat. Jay Bel – "Should've Called" More and more, we're looking to other cities besides New York and Los Angeles to breathe life into hip-hop. New York is steadily conceiving new rap acts, but many of them hover around something similar—which isn't exactly boom bap, golden age, gritty sound, but isn't too far from it. Jimi Tents' aim is to change that, and help his city's' aesthetic move forward. "Should've Called," from his project 5 O'Clock Shadow, is inundated with melodies that swim in the crevices of Tents' dusty cadence. A very welcomed aesthetic from a Brooklyn rapper.
6. Kranium – "Stamina" I must admit that I'm late to Kranium, and I've found that Kranium is the answer to a lot of things. If you're trying to wine, listen to Kranium. If you're trying to kick back, listen to Kranium. If you're driving long distance and you've been in the car for hours and hopped up on a crazy amount of caffeine but can no longer listen to Future rap about what to do before you brush your teeth, listen to Kranium. Kranium is the answer.
7. RWDL – "LA'HEAT" We need more songs that are an homage to sunny, beautiful Los Angeles. California native RWDL—pronounced Rawdell—provides us with an exquisite ode, his song "LA'HEAT," a sonic representation of L.A., breezily basking in producer Scientific's sublime beat. It's been decided: RWDL is the real palm tree shawty.
8. WebsterX x Q the Sun feat. Lex Allen – "New Age" As a whole, WebsterX and Q the Sun's project KidX is brilliant stuff. The two got together to create a project inspired by Radiohead's Kid A, with a focus on Webster's sometimes darker themes (though that is often Radiohead's inclination, too). Personally, I think "New Age" is one of the hottest and smartest cuts off KidX. They add another member from their collective New Age Narcissism, Lex Allen, into the mix; and together, all three mimic the beat from "Idioteque," instead singing "New age coming," referring back to NAN.
9. ZenZan x PBeezy – "Alice" "Alice" is odd, but odd in the best way possible. Listening to it makes me feel like I'm on a caravan in the desert, about to have the wildest acid trip of my life. The song, after all, is tagged #AcidTrap, so I suppose I'm not too far off. And it's creepy: Some of the production's elements sound like crows cawing, hands clapping, and playing a tabla, and people moaning. Short, sweet, and strange.
10. Thelonious Martin feat. Michael Christmas – "Jazzercise" While Thelonious Martin's album Wünderkid featured a glut of solid features, his track "Jazzercise" with Michael Christmas is up there as one of the best. Xmas opens with his distinctive "tick, tick" adlib, as Thelo keenly sits below Xmas' unhurried vocals, laying down a seriously jazzy beat. Thelo submerges Xmas in trumpets, chimes, and keys, allowing "Jazzercise" to become the perfect marriage between both artists' sounds. Congrats on the one year anniversary, Thelo. Hats off.