It's the 10 track commandments, whet?
We back and we back and we back...
I started #10trackcommandments in July 2015 as another way for me to write about rap music. But I'm pretty bored of rap right now; it's been difficult to capture that same feeling I had when first listening to Saba's ComfortZone or Smino's "Smellin Like A Re-Up."
This edition—the first since June 2016—caters to the ladies. Indeed, there are a couple rap cuts, and some songs are a bit old, but my taste has noticeably evolved over the past year and I wanted to create a playlist that reflected that. I also wanted to give a big shout out to women: Never forget that we run shit, and will continue to do so in 2017. #TYBG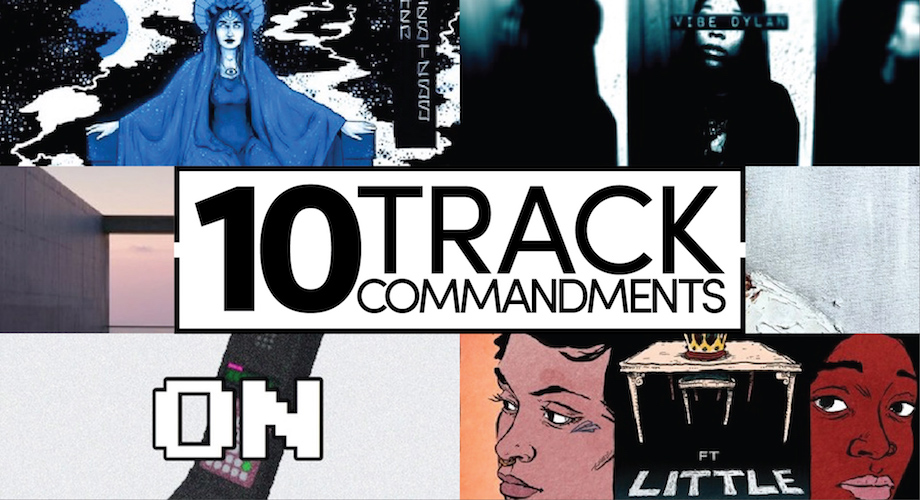 Dounia – "East Coast Hiding"
As a social media star, Dounia has amassed quite a following for her candor, a fierce advocate for PoC and non-traditional beauty standards. Now, she's trying her hand at a solo music career with her second song to date, "East Coast Hiding," a sultry tune where she channels her honesty into a dynamic vulnerability. Being a native of New York can force you to forget the allure of the city, but with this track, she brings it back, and in spades.
Christian JaLon – "Goodbye (A Call To Self Worth)
Some musician's voices are effortless. Cue Chicago's Christian JaLon, who is not only an innately soulful singer, but an activist who uses her talents to uplift others, and in the past, has led Black Lives Matter Chicago Youth marches and protests. Her song "Goodbye (A Call To Self Worth)" is equally uplifting, and speaks on the necessities of self-care and self-esteem, and how those are just so crucial for us.
Soft Glas – "Latency"
While Soft Glas is indeed a guy, the main vocals on "Latency" are shared by New York-based artist Stalking Gia (though it seems that Glas only appears about halfway through the song). For me, this song was immediately striking from the moment I heard it, and the bouncy vocals are mesmerizing.
RAYNE – "On!"
"On!" is one of those rap songs that gets perpetually stuck in your head. While Rayne's lyrics aren't the most deep, she does speak some truths: People only want you when you're on, when they see that you have something going for yourself. That's the time when you should keep your circle close and—in the words of Fadia Kader—protect your magic.
Chiara Noriko – "Persian Rugs"
As you might have noticed, I'm really fucking with deeply expressive singers. Chiara Noriko's "Persian Rugs" is just that, an impassioned jaunt through her emotions—an R&B medley that is almost as much about the thumping bass as it is about her ability to vocally improvise over the beat (in my eyes, something akin to scatting).
Crystal Caines – "Play Tough"
Produced by Crystal Caines and WondaGurl, "Play Tough" is, well, tough, even two years later. Also a Harlem, New York native, she handled some production on A$AP Ferg's 2014 mixtape Ferg Forever, and collaborated with emerging New York rapper Slayter in 2015. Though "Play Tough" is just over a minute long—way, way too short IMO—we get a sense of how tenacious Caines is, in her raps and her production.
siren – "Priestess"
Milwaukee singer siren is one of those untapped gems, who is now relaxing into her artistry. The proof of that is "Priestess"—her first release in a year—a song that's a testament to her own power and strength. "Priestess" intuits the same energy that siren has during her live performances, her vocals often unraveling in a fury, sometimes undecipherable and quixotic, her imagery ominous.
drea smith – "six.underground"
If y'all haven't heard of Sneaker Pimps, then you're definitely missing out. I was pretty obsessed with the British trip-hop band in middle school; their song "6 Underground" is one of my favorites, and one of their best known songs. Here, Chicago singer drea smith covers the track, taking the song's original production and paring it down with her guitar. Like the guitar, smith's voice, too, is almost skeletal and haunting.
Kehlani ft. Little Simz – "Table"
Kehlani really proved to be a pillar of strength in 2016. After she was hospitalized for her suicide attempt, I couldn't help but look at her differently, admiring the way she was so open about her mental health. On "Table," she teams up with British rapper Little Simz—who just released her latest project Stillness in Wonderland—for their first collaboration, a smooth R&B cut where the two wax poetic on their talents and worth. Simz enters at the end, her calm raps fitting just as easily over the glossy beat. What's best about the song is that both vocalists are unequivocally themselves.
raveena – "You Give Me That"
Though raveena doesn't necessarily have the same vocal range as some of the aforementioned musicians, her voice has a natural allure, particularly on the track "You Give Me That." While the song is soulful in nature, the more playful parts of her personality still shine through, as the song almost seems like one long daydream about that person who's got her beaming.
***