In the U.S. in the 1990s, there wasn't much room for AAPI (Asian-American Pacific Islander) kids in the culture space. You were either whitewashed by the prevailing blonde, surf culture or identified more with Black and Latino culture, from hip-hop to gang life. Or you were just a stereotypical Asian nerd, the model minority, letter grades hiked up as high as your pants.
There was one particular fashion choice, however, that didn't belong to the Chicanos or Blacks. It was very clearly ours and Asian-American, and so even if you were a hardcore punk kid who skated like me, this was the setup: A tight fade with long bangs (often dyed blonde with Sun-In), oversized polos, pressed, baggy chinos that were cuffed inside and stapled (yes, stapled), and velcro Fila sandals. Don't ask me why or how this look got started, but AAPI teenagers nationwide adopted the style, hanging outside of cafes with their Honda CRXs and Integras, smoking Marlboro Reds and checking Motorola pagers.
"This goes way beyond a collaboration slide. This is about representation [and] AAPI heritage."
I guess things are a tiny bit better today. At least it's not so jarring to see a cool AAPI person on Netflix or rapping on YouTube. As the diaspora further embed themselves in generations of American social context, the AAPI community also grows beyond laying low as hardworking immigrants to planting their flag with a unified voice. But, we still have so much farther to go as far as AAPI representation in fashion, entertainment, politics, and jobs that don't just involve medicine, Eastern food, or dry cleaning. That's why when Fila and The Hundreds started talking, we immediately asked about that Fila velcro sandal. It played such a significant role in giving AAPI youth a distinct look, like the Cortez did for LA's Latinos and Chicanos. Like shelltoes for New York's Black and Puerto Rican B-boys in chunky chains and tracksuits. Fila was onboard. The next step was taking that sandal and updating it to a modern-day slide. We paired it with the familiar white polo shirt.
The final piece of the puzzle was the photoshoot. Let's drive the point home by solely casting Asian-Americans, which is something you rarely see in Streetwear, or larger fashion in general. (Even the Korean, Chinese, and Japanese brands gravitate towards using white people for lookbooks—what's up with that?!) We even asked Alexander Spit, a Filipino-American, to photograph it. So, this goes way beyond a collaboration slide. This is about representation, AAPI heritage, and recognizing this lost chapter in youth culture that I would love to see make a resurgence.
This definitely happened. And it's happening again. Introducing The Hundreds X Fila.
***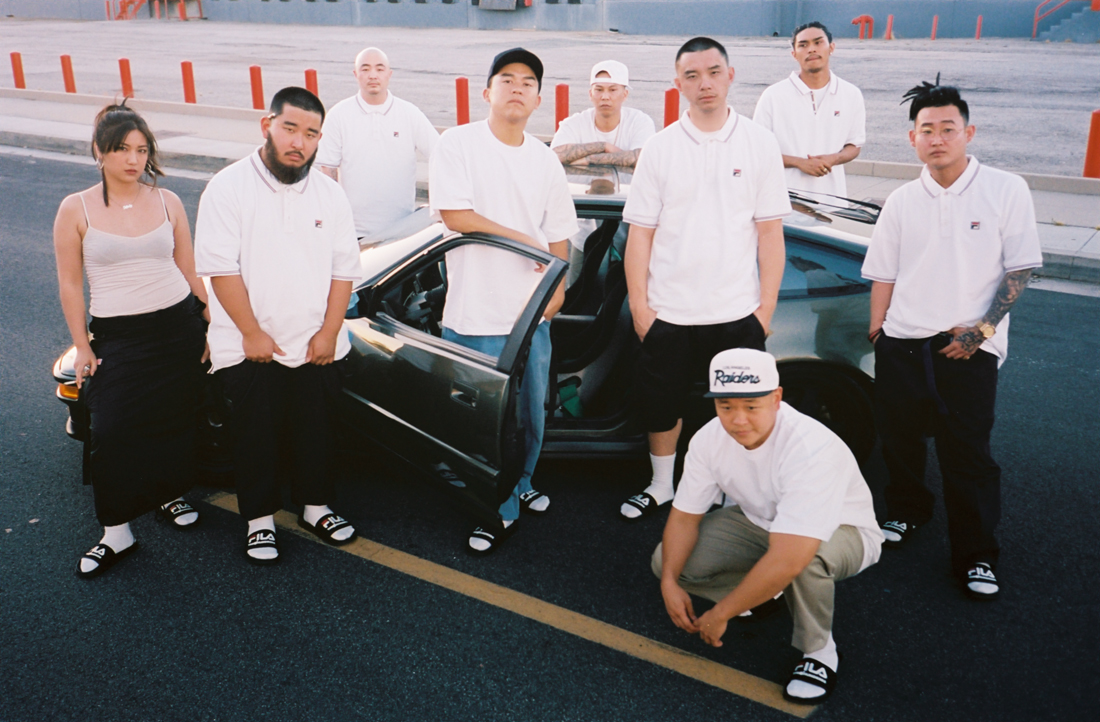 Lookbook photographer: Alexander Spit. Models: Mike Pak, Bobby Hundreds, Percival Pacadaljen, Phu Lam, Jimmy Su, James Yun, Woorie Chung, Alina Nguyen, Aaron Lau. The car: Leon Casino's '89 Spoon Honda CR-X.
The Hundreds X FILA capsule features a limited edition "Drifter" slide, highlighting both brands' linear logos on a '90s vintage-inspired canvas upper band. The collection also includes a The Hundreds X FILA polo; a staple piece with a screenprinted back and striped collar and sleeves. Available starting today, June 30 at The Hundreds flagships, Online Shop, and select retailers.