I love an artist who plays with anonymity, because to be anonymous in a culture whose fascination with transparency is overwhelming – and oftentimes sickening – is refreshing. With mystery, though, comes the always present conspiracy theory. And what I've learned over time is that music lovers are just as suspeticible to the craziness as those who still believe in the popular online trope of jet fuel not being able to melt steel beams. Hip-hop fans happen to be some of the worst proponents of these conspiracies, as stories of 2pac resurfacing in Cuba or Illuminati memberships have plagued the Internet for more than a decade.
So when I initially heard of this new story of Nas possibly operating under a new pseudonym of "Your Old Droog," I, like the rest of the rap world took notice. With this current trend – borderline obsession – with nostalgia, particularly that of artists who reigned supreme during the '90s, it's understandable why any proficient project which harbors any influence from that time period immediately gets labeled as something beyond what it really is. But a simple listen to the Your Old Droog project last year instantly made me a fan and made references to Nas seem silly.
I think I emailed like 10 cats a link to him with the subject line saying, "Dude is nice." The rest of the world responded accordingly. Your Old Droog's successful monster followup with the Kinison EP matched with a sold out show at Webster Hall (his first show ever) and tour with DJ Premier and Royce da 5'9 on their PRhyme tour only solidified the presence of the Brooklyn MC in the rap field. The thing that stands out for me with Your Old Droog is his dedication to the fundamentals that make up what it entails to be good at his craft: hard hitting punchlines, consistent flows, good production choice, and proper song structure. While down in Austin a month back for SXSW, I got the chance to talk to him about hip-hop, corny music journalists, and being a former battle emcee.
SENAY KENFE: This is your first SXSW experience, how has it been for you?
YOUR OLD DROOG: It's cool, man. There's a lot of ladies out here I don't fuck with the rain though.
You're buzzing at the moment with the release of your Kinison project that you just did, which is a follow-up from your debut… You just did the PRhyme Tour with DJ Premier. How's it been to be consistently on the road?
That was my first tour, so I didn't really know what to expect. At first, it was a grind, then towards the middle, I started loving that shit. I was kind of sad when the tour was about to end so I can't wait to get back out on the road.
Being on tour with two legends for your first tour – I couldn't ask for anything more than that.
First of all, did Primo give you any beats?
I can't talk about that yet –
Oh, okay, I'll take that for what it is – a yes. [Laughs] Did they express to you about how much they enjoyed your music?
Yeah, Primo showed love. Even before my first EP came out, me and my DJ did a joint and Primo played it on his radio show and he was quoting lines. Primo's the real deal, man, he still listens.
It's good to see a connection being made between a lot of older heads in the previous generations and the younger dudes. Because it makes a smoother transition versus, "Oh, fuck these guys, we're the new school." How do you feel about being able to be in a position where you can mingle with the same people that you have been a fan of or have respect for?
I'm not on some groupie shit, but I want to learn from people who – they don't have to sit me down and be like, "Yo, this is what I do." As long as I can just watch and study, I'm good. I don't want to stop learning.
You definitely have been recognized as a student of the culture… Do you want to talk about the time and energy you put into becoming the MC that you are today?
Yeah, for a minute I was just working behind the scenes and wasn't putting mediocre shit out there. I remember people telling me, "Yo, why don't you have more stuff out? You should be buzzing and have mix tapes out." But I just knew when I'm going to drop some shit, I want it to be [perfect], so I just waited. I didn't plan it, that's just how it happened. But looking back, that's how I see it – it came out when it was supposed to come out.
It was interesting, because, I don't know if it was you, I feel like I might've seen some stuff you've done way, way back, like on some YouTube shit. Did you used to post videos of [yourself]?
Yeah.
That's why I was confused, I'm not an Internet forum type of guy, but I never understood what the obsession was about [everyone thinking you were Nas's alter-ego] –
The Internet is wild. They'll come up with whatever conspiracy they can come up with. I've been doing that even before the YouTube, so I don't need to show everybody all of the development because that takes away the mystery too. You want to be in the gym with Kobe while he's shooting all these numbers?
"[HIP-HOP IS] MONEY TOO, PEOPLE EAT OFF THIS. HOW MANY OF THEM ACTUALLY LIVE IT THOUGH?"
No, you already know he's a baller. 
There's a lot of people who never played sports when they were a kid and they grow up and buy Jordans. No disrespect to them, but it's mad corny. Same sense with music – there would be cats that were battling each other and cats that were doing the beats, and then there were the cats that were like, "Oh!" Then the cats that be like, "I'm a grown up man, I should be a journalist." How do you feel about that relationship in terms of being an artist and having people dictate, to you, how to be that? In regards to not being a colleague of yours or a peer.
It's funny to me, they can do whatever they want. They can speculate – I'm just shocked at how many people don't know what they're talking about it. I feel like they're just into it because it's something that's popping; it's popular.
Hip-hop is popping, it's relevant.
It's money too, people eat off this. How many of them actually live it though?
Can you describe the music you were listening to when you were a kid living out in Brooklyn?
A lot of mix tape stuff. I came up on Lloyd Banks, all of punchline rap. I'm just listening to everything, even on the local side. I pay attention to unknown dudes in the Bronx who are nice and going around battling people.
You used to go around battling people [too]. How was that for you?
It was cool because it wasn't no forced, organized battle, it was just like, "My man is nicer than you." "Okay, we gonna see." And you battled. It wasn't like the battle it is today with cats on camera and shit like that. They were getting filmed, but it wasn't an organized battle, it was just homies.
How do you go from the realm of being a battle MC to being an artist?
For me, I loved music before I even battled; other music, not even just hip-hop – like Latin and other shit. I got an ear for music, period.
I think a lot of battle rappers don't really understand the template of what a song should be, which is why –
Not even that, a lot of rappers period. A lot of rappers don't know music, they just know rap and they only listen to other rap and then make their own raps. They need to go listen to jazz or something and then go make a rap record.
A lot of peoples' fascination with you is with your placement of bars because you're very lyrical, and at the same time, it's not – you don't make hooks… But it doesn't sound flat or empty without them because of the production you chose. How do you work that into each other?
I feel like I got a lot of songs with hooks, but the initial stuff I released, I just wanted to showcase what I could do with the rhymes. But I still had a theme to tie it together, so even if it didn't have a hook, it had something throughout it to tie it all back. Maybe like a [inaudible] rhyme, that's like a hook to me. A theme, not a hook.
How was that Webster Hall show for you?
That was great, it was like a movie. It was great.
That was the first really, really big show that you did and it was sold out.
That was my first show ever.
Wow! That's crazy, it was sold out and everything. It was hyped up and you killed it.
It's history.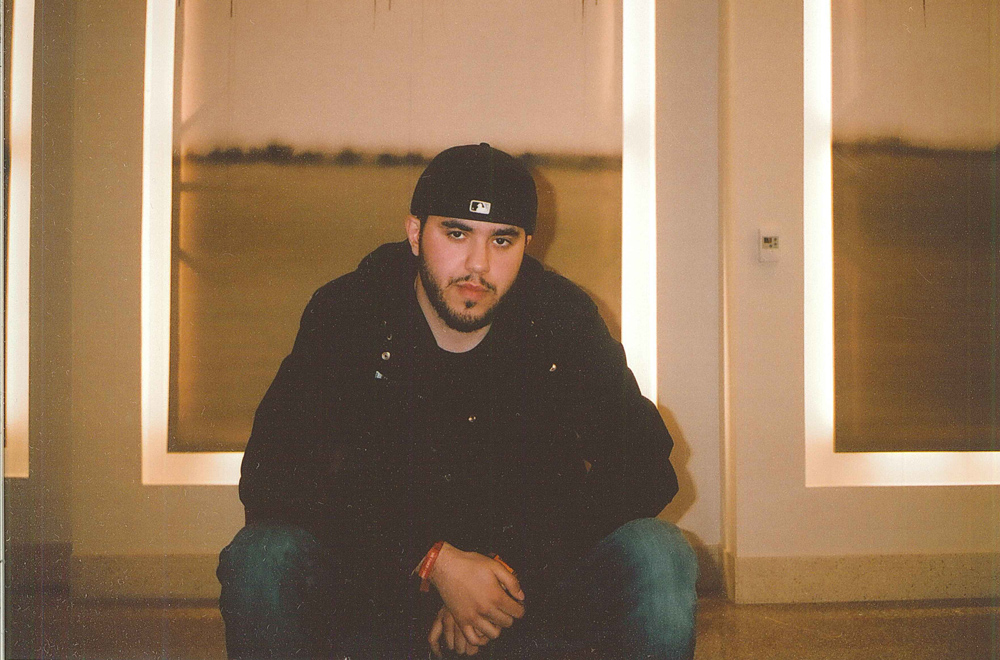 It was the start. The saga continues. Where was the reference being made to the [comedian Sam Kinison]?
It was a conversation I had with one the producers too, but it was kind of the intro. It was a thing about your voice on stage, because I fuck with Sam Kinison; he's one of the greatest comedians. Kinison – it just sounded good to me.
How do you feel about breaking into the festival scene and then building the buzz even bigger? Especially with the international crowd? Is this going to be your first time out there?
I was in the Netherlands [before]. I can't wait. I really don't know what to expect, but I know it's going to be dope. They love music out there, probably more so than where I live… I heard the fans are real rabid over there, it's something I have to see; that's what I heard.
For you, what's important in terms of representing your sound in regards to the New York scene? For you, does it feel like, "I'm repping New York, I need to bring this type of particular sound that I have."
I just feel like I have to rep my perspective, and that's New York without trying to be New York. As long as I'm just being me. That's why I'm winning, really, just being me. Even the rock shit, the comedy, ignorant stuff, intelligent things, whatever, it's just being me.
"I JUST FEEL LIKE I HAVE TO REP MY PERSPECTIVE, AND THAT'S NEW YORK WITHOUT TRYING TO BE NEW YORK."
You had a nice freestyle that you did on Rosenberg. That was a solid one off the cuff. It's always one of those things that people talk about on YouTube in the comments – can you say what you think a freestyle is?
A freestyle, when I was coming up, was just a rhyme that you have. It doesn't have to be off the dome. Freestyle would be on the tracklist on the mix tape, but it would just be a person spitting a random verse over a beat. That's a freestyle to me. If it's not your song – if you're rapping over somebody else's beat, that's a freestyle to me. People got different meanings of it, some people think you have to be rhyming off the head.
For you, how do you feel about the mixtape scene that you grew up listening to in terms of this Internet blog world now? Seeing that it shapes what you listen to.
I mean, I don't know. I have a love/hate thing with mix tapes. I feel like a lot of people could've been making great albums, but they were just churning out freestyles.
At the bar earlier you were asking about the people I listen to. Do you feel encouraged to go out and seek music that you like?
Yeah, I'm out of the loop, I definitely want to do that.
Is there anything that you want to end on?
[Joking] Yo, buy my shit! No, I don't know… There will probably be a part 2.
::
Follow Your Old Droog on Soundcloud at soundcloud.com/your-old-droog. He will be on a European tour in June, playing the following dates:
Mildenhall, UK – Boom Bap Festival – Sunday, June 07, 2015
London, UK– Jazz Café – Monday, June 08, 2015
Spoorzone, Tilburg, NL – Woo Hah! Festival – Saturday, July 04, 2015
Switzerland – OpenAir Frauenfeld Festival – Thursday, July 09, 2015
Paris, France – The Social Club – Friday, July 10, 2015
Germany – Splash Festival – Sunday, July 12, 2015
Belgium – Dour – Friday, July 17th, 2015