I was going through my stash of old mags the other day and came across these gems below. Flipping through the pages of SLAM Magazine brought me back to a time when print was all that mattered. The internet was just taking off and the blogs of today didn't exist. Nike Park was the almighty. A simple, HTML-heavy site that featured scans of Nike catalogs with pretty shitty pictures, but boy, was it amazing back then. It was a small dose of the future. (For those unfamiliar with Nike Park, check it out HERE.)
Before I ponied up the cash to send a money order for a subscription, I would sneak a mag into the shopping cart every time my folks went to buy groceries, eventually building a steady collection after some months. While I enjoyed reading the articles on NBA hoopers and up-and-comers, my favorite part of SLAM was flipping all the way back to the KICKS section and getting a peek into upcoming releases. Eventually SLAM dedicated an entire issue to shoes in September of '98 and I immediately lost my shit. It was the most amazing thing ever.
Some years later the internet boomed, blogs started popping up and everything became readily available for the world to consume. I can't complain too much. The internet is mostly responsible for me being able to build a career, but I really do miss those simpler times.
Taking a stroll down memory lane, I caught up with my friend Russ Bengtson, Sneaker Editor at Complex and former Editor-in-Chief at SLAM, for a chat about his time at the magazine and how the entire print and sneaker landscape has changed since.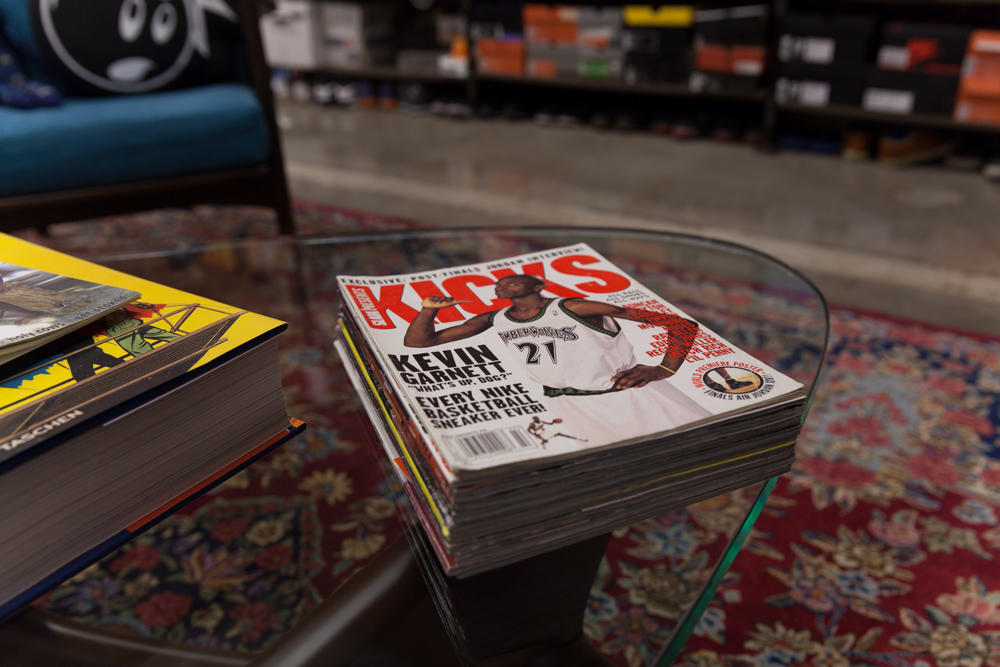 Russ, how long were you at SLAM?
I wrote my first piece for them in 1995 and was hired full-time in '96. My tenure as EIC ended in 2004, but I still write for them now. So basically 19 years and counting, ha.
I remember heading to the store weekly waiting for the latest issue of SLAM to drop, for the hoops content of course, but especially for the KICKS section in the back. What was your favorite part of the magazine?
KICKS was my baby, but I really loved the Trash Talk section — the letters. It's kind of easy to forget in the internet comments era, but back in the '90s you had to actually put in some effort to tell a writer what you thought. So it was great to see those letters from all around the world — and of course respond to them. NOYZ was really fun to write too, and probably prepared me better than most for what would eventually become basketball Twitter.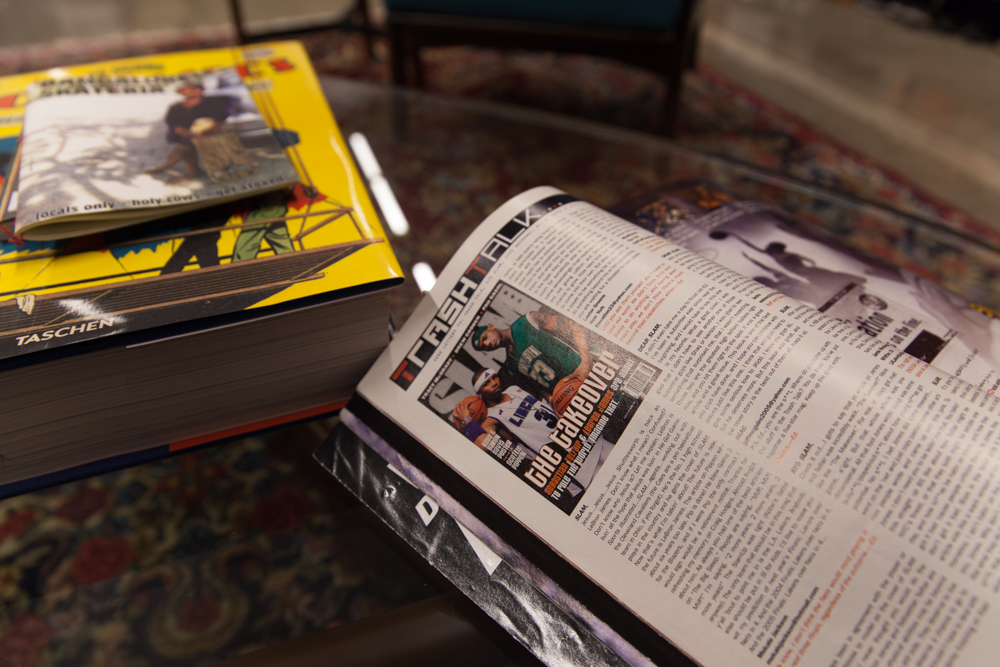 The sneaker landscape is much different now. How did that work back in the day? When social media was non-existent, how did some of these companies gain their notoriety?
The old-fashioned way — ads, and what players actually wore on the court. What guys wore on the cover mattered, too. Stephon Marbury wore a pair of New Balance 801 trail runners on the cover of the fifth anniversary issue, and those had their little moment. Funny that it was Marbury of all people, since he was the one responsible for making And1 what it was. I feel like back then there were moments of genuine surprise too, like when Vince Carter wore Tai Chis in the 2000 Dunk Contest. Something like that could never happen now — the samples would have leaked two months early.
The KICKS section was only able to highlight so much. How tough was the selection process?
That was always a frustration obviously, at least until we produced the first KICKS magazine (which, if you remember, was all Nike). It was a matter of walking that line between showing the coolest of the cool and trying to balance the brands to a degree. New Jordans always got priority, of course, as well as signature models. But it was also harder to get samples back then, as there wasn't the sheer quantity of releases as there is now. Which also fortunately made the selection process a little easier.
What do you miss the most about those days?
Well, photos always looked better in print. And going to the NBA photo archives in Jersey, digging through folders of black and white prints and sheet after sheet of slides looking for those perfect images to illustrate a story — that was always fun. And the words themselves seemed to matter more. Shepherding a story from assignment to initial edits to layout was a process that reaffirmed the value of the words (and the images) every step of the way. And of course there was that feeling of satisfaction holding the finished issue when it was finally printed. Of course at that point I'd read every word in it at least three times, and had no interest in looking at it ever again.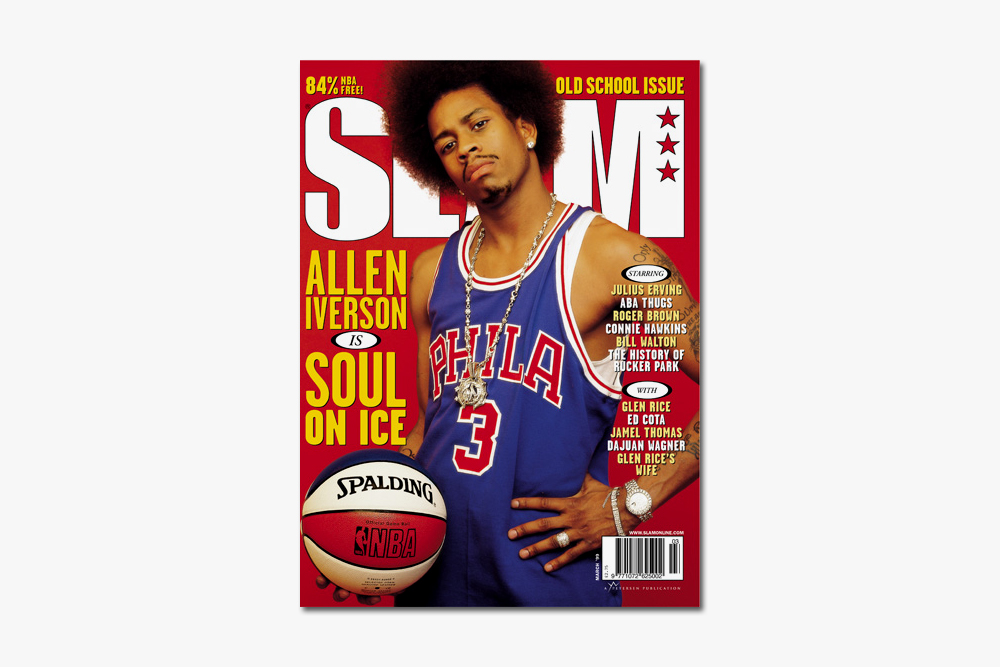 Do you have a favorite issue?
That's pretty much impossible to answer. The 50th issue with the three Nat Butler shot Jordan covers were amazing (and grueling). The 10th anniversary issue, with the different covers and the various stars talking about what SLAM meant to them was super meaningful. But if I had to pick just one, its probably issue 32, with the Iverson blowout cover. I wasn't at the shoot, so I didn't get to wait eight hours for AI to finally show up, but I did write the cover story, which involved riding around NYC in a limo with Iverson for an entire morning. I think that issue made a pretty big cultural impact, and I'm proud to have played a role in it.
What's that one moment that stands out above the rest?
Honestly, there were so many. Going to Kevin Garnett's house in Minnesota with Jonathan Mannion to shoot a cover and write the cover story, and hearing him rhyme along to Mobb Deep all day. The 1996 McDonald's All-America game in Pittsburgh where I first met Kobe Bryant and Jermaine O'Neal, who I covered through most of their respective NBA careers. Spending a week in Beaverton to produce the first KICKS issue. Being at that 2000 Slam Dunk contest and realizing after Vince's first dunk that this was going to be something super special. Handing Iverson copies of that issue with him on the cover and having him hug me in the visitor's locker room in Madison Square Garden. Waiting on Stephon Marbury in Coney Island for a cover shoot, and hearing him coming via his car stereo setting off car alarms all up Mermaid Ave. I can't pick just one. Impossible.