This past decade has been a roller coaster ride, to say the least. A lot of highs, and certainly a lot of lows. But we got through it. And while everyone is ready to leave the 2010s behind and see what 2020 is all about, we can't throw DaBaby out with the bathwater.
We've already reflected on the standout books, movies, and TV shows but music is what moves us most on a day to day basis. Music is the soundtrack of our lives. It helps brighten our day, calm us down, inspire us, drive us, and bring us together. And the past decade was a banner one for modern music, giving us some of the best albums ever made.
We watched some artists wind down their careers and others take off into the stratosphere. We saw streaming kill off CDs and vinyl make the ultimate comeback. We witnessed the end of mp3s and the birth of apps like Instagram and TikTok, changing how we consume and share music forever. Record stores gave way to SoundCloud and the music blogs got written off in favor of video content on YouTube.
So, while many legendary artists made their mark on the culture in the 2010s, who was the best? It's an impossible question to answer, truly, as everyone's taste varies. While it's purely subjective, we did our best to come to a common answer.
It's hard to argue against Beyoncé or Rihanna, who both kept their feet planted firmly on the neck of the music industry for almost the entire decade, dropping legendary albums like Lemonade and ANTI, respectively. The goat Shawn Carter Jiggaman Hov Jay-Z definitely slowed his output but still gave us some of his catalog's most honest music with 4:44, showing maturity and making him more relatable than ever.
Was it Kanye? While Yeezy definitely had the most impact on the culture as a whole, per usual, the music was hit-or-miss. At the beginning of the decade, we got Ye's most complete work, My Beautiful Dark Twisted Fantasy, the consensus best album of the decade according to many music outlets. Kanye also teamed up with Hov for the seminal collaborative album, Watch the Throne, and experimented on his industrial prog rock-influenced Yeezus. While 2016's Life of Pablo was met with mixed reviews, it has aged quite well when compared with recent releases like Ye and Jesus Is King. While Kanye couldn't miss in the 2000s, this decade was more of a crapshoot musically.
If you look at the numbers, it's unequivocally Drake. We just haven't seen anyone produce smash hits at the rate Aubrey has, or at least since Michael. It's hard to imagine the Canadian crooner didn't have a solo #1 hit before "Hotline Bling" but he didn't, and that one opened the floodgates, making way for monstrous smashes like "God's Plan," which eventually went Diamond, a Herculean feat even in the age of inflated streaming numbers. But as great as Drake is at crafting universally-adored singles, he is equally as bad at putting together complete bodies of work. His two best albums, Take Care and Nothing Was the Same, both came out in the early part of the decade, and his best project overall, If You're Reading This It's Too Late, came in 2015. But things get bleak for his discography after that. The two most teased projects, maybe ever, Views and Scorpion, were underwhelming, to say the least, and his "playlist" More Life is entirely forgettable. All in all, Drizzy is for sure in the conversation for artist of the decade but one could argue he has just as many disappointing moments as triumphant ones. The numbers say it's Drake, though.
But it's not all about the numbers.
Sometimes, it's just about the feeling. And our collective feelings this decade tended to be on the sad side. It was a depressing decade, no way around it. And while some people will argue up and down that music shouldn't promote drug use, music has always and will always reflect what's really going on in society. And in this past decade, addiction and mental health issues were predominantly what was going on in our society. And nobody held up the mirror for us better than Future. The Atlanta hitmaker's entire career pretty much happened in this past decade, with the artist-formerly-known-as Meathead becoming Future on his 2012 breakthrough debut Astronaut Status. And ever since, he's been increasingly impressive, consistently dropping project after project that simply gave listeners that feeling.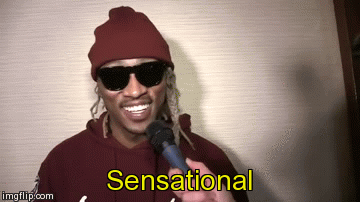 Never considered the best lyricist or the most proficient musician, Future excels at creating music that digs its way into your brain and buys up all available real estate. There have been years this decade where I can't remember listening to anything other than a Future project. And you could argue Future had the most prolific multi-project run since 06-09 Lil Wayne with his 2014-16 assault on the recording industry with Monster, Beast Mode, 56 Nights, Dirty Sprite 2, What A Time To Be Alive with Drake, and Purple Reign. Yeah, it's Future. He had the most dominant decade in music. Even the music he made in the couple years around his album Honest, when most fans said he had fallen off, has aged very well and now seems ahead of its time.
While other outlets are arguing over which albums or songs overall were the best of the decade, we decided to focus solely on our favorite artist of the past ten years, going back and studying every release, every feature, every verse, every adlib Future put on wax and determining once and for all which ones reign supreme. This list nearly tore our office apart, as Future brings out the passion in people and everyone has different songs and projects they hold close to their hearts. But we came to our senses, banded together, made compromises, and finally determined the ultimate ranking of Future songs. And if you're feeling like our ranking is wrong, I don't know what to tell you except…
It's an evil world we live inpic.twitter.com/dLjkPQ9qej

— Samuel (@SamuelAular_) November 17, 2019