I've met Tony Ferguson in person a few times, but always at some sort of professional setting—at a skate demo, passing through an office, at some sort of event thing. He always has an air of calm modesty to him. So much so, that without prior knowledge, you might not recognize him as one of the greatest Canadian pro skaters of his generation.
Growing up in Eastern Canada, and having lived in Los Angeles and now Vancouver, Ferguson was discovered at 16 by Tommy Guerrero. He then skated professionally for the first Real Skateboards team, Plan B, and eventually the original Girl Skateboards crew, the brand which he helped start with Spike Jonze and fellow riders. Since retiring from professional skateboarding in the early 2000s, he spent some time at Alife "[learning] the footwear game from manufacturing to design"—expanding on his lifelong love of shoes—before stepping away to his current project: a men's luxury footwear line RONE, named after his childhood nickname, "Tony Rone."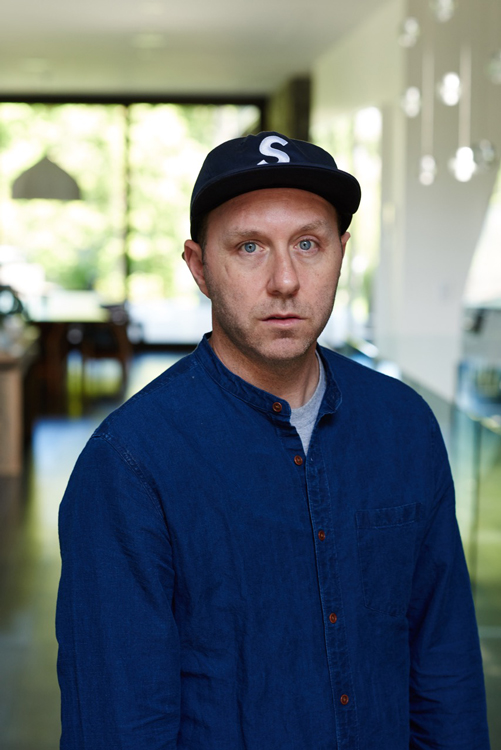 Working from wherever he's located at the time, Ferguson is there every step of the way, from manufacturing to the sales floor. "This kind of footwear is more hands on, so it's not like you can send out a tech pack," he explains. That's because every single pair of RONE shoes is individually constructed by hand using the best materials available. Each shoe is finished with a natural cork midsole and a custom Vibram outsole using the hand-sewn Goodyear welt construction method, which allows the wearer to replace the outsole as time goes on, similar to a proper men's dress shoe.
Ferguson explains that the brand was made for "someone who understands the process and the craftsmanship, but is from our world." His world—inspired from skateboarding and global street culture. His influences are evident from his first two silhouettes in the bag, the Eighty Six and the Ninety Three, named after the year he first stepped on a skateboard and the year he joined Girl, respectively.
I was recently invited to the Canadian edition of RONE's global launch and had a chance to talk to Ferguson about his new brand. Focused on our conversation—despite last minute work being done for the event in the background—Ferguson shared thoughtful answers with me during our interview below.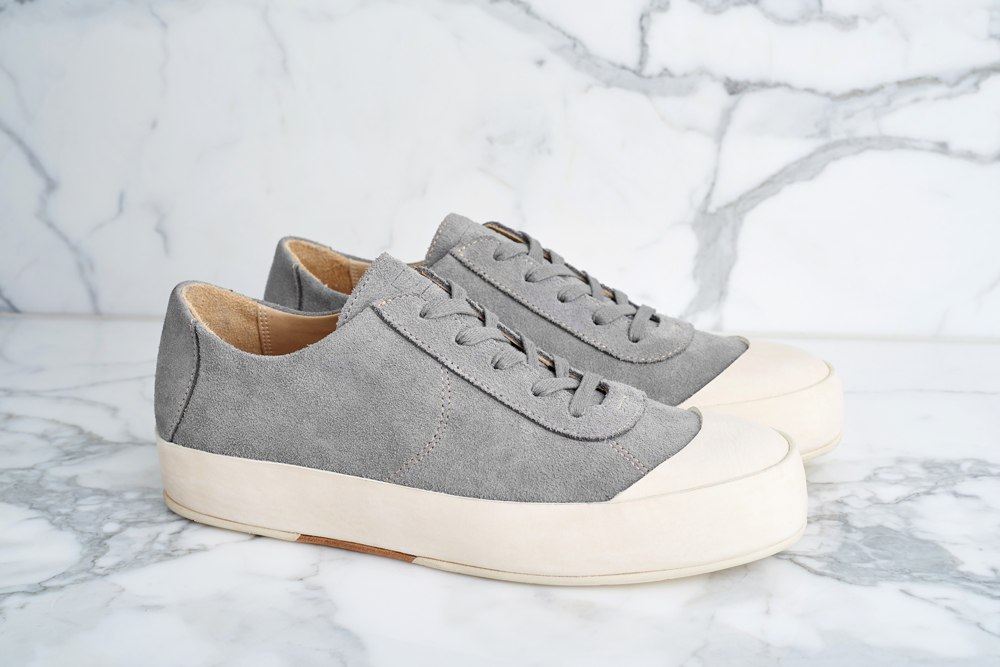 VANESSA TAM: Is there a reason why you decided to get into footwear after skateboarding?
TONY FERGUSON: I've just always loved shoes. I've always been into shoes so it just felt kind of natural. I was sponsored by a shoe company [as a skateboarder], so I would help out with colorways and was always, you know, kind of involved in the design process, so it was pretty natural. It wasn't something that I set out to do [laughs].
So when you were at Alife, was that kind of your first foray into designing footwear?
Yeah, I had no experience because before that, I was a professional skateboarder… I didn't have any experience at all, I was just skateboarding and was just getting into the industry and learning the footwear game from manufacturing to design.
So a lot of it was just trial and error?
No, no design background—just ideas. Not so technical, but I have the idea… I'm not like a great drawer or illustrator, I'm more of an idea and making it happen [person].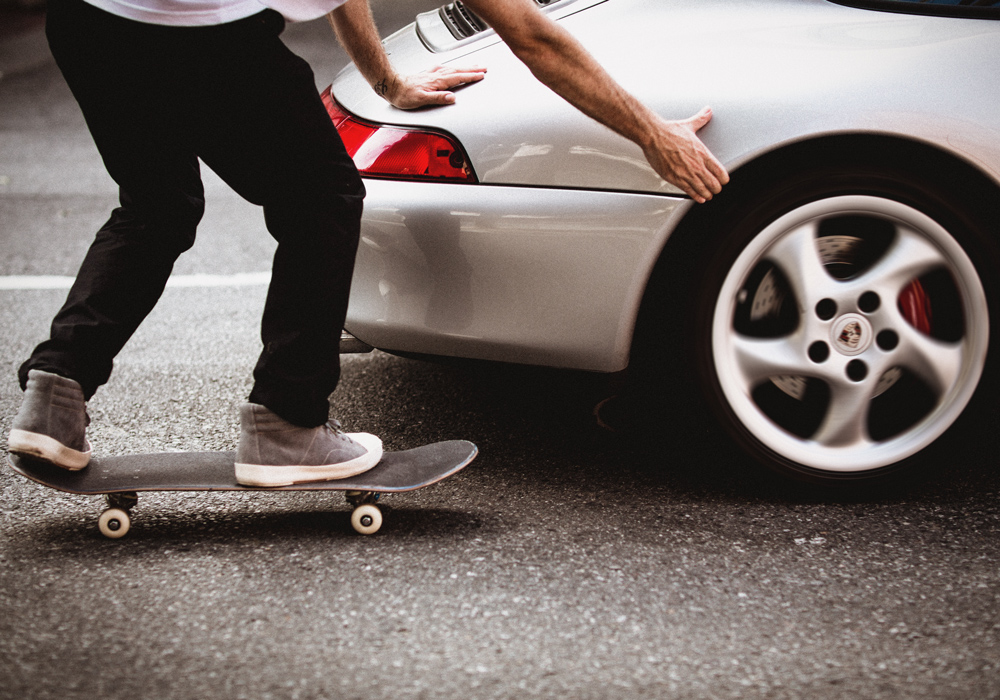 RONE has all the ingredients to become your legacy brand. Was that your intention?
It's not my intention [for RONE] to be all about me or all about my career—we're really paying homage to skateboarding. These shoes are taking inspiration from things that happened in my past and in skateboarding… I mean, the brand ties in with my name and the year I started skating, but it's not going to be all about me every time. It's just gonna be about telling a story.
Like the progression of skateboarding in general? Because your career has kind of mapped out how skateboarding has progressed over the past 10-20 years.
Yeah, but also what inspired me when I was a kid in the '70s and '80s too.
Tell us about your collaboration with HAVEN.
The idea is that [RONE] is a premium product and we want it to be special with limited quantities, so we want to work with the best stores in the world. So around the world, we're working with colette, United Arrows, Dover Street Market and, you know, HAVEN was the equivalent to that within Canada. They're going to be my Canadian partner and we're in three of their stores for now.
Who was RONE designed for?
It's a luxury brand for someone who understands the product. It's not really made for a specific demographic or specifically for young people. We want it to be something high end that's made really well, but also speaks to our generation. So that's the idea, just giving people something they can relate to, you know?
It's designed for someone who is really sophisticated and is well-read and cultured. It varies, it could be a skater, an older guy, a young professional, it's made for anyone really.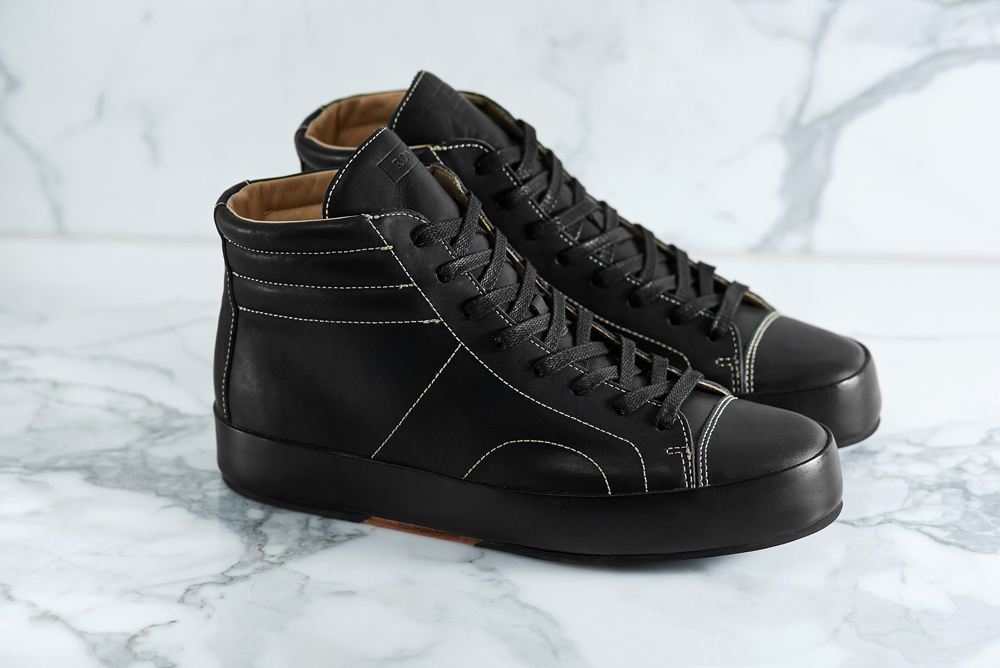 So it's for someone who understands the technique behind it and all the hard work and design that goes into a premium product.
Exactly. Someone who understands the process and the craftsmanship, but is from our world, like skateboarding, or appreciates it.
Do you have your offices for RONE here?
We have our office here, no showroom. We're actually going with an agency in Italy so that's where our showroom will be… [The line is] designed here or wherever I'm traveling. Whether I'm working in China or working in Italy, this kind of footwear is more hands on so it's not like you can send out a tech pack. It's more just like working on it in person and by hand.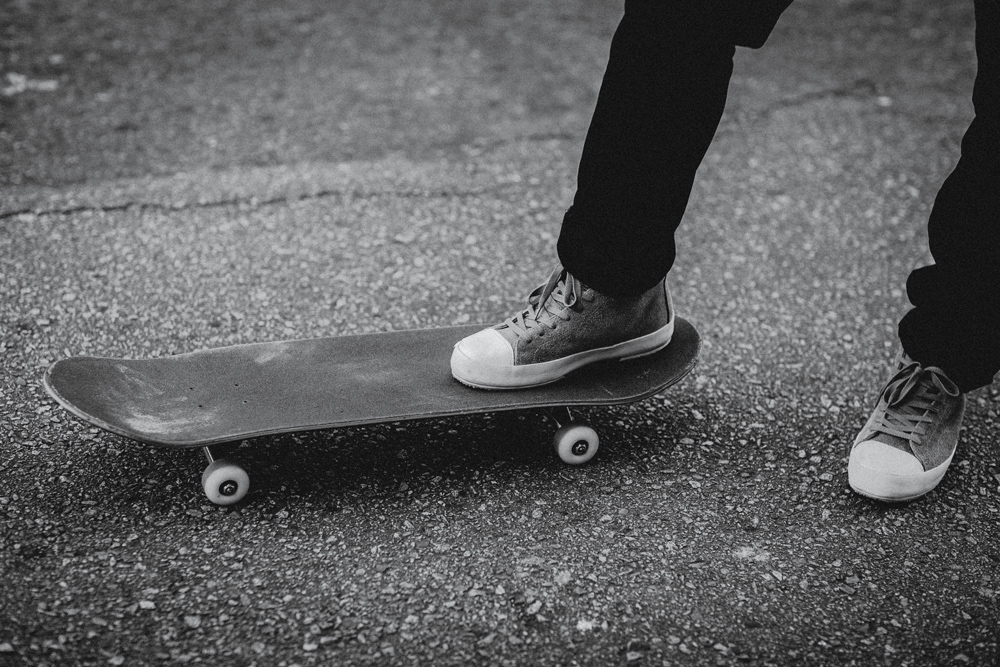 Do you have any immediate plans to expand the line? Because you only have two silhouettes at the moment.
Yes, it's just kind of like telling the story too and not having too big of a line. So we have those two styles starting this season, but next season, there will be three more styles and they'll be completely different silhouettes. We definitely plan to expand.
The [global] launch is this month… We're planning on doing one in Japan and the timing has been really hectic. So yeah, we're launching everything in the next few weeks and I go to New York next week for fashion week. I'm also working on Fall '16 and gathering new accounts and stores.
Anything else you want to mention?
I'm just fortunate to be involved with the launch here. Ryan [Lindow] did the video and the photos and they look great. Fortunate to be able to work with great retailers and everything.
***
Check out RONE both online and on Instagram. Photos by Ryan Lindow.