It's the 10 track commandments, whet?
I like to dig through SoundCloud. So here, I present the results of my excavations (in alphabetic order): Nine tracks released in the past month that you shouldn't miss, plus a tenth track that's kinda old but still knocks. Hopefully this'll help get you through the rest of your week, to the blessed lituation that we often call the weekend. #TYBG.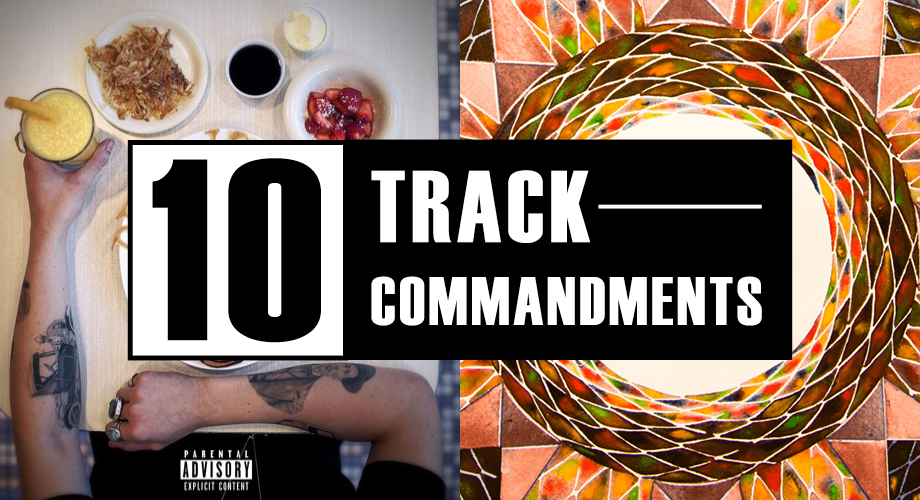 1. Alexander Spit feat. Chidi Himself – "Tequila Mockingbird"
Alexander Spit prepares us for his tour with Mac Miller by dropping off his newest cut "Tequila Mockingbird," a play on the title of the famous Harper Lee book To Kill a Mockingbird. That double entendre lends itself to the track's overall aesthetic, an interplay of drums, strings, and hi-hats that provide an essential, yet complex melody. We're hoping Spit's got some more new music up his sleeve—and if the vibe is anything like this song, then his future is bright.
2. CE – "Fuggit"
Brooklyn, New York transplant CE didn't begin his music career in hip-hop, but in folk music, strumming on a guitar. Two years later in 2009, he established his first hip-hop group, leaving folk behind. With "Fuggit," you wouldn't guess that he hadn't been rapping all along. The track tells us to fuck it, fuck the way you normally do things, fuck the way you normally hide yourself, and be open. While that may sound like some folksy peace and love type shit, CE embeds his feelings in a slow, impassioned melody that's still permeated with a seething kind of frustration and anger.
3. Chaz French feat. Saba – "What Ya Say"
Chaz French has been on a steady rise since his 2014 project Happy Belated. "What Ya Say" is his latest, where we see him ruminate over whether this life—a rap career—is for him. This introspective stance is a nice change of pace for him; and certainly, this must be a common thought and struggle for many rappers on the come-up. French relays the message almost flawlessly, torn between reality and his dream. If soulful, more stirring music is the direction he's headed in, then we don't mind.
4. Danny Seth – "With Me"
London rapper Danny Seth is ready to blow. As a member of the London art collective Last Night In Paris—a group that hasn't seen much exposure on this side of the pond—he's leading his team to unchartered territory in the States. "With Me" is one of the standout tracks from his latest project Perception. Over a whirring, wobbling beat and a bass that makes you shiver, he flexes on his listener, repping his skills as a rapper and asking you to step if you're pretending to know him just to get with him. "Name another rapper making every blogger's playlist," he spits. Touché.
5. Èmaad – "Champions"
And another rapper from Cream City aka Milwaukee, Wisconsin. This one goes by Èmaad, and though he only has two tracks under his belt and a small following, he—like many others from his city—has promise. On "Champions," he's speaking to his city and generation's originality, with a tinge of braggadocio. "I'ma get that money for my mama dawg / Rolling with my n***as, we too deep, we too deep / I'ma speak for the young, Every day we taking chances / We just some young champions, tell my people we the champions."
6. Humeysha – "Burma Between You and Me"
Humeysha is relatively new to music. Last year, he was granted a fellowship to travel to India, and took it as a chance to visit both the India and Pakistan-based sides of his family. While traveling and living in India, he also recorded some lo-fi records about his experience going between the two countries. When he came back to the States, he rerecorded his music; "Burma Between You and Me" is the first track he's dropped off his upcoming project, also titled Humeysha. What is most interesting about the song—and might be imperceptible to most listeners—are his seamless transitions between English and Hindi; try and catch them if you can.
7. Mic Kellogg – "By 3"
Born in Madison and now residing in Milwaukee, Mic Kellogg's sound is a bit different than others coming from Milwaukee. His is a more airy aesthetic, and isn't driven by thick bass lines and an abrasive flow, but rather brassy hi-hats and higher, more nasal-like melodic-raps. That is particularly evident with "By 3," the third cut from his latest project Breakfast LP. We're guessing there's a connection between the name of the LP and his last name, but who knows.
8. Sylvie Grace – "Drugs (On A Wave)"
This is a pretty solid remix of Drake and Tinashe's "On A Wave." Sylvie Grace writes her own lyrics over the same beat, and while the lyrics are a fairly literal and straightforward, her cadence and content fit the tone of the beat, which is simple and calm, but still has some punchy hi-hats. And honestly, this version sounds more finished than Tinashe and Drake's.
9. Ta'East – "WithTheShit"
The opening melody of "WithTheShit" creeps up on you, its cinematic qualities apparent early on. You could say that it sounds pretty similar to a horror film; and that's the genius behind Ta'East's producer Cairo Mayeson, who sourced the strings from the 2013 science-fiction horror film Under the Skin's soundtrack by Mica Levi aka Micachu. With the beat drop, Ta'East attacks, "I wake up and get to the bread / Y'all niggas wake up and stick to the bed." The beat is continually haunting, but in the middle he gives us a break with a gospel tune, then slides right back into Mayeson's eerie beat and his own menacing cadence.
10. Dee Goodz – "Cutlass Supreme"
The last few months, Dee Goodz has been releasing a lot of freestyles and remixes, but "Cutlass Supreme" is exemplary of his talent. With a beat slightly reminiscent of boom bap, the strings, guitar, and keys immensely elevate the sound, allowing for a smooth backdrop to a track that's about the truly classic car. The song ends on a serene note, the melody waving in and out for a good minute, which is slightly unexpected.