Calling tie-dye a new fashion trend anytime after the 1960s is kind of frivolous. The centuries-old print is as entrenched in fashion as animal print, distressed denim or camo, but often oscillates between being a faux pas and a must-have every few seasons. "Will tie-dye finally stick?" fashion writer Jake Silbert once asked but it's difficult to imagine tie-dye ever going anywhere.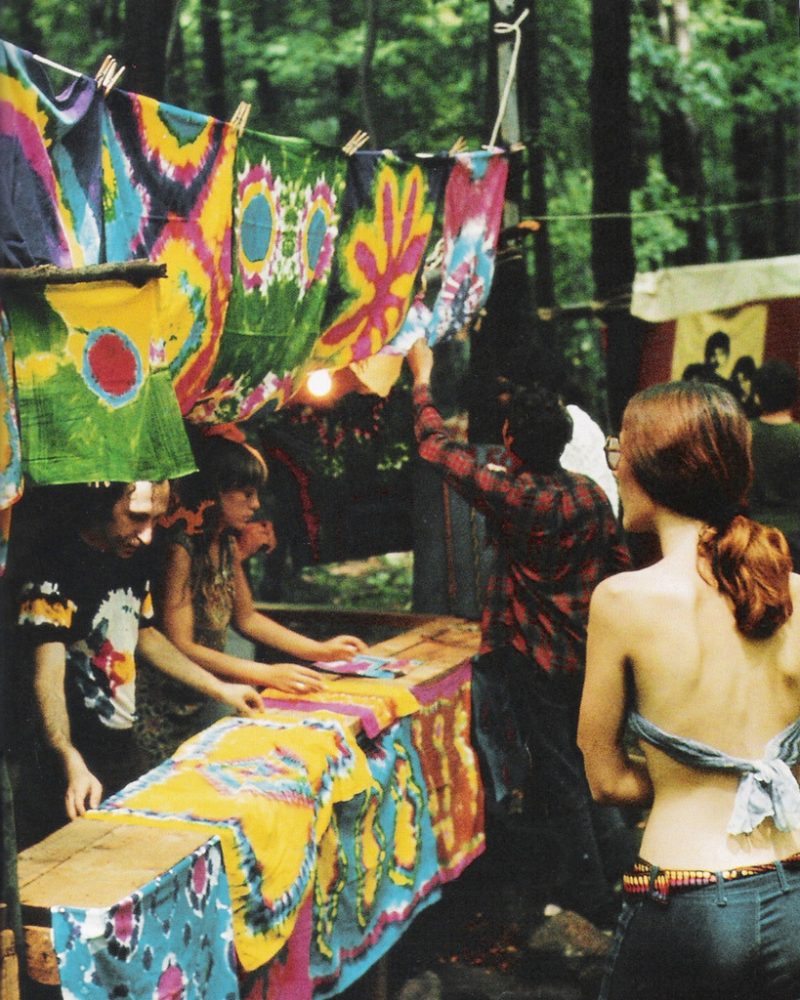 But if you think tie-dye began in the 1960s, you'd be wrong. Originating in Ancient Asia, the process began in China during the T'ang Dynasty (618 – 906 C.E.) and during the Nara period (552 – 794 C.E.) in Japan. People naturally dyed fabrics using things like sage, blackberries, leaves, and flowers. As early as the 6th century, people in India established a tie-dye practice called "bandhani" from the Sanskrit word meaning "to bind." During the 8th century, the Japanese technique "shibori" emerged; a manual folding, twisting, and compression technique that created intricate patterns.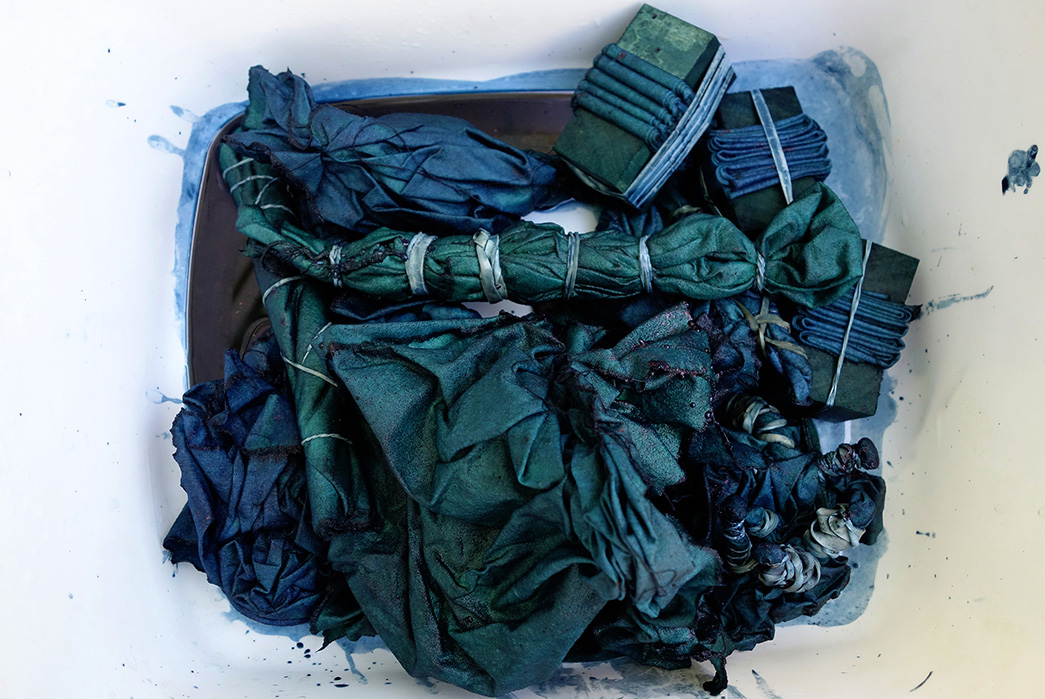 Before becoming a streetwear staple, tie-dye was a symbol of counterculture. In the 60s, peaceful protestors of the Vietnam war donned tie-dye shirts, while Janis Joplin was rumored to sleep on tie-dyed sheets, and Woodstock attendees in 1969 were a blur of technicolor swirls. "The latest version of the fad started among the flower children of California, for whom its appeal is easy to understand," a TIME Magazine article published in 1970 ruminates. "For one thing, it is pure psychedelia. For another, each tie-dyed pattern is unique." Here in the US, tie-dye's connection to the burgeoning hippie movement meant the print became synonymous with hedonism, spirituality, and music— but it wasn't long before high-fashion appropriated the style.
In 2010, the release of Proenza Schouler's tie-dye inspired collection was something of a sensation. That same year the designers behind the New York label, Lazaro Hernandez and Jack McCollough, bizarrely took to The Martha Stewart Show to show viewers how to tie-dye a scarf. But the whole process was minimized to using a Simply Spray fabric paint, making a mockery of the DIY counterculture the print emerged from.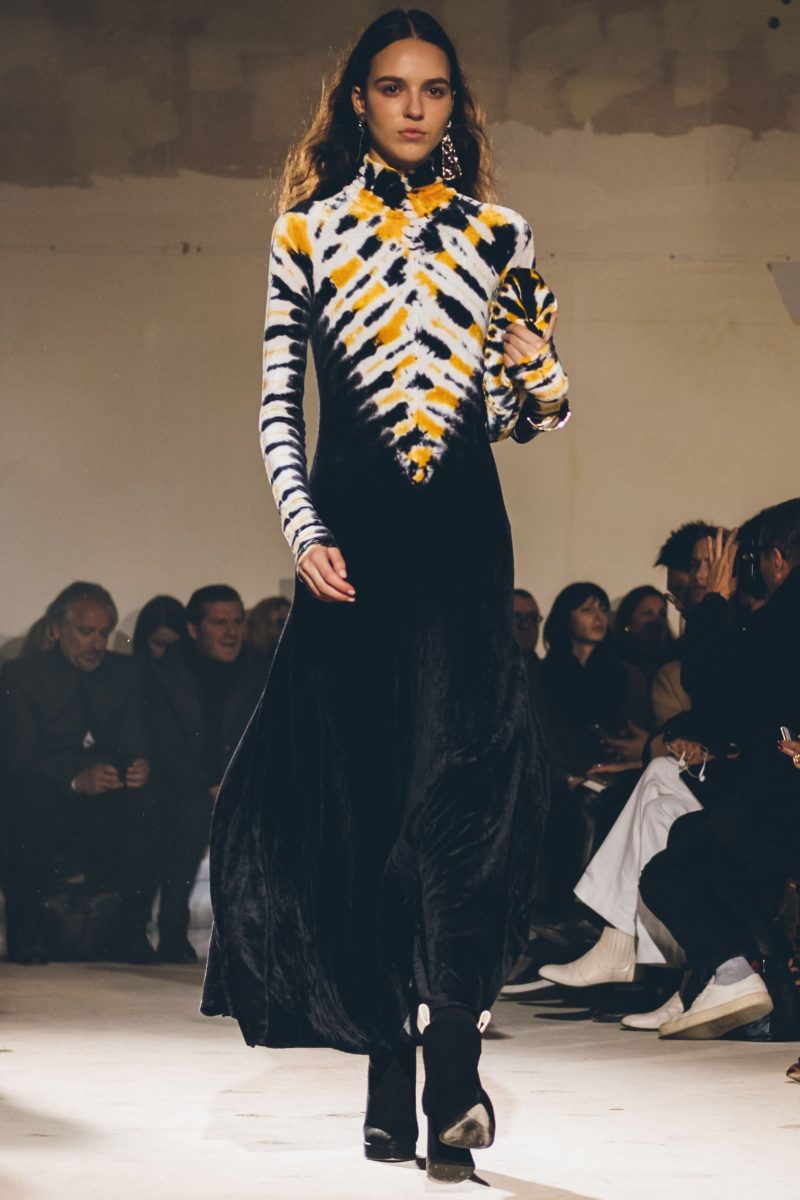 Tie-dye is ostensibly about having fun, and companies like Starbucks know this. The announcement of their tie-dye frappuccino raised a few eyebrows but it's undeniably au courant with the reemergence of the color trend. 
But over the last decade, DIY tie-dye has made a triumphant return, driven by the lucrative business models of social media. From Los Angeles designer Sonya Sombreuil's COME TEES imprint, which pairs tie-dye treatments with jagged lettering reminiscent of punk-era motifs to Heron Preston's linear colorings emulating a glowing desert sunset, DIY practices have been instrumental in changing the entry point into high fashion.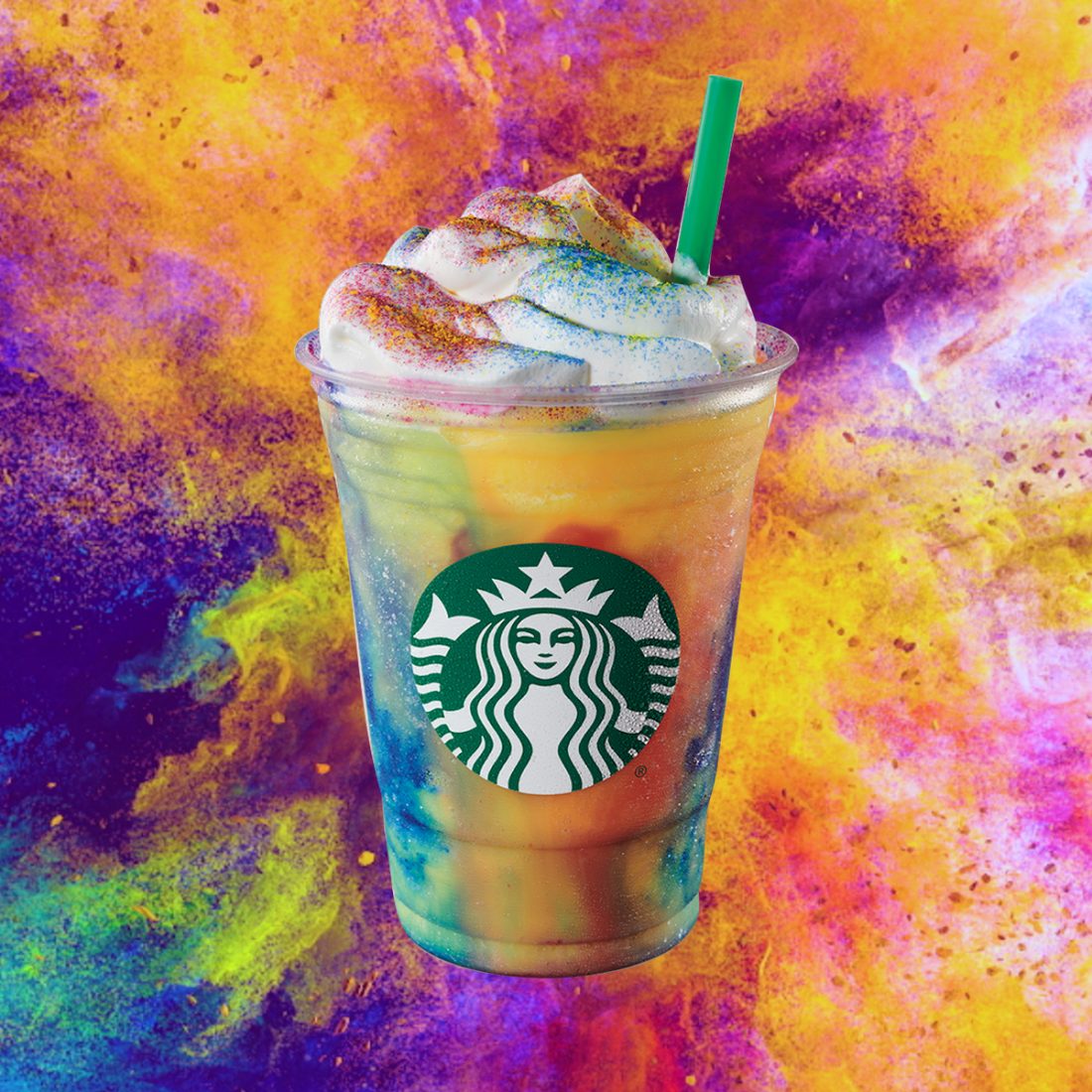 For Dalton England, it was as easy as picking something that was already trending to help spread a message of hope. Using "a small bowl I stole from my mom's kitchen to soak the pieces in [and] a cooking rack to dye them on, I rinse the shirts in my backyard," he tells me.
After starting his own DIY label The Tie Dye Company in October of last year, the Arizona-based designer saw an opportunity to create something special after searching for a new direction in life following a tough year. "I started from scratch and I still use all the same tools today that I first started with," he tells me, "but it's […] taken me months to get the techniques down and the amount of work that goes into making each piece has taught me a lot of discipline." With a degree in psychology, Dalton never thought of himself as a tastemaker, but combining tie-dye with an ethos that hinges on mental health wellness and happiness, it's easy to see how the two have come together: "I never wanted to be a clothing brand, I just wanted to show people life doesn't have to be so hard."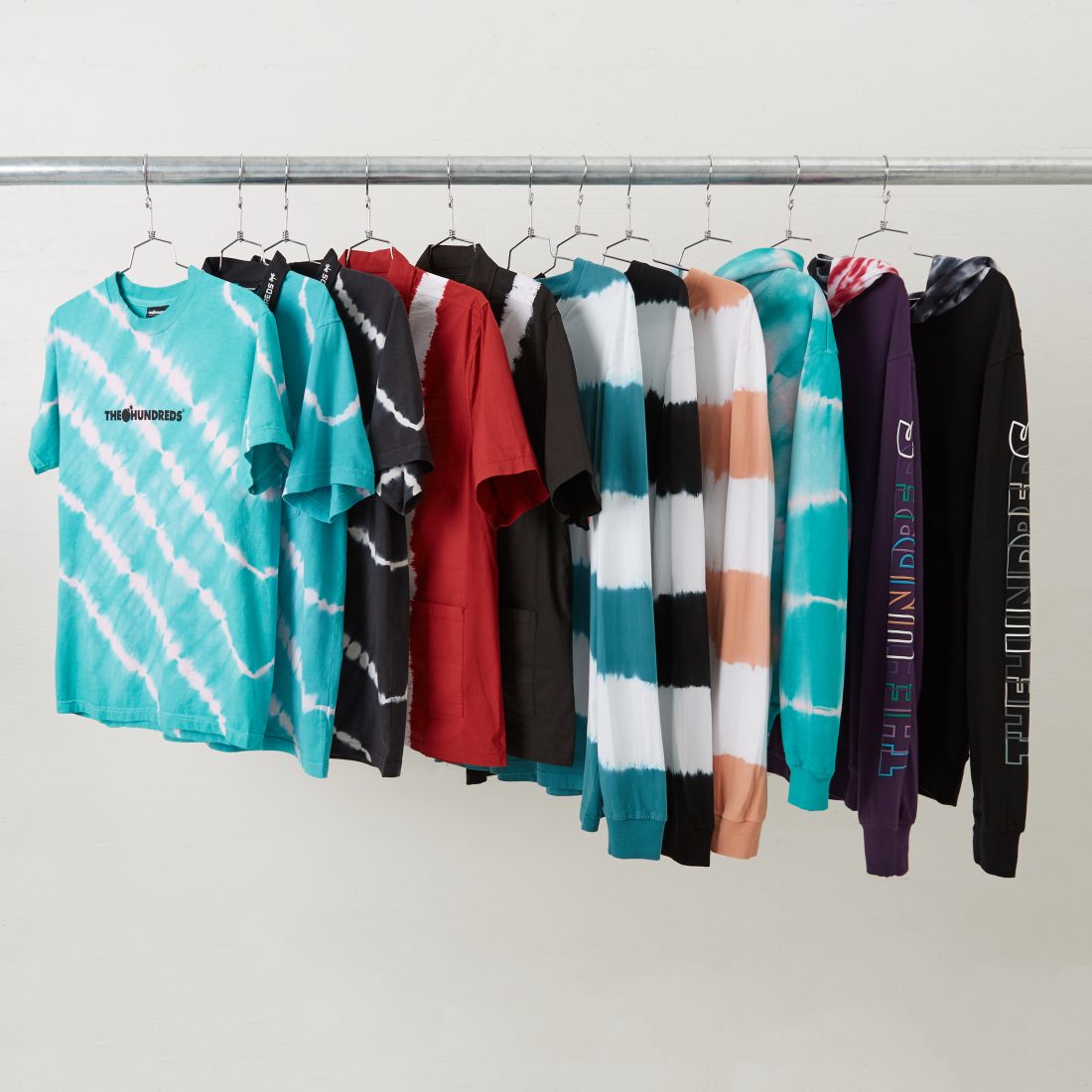 As counterculture has evolved from the hedonistic 70s to the rebellion du jour of hip-hop, tie-dye has come along for the ride. Streetwear brands like Stussy and BAPE brought tie-dye into the aughts with their skater-sentimentality. The progenitor of modern streetwear, Kanye West sported two different tie-dyed styles in ScHoolboy Q's "THat Part" music video in 2016, while Valentino and Saint Laurent were showing similar styles on the runway. And West's fascination with tie-dye continues today in his Sunday Service clothing line, tracing all the way back to his Yeezus tour merch.
While some connect to tie-dye for aesthetics or its symbology of rebellion, Los Angeles curator and designer Mary Francis has a deeper personal connection. "Things have taken me a little longer because I'm doing everything on my own," she tells me over the phone. "A year ago, I developed for one of my NBA guys a pair of custom tie-dye mesh shorts and then people started hitting me up." 
Since moving to LA, Mary's client list has grown to include Kris Humphries and Chicago Bulls point guard Anthony Morrow but her passion project is her eponymous brand. "I was born in Maine, but in the summer, I lived in the Florida Keys, and tie-dye never goes out of style there. So when tie-dye started popping, I thought 'how can I do this differently?'" After reaching out to an "OG hippie guy" in the Keys her mother had previously introduced her to, Mary decided to pay homage to her childhood. "I worked with him for over a month and we developed everything. I wanted to bring it back to my roots because it's something I've grown up with my entire life." With everything being hand-produced, Mary's products are extremely limited and becoming increasingly sought-after.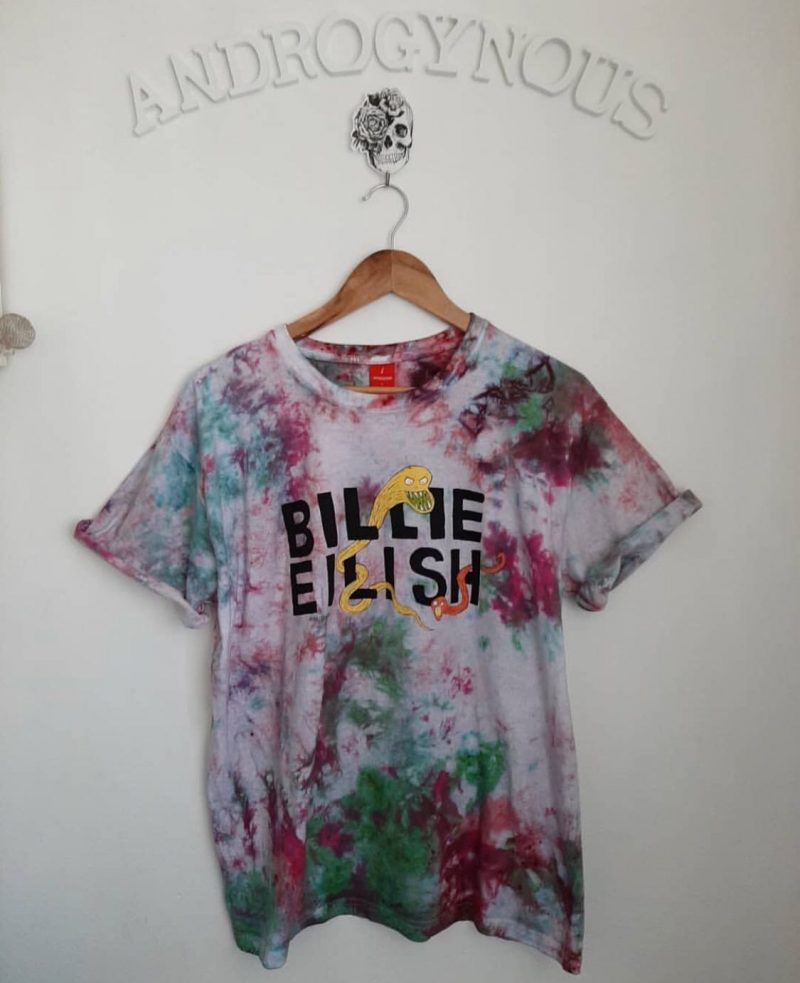 Despite so many designers and DIY creators pursuing tie-dyed patterns for their collections, no two collections will ever be the same. "It's something unique, something unrepeatable," Jhoselyn says when asked about her interest in tie-dye. Her DIY label Androgynous is a lifelong project for the Chilean designer. Starting at just 13-years-old, she admits it began as an at-home project but after receiving encouraging comments about her creations, Jhoselyn decided to turn her hobby into a business on Instagram. Her feed is a striking burst of multicolored t-shirts, tote bags, and hoodies, some of her own designs and others of licensed shirts including Frank Ocean, Tame Impala, and The Rolling Stones. "There isn't an incorrect way to dye or choose colors […] you can do everything you can imagine because there aren't any rules."
In 2019, tie-dye is "back" again, featured everywhere from the runways of Prada, Stella McCartney, and Dior to the cult-like following of Travis Scott's ASTROWORLD tour merch. But even after speaking to these up-and-coming DIY designers, it was still difficult to pinpoint what drove tie-dye's enduring legacy, until it suddenly became vividly clear.