24-year-old Gunner Stahl isn't just paving a way for a new age of photographers, he's creating it piece by piece. Hailing from the Bankhead section of Atlanta, Georgia, he's been featured in publications like The FADER and has shot some of the biggest and brightest stars from the city—Metro Boomin, Young Thug, and Future (to name a few). His following on Twitter is rabid, if not cult-like, with kids all over the world anticipating his next shoot or just joining in on his off-kilter and often hilarious point of view on the weirdest things—like Wheat Hi-Top Air Force 1s. Gunner insists that his infectiously funny personality is a stream of consciousness that comes naturally: "Everything I say on Twitter is shit that I'm doing or saying in real life. If it's a Tweet, I'm probably saying it to someone [at that time]."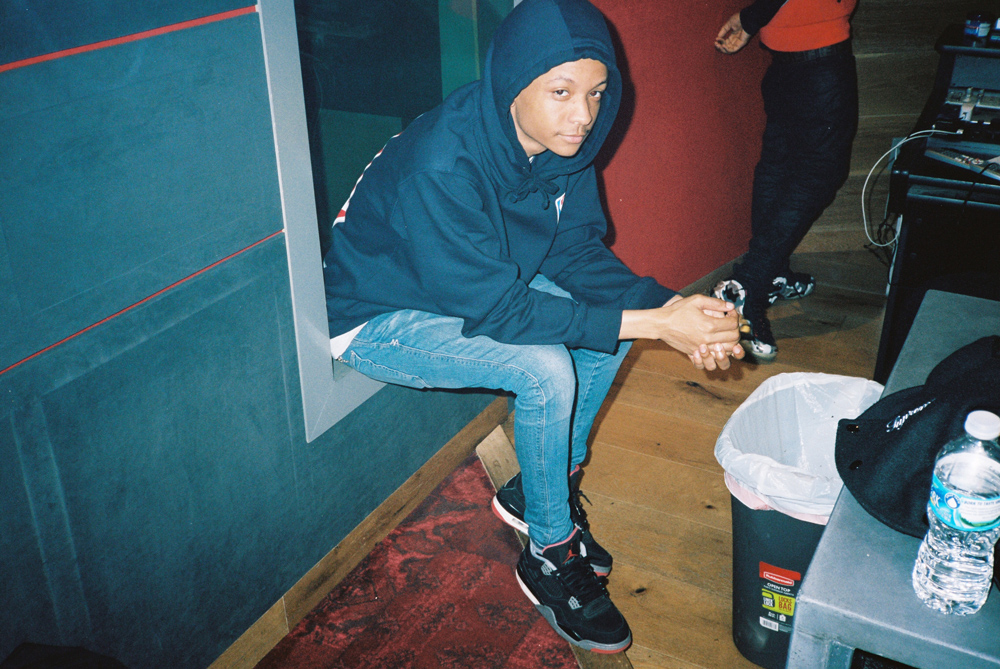 Gunner Stahl.
Even though Gunner has only been shooting since 2010, he describes his first major shoot with Wiz Khalifa in 2014 as the moment when he realized that his passion could become his business. "[Working with Wiz] was eye opening. He dead ass came to Atlanta the day after he dyed his hair purple. No one had seen his hair, and I was the first person to see his hair when I shot him." His drive has taken him from the streets of Atlanta to the stages of Coachella, and beyond where he's been seen with Big Sean, Miley Cyrus, and other established superstars. His portrait book, titled For You Mom—in memory of his late mother—chronicles his whirlwind life since that fateful meeting with Wiz. Gunner's biggest strength, however, is his penchant for being on the pulse of what's new and upcoming; his shoots with rising stars like 21 Savage have only helped put a face to the names behind some of the hottest music out right now. We spoke with Gunner about five of his favorite shoots and the stories behind them.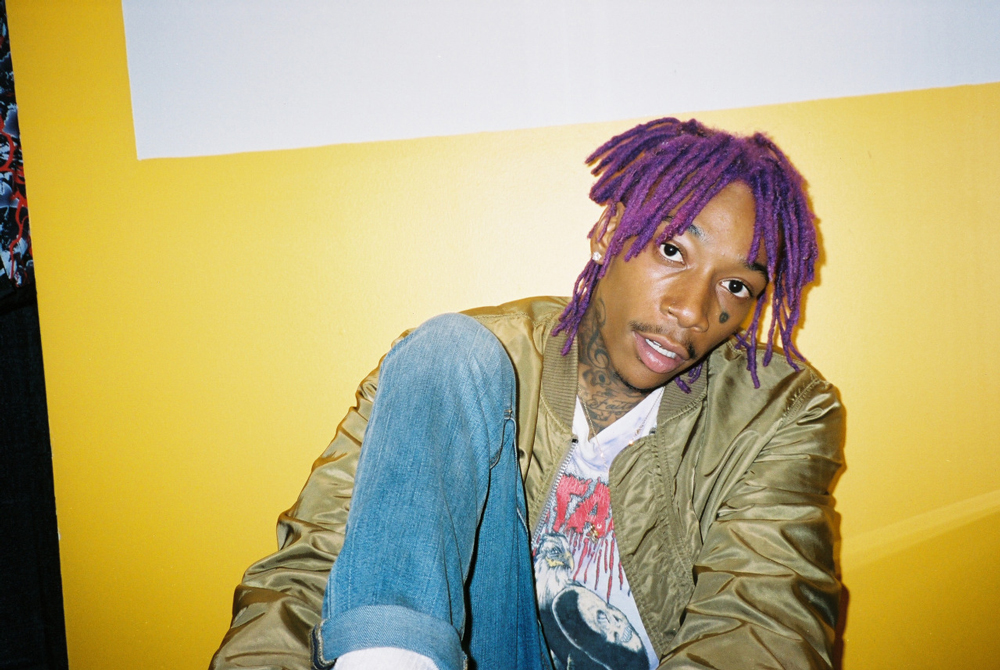 A shot from Gunner's first major shoot with purple hair Wiz.
Playboi Carti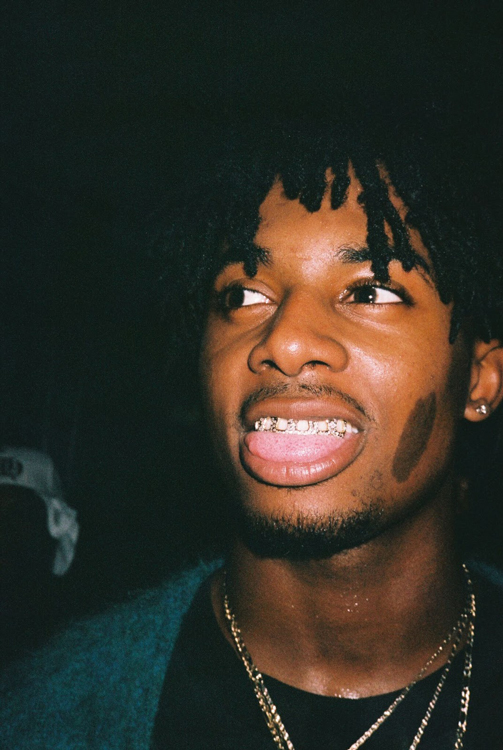 I've known Carti for a minute now, just on some Atlanta shit. This picture was taken at Rolling Loud a few weeks ago in Miami. He had a grill in [his mouth] when he walked in, but if you see the picture, he has no bottom grill in. That's because when he hopped on stage, he literally ran around the whole venue. And when he came back on stage, the nigga's grill was gone. He was like, "Man, bro I lost my bottom grill. I literally JUST got that," and I was like, "Just show me the top grill then" [laughs]. He was kind of pissed that he lost his grill, I'm not gonna lie.
It was my first time seeing him perform, and there was nothing like it. I've never seen kids react like they did at that festival. [Rolling Loud] was basically Soundcloud. I don't know why Soundcloud did not sponsor that festival. Every popping artist from there was performing. It went from Lil Yachty, to Carti, to Banks, to [Lil Uzi Vert], and then [Young Thug]. In one order. That's what the kids want. I went to Coachella, that shit sucked. I don't know anything Guns N' Roses or LCD Soundsystem. [The Rolling Loud] lineup is what people wanted to see.
Desiigner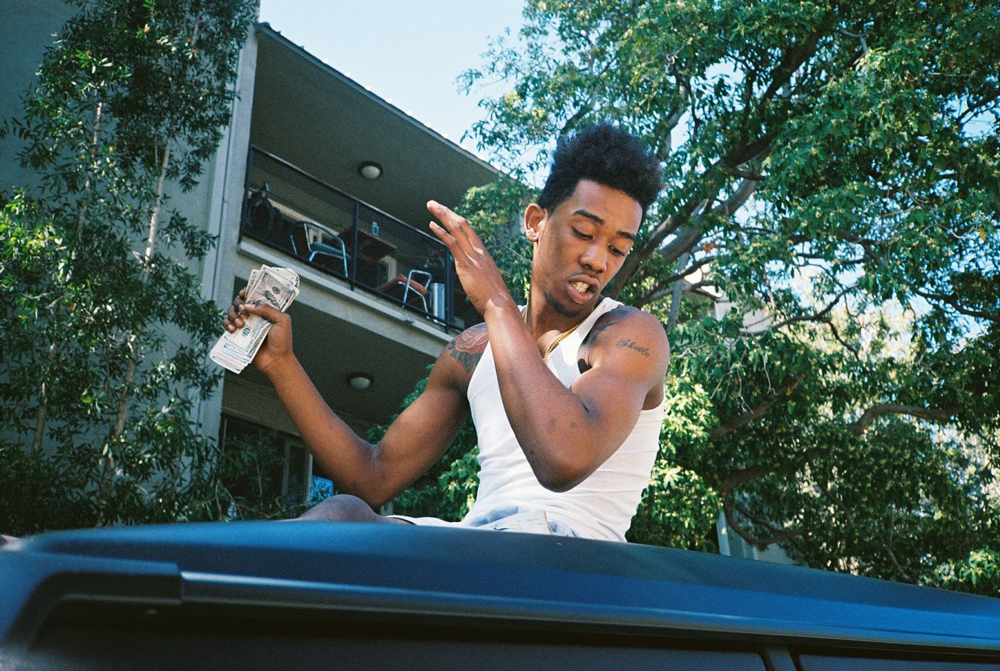 I landed in LA the night before I took this picture. The hotel that I was staying at is considered "the official rapper hotel," and there are apparently rappers there all the time. I thought they were trolling. I woke up the next morning and realized I left my travel bag in Atlanta, so when I was going to CVS to get supplies, I saw Desiigner outside. I was like, "This shit isn't real." I ran back upstairs and told my partner and he was like, "No, he's not." We both went outside and he introduced me to Desiigner, and I asked him to take pictures and he was like, "Of course," so we just started taking pictures.
I don't get the [backlash] surrounding him. It's literally... you can't name one bad thing about him. What's wrong with him? That's his voice, he sounds [like Future]. He's not getting in the studio and making his voice sound like that. He can't help that, you can't change the way you sound—unless you're Kanye West. You can't say: "I want to sound like Future," and just do that. He was just happy to be in LA, he's a 18-year-old kid. He was excited to go get sushi.
Kehlani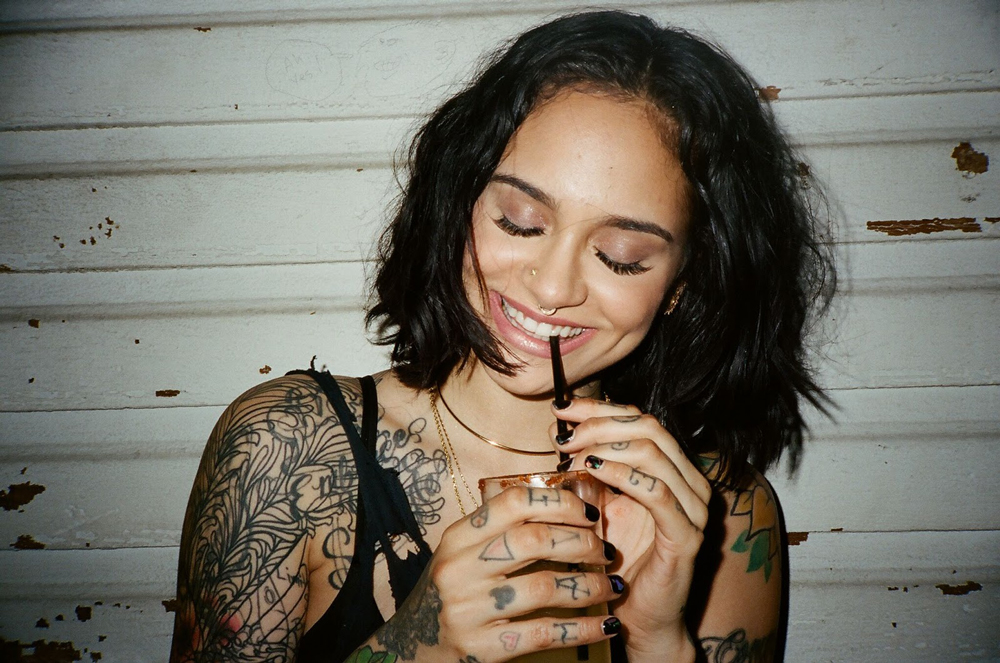 I took this picture at SXSW this year. She came to my friend's showcase and she showed up. I already knew the guestlist so I was already plotting. I was walking in the door to go to the front of the venue and she stepped in front of me to tell me she loved my work. It completely threw me off guard. We started talking and she told me she found my stuff when she saw me in videos with [Viral Atlanta based dancer] Meechie, and it made sense. After we talked, I just started snapping pictures. Every picture I do is in the moment, everything happens in the moment. Usually people are pretty open when they see I'm not the paparazzi.
Lil B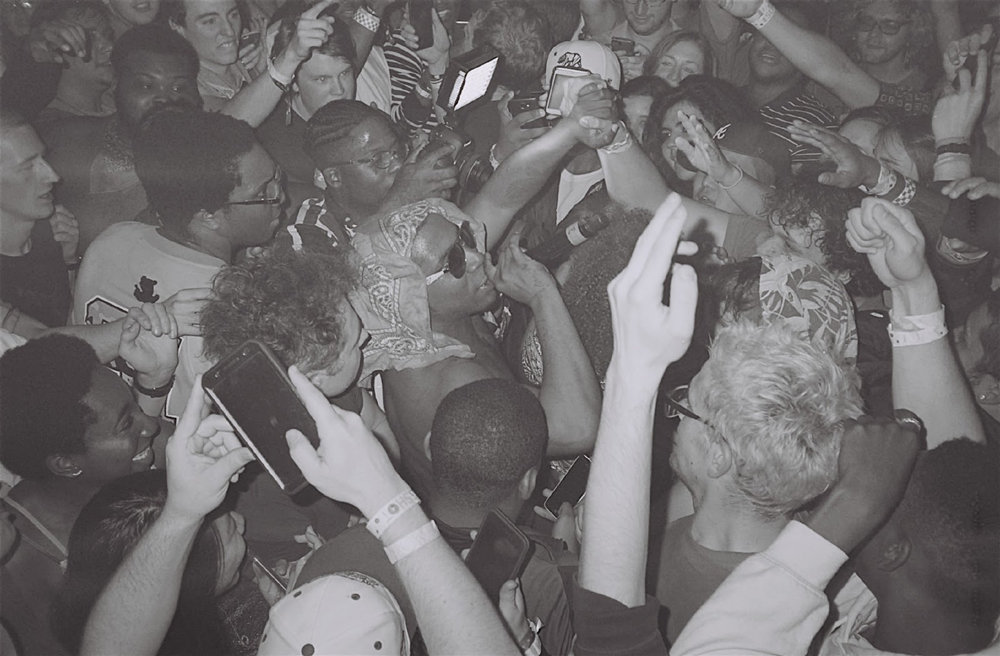 He performed in Athens, Georgia, and at the end of his show he was just like: "You guys want to touch the Based God?" and he just hopped off the stage and talked for like two hours. If you came up to him and had a story you wanted to tell him, he'd listen, give you advice, take a picture and move on. Mind you, this was a festival, so someone was performing while he was doing this. I didn't want to go down there—it was like a million people trying to get to him. He walked through the whole crowd while the "Dior Paint" instrumental was playing. That experimental shit he was doing with the pianos? That's what was playing. It was like he was Jesus, especially with that music.
Lil Uzi Vert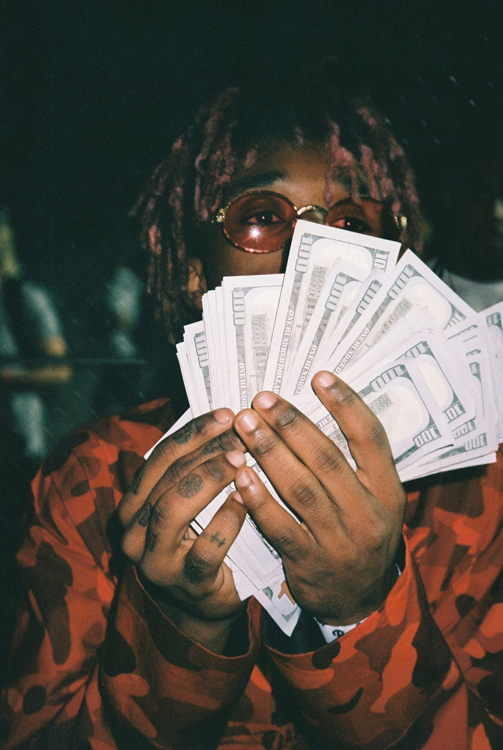 I took this picture at Rolling Loud too. I'm in the backstage area waiting because they said he was performing soon. Next thing I know, he's walking through security [with money over his face] the whole time. I came up to him like, "What are you doing?" I didn't understand it, but you know, that's Uzi. We've hung out in the past, so I'm used to his personality. He makes undeniable music, like, he's gonna [be big] regardless, and there's really nothing you can do to stop him.
***
You can purchase For Your Mom here and keep up to date with Gunner Stahl via Twitter @GUNNERSELLWHITE and Instagram @gunnerstahl.us