A reminder of the halcyon days of the mid-90s, the Nike Uptempo is not only one of the brand's most recognizable designs, but also its boldest. Initially created as a performance shoe, the roots of the Uptempo are in basketball rather than fashion.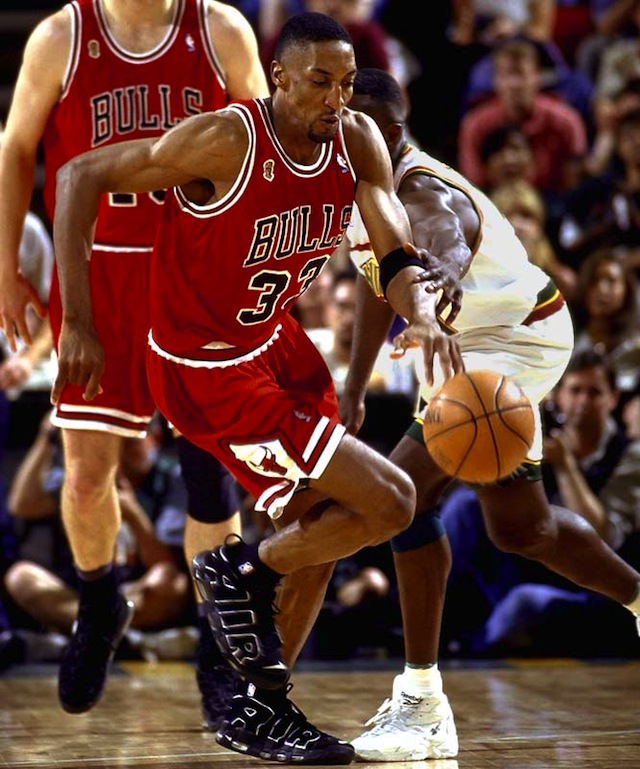 Introduced to the world in 1996, designer Wilson Smith III created the Uptempo with a specific vision in mind. Inspired by graffiti, pop art, and train carriages tagged with spray paint, Smith set out to create something that captured the zeitgeist of the time. Everything in the 90s felt bigger and brighter, a multicolor spectacle of big hair, jeans, and cars. The Uptempo was designed to fit this aesthetic but stood out, beyond anything Smith could have imagined. "I think generally the mid-90s were just a bigger-than-life time," Smith famously said, and this fascination would ultimately define the sneaker's trajectory.
"With the exception of Michael Jordan, the players with signature sneakers at the time were big men; Shaq, Kemp, Barkley, LJ, Ewing, etc. But Nike designed the Uptempos for versatile players who could handle, shoot, cut, and were over 6'5″, Complex Australia editor Steve Duck tells me. "Dudes like Scottie Pippen, Penny Hardaway, and Reggie Miller were kind of a novelty at the time."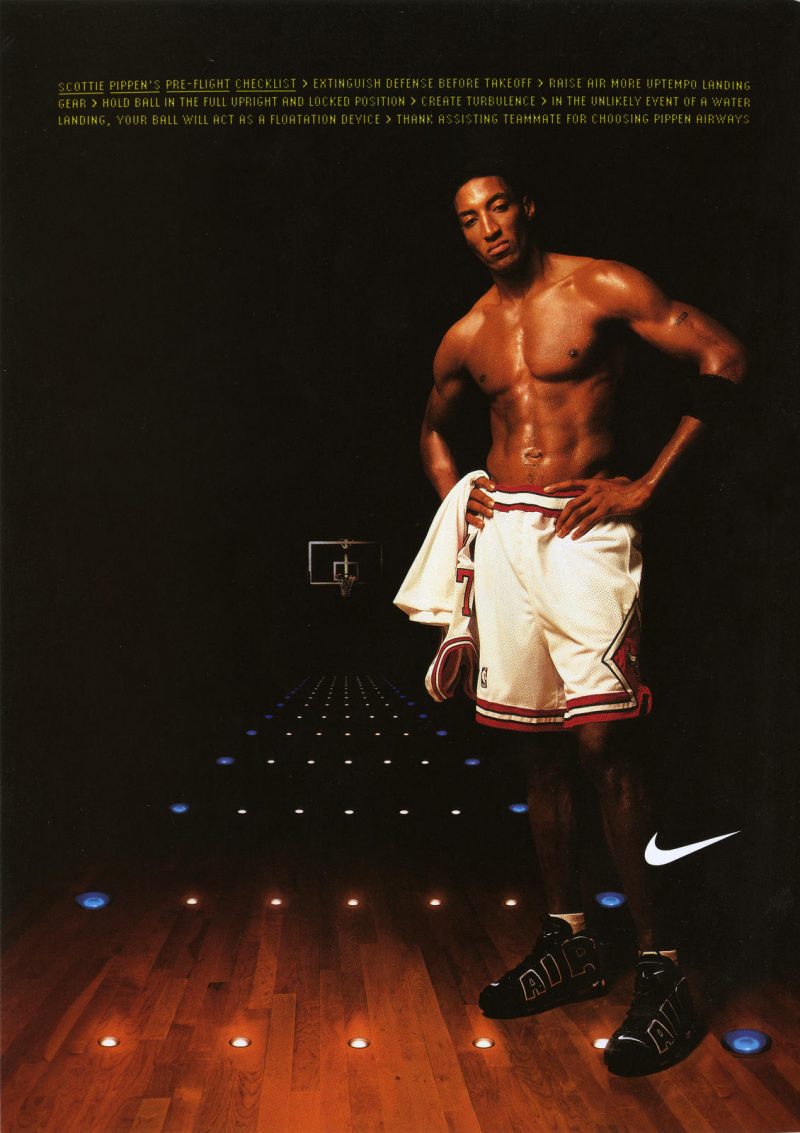 Uptempos are "ideal for the vertical player who needed the lockdown and abundance of cushioning." So, when the Nike Air More Uptempo became Scottie Pippen's signature shoe, he was one of the Chicago Bulls' biggest stars. The eye-catching design became part of the collective consciousness, a source of nostalgia but also a callback to thrilling moments on the court.
The small forward, who towered over defenders at 6'8", drew attention in an all-black pair of Nike Uptempos, with the trademark "AIR" lettering etched in snow-white piping. "I was looking for a shoe I felt would be good for a versatile player. Energy and excitement. I was looking for a shoe that assisted with my speed. The shoe came out and took graffiti off the wall and put the art on my feet," Pippen told KITH Founder Ronnie Fieg at the opening of the NIKE x KITH store. "I never wore them off the court. The shoe came out way before its time. People look more to the shoe for fashion even though it's really a performance shoe."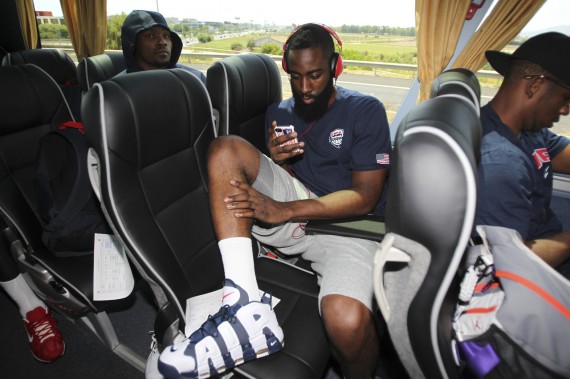 Designed for performance, the sole's technology was imperative and dutifully designed. "I knew where the airbag kind of lined up," Smith explained. "So I flipped it and on the medial [and] I made the 'AIR' in the other direction."
"Technology-wise, [the Uptempo] was designed for speed and cushioning rather than one or the other," Shanghai-based DJ and Hypebae contributor Amber Akilla tells me. "The style is still modern even 20 years after its first release. Uptempos have so many different design elements; from the top, you wouldn't expect them to look the way they do on the side."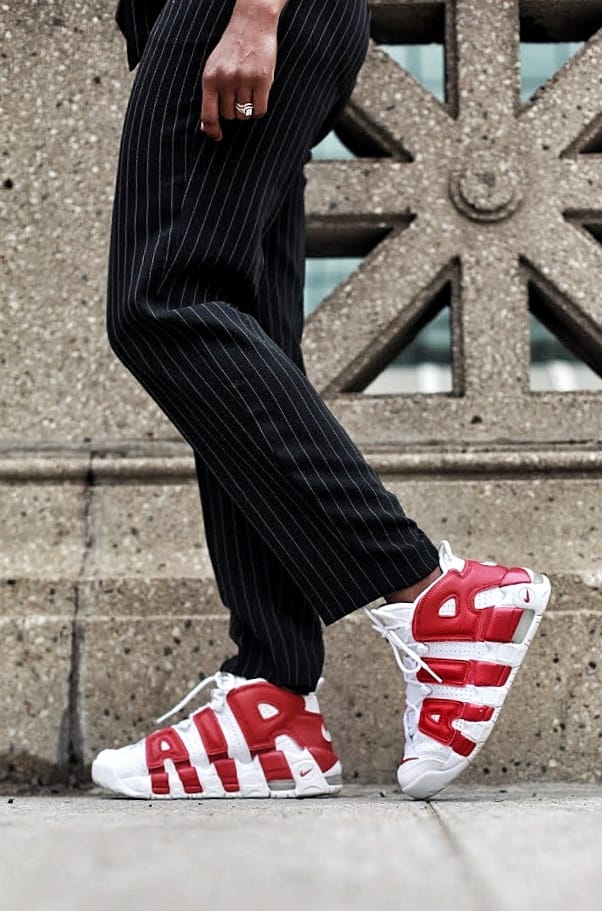 It was at the Atlanta Olympics in 1996 that Pippen, alongside the USA men's basketball team, won the gold medal in 1996. "I live in Sweden and to [watch] the Olympics in 96, we had to stay up all night. Jordan and Pippen were the two biggest players at the time," Swedish Olympian and Nike Ambassador Michel Torneus tells me. "The shoe brings back so many memories of me and my neighbors playing [like] we were the Dream Team."
Bombastic and of its time, the Uptempo trades most successfully in nostalgia. "The design lends itself to a lot of experimentation with colorways, which means there's something for every taste," Bianca Oblivion, Los Angeles DJ, tells me. "Uptempos are a throwback to my childhood, growing up in the 90s you would see them on everyone, both as an athletic staple and in hip-hop/streetwear culture. They are a timeless statement sneaker."
Despite the sentimentality of the shoe, a new guard of style influencers are using the branded sneaker as a wardrobe staple. "In the '90s…they were so ominous and menacing, I couldn't imagine them serving any purpose outside of intimidating opponents and scuffing the hardwood at pick-up games. When Nike dropped the retros a few years back, they suddenly turned into something that looked good on Emily Oberg," Duck continues. "I have no idea how this sneaker has had two lives with completely opposite personalities."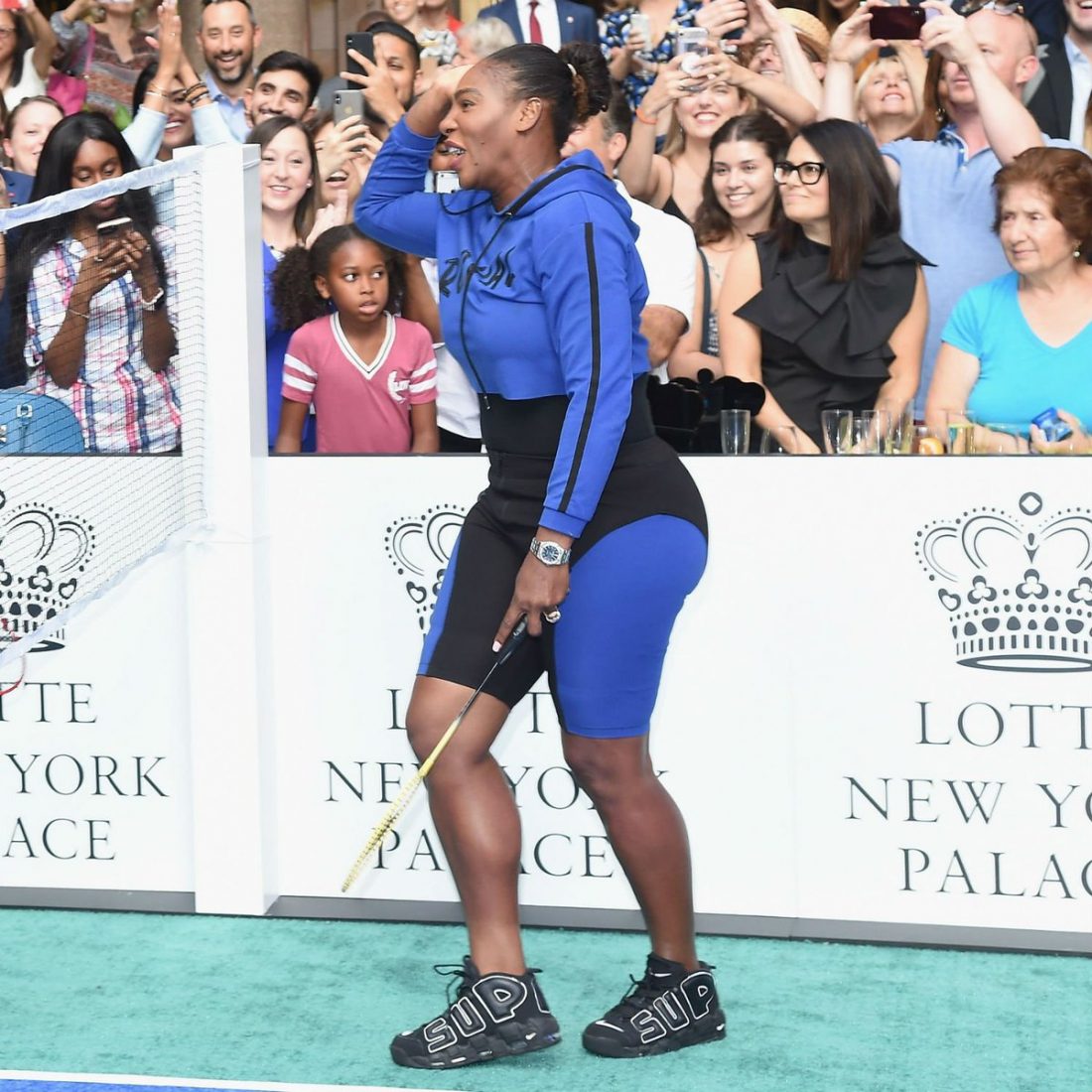 "One of my best friends that I met in Hong Kong was wearing all black Air Mores when I first met her and I'd never seen Uptempos before," Akilla reminisced. "We went to Tokyo together later that year, I bought a pair [but] when I got back to Shanghai someone made a passive aggressive comment about them being too chunky. Not long after, that Supreme collab dropped and everyone was wearing Uptempos in Shanghai." Akilla, now a co-founder of a femme LGBTQI DJ workshop and event series called NVSHU女术, plan to work with Nike in Shanghai over the next few months.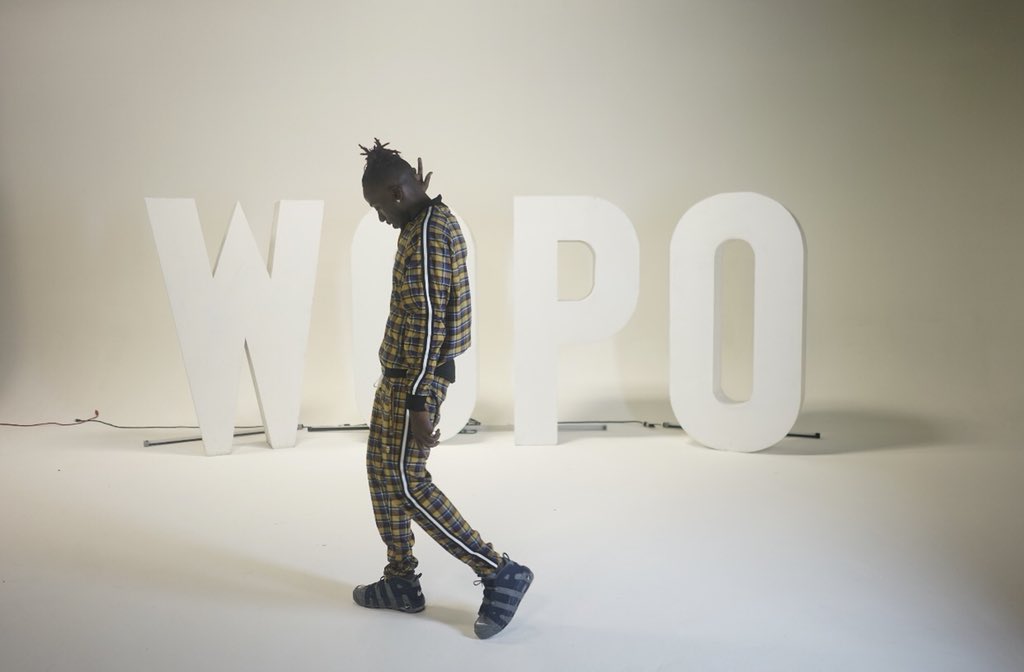 Last year, Uptempo designer Wilson Smith became the University of Oregon's College of Design's latest honoree of it's grandest award, the Ellis F. Lawrence Medal of Honor. Hired in 1983, Smith became Nike's first African American footwear designer. Originally selected to work in the company's architecture division, Smith's talents soon became apparent, going on to design not only the Uptempo but the Air Max BW running shoe and the Air Max CB34 signature model for Charles Barkley.
"Whenever I see people wearing my product, I feel overjoyed," Smith told Nice Kicks. "I think, 'It's a shoe.' They could have worn anything. They chose one I designed. That's a major honor. It's also been a kick when the major athletes wear it. But even when other people on the street choose it, it's a thrill."
"It's just a dope shoe," rapper Ponce De Leioun tells me. Planning to wear his favorite pair for his next music video, the West Virginia-native admits they make him feel "like a boss, [Uptempos] give me a lil' more height and comfort."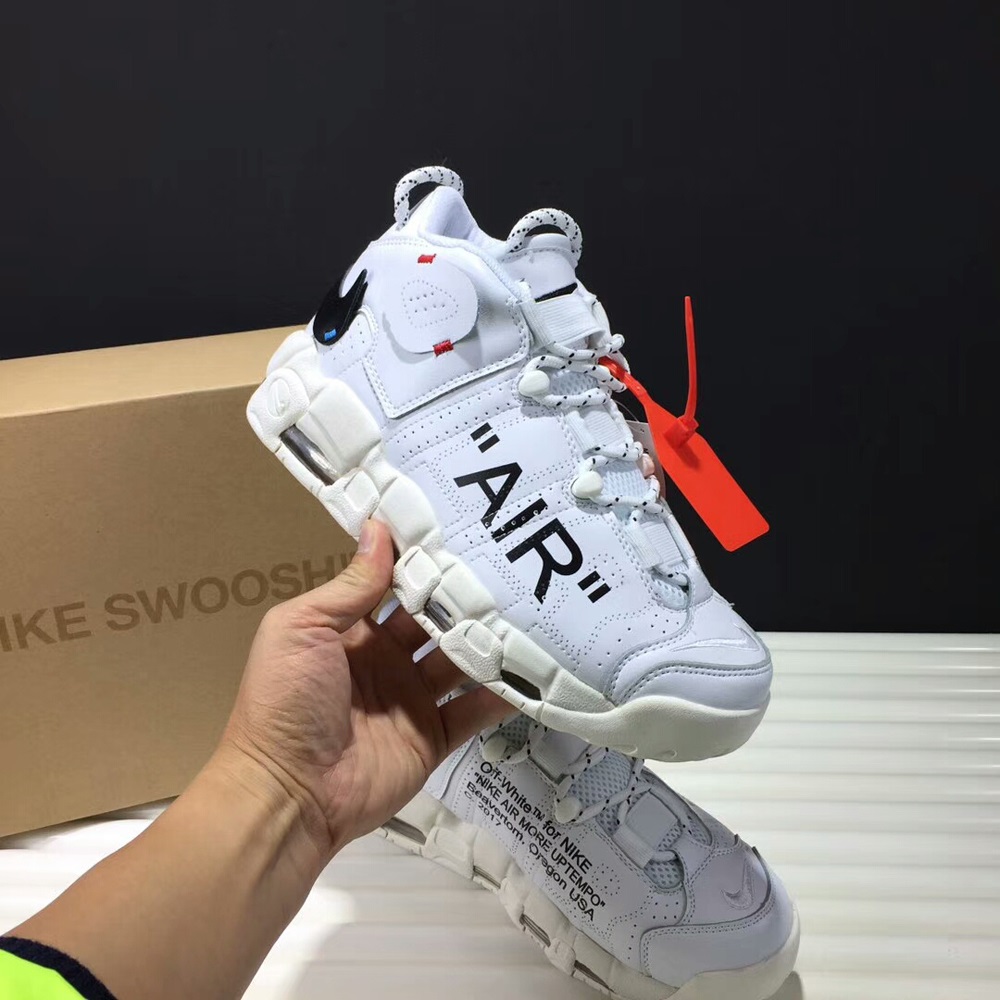 When it comes to fashion, Fendi, Chanel, Gucci, and Balenciaga are just a few design houses that emblazon everything from jewelry, clothing, and shoes with their imprints, a feature shared by streetwear brands. The Uptempo's enduring design finds a new life with the cyclical upcycling of bold logos in luxury wear. A shoe that announces itself when it walks into a room, it is a fashion staple. But no one could have predicted its place in fashion's elite, not even Pippen himself.
"Twenty years later, people wear the shoe and haven't even seen me play," Pippen exclaims. "To be able to see the sneakers in the streets today makes sneaker culture an art form."