The Hundreds X Rocky is available now at The Hundreds Los Angeles, select retailers worldwide (ask service@thehundreds.com for the list if you need it!), and our Online Shop (US and UK). Check out our lookbook, shot on location in Philadelphia where Rocky was filmed.
Photographer: Saeed Ferguson @saeedferguson
Model: Nick Castagna @nickxcags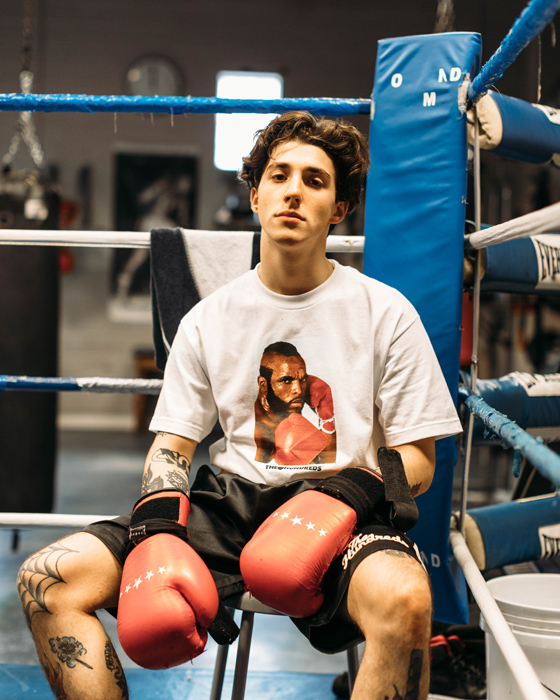 In 1975, an unknown actor/writer from New York City named Sylvester Stallone wrote the script for the now-seminal boxing film Rocky. Audiences and critics alike cheered for this American success story of an "everyman" triumphing over all odds, featuring a dynamic musical score, a thrilling fight sequence, landing the film ten Academy Award nominations. Like its title character, the film defied all odds, winning Best Picture at the Oscars, and certifying Stallone a bonafide star. The movie's success spawned a 7-part series that told the enduring story of Rocky Balboa, a working-class dreamer who relentlessly fought his way to the top, with the 8th installment Creed II coming to theaters this November.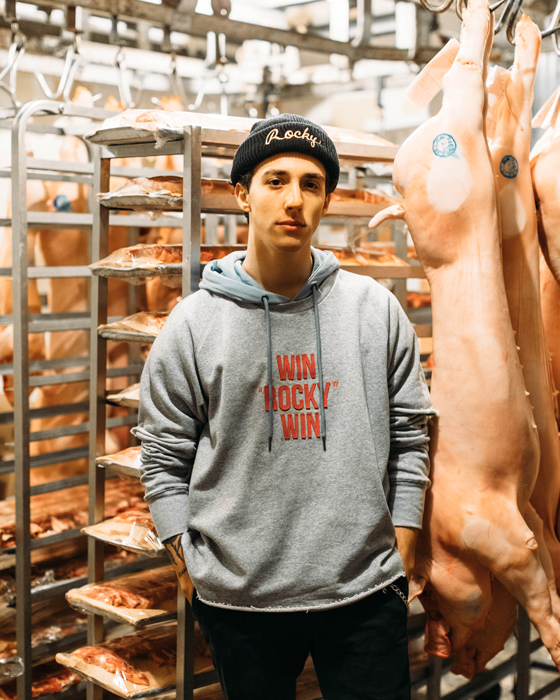 Today, Rocky is considered one of the best sports films of all time. Rocky's idea of the American Dream is also found in The Hundreds' story, as well as that of surrounding streetwear: a long-shot can have an idea, work hard at it, and turn it into something huge. In The Hundreds' 15 years, we have long identified with that underdog spirit, always independent and defiant. It's what's kept us fighting and winning, just like Rocky.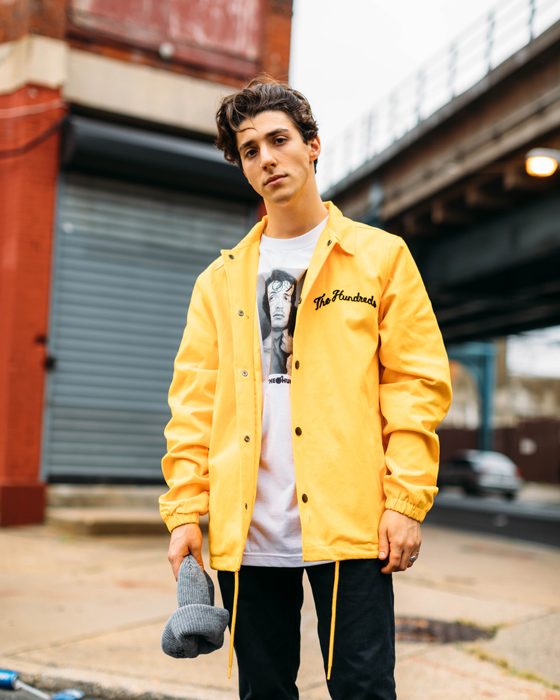 For The Hundreds X Rocky collaboration, we created a special collection including T-shirts, pullover hoodies, a trainer jacket, satin boxing shorts, headwear, and a pin set. On our graphic T-shirts, we highlighted the love between Rocky and Adrian (#goals), as well as film villains Clubber and Drago, and opponent-turned-bff Apollo Creed. The satin boxing shorts come in four different colorways in homage to Rocky (black and gold), Apollo (American flag), Clubber (powder blue), and Drago (red and gold). The "Run Rocky" pullover is the highlight of the collection, inspired by the famous training scene in Rocky II where he layers a cutoff athletic heather crew-neck over a literal zip-up hoodie; our version also has a removable raw cut pullover layered over a contrast hood pullover with the words WIN "ROCKY" WIN across the chest in die cut felt appliqué.