For David "Junebug" Mijares, becoming a boxing legend is already written. Just check his history: His mother went into labor at his father's LA gym. Said gym was owned by Bob Dylan, so young Junebug spent his days training with his dad amongst some of the most remarkable people in the world. What's more—he learned this later in life—Junebug's great grandfather was a fighter in the Philippines. And finally, Mijares credits an old Oscar De La Hoya fight as his boxing inspiration—now, he's signed to Golden Boy.
But play that back to Mijares, and you'll blow his mind. See, Junebug—a sweet nickname that came from his father calling him that in the womb—grew up as a regular kid in Santa Monica who boxed to stay out of trouble. After juggling homework and hanging with friends, Mijares would find catharsis in the ring. Sports, friends, family, and school—he's led a pretty simple existence, and still prides himself on being just a local boy with a dream.
However, destiny is undeniable, and fate awaits. As the call of a marquee title fight draws near, so does his power grow. The 23-year-old super lightweight has been undefeated since going pro in 2016, and with a few more recent wins and major campaigns to his name, it's imperative: forget the simple life, it's time to step into the spotlight.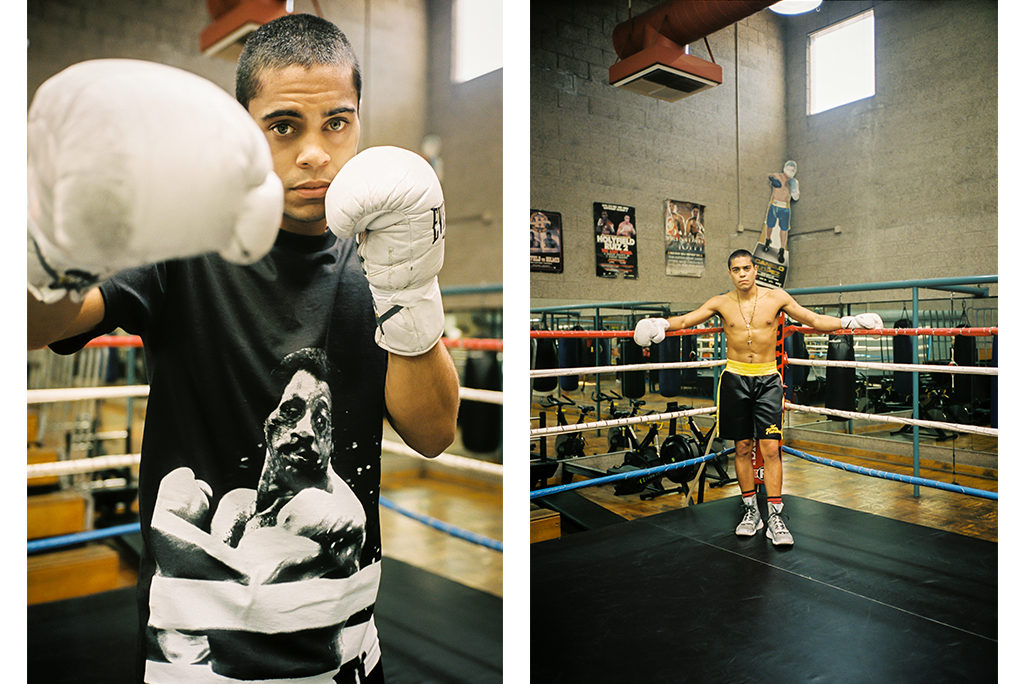 TARA AQUINO: What inspires you as a boxer?
DAVID "JUNEBUG" MIJARES: There was a fight way back in the day when I was kid. It was De La Hoya versus someone I can't remember. I remember Oscar won by stoppage. He held his green WBC belt on the ropes, above his head. Ever since then, I held that golden image in my head. That's where I wanna be, holding that green belt above my head, right next to my father.
How crazy is it that you're signed with Golden Boy then?
[Laughs.] I never really thought about it. It's quite eye-opening.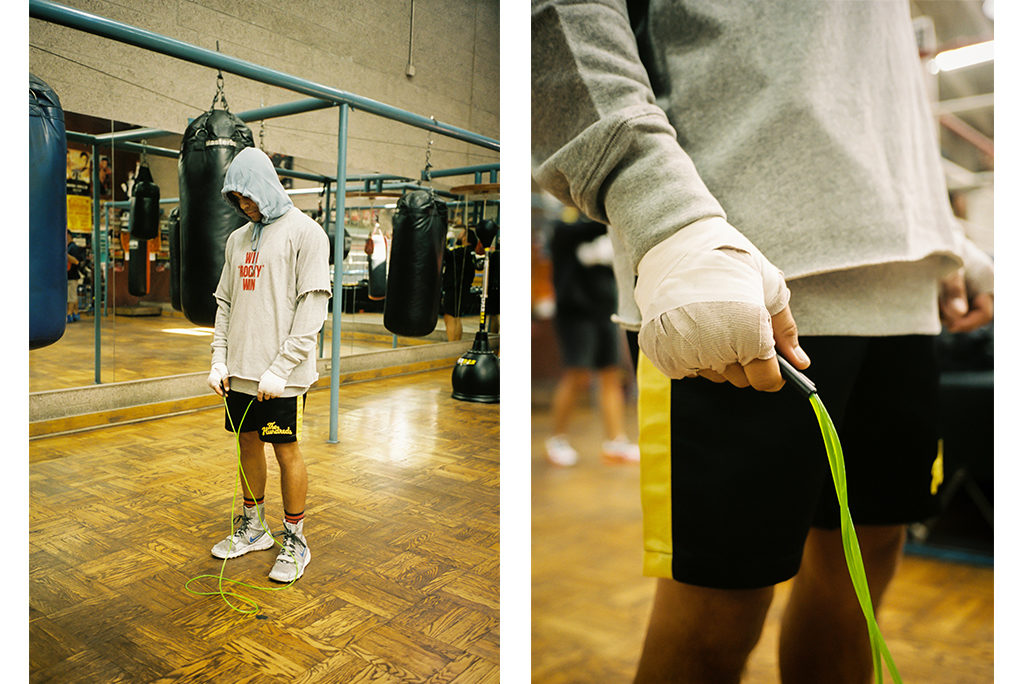 What's your training regimen like on the lead-up to a fight?
I do three sessions per day. I warm up in the morning, spar around noon, and at night we correct what happened at sparring. But I've been boxing my entire life, so it's a normal routine for me.
Have you been interested in pursuing anything else besides boxing?
I took a year off after a training injury and tried different things, but I realized how good I had it with boxing. It really forced me to take a step back, figure out what I want, and if my father and I were on the same page, since my father is my trainer. Then we just made sure our whole team was tight and that my boxing career was going in the direction I wanted it to go on.
I tried to stay as active as possible during that time in any way possible. I don't like waiting around for instructions. I like to work hard, take initiative, and push my body to the limit. You know what they say, if you turn your passion into your career, you never work a day in your life.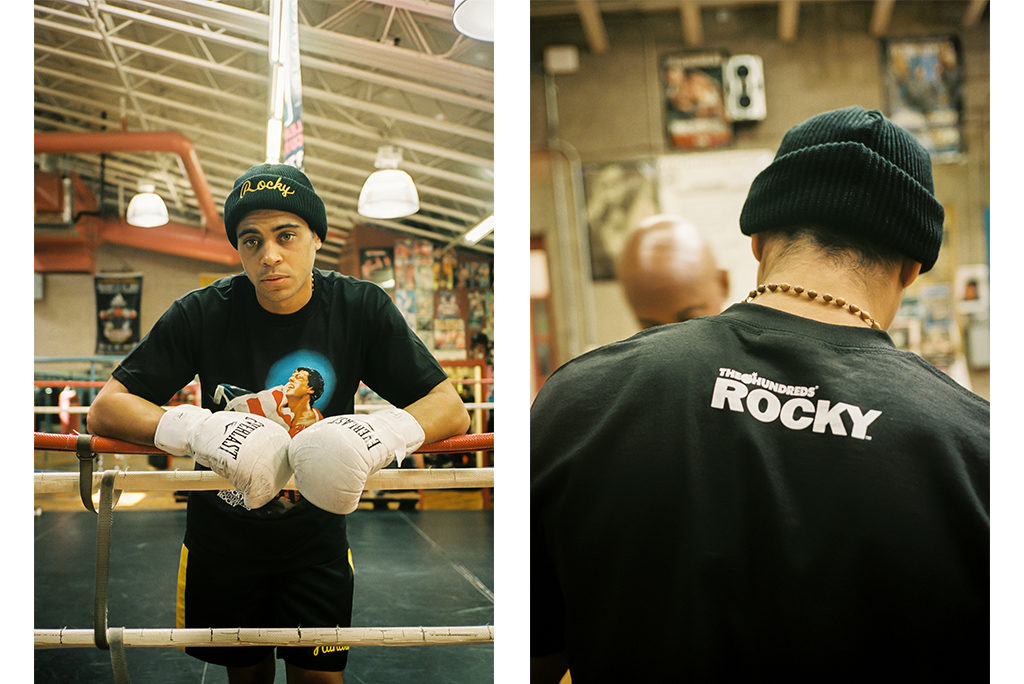 What was it like coming back to boxing? Did you approach the sport differently?
While I was out, I watched a lot of fights, usually the lower tier fighters because that's where I'm at, and I started figuring out what they were lacking and getting frustrated that fighters weren't making adjustments in the ring. Then, with my father, I figured out how to apply that to my own fighting. There are a couple other things I learned that I need to keep as a secret though. [Laughs.] But taking a year off was a big help. I realized, at some point, you really have to let your mind go and your body flow.
As you grow, what are you realizing are your core values as a fighter?
As a fighter, you have to always stay in shape. You can't let yourself go. A lot of fighters, myself for example, would eat a lot of junk food in between fights. But I realized your body is a temple, and you only have this one, so you have to treat it right. I stay healthy, stay active, and keep my brain fed at all times by always challenging myself.
How has boxing helped you outside the ring?
I remember back in high school, my father was in a transition period where he wasn't training anybody and was trying to find a spot to train 'cause the spot we had actually closed for a minute. When boxing went away, and I didn't have an amateur career to fall back on, I started to get in trouble. I made a stupid decision that caused me community service. I had to clean up the school because it was for vandalism.
A lot of the pent up energy fighters have goes towards training and they get spent in training, so there's no dark energy left over. When you're putting all your energy into something positive like that, you see a change in your body, in how you go about things. Boxing is all about teaching discipline—it keeps you out of the streets, out of trouble, and it keeps you honest.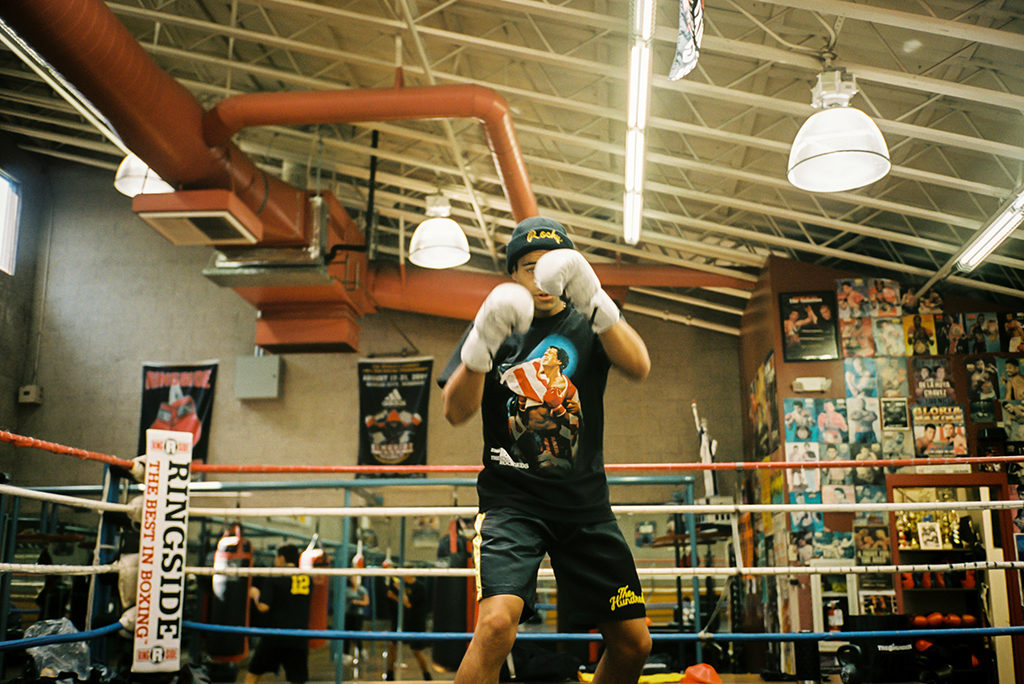 What's your relationship with your dad like? Both as father and son and coach and boxer.
When we go into sparring, he's almost like a video game player. He's got the control in his hands and I'm his avatar. I go into battle. He makes sure I stay safe and aware. Once we get home, we kind of go in our own world. We joke around, almost like a sibling relationship. We stay loose outside of work.
What was it like growing up in a star-studded gym owned by Bob Dylan? Was it distracting at all?
That was crazy! You really don't know what you have until it's gone. Bob Dylan was a chill and relaxed guy when I was a kid. Growing up with all these big names around training didn't really change me. I was in my own world, running around, playing, and going to school. The stars were just a bunch of adults and I was just around them. That's maybe why I feel like an old soul. I'm still trying to create my own world. The only thing that's changed is that I'm trying to make my own dreams come true, just like everyone who came through that gym made theirs.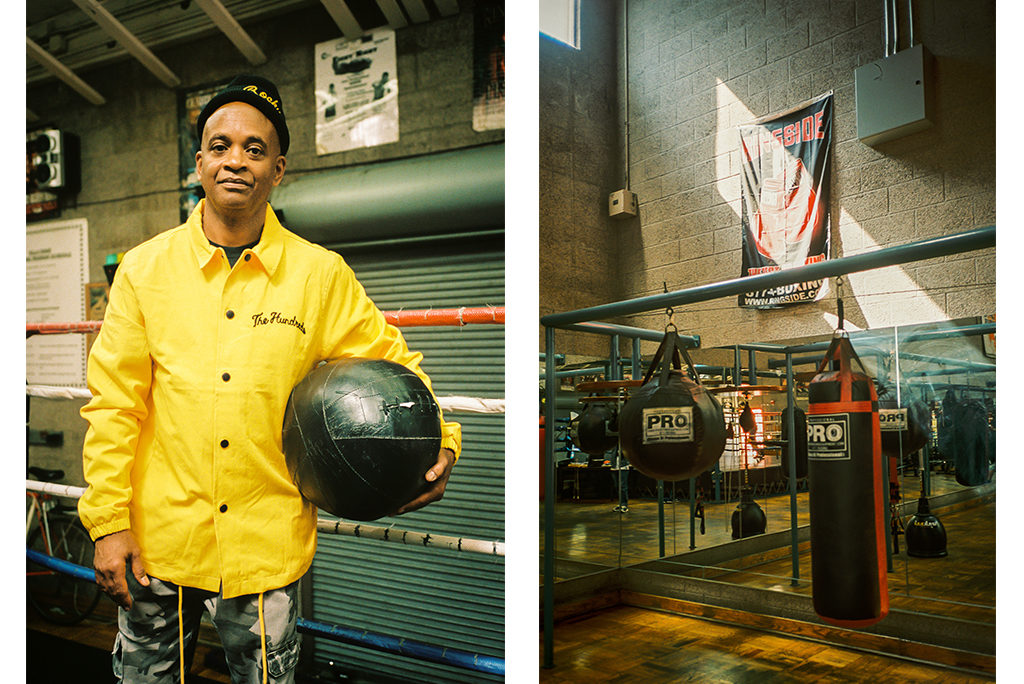 What was it like finding out that you have boxing in your blood?
I actually had no idea my great grandfather was a fighter in the Philippines until my father did some research about his family about 10 years ago. I believe that my great grandfather is a spirit looking down at me, and he's giving me the energy.
"Boxing is all about teaching discipline—it keeps you out of the streets, out of trouble, and it keeps you honest."
What's your personal connection to The Hundreds?
I train with the manager of The Hundreds on Rosewood, [Sab]. He's been a huge help to my team. He's the right-hand man next to my father. He holds the mitts for me when my father can't, takes the body shots, and throws them right back at me. He keeps me sharp at all times. We actually linked up in high school by chance. He saw me outside of a McDonald's—I was hanging out with my friends and he pulled up and said he wanted to come see my gym. He showed up one day and ever since then, he's been like family.
What separates you from every other fighter out there?
There are two things: one, I'm a southpaw, which is a fighter that's left-handed and I have different posture, and two, I have a little more of an upper-hand because I know what I'm looking at now. That year off really helped me figure out what a lot of fighters are lacking. My father and I cracked the code. At one point, everyone will see what I mean.
How did missing out on the 2016 Olympics shift your career trajectory?
I remember my father and I went back to the hotel room in Memphis pretty bummed out. But he looked over at me, saw this look in my eye, and asked, "What's next?" In my mind, I never left professional boxing. I actually started out pro. My father was the one who took me through the amateurs, fighting with headgear, to get that experience.
And as an amateur, I was winning all these belts, but I wanted to start making money, so after that final Olympic qualifier, I just kept my sights on being pro. The 2016 Olympics was actually the first one without headgear, and so I had already been used to fighting without headgear for a year. That experience showed me that I could really do this.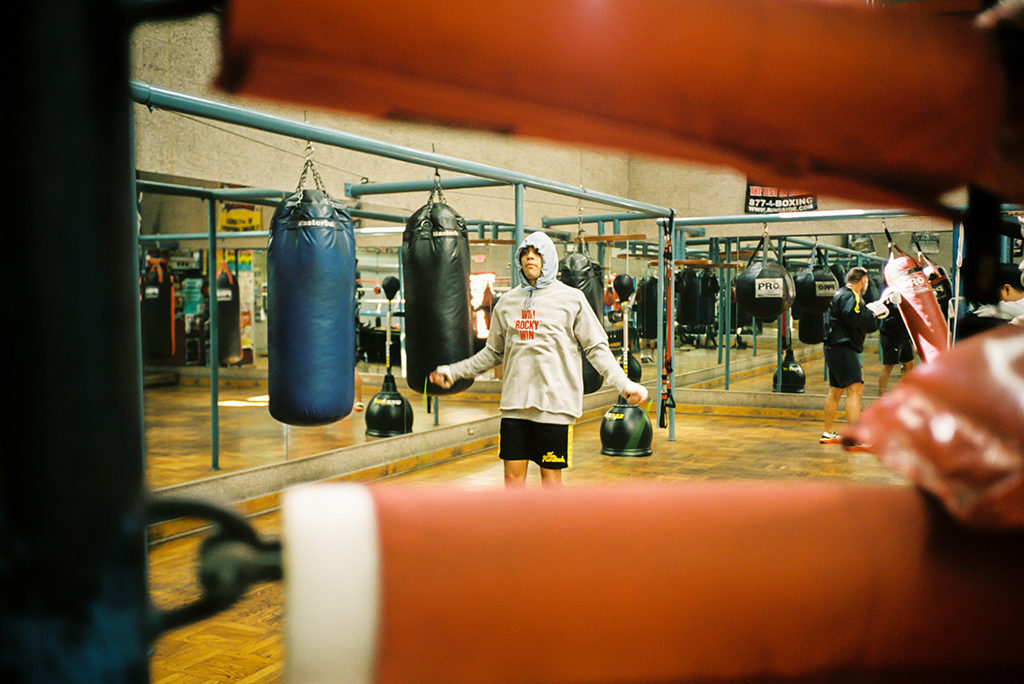 How do you find balance between training and maintaining a personal life?
It's extremely hard. I used to be gone training for three months at a time and I'd come back and my whole friend situation would change. Friends moved away, hung out with different people—when you come back, you just don't realize how much things really change. I try to stay in contact with everybody. But even with social media, it's hard to keep up with everyone when you've got an isolated focus on one thing. I'll figure it out at some point.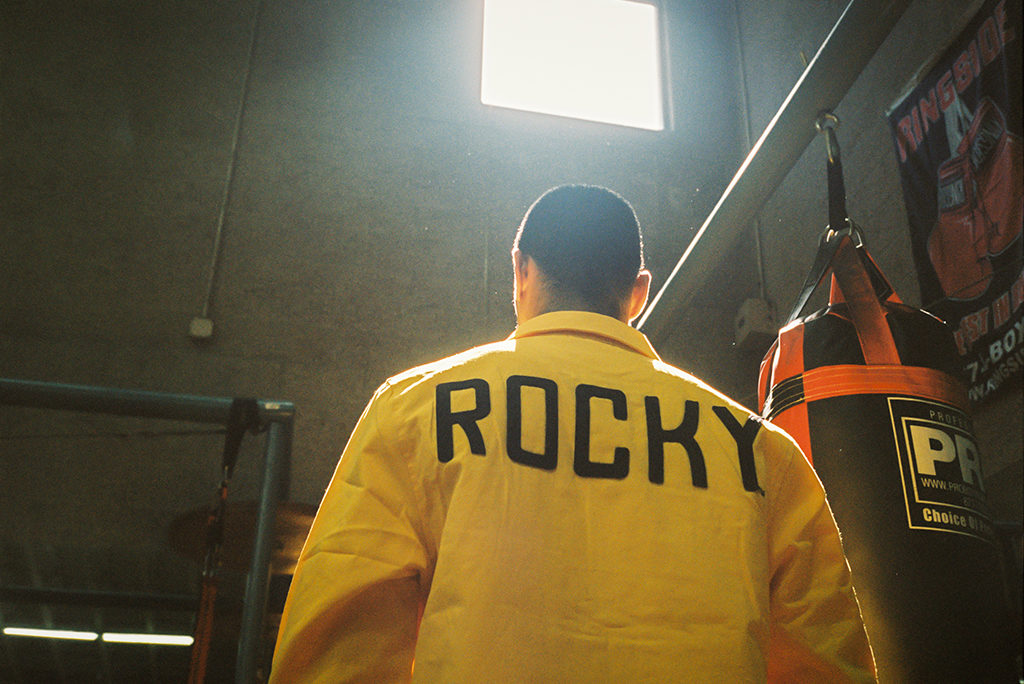 What keeps you fighting?
That is a question that I don't know if any fighter can answer truthfully. I don't think anyone knows why this pent up fire is in them, in everyone, actually. It's almost like you going through your whole day with questioning the routine—it's inherent. Survival, defense, this fight, this will to win—it's second nature.
Do you ever think about legacy and how you would want to inspire a kid who looks up to you?
I haven't thought of legacy, but now that I am, I just want everyone to realize that they need to enjoy every second they have on Earth, and they have to do it by doing what they love. If you love boxing, writing, art, anything—you really need to go towards that and try to make the most of it that you can and make it your job. This world really needs to be a place where you live out your passion.
***
Follow Junebug's journey on Instagram @junebugmijares.
Photography by David Rivera (@davidrivera4).
Junebug wears The Hundreds X Rocky, releasing tomorrow at The Hundreds Los Angeles, select retailers worldwide, and our Online Shop (US and UK). 
Special thanks to Sab, Coach David Paul, and the kind folks at Villa Park Boxing Gym in Pasadena. 
We interviewed and shot Junebug just days before winning Friday's bout against Michael "The Boogeyman" Meyers.