The Hundreds X Elvira drops this Thursday, October 25, 2018.
The tight black dress. The impossibly long slit. The raven hair that defies gravity. You know the look well. It belongs to Elvira, the Mistress of the Dark, one of the most iconic characters in history. To call the horror hostess, who changed the TV game with her weekly fright night, Elvira's Movie Macabre, simply a television star would do her an injustice. Elvira, a.k.a. Cassandra Peterson, has starred in countless movies, books, comics, video games, calendar spreads, and even her own pinball machine. What's even more impressive? Despite creating the character in the early 1980s, Peterson is still proudly active as Elvira today, making more history.
But that's only scratching the surface of her legend. Her story is much, much more intriguing than her look—if you can believe it. Here are ten things you didn't—but definitely need to—know about Elvira.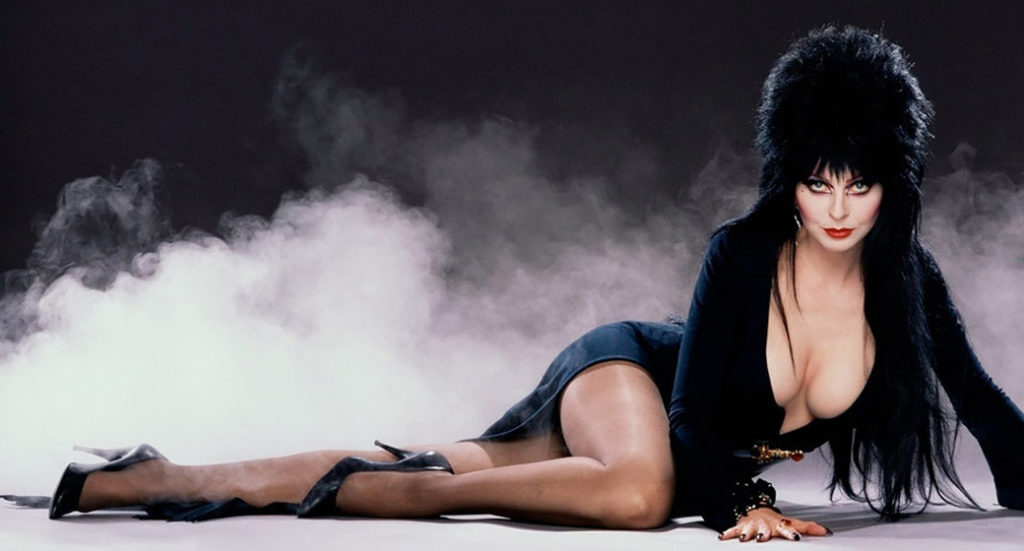 Cassandra Peterson's Valley girl character earned her the chance to host her own horror show, Elvira's Movie Macabre.
In 1981, LA-based local access channel KHJ-TV was looking to reboot their successful weekly horror show, Horror Show Fright Night, formerly hosted by the late Sinister Seymour. For the new edition, producers were specifically looking for a female host with a fresh take. Enter: Cassandra Peterson, who auditioned for the role with a campy, Valley girl act that she had developed as a performer at The Groundlings. The producers loved it, and only had one note: add a Morticia Addams twist, and she'd nail it. Well, the proof is in the pictures.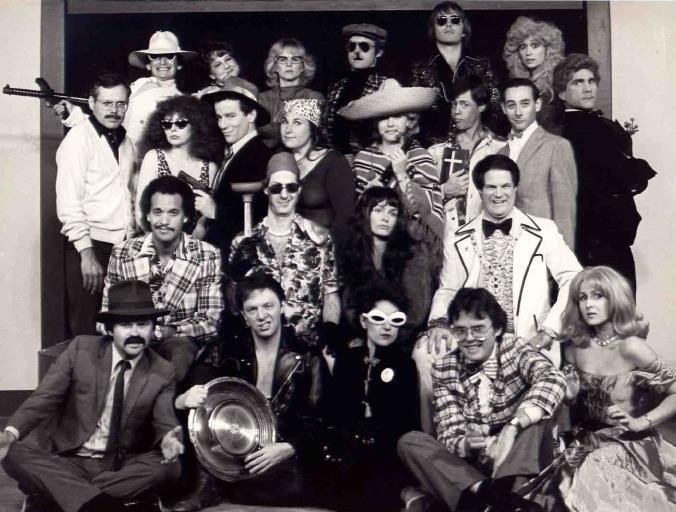 Cassandra Peterson with the Groundlings.
Elvira's look was originally inspired by Sharon Tate.
When Petersen was gearing up for Elvira's Movie Macabre, producers left it up to her to decide her look. She initially wanted to go with a ghostly vibe, so a close friend of hers, make-up artist Robert Redding, suggested she take cues from Sharon Tate in The Fearless Vampire Killers. However, producers wanted more of a sexy but spooky situation, which is how Elvira became the Morticia Addams-meets-The Ronettes hybrid that made her legendary.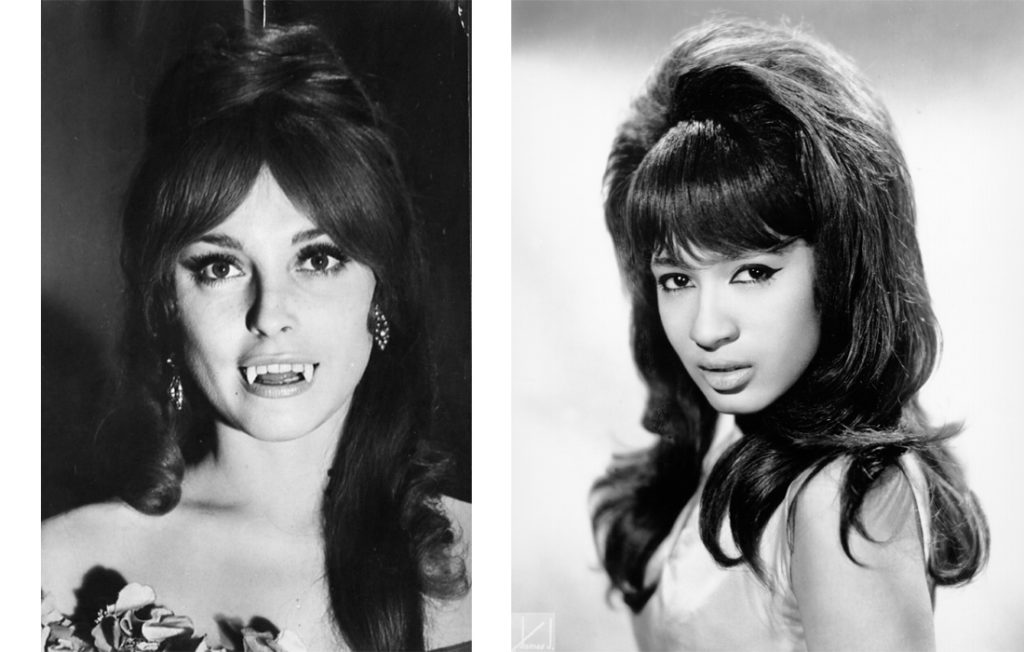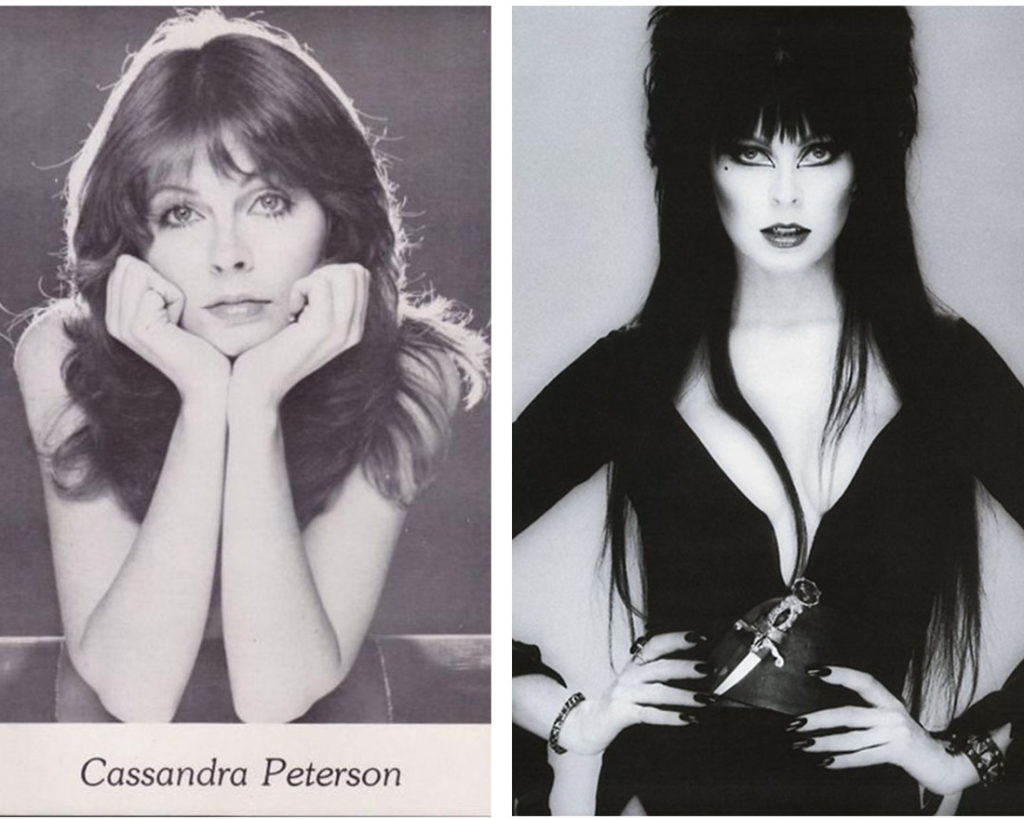 Cassandra Peterson was raised by drag queens.
Elvira's attitude and confidence had to come from somewhere, and that somewhere was a drag bar called The Purple Cow in Colorado Springs, CO, where Peterson also performed as a drag queen. She told The San Francisco Bay Guardian, "I always tell people I was 'raised by a pack of wild drag queens.' I was around so many drag queens and gay men when I was young… These other two drag queens, Mr. Bobby and Tawny Tan, had me dress up as a woman—which I was—and we'd do The Supremes." The experience eventually led her to becoming a Vegas showgirl at The Dunes, which has now been replaced by The Bellagio.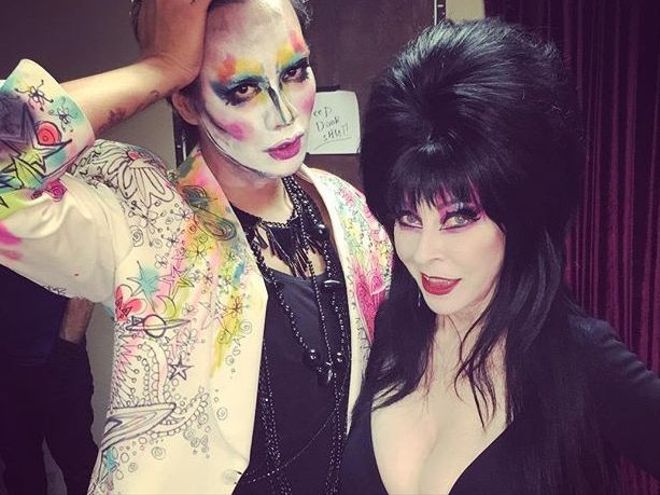 Elvira and make-up artist/drag performer Raja.
Elvis is the reason Peterson moved to LA.
While performing as a showgirl in Vegas, Peterson had a chance encounter with the king of rock 'n roll himself. Elvis had invited all the girls from her show, Vive Les Girls, back to his penthouse suite at the International Hotel for a party. There, he took a liking to Peterson, then 17 and the youngest girl in the show, and, as Peterson remembers, they stayed up all night talking about everything from astrology to showbiz, and even spent some time dueting together.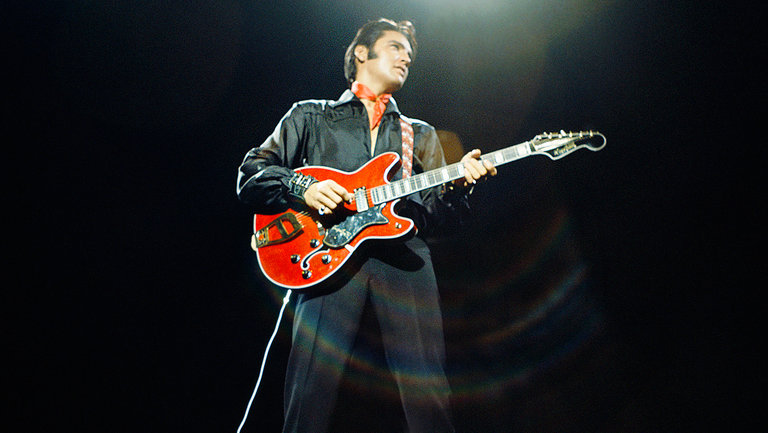 Elvis performing during the 1968 "Elvis" NBC-TV Special, commonly referred to as the "'68 Comeback Special." Elvira met Elvis sometime during 1968.
She recalls him telling her, "If you really want to be in showbiz, you've got to get out of this town…You just sang with me and you've got a really nice voice. You should get voice lessons and go into singing. When you're 24 or 25, you're going to be too old to dance. You need to start thinking about a different career path if you want to stay in show business." Convinced, she packed her bags and moved to Hollywood.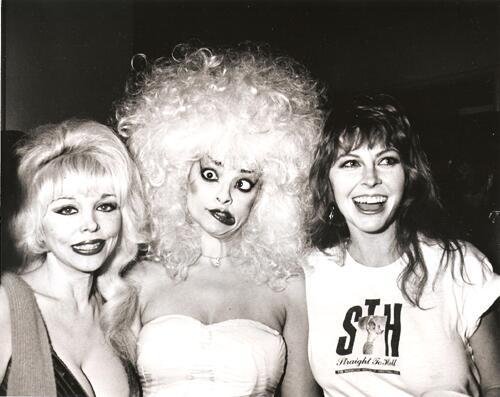 Angelyne, Nina Hagen, and Cassandra Peterson/Elvira in Hollywood.
A chance part in a Fellini film turned her life around.
In one of her many lives—her biography suggests she's lived a million—Peterson lived in Italy, where she performed as the lead singer of the Italian rock bands The Snails and Latins 80. While walking down the street in Rome, she was spotted by legendary director Federico Fellini, who was in town filming Roma at the time. "He thought I looked like his wife, Giulietta Masina, when she was really young and asked me if I wanted to work on the film," she told Den of Geek. "I barely flashed through the movie in a blink of an eye, but I got to work thirty days and worked every day with Mr. Fellini there on the set… I was starving, literally, I didn't have any money or work and to have that fall out of the sky was like a miracle."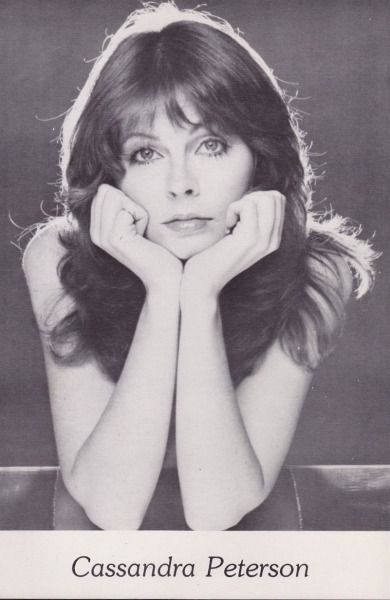 For a moment in time, Coors beer made Elvira a national star.
Until Coors, Elvira was a local LA celebrity. The beer brand help skyrocket her into national stardom by tapping her for a series of commercials for a campaign in which Coors called itself "the official beer of Halloween." Not only was she on TV, but cardboard cutouts of her were placed in liquor stores everywhere, making her a familiar face across the U.S.
However, that partnership came to an abrupt end when the ultra conservative Coors family freaked out about her involvement. Tired of dealing with the family behind the brand, Peterson broke off their relationship. "They would actually call me The Daughter Of Satan and stuff like that, you know? I was like, okay, well, this is pretty hard to deal with these people," she told AV Club.
Elvia starred in a CBS sitcom that never went to series, but you can find the pilot online.
Excited by the potential of her personal brand, CBS tapped Elvira to develop her own sitcom for their network in 1993. What resulted was The Elvira Show, a campy sitcom that saw Elvira leaving Hollywood and moving back to Kansas to take care of her wacky witch aunt, Minerva. Once there, she'd set up shop as a local psychic and have a misguided relationship with an undercover cop. If it sounds a little strange, it was. Too strange, in fact, for the president of the network, who decided to cancel the season order. Disappointing, sure, but Peterson quickly bounced back, with Elvira still as prolific as ever.
The station producers of Elvira's local access show refused to give her a raise, so she slowly copped all the rights to Elvira the character.
Despite being a nationally syndicated star after just two years of the series, the producers refused to pay Peterson what she was worth. In lieu of that, she first asked the station for the rights to the fan club, which they granted. Then she asked for appearance rights, which led to even more rights by piecemeal. Now, Peterson owns one-hundred percent of Elvira.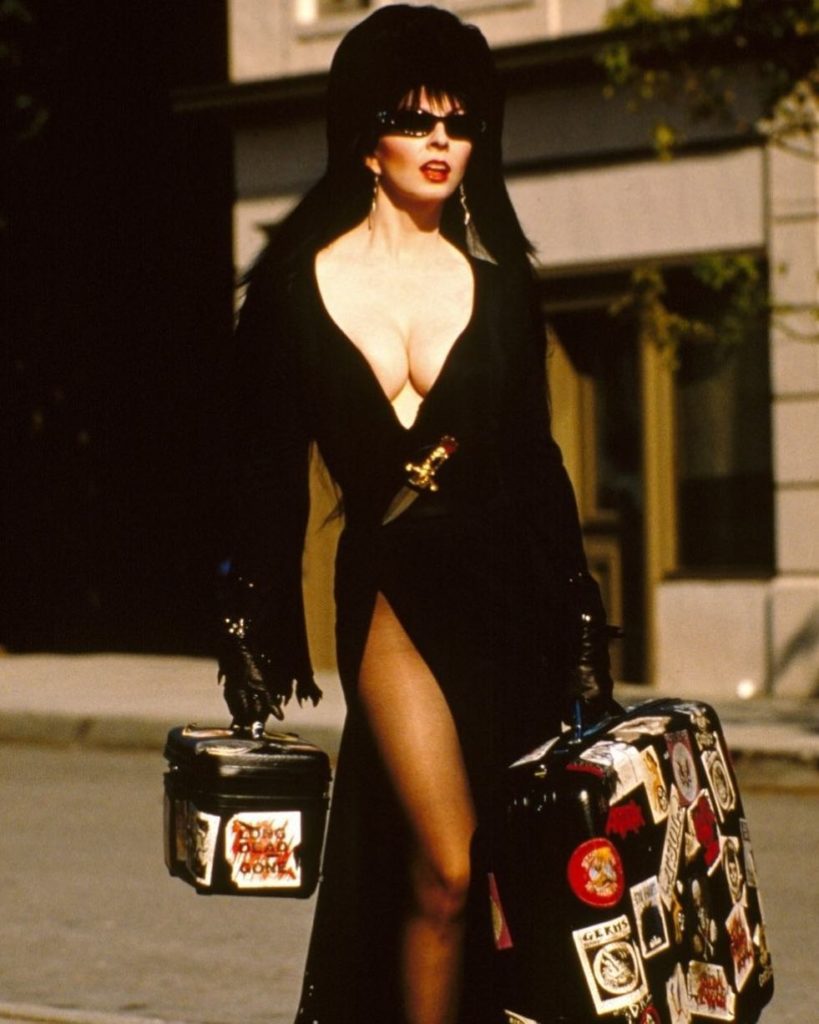 "Whenever you see something that features Elvira, I'm making the money off of it. That's why when people say to me, 'Don't you feel typecast? Don't you want to stop playing Elvira?' I say, 'Hell to the no! Are you out of your mind?'" Peterson told HuffPo.
Fun fact: She co-wrote her films Elvira: Mistress of the Dark and Elvira's Haunted Hills, and both produced and distributed the latter.
Vincent Price, Peterson's idol, taught her how to cook fish in a dishwasher.
Imagine not only meeting your idol but becoming close personal friends with them. That's exactly what happened with Peterson and horror legend Vincent Price, whose House on Haunted Hill was the reason Peterson fell in love with the genre. Not only was their friendship a bizarre dream come true, it was also a bizarre one to be in—in the best possible way. Of all the things Peterson learned from him, his fish recipe was by far the standout. "He had a fish recipe where he wrapped [the fish] in aluminum foil and put in these herbs. And then you put it in the dishwasher and then you wash your dishes, and when you're done, your fish is steamed and it's perfect. But he was very sophisticated as far as art and food and all of that went," she told AV Club.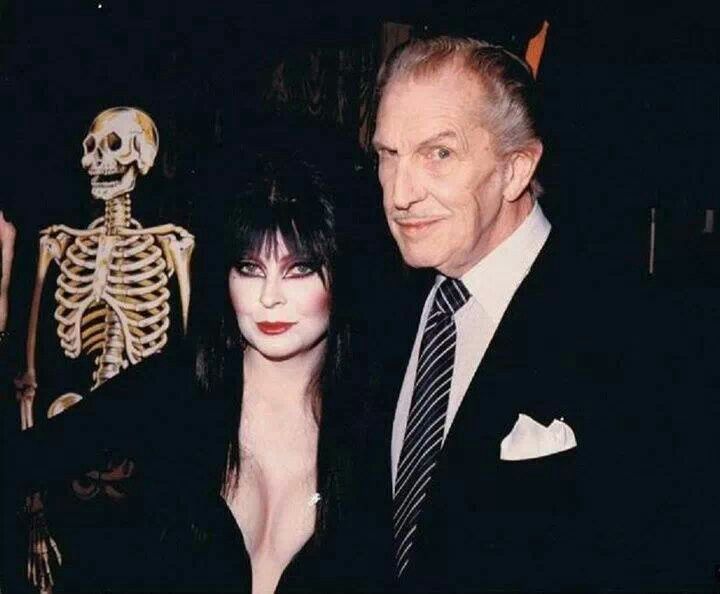 Elvira and Vincent Price.
Cassandra Peterson grew up in a costume shop, which explains everything.
As a kid, Peterson always nailed her Halloween 'fit, thanks to the fact that she'd work at her mom and aunt's costume shop every year around the holiday. "I had the best costumes of any kid, starting in second grade. I won every contest. Whatever was hot on TV… I remember my first costume contest I was dressed as Miss Kitty from Gunsmoke… I won a hundred dollar bond… every year I was dressed as a character… from Dream of Jeannie… or… Ginger from Gilligan's Island—whatever was the hot character," Peterson told HuffPo. Of course, the irony now is that her TV character Elvira is one of the most iconic, best-selling costumes of Halloween.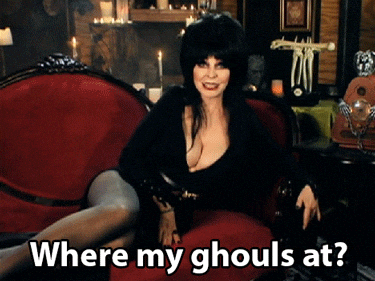 ***