Stock Manufacturing Company [Stock MFG Co.] came to be after a couple of likeminded guys met up to talk shop over some drinks – simple as that. A few weeks later, they formed the company with the main focus on creating a truly vertically-integrated menswear brand, and haven't looked back since. With backgrounds that span design, marketing, production, and development, their combined knowledge led them to the DTC model, which favors cutting out inefficiencies to sell directly to the customer at near-wholesale prices.
Everything at Stock MFG Co. is designed and produced in-house in their West Side Chicago factory, allowing them to sell directly to their customers without any middlemen. While the United States has seen a decline in domestic manufacturing, the Stock MFG Co. factory has never wavered due to their status a military-spec certified facility, which has allowed them to produce non-combat garments for the US Miltary since the 1970s.
Stock MFG Co. is set to open the doors of their new space, which will house their office front as well as a retail storefront. The same level of detail and heritage carried across their product range can be found within the walls of the new space. From the location to the restored pool table to the beer they have on draft, each and every detail embodies the spirit of the company. I spoke with founders Jim Snediker and Tim Tierney just before their opening weekend about the company's history as they kindly give us an exclusive first look before their doors officially open next week.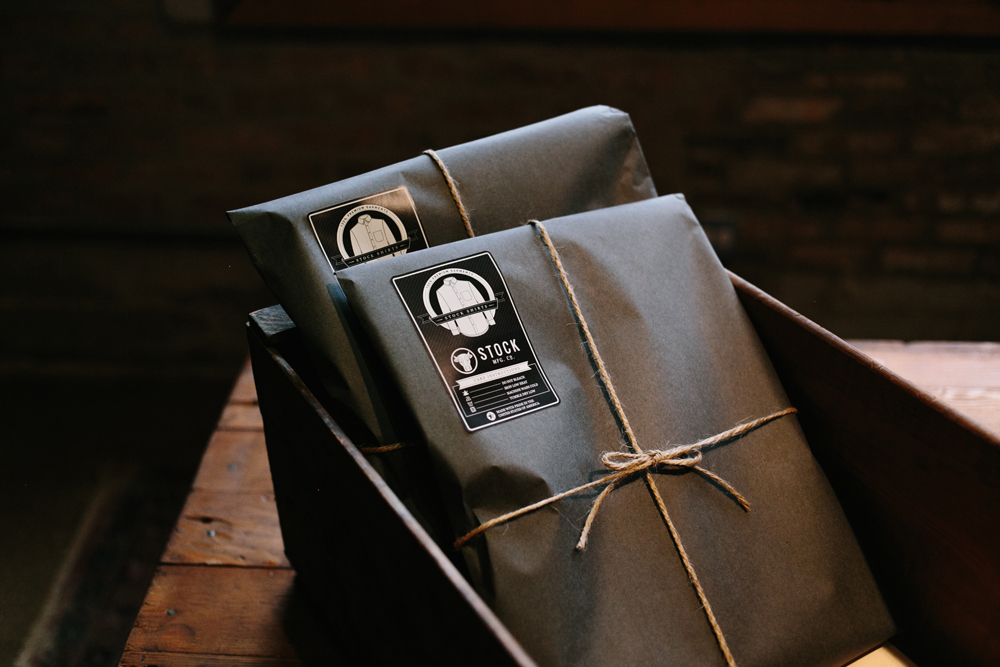 TYLER W: Let's start with the new space. How was the spot conceptualized?
JIM SNEDIKER: Our plan has always been to open a physical retail spot to anchor the brand, but that was more like Phase 3 of our plan. Phase 1 was to build a brand that had legs (we accomplished that) and Phase 2 was to move into an office/showroom outside of the factory. This would enable us to grow our team and establish a location closer to downtown where customers could make appointments to try stuff on, facilitate exchanges, etc.
Opening a retail space was supposed to be Phase 3, but while searching for an office location we stumbled upon the perfect Phase 3 spot: the right street, right aesthetic, ground floor with retail style windows, and the perfect size for a rear office.
Was it always the plan to have one unified space that housed your offices and storefront?
JIM: Yep, from the very beginning. We always had the mind that if we had to pay for office space, why not work out of a place that can generate revenue and brand awareness, rather than a just sunk cost.
How important was it to have the bar and hangout area included within the space?
JIM: It was absolutely imperative. We never planned to open in a prime real estate location that would generate a bunch of foot traffic. We've known all along that we wanted a low overhead spot in an industrial area that would be a destination. So, we knew we had to create an environment where visitors would want to hang out for a while. Plus, we plan on hosting a lot of events here to drive traffic and awareness, so it had to function as more than just a traditional retail experience.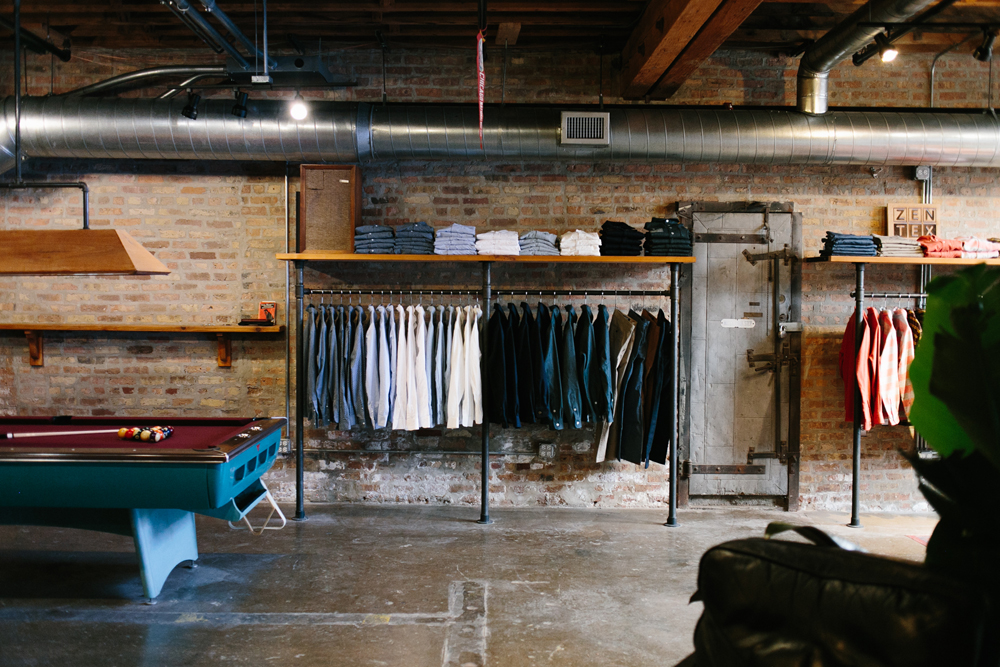 What was the inspiration for the overall vibe of the space?
TIM TIERNEY: We wanted the space to reflect the roots of our brand: the Union Stockyards and our factory. This meant a space that had a masculine, industrial vibe much like our factory, but with some Chicago-centric artifacts.
The space already felt industrial with the brick and timber, so our build out was minimal. For the decor, we did a lot of antiquing, thrifting, and Craigslist-ing to find cool things indicative of Chicago's history without it feeling like a man cave or being too predictable. We dodged the obligatory Chesterfield and taxidermy.
"[THE FOUNDING IDEA] WAS TO BUILD A VERTICALLY INTEGRATED MENSWEAR BRAND THAT CUT OUT ALL THE INEFFICIENCIES THAT ARE RAMPANT IN THE CLOTHING INDUSTRY."
You've mentioned the desire to have the place be a destination spot. What additional things have you and the team done to make it worth the trip?
JIM: Other than offering really great menswear at a fair price? Well, we've got a nice bar with two beers on tap at all times. Right now we've got Goose Island Green Line and Sofie, courtesy of our amazing neighbors at the Goose Island Brewery. The beers are free too; so right there that should be enough for most guys. [laughs] We also bought and restored a vintage AMF pool table from the 1960s, picked up some really nice leather furniture, and have Wi-Fi you're welcome to come use any time during business hours.
Also, since the shop is a little bit out there, we put a partnership with Uber in place, so if you want to Uber your trip out here, and you make a purchase of $50 or more, we'll "validate" that trip up to $10. So basically, we're offering the Uber version of parking validation, which I've never seen anyone else do before.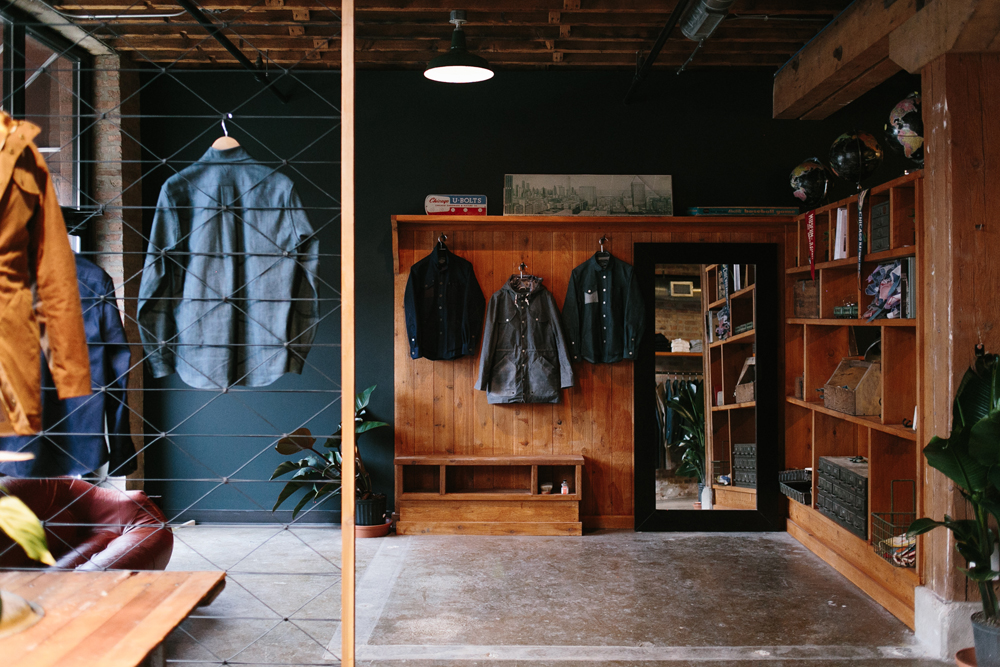 Is there any significance to the location and neighborhood you selected?
JIM: Yes, very much so. First off, we're in an area that is generally referred to either as "West Fulton Market" or "Kinzie Industrial Corridor." It's a historic Chicago industrial area that exists just on the outskirts of the rapidly gentrifying Ukrainian Village/West Loop neighborhoods, but our area is still dominated by metal fabricators, painting companies, parts manufacturers and distributors. That said, it is located just outside some of the most up and coming areas in Chicago, so there are a lot of cool things going on here in the neighborhood.
We're just down the street from Goose Island's brewery, Intelligentsia's roasting facility, and the ICNC building–just to name a few. It fits the vibe and heritage of our brand very well, while also being accessible to our customer base. Also of importance, our factory is about 2 miles directly west, and downtown is about 2 miles directly east, so everything we need to do is within a 15 minute drive, or a quick train ride away.
What impression do you want the space to leave on your customers?
JIM: We want people to walk in and feel like they stepped into our website. Every inch of what we've done – from the paint colors, to the racks, to the speakers, to the décor – feeds into the experience of Stock.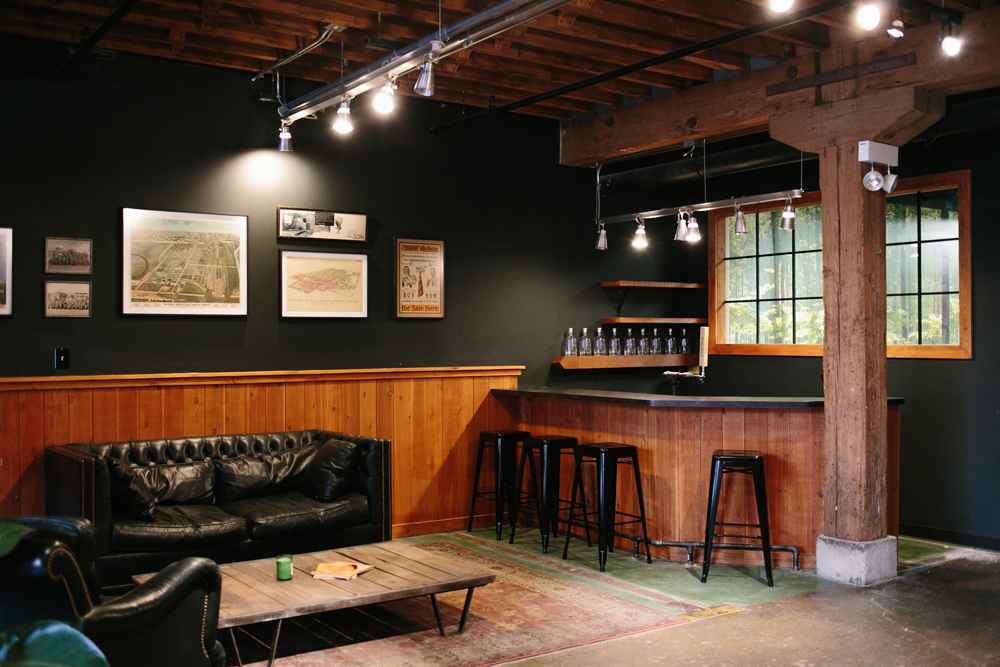 You've always followed the Direct-to-Consumer model from the start – is the new retail space an extension of that mindset?
JIM: Totally. As an online-focused brand, we've always thought it was important to give customers the opportunity to see, touch, and try on products. We've done plenty of in-person events around the country, and as our customer base has grown, having our own home base was always the logical next step.
What initially led you to take the DTC model?
JIM: The founding idea behind Stock, when it was just Tim, Mike, and Areill brainstorming in the factory, was to build a vertically integrated menswear brand that cut out all the inefficiencies that are rampant in the clothing industry. I then came onboard pretty early on and basically said "there are so many great brands out here making things in the US, but they're all so expensive. Why don't we take this vertical integration thing one step further sell directly to the customer at wholesale prices?"
We knew that having the story, heritage, and resources of the factory was a big differentiator for us from other brands, but having a compelling value proposition on price to go along with that story, as well as consistently sick designs from Mike, was going to put us over the top and give us the opportunity to do something really special.
What were you doing before starting Stock MFG?
JIM: Jason and I were running an e-commerce company that curated up-and-coming brands that we thought were cool, and featured them on our site for limited-time flash sales. Mike and Tim were running a small menswear brand that was focused on design and details, and Areill, who owns the factory, was making their clothes for them and letting them work out of his shop. It was those three guys working in the factory together that came up with the initial idea and branding for Stock Mfg. Co.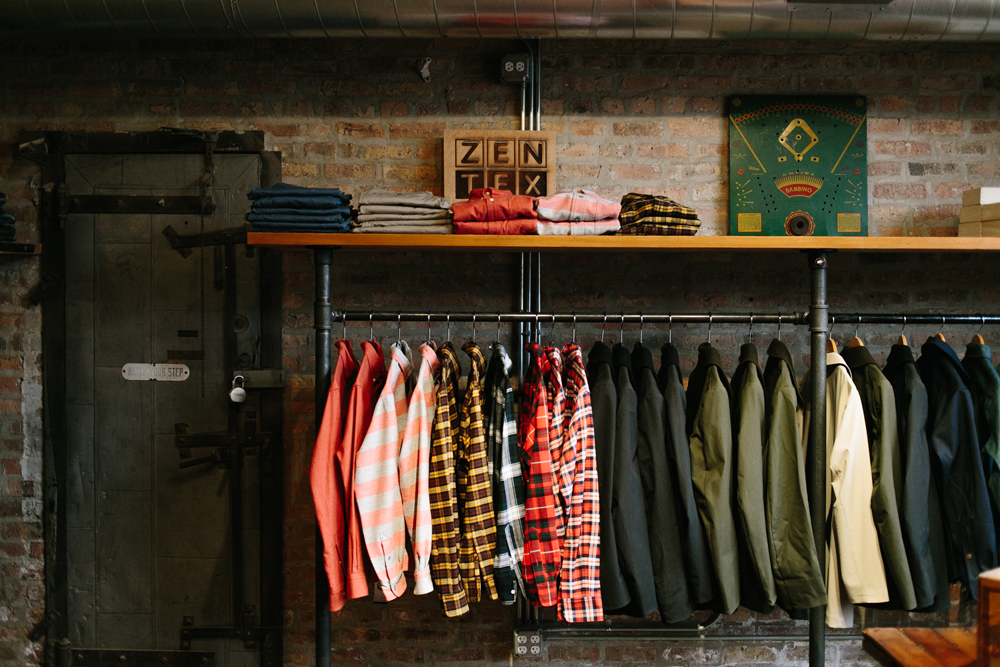 Does having people from such a multitude of backgrounds give new, unique perspective to running a brand?
JIM: Without a doubt. None of us would have found this kind of success without the others, and I don't think we'd have gotten to where we are without all 5 of us. It worked out so serendipitously that we started a company with 5 guys that have no real overlapping skill sets, but all have provided crucial elements to our growth. Jason come from a retail buying background, so he is focused on inventory management, margin preservation, organizing all our myriad projects, and really just keeping things straight and healthy.
My background is sales and marketing, so I've focused on business relationships, company strategy, customer acquisition, and that sort of "wide lens" stuff. Mike has designed everything from cell phones for T-Mobile, to toys for Hasbro and shoes for K-Swiss, and handles all our graphic, logo, and product design. Tim has extensive experience in sourcing, development, and production, so he handles taking garments from Mike's designs and turning them into a sellable good, and he also lends a hand on the product design side as well. Areill, of course, has been manufacturing his whole life, and oversees the actual production runs of all of our products, from beginning to end.
What role does the factory you use for production play in the brand?
JIM: The factory has played an integral role in defining our brand. A lot of what people have connected to is the authenticity of what we do. We're actually working in a factory, with our hands on the product – we don't just design stuff and hand it off – we're there for the whole process. There is no Stock Manufacturing Company without the manufacturing.
Why is US-made so important to you and the team?
JIM: Made in USA is just what we do, because it's the best way for us to execute on our brand and our business model. Honestly, I have aspirations for job creation, making a positive impact on my community – all the talking points you hear from other USA-made brands, I believe in those wholeheartedly as well. However, I'm not going to stand here and chest thump saying "Made in USA or nothing." I wear plenty of things made abroad, and I likely always will.
Frankly, we view some of the recent "Made in USA" movement stuff as kind of gimmicky, and we try to avoid that. Yeah, we make stuff here and always will and we're proud of that, but ultimately we want the brand to stand on its own two feet. We want our design, quality, customer experience and all the other things we pride ourselves on to make us your go-to brand. The made in USA aspect should be an added bonus.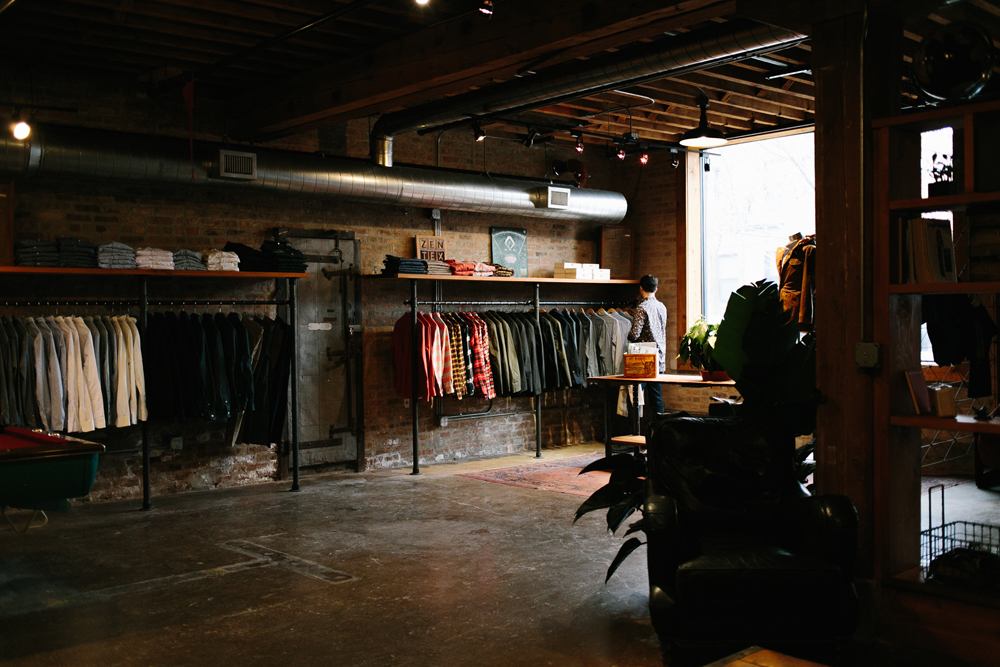 How do you think your line of products have evolved over the years?
TIM: We were really strapped for cash in the beginning so we focused on lower price point items. As the company has grown and with it our budget, we've been able to really hone in on the details and create more and more complex pieces. But, we've always designed for us – we're five guys and we make what we want to wear.
Did you always anticipate having as many collaborative projects as you have? What is the logic behind those projects?
JIM: Yes, even more actually. The logic behind it is that we have built this brand with no money, so we needed to find an innovative way to market ourselves and grow. The more we collaborate with people or brands that have a larger following than us, the more we get Stock out into the market.
Furthermore, by working with big, cool companies like Soho House and Goose Island, we inherit some of their brand equity. The perception is "those guys are good enough to outfit the staff at Soho House, they must do pretty good work". It's helped legitimize us, and attract the right attention.
"WE'RE NOT WORRIED WITH THE HYPE, WE JUST WANT TO MAKE REALLY GOOD CLOTHING."
What does the future look like for Stock MFG?
JIM: We've got a lot of really cool stuff coming up over the next few months. We've got new product releases every few weeks for rest of the year, with some really cool collaborations mixed in there. We've got a rad project with Jon Contino launching in a couple weeks, a project with a bunch of well known local photographers in June, and will be rounding out the year with a huge collaboration with Taylor Stitch and Ball & Buck this fall. You're going to be seeing a lot more of us moving forward.
Lastly, you represent Chicago to the fullest. What is so great about the city and what does it mean to Stock MFG?
JIM: Our brand is heavily influenced by the people, places, and history of Chicago. Our name was inspired by the Union Stockyards; our logo is a twist on the logo from the famous Stockyard Inn steakhouse, and we try and design clothing that fits the life and attitude of Chicagoans. Michael Douglas once said "I'm impressed with the people from Chicago. Hollywood is hype, New York is talk, Chicago is work."
Now, I really love LA and New York, that's not meant to be a knock on those cities. Chicago just does things a bit differently. That's what our brand represents. We're not worried with the hype, we just want to make really good clothing, and I think we've done that so far.
::
All photos by Alex Maier / @SuperDanger.
Stock MFG Co. is located at 2136 W. Fulton St., Chicago and is officially open for business starting Monday, 4/27. Store hours are Monday to Friday, 10A-5P, and weekends by appointment only. You can also visit their website here.