In the early 80s, native New Yorker Karen O'Sullivan made her way from her home uptown to the Lower East Side to photograph the burgeoning scenes of hardcore punk and hip-hop going on in that forsaken and frightening area of the city. While snapping shots of such seminal local acts as The Misfits, Run DMC, Bad Brains, Whodini and the Beastie Boys, she also co-edited the fanzine Coast To Coast in an effort to document these two strains of underground culture during their infancy.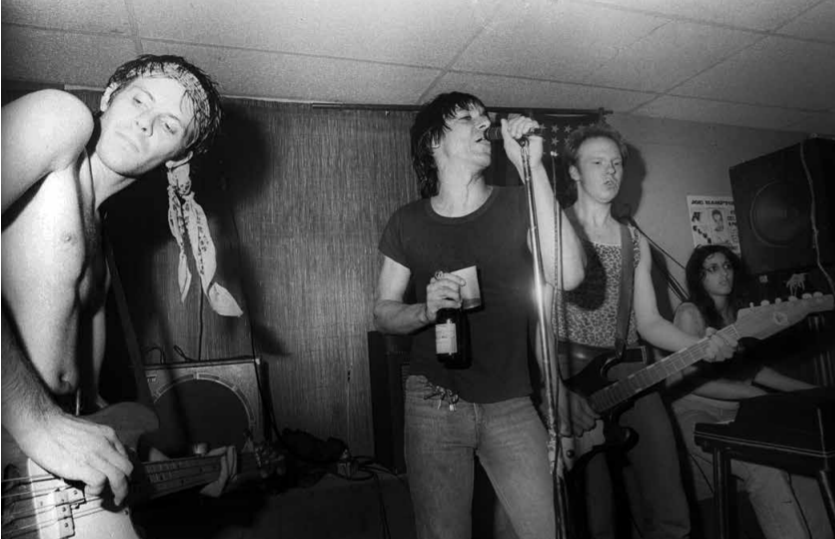 For many years, Karen's photos were lost to the annals of time barring some of her images appearing in Steven Blush's 2001 book, American Hardcore. Thankfully, after many years of painstaking labor by her longtime friend Ray Parada, Somewhere Below 14th and East, the first collection of her photography will soon be available for public consumption. Besides holding imagery of many of the acts listed above, the book chronicles an extraordinary time where boundless possibility and stifling desperation intersected to create one of the most vital and creative times in New York's history.
Due to a diagnosis of Multiple Sclerosis in the 90s, Karen is unable to photograph anymore and mostly confined to her apartment in downtown. Luckily, she had the time to talk on the phone to reminisce on her photography as well as the glory days of New York City.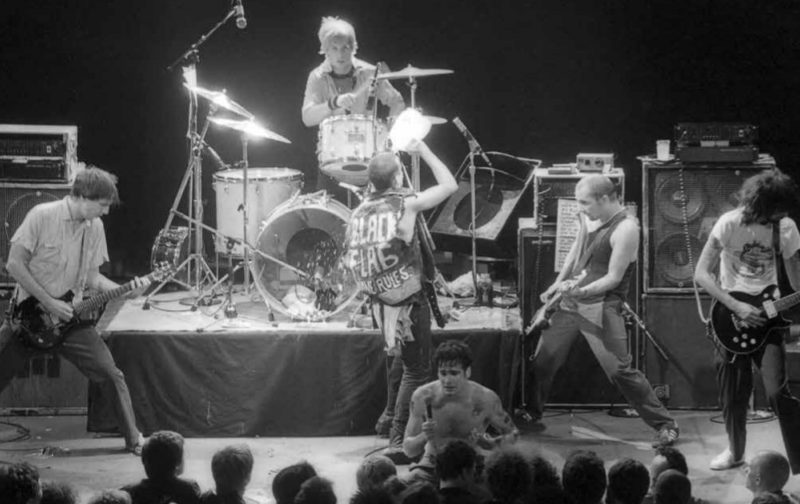 TONY RETTMAN: How did you first become interested in photography?
KAREN O'SULLIVAN: My parents were painters who met at the Art Students League of New York. I never had the hand-eye coordination for painting, so I took up photography and I got a Polaroid camera that shot in black and white. The first photos I took with the camera as a child were at the Goddard Riverside Day Camp where I grew up on the Upper West Side. I would have liked to have included them in the book, but I had a home health aide who threw them all out. She called me a hoarder and that the albums holding the photos were falling apart, so she chucked them. I didn't think fast enough to tell her I would take the photos out of the albums. So they bite the dust, unfortunately. It's really a shame since they showed how much of a melting pot the Upper West Side was back in the day.
What's the time frame of when you went downtown to see music?
It was 1981. The first time I went down there, I saw the Dead Boys at CBGB's but didn't think to bring my camera. That's another shame because Stiv Bators was rolling around on the stage and Cheetah Chrome was really playing his guitar. Those would have been good photos. But I did take photos of The Clash when I saw them at Bond's Casino in the summer of 1981. One day, I ran into Joe Strummer when I was a sexton at St. George's Church. I told him about my pictures taken at Bond's and he said to go to the Gramercy Park Hotel and meet their manager, Kosmo Vinyl. I went there and Kosmo told me they had enough photos from those shows and suggested some Japanese magazines that might be interested, but I never followed through with it. But while I was at the bar, I met my friend Suzanne and we started doing a fanzine called Coast To Coast. She lived on 13th Street and we started going together to hang out at clubs downtown like CBGB's, A7 and 2+2. She was a big fan of Richard Hell and he lived nearby.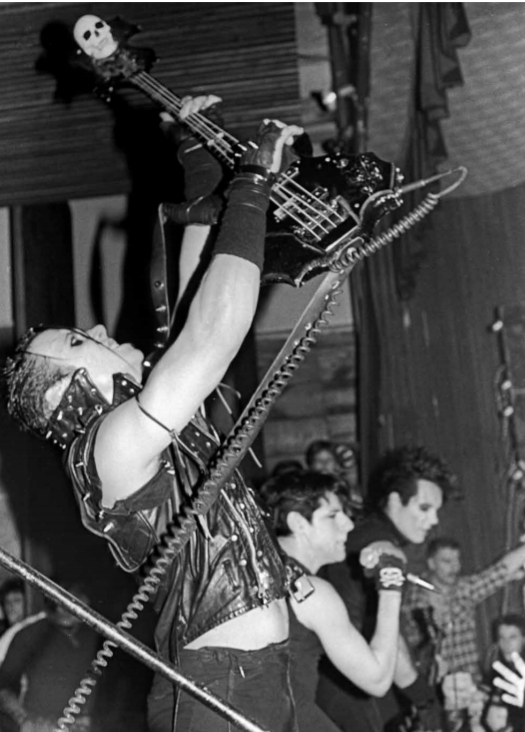 How many issues of Coast to Coast were published?
Maybe three or four? It started to die down because she wasn't particularly interested in hardcore. She was given a copy of the first Bad Brains 45, Pay To Cum, and she was not impressed with it at all. It was too noisy for her, but I liked it, so I got into that kind of music. She didn't want anything to do with hardcore. At one point, she told me, "I don't want anything to do with the past." She doesn't have fond memories of those times. But she's doing well for herself these days. She does yoga and is part of a Scottish Heritage Club. One band she was interested in was the Misfits. We met them through a guy who is no longer with us named John Spacely. There used to be a big mural of him on 8th Street and St. Marks with his eyepatch on.
I'm familiar with him through the movie Lech Kowalski made about him.
Yes! It's called Gringo: Story Of A Junkie. There are pictures of him in the book singing with his band. We hooked up with The Misfits through him. They performed a show at the Ukranian National Club and I got a photo of Glenn Danzig and Doyle putting on their make-up before the show at her apartment. I really enjoyed shooting the Misfits. They were very dramatic with their costumes and were good performers.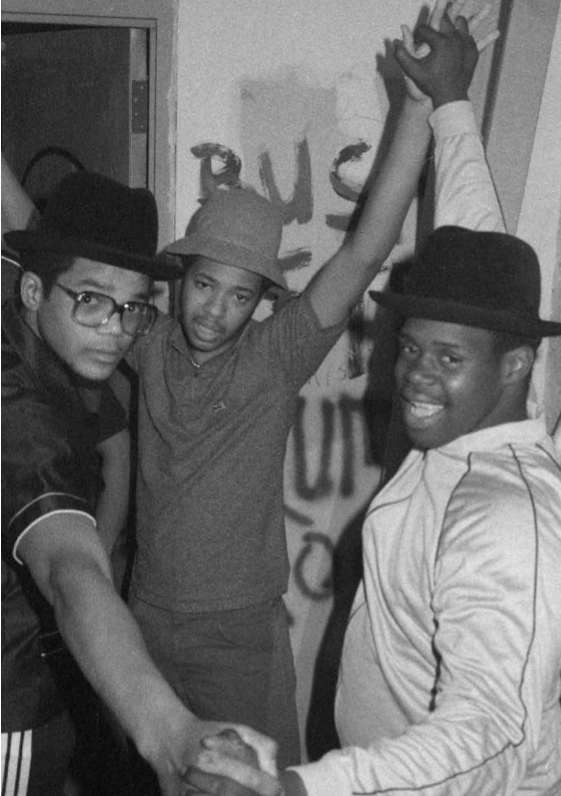 You shot a lot of early New York hip-hop as well as the hardcore stuff. How did you find out about it?
I heard the Run DMC song "It's Like That" on the radio and was impressed with their sound. After they played the song, it was announced they were playing that night at the Celebrity Club in Harlem so I went up there. From there, I started to shoot them and Whodini regularly. I wish I got pictures of Sugar Hill Gang back then. I took some pictures of Wu Tang Clan early on, but I never got photos of Biggie, unfortunately. I always admired hip-hop, but I'm not crazy about the new mumble rap.
What was it about the hardcore stuff in New York that made you feel it had to be captured?
Well, I used to shoot sports like hockey, boxing, rugby and squash for the Soho Weekly News. The action happening while Bad Brains performed was similarly exciting. I remember a girl named Lazar at a hardcore show who got a black eye when guys started moshing and we did a small article about her in the fanzine and how painful it was to be involved in hardcore. I stuck with the music for the action and I loved bands like Bad Brains.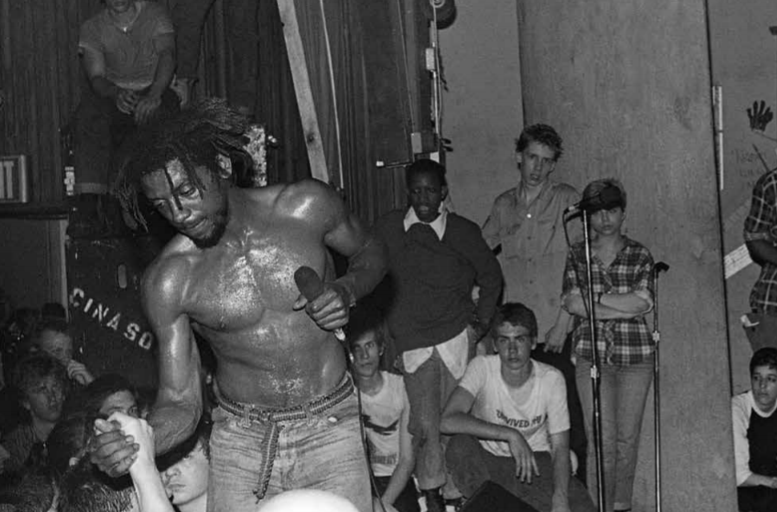 Why did you stop taking photos?
I stopped taking photos when I became disabled by Multiple Sclerosis. Right now, I am at home in a hospital bed. That's why the home health aide came in and threw away those photos. It's a crying shame since they showed the diversity of the city at the time.
The reason many people were made aware of your photography was through a few photos being published in Steven Blush's book American Hardcore. How did that come about?
One day, I called Seconds magazine and spoke to a very kind man named Eric Hammer. This was just when The Misfits got back together in the 90s and I asked if I could cover the show for the magazine. He said they didn't need any new pictures of the Misfits, but told me the editor of Seconds was working on a book called American Hardcore and needed old pictures of them and old pictures of hardcore bands in general. I printed up a bunch of pictures for him and some were used in the book. He then did a photo exhibit at CBGB's Gallery when the book came out and I printed a bunch of 11 x 14 pictures for him and he made off with all the prints. Then, I found out from my friend Ray Parada that a documentary was made from the film where my photos were used without my permission. Luckily, he was able to get me some money from that. Steven Blush didn't leave a great impression on me and I don't want anything to do with him.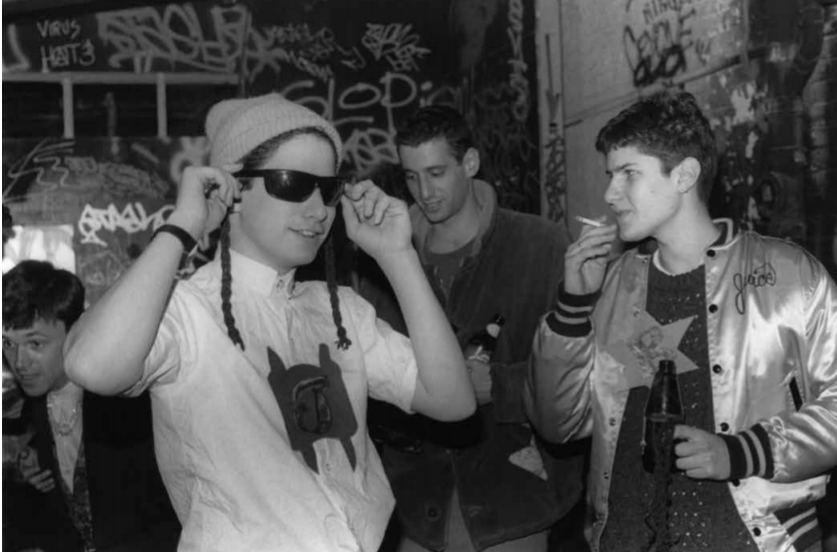 You mentioned Ray Parada, who curated your book. How did he go about salvaging what was left after your home health aide threw most of the photos away?
Well, luckily most of my band photography and negatives were at my dad's house. He went through piles and piles of stuff and salvaged it all. This book wouldn't have happened if it wasn't for Ray Parada and his perseverance and diligence. He gathered all my negatives, organized them and scanned them on his computer. He went around interviewing people for quotes as well. I am certainly not able to do it, so it's all because of him the book came together.
You still live on the Lower East Side, correct?
Yes, I've lived here since 1984. Things are not affordable around here anymore. The restaurants around here are expensive. There used to be stores like Bargain Express on 14th Street, but now everything is out of my limits. One of my home health aides found a place on Avenue B where you can get a slice of pizza for three dollars. That's not a bad deal.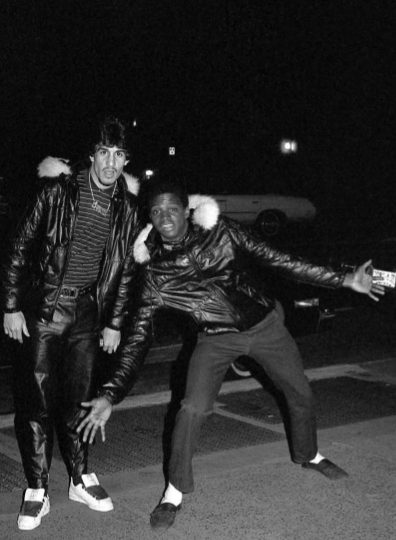 It's funny to think paying three dollars for a slice of pizza is a bargain. It's just another sign of how drastically things have changed in New York. Do you think anything similar to what you were a part of in the 80s could spring up organically again on the Lower East Side?
Anything is possible. Art is infinite. God is infinite. Creativity is infinite. Music is infinite.
Well, that's a refreshing answer compared to the answer I'm used to: "It'll never happen again!"
It's the same thing with the photos from my childhood someone threw away. I'm heartbroken they disappeared, but what can you do, you know? C'est la vie.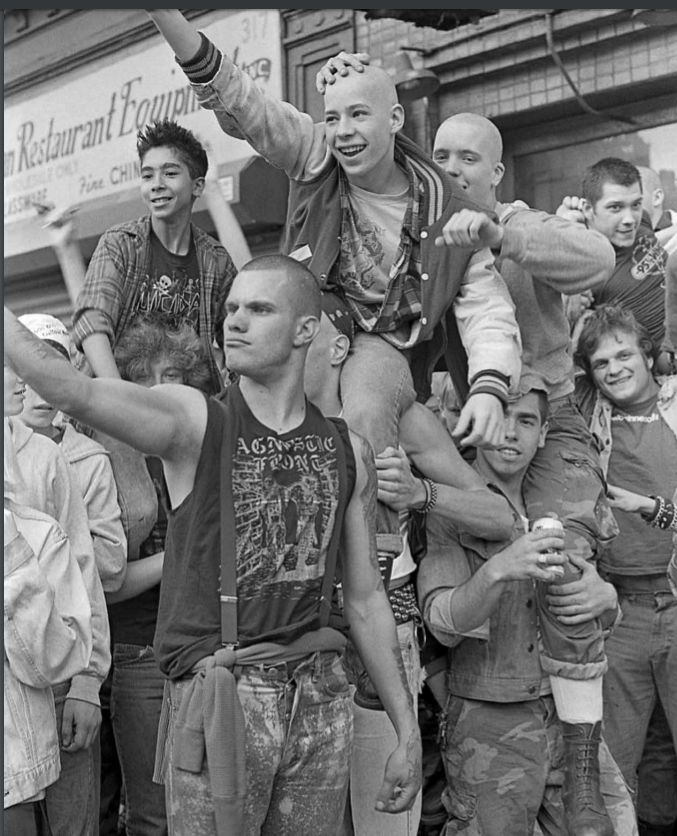 Somewhere Below 14th & East – The Lost Photography of Karen O'Sullivan is now available for pre-order from Radio Raheem.
***