If I'm completely honest, every sneaker event feels like Groundhog Day to me. The ingredients are always the same: Rows and rows of tables, stacked with (mostly) overpriced shoes (usually branded with a Swoosh or a Jumpman), a DJ spinning hip-hop, and a huge crowd that slowly moves from table to table looking at the wares on display. And I can't lie – often I'm part of that crowd looking for a good steal or some freaky old model that has been sitting in someone's basement or attic for the last decade. Still, I'm usually in and out in about 30 minutes. And reporting on a sneaker event is usually not that interesting either. If you did it once, you can simply copy paste what you wrote last time and change a few details. So when I attended the Amsterdam leg of Sneakerness, one of Europe's biggest sneaker events. I wanted to do a little write up for this website without falling into cliches. And since the Internet apparently really likes lists nowadays, I decided to make a list that's based on facts rather than my personal opinion. So hereby I present the 9 most expensive sneakers I found at Sneakerness Amsterdam.
::
9. Nike Air Max 1 'Animal Pack' – 750 euros
Up until recently, the Air Max 1 was easily the sneaker of choice for most Dutch sneaker enthusiasts. This 2006 edition could always be found at the very top of people's holy grail lists. It's a bold shoe with a hairy upper, donned with leopard and zebra print. This pair was deadstock and wrapped up (the seller was kind enough to remove the plastic for the photo) and would've set you back 750 euros.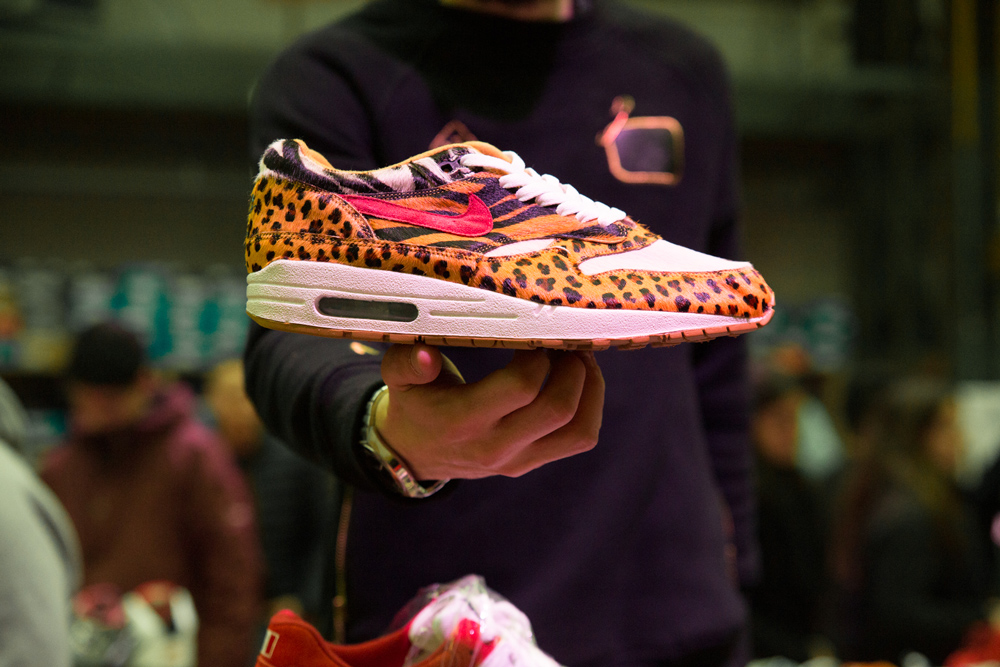 ::
Various unreleased ASICS samples – 800-1000 euros
I could've listed these pairs just by themselves, but they were all from one seller and this makes a nice family portrait. An unreleased sample is something every sneaker fan wants in their collection. Knowing you own something that was never officially for sale and has only been produced in insanely small numbers means that you'll never see someone wearing the same pair. Infinite bragging rights. This group shot includes samples of ASICS collaborations with Patta (Gel Saga), Woei (Gel Lyte III), 24 Kilates (Gel Saga and some Gel Lyte Speeds [not pictured]), and finally the HUF Gel Lyte III that never saw a release. However, strangely, all these samples – which were priced at 800-1000 euros – were not as expensive as the priciest shoe on this table. The ASICS x Patta Gel Lyte III's, which would've set you back a cool 1400 euros.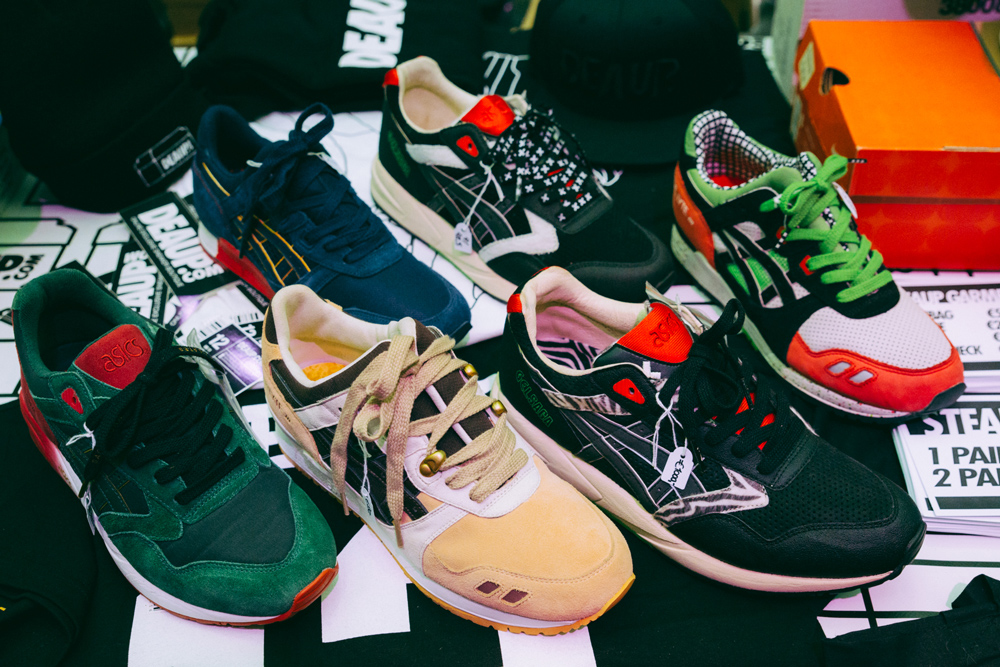 ::
Nike Air Foamposite Galaxy – 1000 euros
Remember when these dropped? I'm sure you do because it made headlines. There were riots, people were trading cars for a pair, all because of a Foamposite with a space print. Meanwhile in Europe, the release was far more quiet. Foams don't exactly rock many people's boats over here and most of the guys who lined up for a pair flipped them as fast as they could to an American buyer. Seems like not all pairs left the continent as this seller offered up a minty pair for a grand.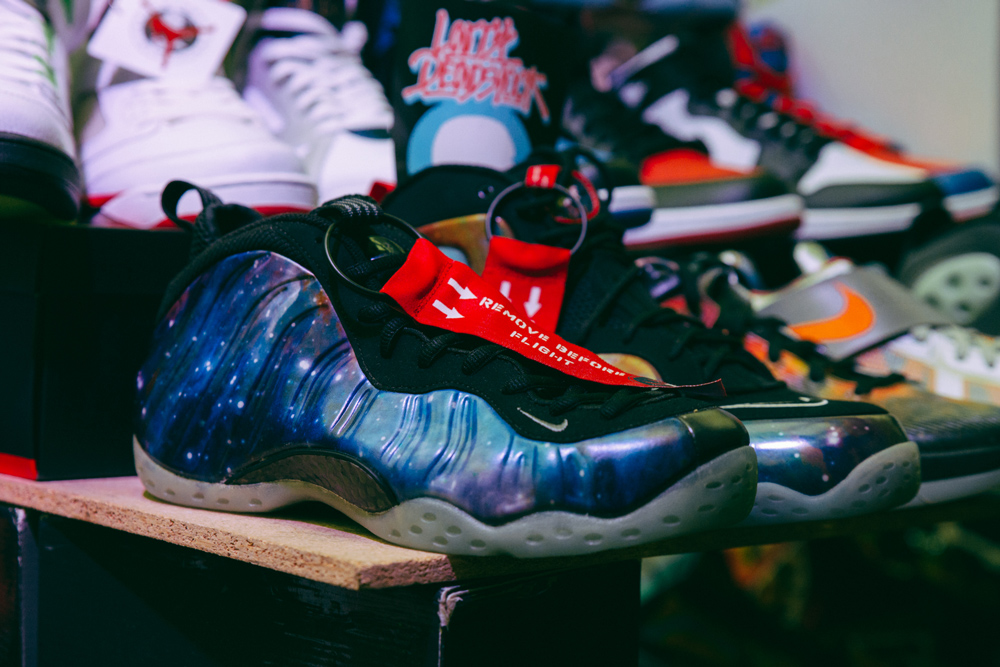 ::
adidas x Pharrell Stan Smith, Hand-Painted – 1200 euros
Like I said before, exclusivity is a big thing in sneakers. And having Pharrell Williams draw on your kicks makes them quite exclusive. There Stan Smiths were released earlier this year at colette in Paris. The project was the first collaboration between adidas and Pharrell and featured 10 pairs of Stan Smiths, customized by Pharrell with drawings of flowers and arrows and phrases like "Eat Pizza Yum Yum Yum" (I kid you not). The original sales profited charity, but I doubt this seller will donate some of the 1200 euros he's asking for this pair to a good cause.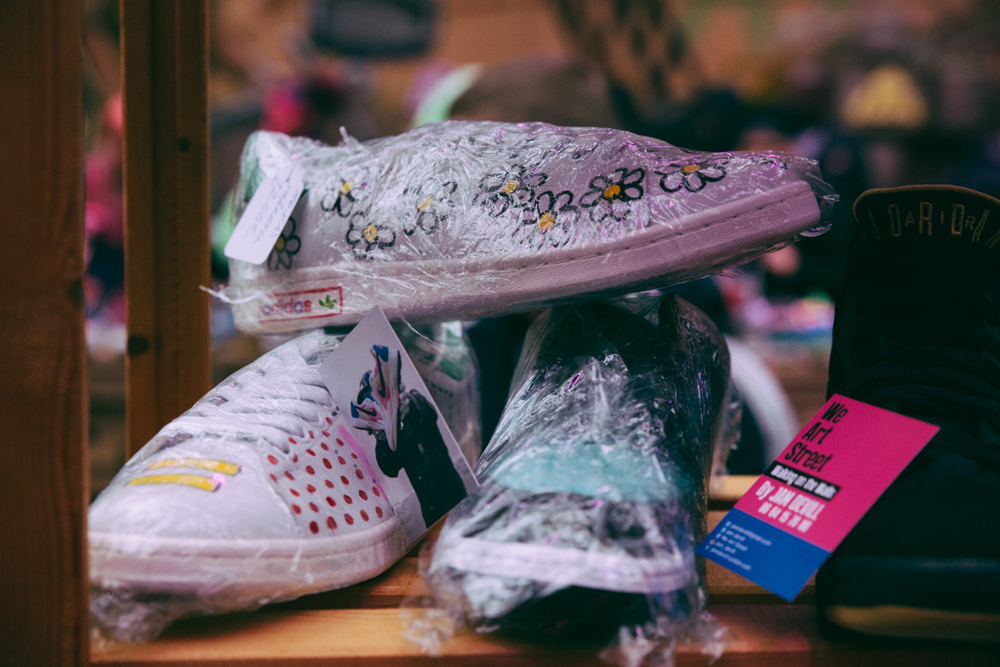 ::
Nike Air Max 1 SP "German Camo" – 1250 euros
Like I said before, the Dutch really love Air Max 1's so it's no surprise that three of the top five most expensive sneakers at this event were AM1's. This pair was made for the opening of Nike's latest Berlin store, earlier this year. They were a friends and family release, limited to only 50 pairs and feature a flecktarn desert camo pattern on a black base. If you had 1250 euros lying around, these could've been yours.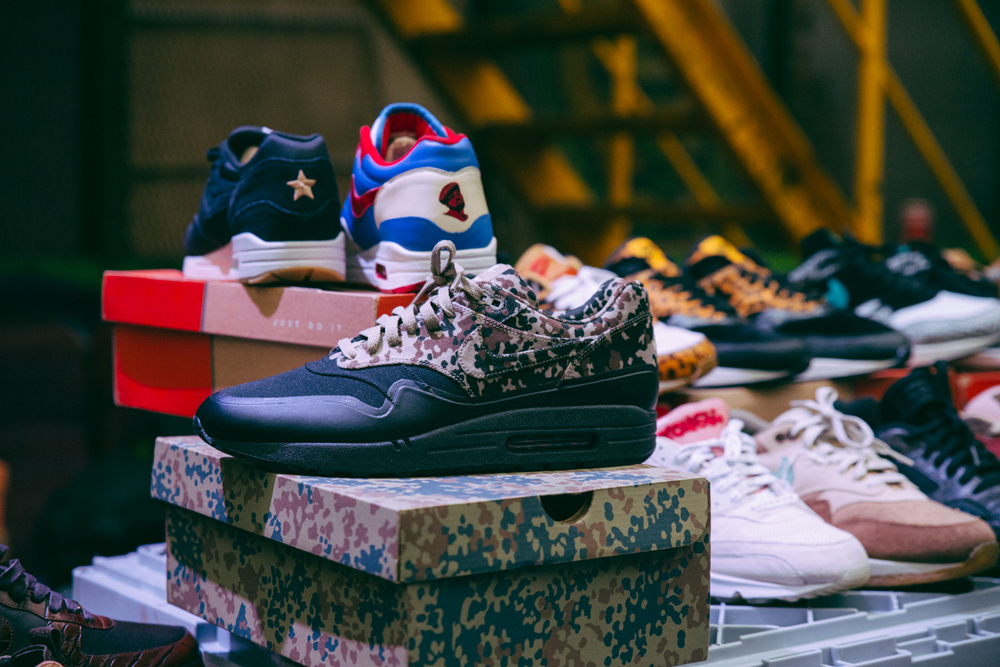 ::
Nike Air Yeezy 2 Wolf Grey – 1400 euros
If you're talking expensive sneakers, you have to mention the Yeezy. Kanye's collaborations with Nike are still worth their weight in gold and, unlike other pairs listed, actually move pretty fast for the insanely high price tags attached to them. Just before I went back to this booth to take a photo, the seller sold two pairs of Yeezy 1's to one guy for three grand total. Presumably cash.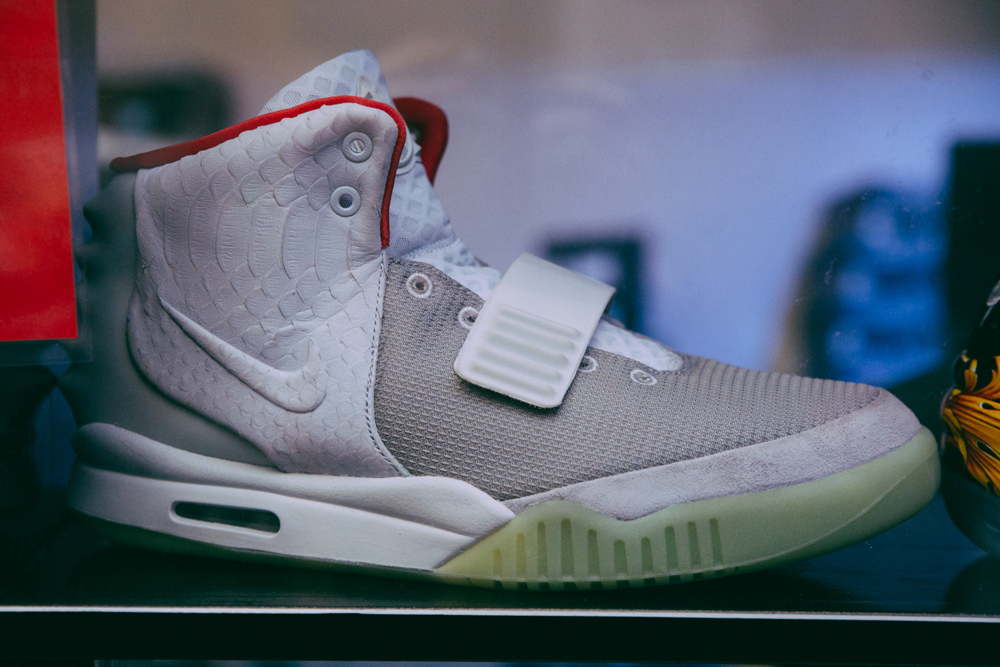 ::
Nike Air Max 1 Patta x Parra – 2250 euros (offer)
When you combine the celebrated Dutch designer/artist (and former The Hundreds collaborator!) Piet Parra with the globally respected Amsterdam sneaker store Patta, you know you have a hit on your hands. These Air Max 1's were released five years ago as part of a five pack of Patta x Nike collaborations to celebrate the fifth anniversary of the store. Resell prices were always a bit crazy on these, but to hear someone actually put a bid of 2250 on a pair and not get to take it home straight away is blowing my mind for sure. Those Parra-designed Amsterdam AM1's next to them had some heavy price tags as well.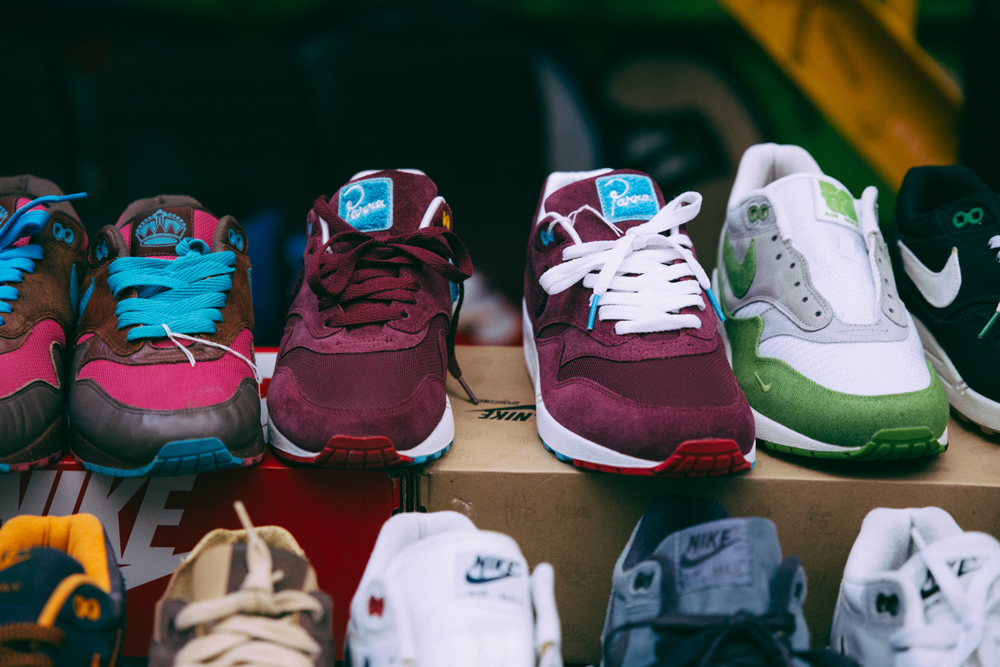 ::
Nike x Eminem Air Max 1 "Big Proof" – 2800 euros (offer)
Three artist collaborations in this top 10 makes you wonder: Is it the artist, the shoes, or the exclusivity? Probably the last. This 2006 pair of Air Max 1's were designed by Eminem as part of a special auction for his charity, the Marshall Mathers Foundation. The shoe honors Em's friend and D12 crewmember DeShaun "Big Proof" Holton, who was shot and killed at a night club earlier that year. Only seven of these babies exist, which of course drives up the price. When I checked in, these had an offer on them of a whopping 2800 euro. That's my rent for the next 6 months.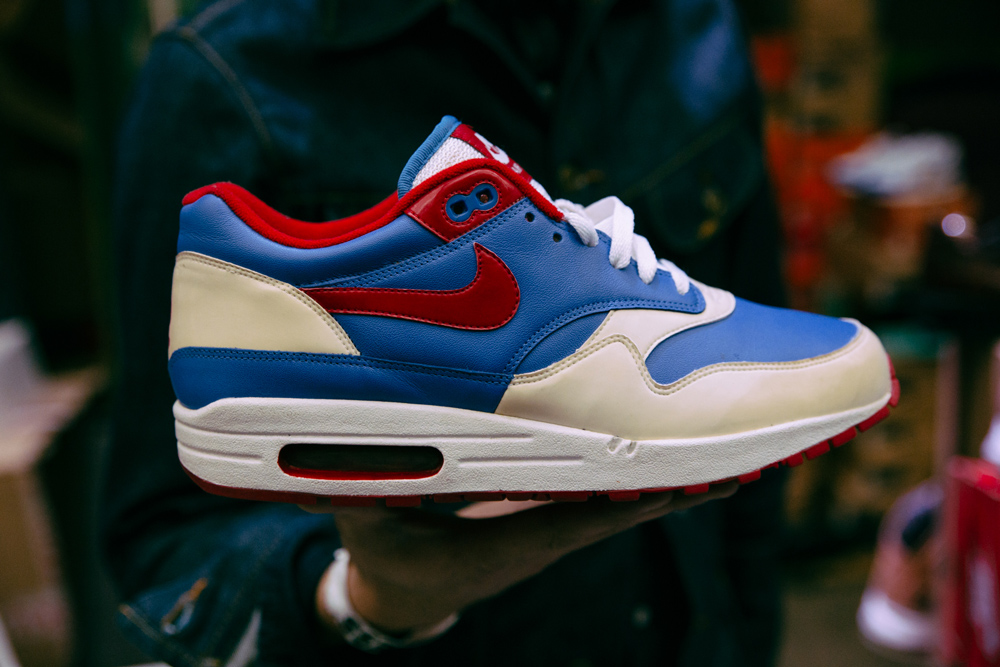 ::
Air Jordan XX3 Titanium – 2850 euros
According to many, the current sneaker craze was born when Nike released its first pair of Jordans. So it seems only right that we close this list off with a very expensive pair of J's. The Titanium edition of Michael's 23rd shoe was limited to only 1058 pairs: 23 pairs for 23 retailers in the US and the same deal for 23 lucky hand-picked shops across the globe. Now the XX3 might not be on top of many people's "favorite Jordans" lists, but these 2007 Jordans still go for a pretty penny. However, the seller might have overshot the price a bit on these, as they're available on eBay for quite a bit less than the 2850 euros ($3570) this guy was asking for.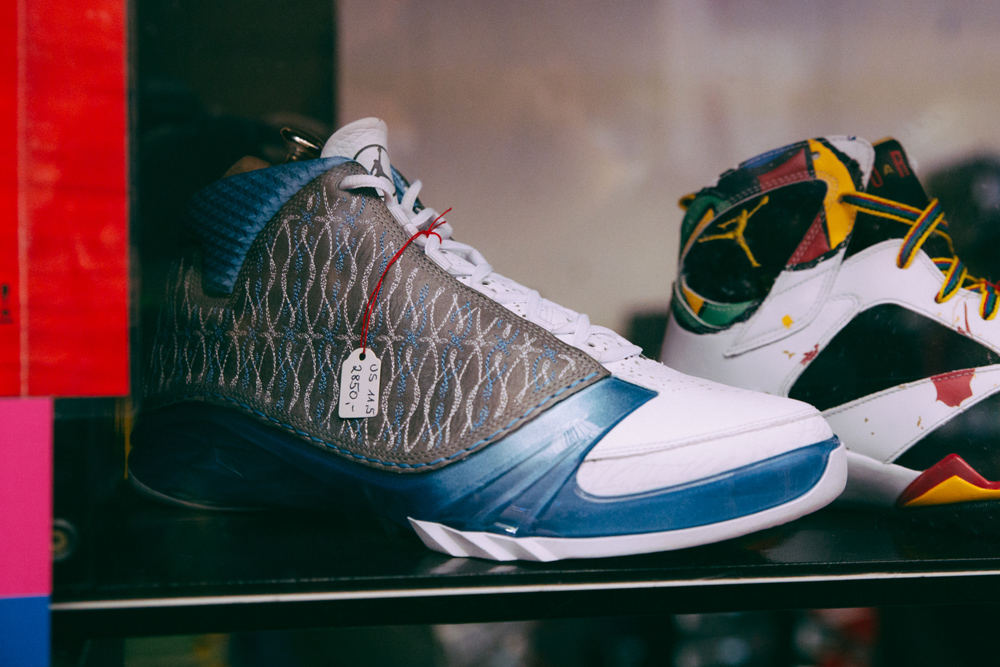 ::
Photos above shot by Kelly Fober.