The TED Conference describes itself as a three decades-plus old non-profit which highlights "ideas worth sharing" from the varied world of technology, entertainment, and design. The featured speakers in the past who have gone viral with their words of wisdom include Sir Ken Robinson,—who made a moving case for creating an education system that nurtures (rather than undermines) creativity—social psychologist Amy Cuddy's explanation of how "power posing"—or standing in a posture of confidence even when we don't feel confident—can affect testosterone and cortisol levels in the brain, and Bonk author Mary Roach's ten surprising claims about sexual climax. While all decidedly different, in terms of delivery and tone, each makes for a valuable critique and observation on the world we live in.
Josh Luber, a sneaker data analyst at Campless, which is a web platform that analyzes over 13 million eBay auctions to provide real-time statistics about the sneaker resale market, is one of the most recent recipients of a TED Talk.
Whereas kids who collected baseball cards in the '80s and '90s used something old-fashioned like Beckett to see if a card had increased in value, with Campless, sneakerheads can now decipher if they are making profits in a resale environment which is responsible for $1.2 billion USD in profits in the United States alone.
While Luber's entire presentation is enlightening, a number of facts jumped out. Here are the four most interesting.
Nike Dominates the Resale Market
Nike and the Jordan Brand account for 96 percent of all shoes sold on the secondary market. With profits accounting for a third of what was originally spent, people who invested in "hype" shoes made $380 million USD.
To put that in a footwear perspective, Skechers—who passed adidas to become the second largest footwear brand in the world—only had a net income of $209 million USD. In Luber's own words, "That means that Nike's customers make almost twice as much profit as their closest competitor."
The iPhone Hype Pales in Comparison
As one of Apple's most reliable sellers—with 69 million units sold in 2014—the iPhone has become a yearly phenomenon in which people camp out for the latest version of Apple's mobile device. But after the hype dies down, anyone with enough money will be able to purchase the product.
Josh Luber sees two competitive advantages for those invested in the sneaker marketplace.
Since Nike controls nearly the whole market, their strategy of limiting the quantities of hyped shoes makes nearly all of them valuable commodities. And unlike the iPhone, paying retail for a sought after shoe is not usually an option. For those passionate about acquisition, there's a very good chance each shoe acquired will net a profit.
Next, Luber points out that while the iPhone craze may last a week, lines for sneakers occur 104 times more often. With Apple, people want things they know they can eventually have. With hyped sneakers, the mystery of if is what drives prices up and ultimately makes for a good investment.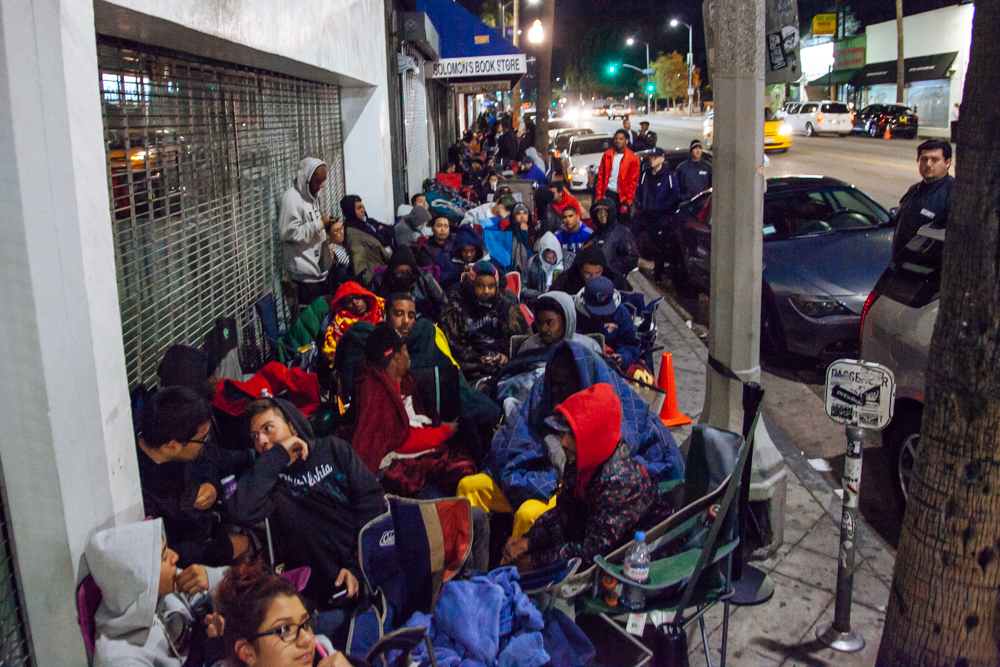 The line on Fairfax Avenue the night before the Supreme X Nike Foamposite release.
Sneaker Resale is Akin to the Drug Trade
"Are sneakers more like stocks or drugs?" Luber asks the audience. Although he admits that there are clear similarities to both the stock exchange and the illegal drug trade, Luber chose not to elaborate on the latter point.
However, Campless did run a January 31, 2014 feature that expanded on the comparison to the sale of narcotics, saying, "From a market dynamics perspective, the resell game is actually closer to the drug trade than the stock market."
Luber breaks down three key similarities; supply, pricing, and customers. Particular arguments include that, "Sneaker supply is limited and highly controlled: much how a cartel might operate, there is no central pricing exchange, and 'Addicted' buyers pay outrageous markups and dedicate their lives to the pursuit.
The Air Jordan III Black Cement is a Viable Investment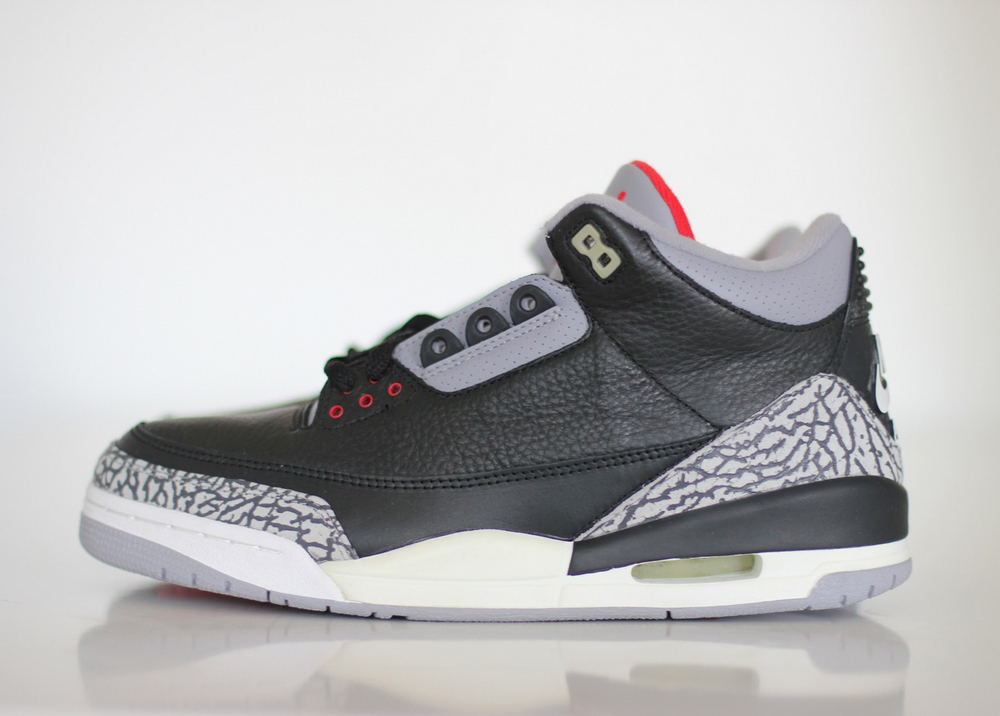 Photo: sneakersaddict.com
Sneakerheads often have an uphill battle when trying to explain their passion/hobby to someone with no knowledge of the industry. Many on the outside looking in see it as a juvenile pursuit. However, no one would ever look at someone like a stockbrocker and urge them to, "Put away childish things."
In Luber's talk, he often references the Air Jordan III Black Cement as the shoe that really ignited the resale market when they were last retroed in 2011. Had a person bought a pair of Jordans instead of, say, a share of Apple stock, a person would have seen a 162 percent return on an investment, which was double the S&P and 20 percent more than Apple.
***