"I Serve the Base" creeps onto the speakers as someone sparks a blunt and hands it to me. Over the song's thudding 808s, everyone debates the intricacies of AT.LONG.LAST.A$AP, the rise and fall of Trinidad James, Young Thug's purported hit on Lil Wayne, and how OG Maco has been a disappointment. "Maco let me down. He tricked me—he tricked the world," Saba says.
"He's tryna be a punk conscious rapper," Carl responds, singing, "I don't wanna hear no conscious punk from a blonde man."
There's 11 of us piled into an 11-seater passenger van, headed to New York for Chicago rapper Saba's headlining debut at SOB's. If you don't know about SOB's, all you need to know is that the venue is basically a rite of passage for rising music acts that come through New York (the venue's tagline is, after all, "where legends are made"). Also present besides Saba are hip-hop group Hurt Everybody—Carl, Supa Bwe, and Mulatto Beats—Chicago rapper XVRHLDY, Hurt's manager Westley, Hurt's videographer Bryan Allen Lamb, Saba's manager Jon, DJ Damnage, and live instrumentation guru Dylan. Hurt Everybody, XVR, and NoName Gypsy—who's flying to New York—are all opening for Saba.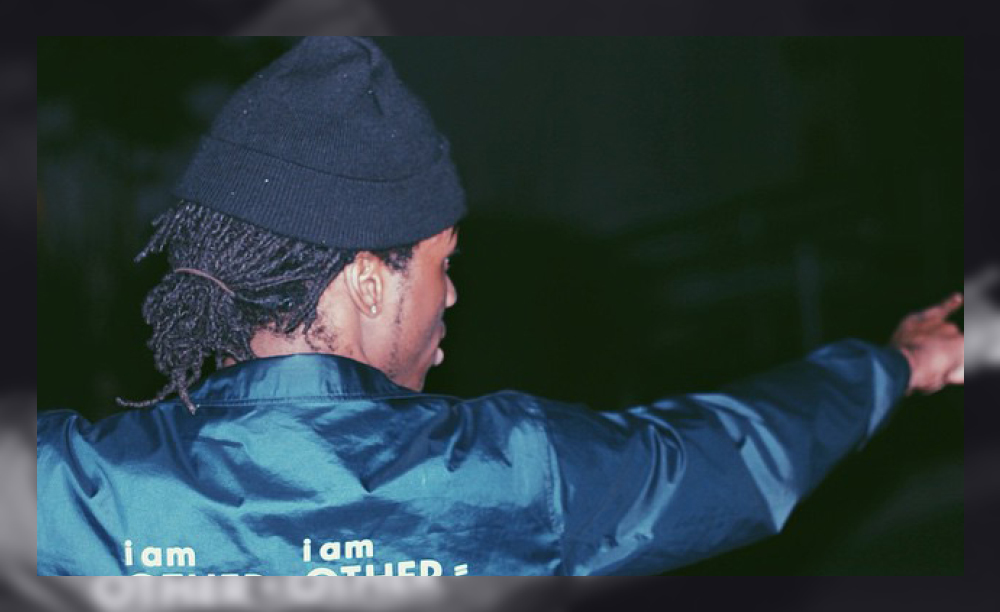 Saba. Photo: instagram.com
We were originally supposed to leave at 5:30 a.m. but Jon had received the wrong sized van, and when he finally got his hands on the right one, it required an oil change (though 5:30 a.m. seemed to be wishful thinking). Still in Chicago, we stop at Walgreens for snacks, supplies, and our first bathroom break. Supa, Westley, and Bryan buy Yu-Gi-Oh! cards, and everyone comes back with an assortment of red and purple neck pillows (apparently I missed the memo). By the time we actually leave the city, it's 11 a.m.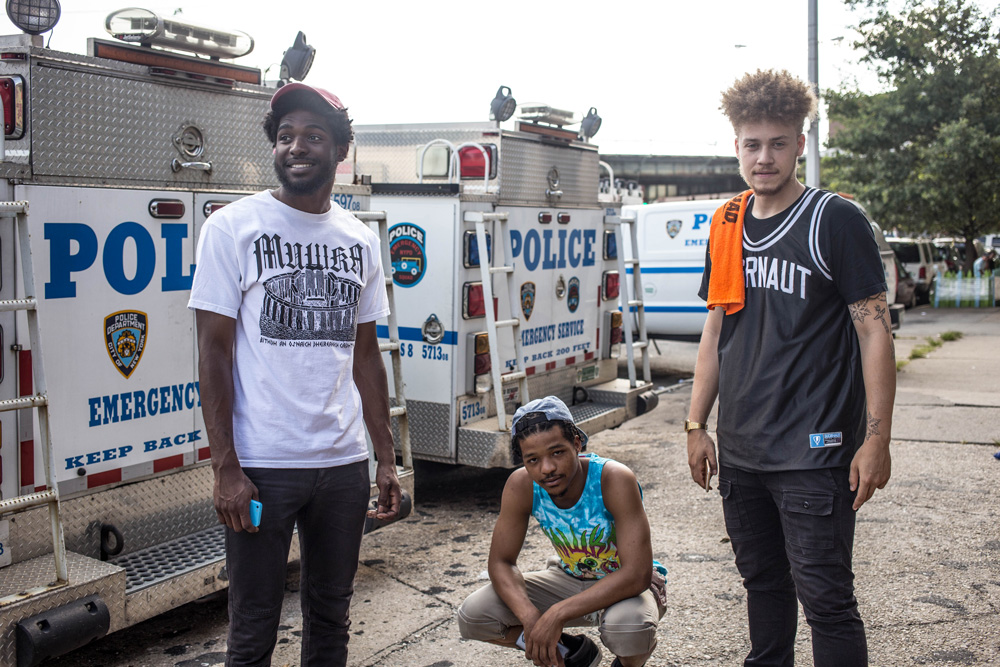 Hurt Everybody.
***
Though Chicago's history is rich with music, it has never really had a robust foundation for hip-hop. After the city birthed artists like Kanye West, Lupe Fiasco, Common, No I.D., and Twista, hip-hop's gaze slowly drifted elsewhere. But when the likes of Chief Keef, Chance the Rapper, Rockie Fresh, Lil Durk, and King Louie cropped up around 2011 and 2012, the spotlight once again steered back to Chicago. Encouraged by the culture, more young rappers and producers have since emerged to further strengthen the city, banding together to create a solid infrastructure. Saba himself refers to the city—his home—as "revolutionary."
Hailing from Austin, a neighborhood on Chicago's West Side, Saba is one of the many faces leading the charge. You might have first heard him on Chance the Rapper's track "Everybody's Something" from Acid Rap. Since then, Saba's released his breakthrough mixtape ComfortZone, the project that firmly placed him at the top of the heap.
But it took him a few tries and a few mixtapes to get to this point. Before ComfortZone, he dropped four tapes over the course of two years. And after all that, ComfortZone—which he was conceptualizing and fine-tuning while dropping his previous projects—became his opus, proving his abilities as a vocalist, producer, and composer, and embodying his lyrical, sonic, and conceptual growth.
More than anything, ComfortZone is a project that has generations of force behind it; a testament to a musical skill set that runs deep within his family, from his great-grandparents, grandparents, father, uncle, and brother Joseph Chilliams. The family members' talents span funk, R&B, soul, and hip-hop—Chilliams even co-founded the Pivot Gang, a group Saba is member to—so it's no wonder that with that history, ComfortZone would lean on so many aesthetics. Through the course of the project, Saba moves between discussing topics like education, violence in Chicago, and his dreams and future, almost immediately declaring his thoughtfulness. Even Pivot's ethos of movement and progression seeps into Saba's solo efforts. As critic Tim Larew noted on Pigeons & Planes, "Warm chords and soft, catchy hooks guide listeners through [Saba's] largely self-produced journey, and its homegrown nature… is perhaps its most alluring quality."
But Saba hasn't always been so open. In high school, as he was developing ComfortZone, he was very shy. To combat his bashfulness, he began attending open mic events around Chicago, which helped him become bolder with his music. The gravity of ComfortZone thus became threefold: It was used as a tool to bring Saba out of his head, and to be more confident in himself and around others; it became a veritable timeline of his past, present, and future, showing where he's been and where he's going. And finally, ComfortZone became the force that pushed him out of his literal comfort zone, Chicago.
As Saba continues to bloom, so too does his city: Many other musicians and groups are coming out of the woodwork. Hurt Everybody—Supa Bwe, Carl, and Mulatto Beats, born Frederick Apex, Qari Delaney, and Devin Smith respectively—has actually only been around for about 17 months. Supa started out as a solo artist, and Carl and Mulatto were part of the group Supreme Regime. But when that group fell apart, their second manager Wisam took the initiative to introduce the three artists.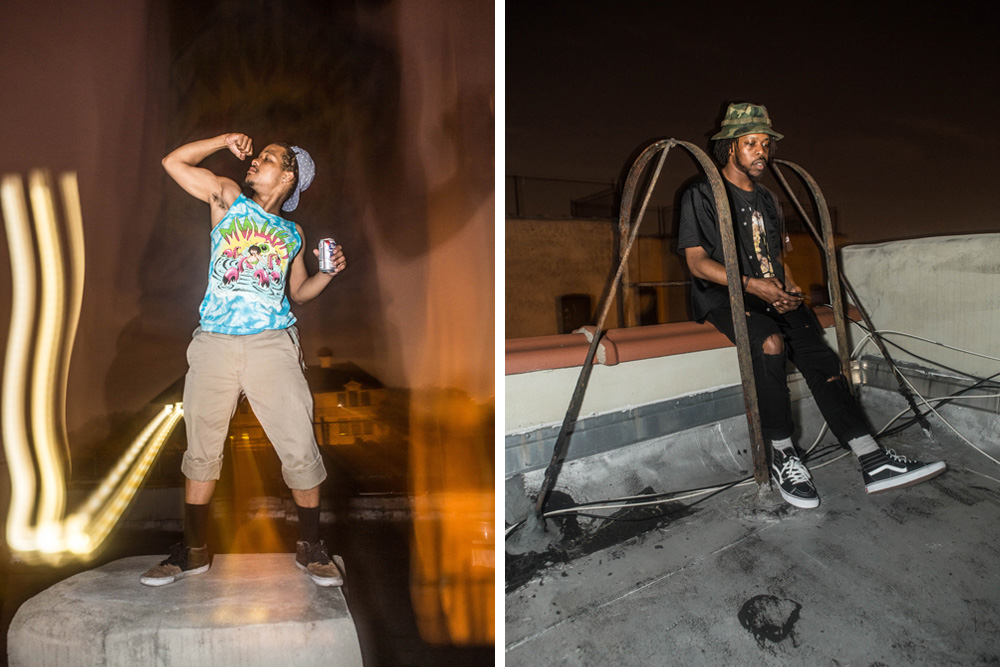 Left: Supa Bwe; Right: XVRHLDY.
Since they got together in March 2014, the group has released over 120 loosies and three projects. Their latest is 2k47, a project revolving around time travel and an apocalyptic future, waxing poetic on social inequities, time, and the shit we're subjected to in this world. Though the trio is relatively new, 2k47 proves that they have a wide range of sonic motion; their differences in character feed off each other as they move from trap bangers to harmonic raps.
XVRHLDY, or Xavier Holliday, has been around a bit longer than Saba and Hurt Everybody. After a brief stint in New York under the emcee name PhlyyB, XVR took back his government name (he found out there was another rapper who also went by PhlyyB and who was posting videos on WorldStarHipHop) and moved back to his hometown of Chicago. As XVRHLDY, he's released two projects. His latest Need To Know II : Luna details a night in his life, maneuvering through the ups and downs, and the emotional and emotionless moments. If you ask him, he would describe his sound as both "theatrical and ratchet," feeding into both sides of his personality.
"You can see the culture but you can also still hear the hood, you can also still hear the West Side," he tells me, his camo snapback slung low over his eyes, his red neck pillow sitting in his lap.
***
The excitement is palpable but the nervousness is too. Saba had previously played SOB's in February with Kirk Knight and Mick Jenkins, but this one is all Saba. The concert has been billed as a Chi2NY show, a label that comes with a heap of responsibility. From the get-go, it seems like that label weighs heavily on him: Throughout the drive, far from home, he oscillates between being quiet and reserved, to being goofy and conversational.
In the van, the guys spend a lot of time sleeping, either because they've been awake since 4:30 a.m., they're stoned, or there ain't shit else to do. At one point, Dylan and Mulatto pull out their laptops and work on music. Supa wakes up and starts fucking with Westley by pulling on his dreads and telling Westley to stop throwing pennies at him. Supa eventually admits that he was throwing pennies at himself.
After driving through five states—Illinois, Indiana, Ohio, Pennsylvania, and New Jersey—we finally arrive in Manhattan at 2:45 a.m. As we drive through the Lincoln Tunnel, Supa, Mulatto, and Carl divulge that they've never been to New York. Their misconceptions, thoughts, and concerns are as follows: Supa is mournful because Westley told him that New York has no alleys to piss in, Carl is inspired because he believes that he will be greeted by a bevy of women, and Mulatto thinks the city looks like a movie and/or Grand Theft Auto, but he can't really decide. All three resolutely believe that they're going to see famous people everywhere.
Supa proclaims, "I just got here for the first time but I am New York."
***
The next day, I meet up with Saba and his crew for rehearsal in a studio space near Chelsea. Saba's father Mike—a professional neo-soul and R&B musician and producer, and definitely where Saba gets his lankiness—is also there, as is the drummer Aaron who's joining Saba's live set. Damnage is behind a mic and laptop, and Dylan has a pretty thorough set-up, with two keyboards, a mic, computer, and drum pad. Saba has his MPC ready, which he plays during "Scum."
Throughout the trip, Saba wavers between being shy and expressive, showing glimpses of who he was before ComfortZone and how he's grown since the project. While humble and prone to withdrawing in his head, he does reveal his sillier side: He speaks in this one particularly goofy voice, and when he accidentally says "cooth" instead of "cool," he makes fun of himself. He's more at ease during rehearsal—perhaps because his father, his girl, and his close friends are here. He feels more at home.
On the day of the show, I learn that NoName Gypsy had to drop out because she missed her flight. Damnage, New York DJ Zeemuffin, and New York rapper Chelsea Reject fill her set time.
During soundcheck, Saba moves through his set with ease, familiarizing himself with the size of the stage. Hurt Everybody does the same; and what is immediately noticeable is that they perform like they've been together for years, their personality differences playing off each other: Carl is the laidback charmer, Supa is the jokester, the goofy one, and Mulatto is the quiet one who only voices his opinion when necessary.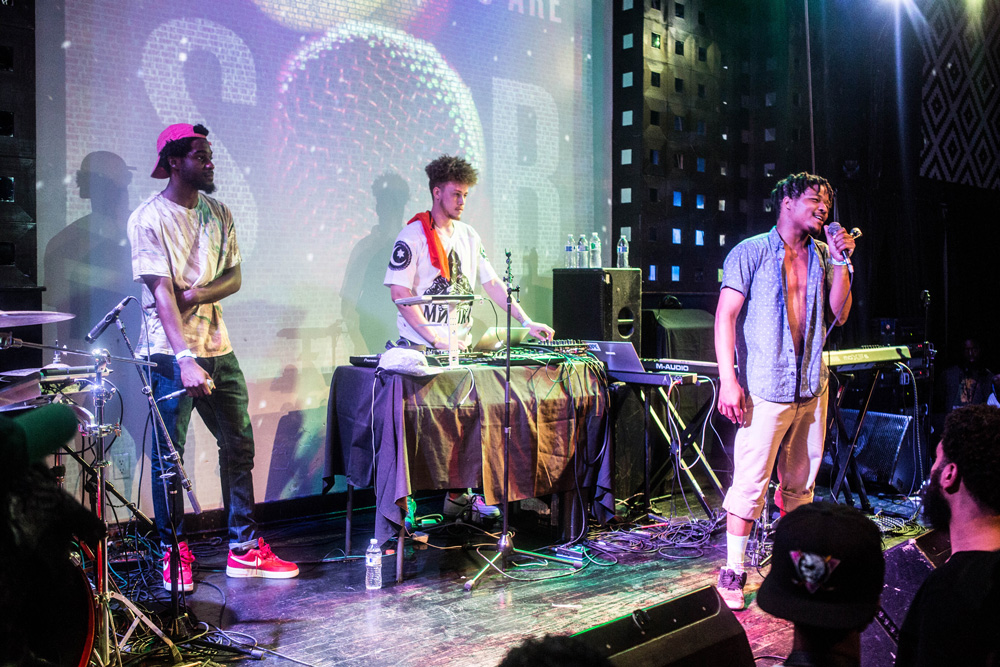 "All three of them have opposite personalities and different songwriting capabilities, different styles of making beats. Supa's beats are really dark and deep, Mulatto makes super spacey shit, and Carl makes all the fun stuff," Wisam shares.
Mulatto is quiet while standing behind his computer, his physicality proceeding him: Fair skin, tall stature, light brown afro, and green eyes. "He's the spectacle of the group," Carl says, adding that Mulatto is "definitely the center of it. Everything revolves around him; he keeps it together."
As vocalists, Supa and Carl take up a lot of space; working in tandem, Supa careens between fervent singing, raps, and yelps, his voice high. Conversely, Carl's vocals are impenetrable and monotone—denser than Supa's. Supa wildly gesticulates and jumps around on stage, and Carl strolls up and down the stage in a way that perfectly matches his intonation. The three become some sort of holy triumvirate, benefitting from each other's sonic differences.
But their vibe is different from Saba's: Even though the label 'conscious rapper' is becoming moot, there's an awareness in Saba's music that isn't readily apparent in Hurt's music. But that isn't to the detriment of Hurt Everybody. Such disparities allow all acts, including XVR, to shine.
***
SOB's green room is located in the basement, a bouncer standing guard at the top of the stairs. Downstairs, black leather couches line the left and right walls—tables sit alongside the two remaining walls. Supa's antics are alive and well: "Tell 'em to crush up some percs and put it in the sauce," he raps, shaking his hair in his face, dancing in front of Bryan's camera.
Someone from SOB's brings chicken wings, beer, and water. Everyone pounces, double-fisting whatever they can get their hands on. Those who aren't eating or drinking are rolling blunts or on their phones.
Mulatto's on his computer, his silent demeanor becoming more intriguing. I ask him about his producer name. "That isn't my producer name by choice," he says, his green eyes glinting. He tells me he's of German, French, and black descent. I ask if he's ever rapped. "I rapped on two songs but I deleted them because Supa was showing them to people," he says, adding, "I don't rap but maybe someday. That shit's not close to my heart."
There's a quiet moment before Supa screams, "Fear the peen, hear the screams!" Everyone roars with laughter. He never purposely tries to lighten the mood, although his shenanigans usually do. Saba's on a couch, his arm tucked around his girl's waist. His eyes flicker and focus, Supa managing to momentarily pull Saba away from his thoughts.
***
Upstairs, the crowd is shuffling in, a majority of them young twenty-somethings, and high school and college students. Jon tells me he was afraid the venue would be empty because they had only sold 30 tickets the previous week. It already doesn't seem like they should worry.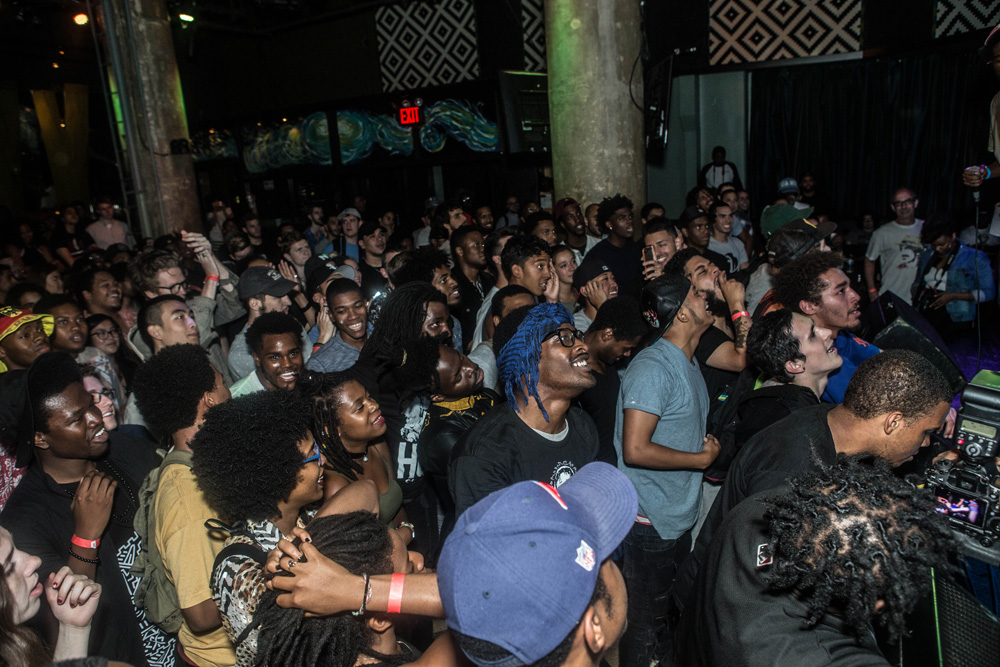 XVR walks on stage and moves through a bass-driven set, his style of cadence deep, gravelly, and slurred. While he's been pretty relaxed the entire trip and has kept to himself—it's actually been difficult getting a read on him—he gets on stage and throws on a different persona, readying the crowd for the oncoming blitz of Chicago rap. "Everyone on this roster will prosper," he utters into his mic. Mulatto is in back, acting as a DJ, and a live saxophonist joins them.
As XVR's set winds down, Supa and Carl appear. The crowd is already right there with them. "Supa!" they chant, as the two trade solos in the song "Before the War." "See it's all coming full circle / We gon' take shape, shining while we transcending," Carl spits. Supa's retort is oddly profound, "I have no feelings but I can make songs cry," he croons.
Before Saba comes on, the trio plays the banger "Social Network (GANG)," and XVR, Westley, and Wisam get on stage to wyle out as the crowd moshes. Mulatto had already broken his reticent ways and started dancing behind his computer; as "GANG" comes on, he's in full-out bounce mode, shaking his neon orange towel in the air. The pit is almost entirely full.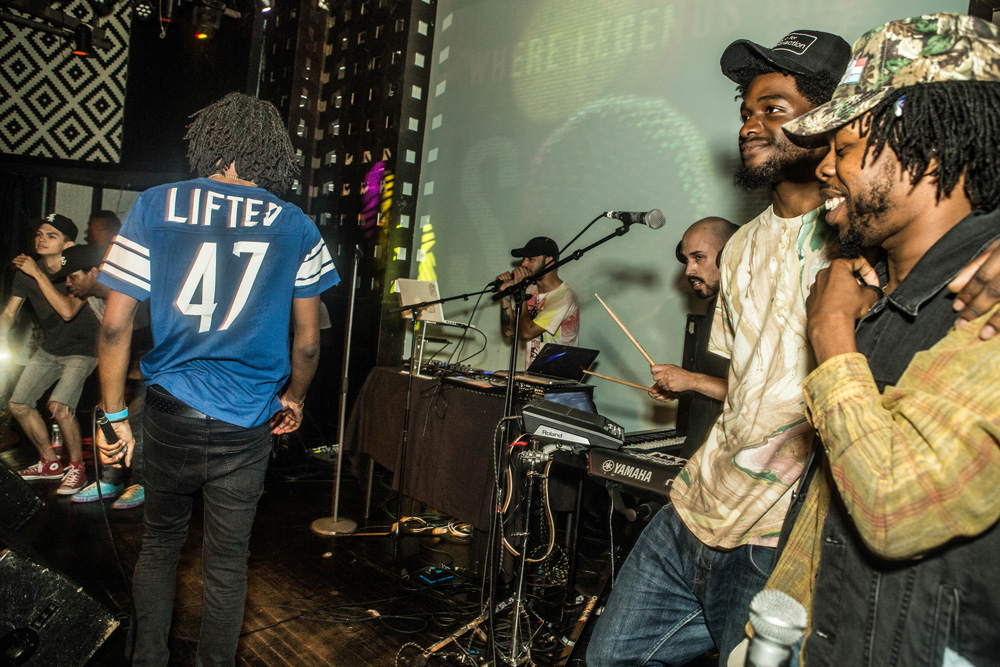 ***

Saba slides through the crowd and climbs the detachable steps that lead to the stage. A nervous glimmer flashes in his eyes as Dylan plays the opening melody to "Scum." Saba vents, "They call us scum, from the city slums / They all think we idiots, like we really dumb / I pity them, the fools / Right to, free speech / Rifle, cheap drinks / Bible, we pray."
He continually wears his heart on his sleeve: As he maneuvers through the songs, it's noticeable that each one calls for a different expression. During "Scum," sadness overwhelms him; during "401K," he emotes anger; and for "TimeZone," we catch a look of hope.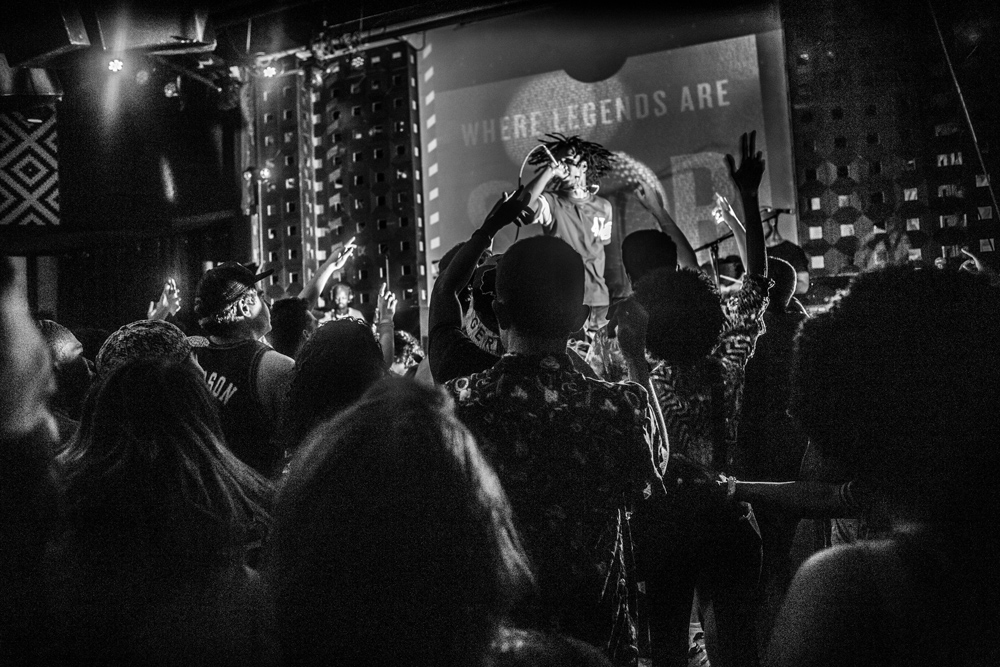 His stage presence is unassuming at first, but as his set progresses, he becomes increasingly more comfortable; dancing and headbanging, his dreads and gold chain whipping up and down, the chain catching the light. He plays his newest song "Symmetry," which hasn't been released yet—in fact, Saba has only released one song of his own this year, "Temporary," featuring Chicago vocalist Tink. Earlier, Saba told me that he isn't trying to be the guy who drops a new song everyday. "I never want to be that guy, only because I feel like with what ComfortZone was and what it is, I just wanna leave it there to be appreciated for a little while longer."
His unconventional tendencies are what has brought him to this very moment, in front of a beaming crowd at SOB's, just after the one year anniversary of ComfortZone. "We only sold 30 tickets the previous week before the show. I was nervous it would be empty," he says, expressing the same sentiment as Jon.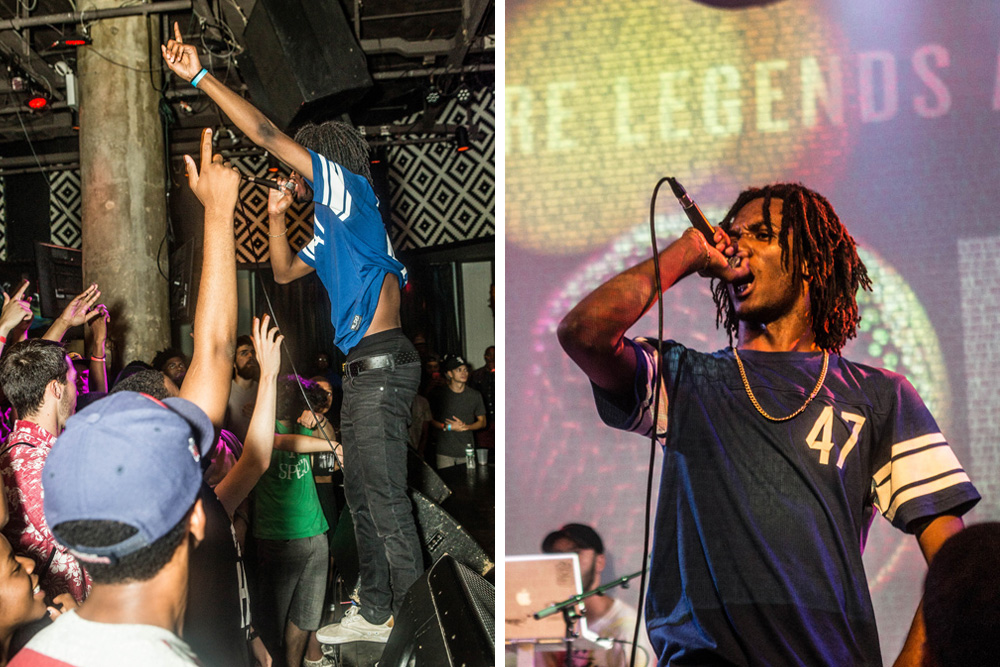 Coupled with Saba's approach to music is also his ability to make a project that's the whole package: Thoughtful in its lyrics and aesthetic, his music is evidential of time and effort, of creating something near perfect to give to his audience. Indeed, the project revolves around many subjects, with Chicago a mainstay throughout. And while Saba's hometown has been integral to ComfortZone, it's also the idea of leaving home—leaving what you know—that is elemental to the project and his mindset.
Later, I ask him if he felt nervous. He looks pensive for a moment and says, "I wasn't nervous. It was weird. It wasn't like home. New York crowds give you what you want when they want." But even with that statement, relief spread over his face. The Chi2NY label was spot on from the beginning: Saba brought Chicago to New York, finding himself at home in front of a New York crowd.
::
Photos by Katrina Tarzian