In 2005, Vans launched a new division: Vans Syndicate. While Nike was slowly taking over the skate shop shelves with their highly popular Nike SB line, Vans had a large distribution channel, which included a good amount of Vans branded stores in malls over America. Nike was showing love to core shops with exclusive sneakers, while Vans, who were slowly turning their back on puffy shoes and returning to their Classics, were losing good will in the shops that built their brand. Vans assembled a small group of guys who were tasked with launching a new, skate shop exclusive line of sneakers. Through collaborations, the introduction of new models, and amazing quality, Syndicate was able to show a different side of Vans. Skaters took notice—sneakerheads as well. The line impressed with its unique packaging. The sturdy black slide out boxes housed a dust bag, stickers, an envelope with all the info about the project, and often a cool little bonus gift, ranging from a money clip or a blank key to a razor blade bottle opener, motorcycle grips, a fixed gear tool bag, miniature skate deck and a DIY stamp set. The Mister Cartoon-designed 'S' logo was kinda like Nintendo's seal of quality, although this actually indicated a proper quality product.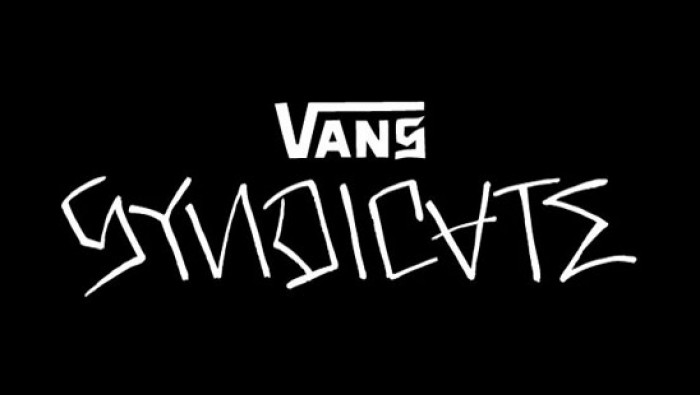 WE HOPE THIS SPEAKS TO YOU – THE ONE OUT OF STEP
The list of Syndicate partners is huge and full of heavy hitters. Skaters like Jason Jessee, Eric Dressen, Anthony van Engelen, Wade Speyer, John Cardiel, Tony Alva, Steve Olson, Jason Dill, Andy Kessler, Christian Hosoi, Rodney Smith, Tommy Guerrero, Julien Stranger and Max Schaaf, photographer Gabe Morford, filmers/directors Greg Hunt and Harmony Korine, brands and designers like Shawn Stussy, WTAPS, Luke Meier, Carhartt WiP, RAD, and Fucking Awesome, artists like Mister Cartoon, Taka Hayashi, Chaz Bojorquez, Grime, Wes Humpston, Mike Hill, Alexis Ross, and Weirdo Dave, musicians like Ice-T, Tyler, The Creator, and Mike Muir (Suicidal Tendencies) and shops like Concepts, 8Five2, Slam City Skates, Fly Streetwear, Kasina, Street Machine, Civilist, and Supply. The non collaborative projects often introduced new shoes and unique, high-end materials that would normally never make it onto skate shoes. From Cordura and kevlar uppers to Rapidweld technology and military grade camo patterns, the Syndicate line seemed to spare no expense.
You might have noticed, Vans started re-issuing some of the most classic Syndicate shoes this year, to celebrate the 10th anniversary of the line. But sadly, these releases weren't a celebration, they were a goodbye present. After the re-release of the gold/yellow WTAPS Authentics last Saturday, Syndicate is done. Next Friday, the 20th, Vans will host a going away party: a special exposition titled These Days – Ten Years of Vans Syndicate at Known Gallery on Fairfax.
While the line slowly declined throughout the years in terms of quality and packaging, it continued to release interesting and out of the norm sneakers. The thing that defined Vans Syndicate is the total freedom that seemed to surround the line. Designers could pretty much do whatever they wanted. Sure, that meant that certain shoes were priced pretty damn high for a pair of Vans (I remember paying 150 euros retail for the Jason Jessee 011 Sk8-His), but because of that the Syndicate line was pretty much all killer, no filler (except for a few examples). And since there was no need to drop new pairs every month (like Nike SB for example), the Syndicate line was able to stay original and unique throughout the decade. To me, Vans Syndicate is the blueprint of how to build and run a specialty line as a sneaker brand. Thank you for 10 amazing years and 28 series of great sneakers Vans.
As a salute to 10 years of Vans Syndicate I give you a list of my 10 favorite Syndicate releases:
001 Mister Cartoon Authentic (2005)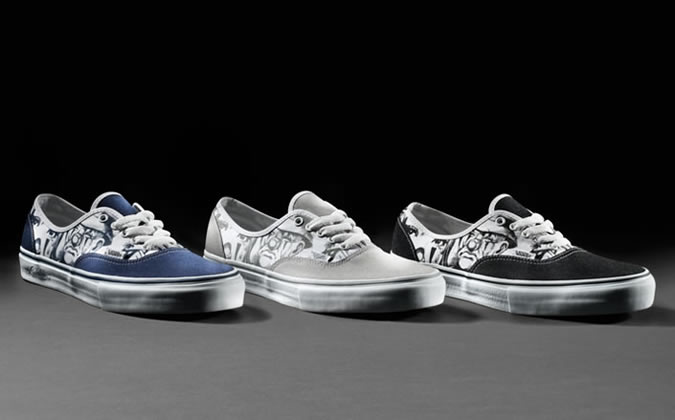 The one that started it all. Mister Cartoon was involved with Syndicate from day one, he designed the Syndicate 'S' logo that was used as the main logo for the line until its very last release. 2005 was a good year for the LA-born and raised tattoo artist, as it was also the year he dropped his first Nike collaboration. Vans connected with Cartoon through Humberto Liechty, the store manager of Supreme LA, who had also worked at Union and UNDFTD. Liechty was part of the original Syndicate crew and asked Cartoon to design a sneaker. The Authentic turned out to be a great canvas for Cartoon's old school style. The shoe was released in three colorways, with a canvas body and suede nose, heel and tongue. This collaboration, along with the Nike Air Force 1 of course, introduced Cartoon to a brand new audience. He later designed a set of Sk8-His for Syndicate and an all black version of this Authentic was the first retro in the 10th anniversary series.
003 Jason Jessee Old Skool (2006)/011 Jason Jessee Sk8-Hi Notchback (2009)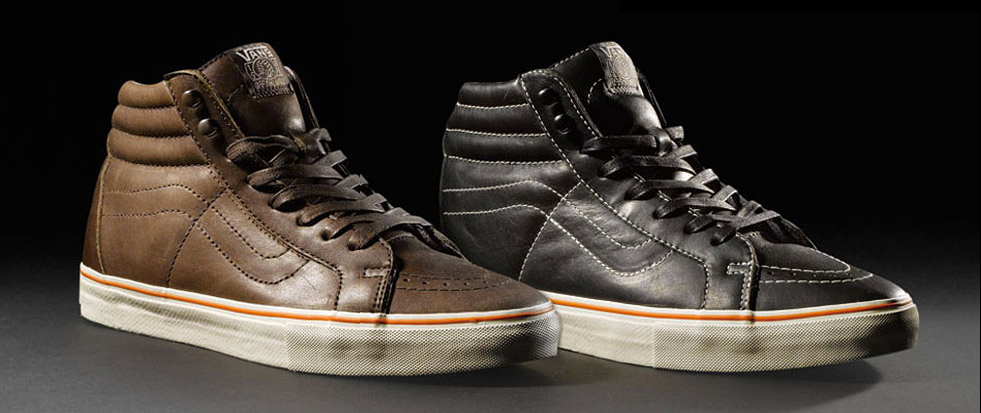 I'm pretty sure that one of these would've been part of the 10th anniversary collection if Jason Jessee didn't jump ship to Converse in 2012. Jason Jessee is a perfect example of how the Syndicate line could support those who are a bit more out of step. Jessee is an old skateboarder who was no longer part of the pro circuit. He hasn't had a current pro model or video part out in years. While Santa Cruz continues to re-issue his classic graphics, Jessee was more focused on designing and building motor bikes, something that gained him a pretty big following in Japan. He runs a small skate company, Driven, that focuses on bike-related graphics. He lived a pretty reclusive life in Watsonville, California. Known for a wide variety of antics and a one-of-a-kind skate style, Jessee is a skater's skater. One who's fondly remembered by the older guard, but not a commercial name whose shoe would sell in malls. But a Syndicate project with him would get his shoes in the right shops, where the shop owners know and love him and could tell his story to a younger generation.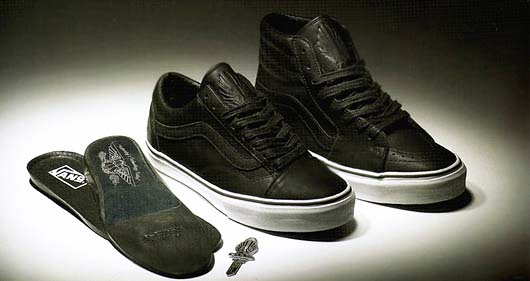 Jessee's first Syndicate shoe was released in 2006. Jessee's love for motorcycles shined through right away, as the box included a second set of insoles. The bones soles had a metal shank plate, which made it easier to kickstart motorcycles. The flexible Vans Waffle soles are great for skating, but not as much for putting a lot of pressure on one specific point. The upper was made out of nearly indestructible thick black boot leather. The shoes came with a blank key, which could be cut into any shape so you'd have a custom key to start your bike. Or lock your front door. The first Jason Jessee pack also included a Sk8-Hi, which later on got surpassed by Jessee's second Syndicate release in 2009: two amazing notchback Sk8-His. The brown and black sneakers were made from high quality oiled full grain leather, which is sturdy and holds up under the toughest conditions. The lining was made with OutLast, a technical material that cools your foot when its warm and warms your foot when its cold. The notchback heel gives the wearer more movability, which makes the shoe perfect for riding motorcycles. The heel of the shoe features the logo of his skateboard company, Driven.
006 WTAPS Bones Pack Black/Black (2007)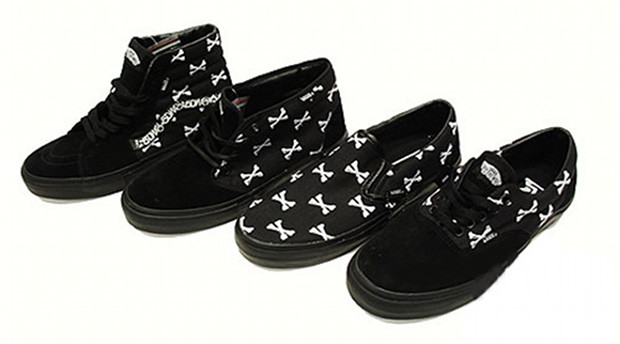 There is no way to make this list without including the WTAPS Bones series. The Japanese brand released four versions of this set with their Bones graphic, including slip-ons, Chukkas, Sk8-His and Eras in black/white, black/black, navy blue, and burgundy red. The graphic embroidered onto the sneakers is of course based on the classic Powell Peralta Bones logo from the '80s. Just like with Mister Cartoon, Berto Liechty was responsible for bringing the two parties together. WTAPS founder Tetsu Nishiyama has a history in skateboarding and through that, along with a shared 'Craft With Pride' philosophy, the two brands bonded. These WTAPS series were by far  the most popular shoes out of the Syndicate line and are all valuable and sought after till this day. Even Steve Nash appeared on TV wearing a pair of the Burgundy Sk8-His. The all blacks are my favorite out of the four series, because the dark setting makes the Bones pop out even more. WTAPS later made their own Vans-style sneaker with the same logo, although it was printed instead of embroidered.
008 Steve Olson V79 pack (2008)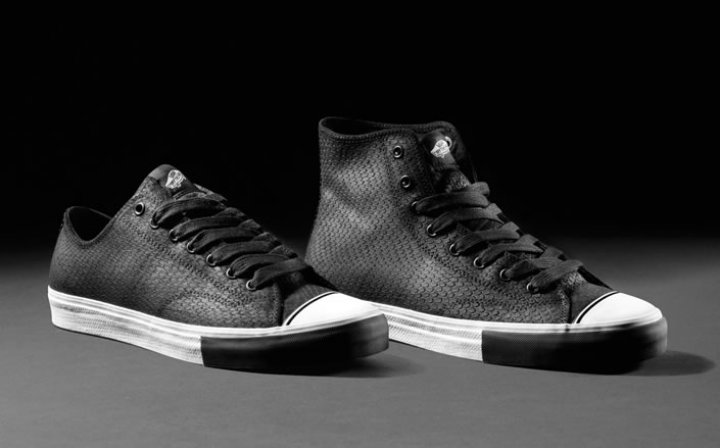 Dagger, ladies man, punk rock enthusiast, legendary skateboarder and Alex's dad: Steve Olson. In 2008, he worked with Vans to bring back the V79 model back. This classic style looks a bit like a beefed up Chuck Taylor. The typical toe cap is there, as well as the ollie area stitching from the '70s Chucks, but the V79 adds some padding, in the toe and around the ankle, and a black bumper around the toe. The V79's comeback was very short-lived and only included the Steve Olson Syndicate pack and a group of colorways for Supreme's Malcolm McLaren tribute. The Steve Olsons were a true premium execution. The black upper was made out of a thick suede, with an extremely detailed snakeskin pattern all over. Due to the thickness of the material, these were a bitch to break in, especially the lows, but they sure looked amazing on foot.
009 Max Schaaf '4Q' Mountain Edition (2008)
Another skateboarder-turned-motorcycle-enthusiast in my list: Oakland native Max Schaaf. Orignally a vert skater, who for a long time was the only vert guy on the team of San Francisco's more street-oriented Real Skateboards team, has shifted from skating to building his own motorbikes. His company name 4Q (Fuck You) inspired a special Syndicate version of the Mountain Edition. The shoe was designed by Schaaf and Vans designer Jon Warren, and switched the classic Mountain logo on the side for an Oakland shipyard crane. Max chose this shoe because the lace saver of the Mountain Edition connects right with the shifter, which adds a little padding and enhances the durability of the shoe if you use it for riding. Max made the shoe asymmetrial, with the inside of the shoe being slightly higher to protect your ankle from the heat of the engine. The insole has a fish scale print, which is based on Max's gas tank art at the time. Even the box was custom, designed to look like the box of an old Harley Davidson part. Every pair came with a set of grips for the handle bars of your own motorcycle (or bike). The shoe was released in red and black, and a matching set of Era's dropped alongside of it. For the 10th anniversary collection Vans re-issued the shoe in an unreleased original all black sample colorway.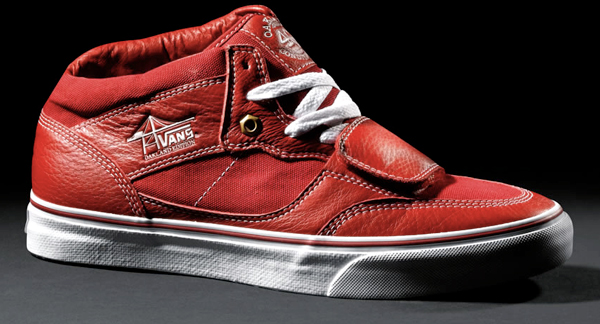 008 WTAPS BASH, Rudeez and Greaserz (2008)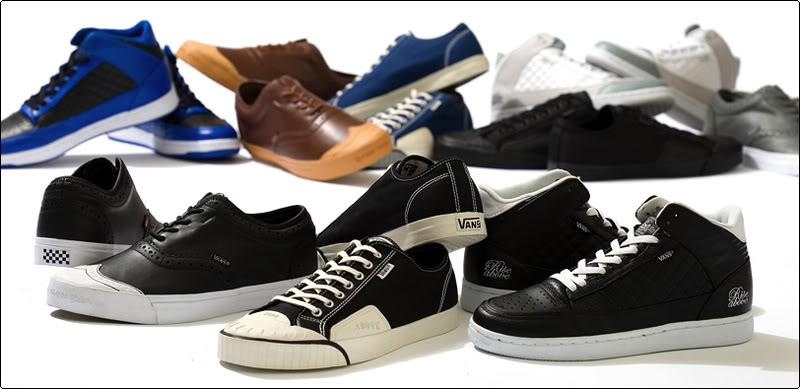 These shoes have to be the ultimate highlight in the history of the Syndicate line. Vans let WTAPS design three brand new models that were only released in four different colorways before the styles were retired. It's quite an investment with a limited return, since Syndicate made quite limited numbers compared to other Vans lines. The Syndicate crew had a concept where they wanted to look back at the history of Vans and design shoes that could've been part of Vans' heritage. The pitch was to create a classic '70s skate shoe, a late 80's/early 90's cup sole skate shoe and a brand new vulcanized shoe. WTAPS founder and designer Tet went all in and created three amazing new shoes that should've stuck around a lot longer.
First off the BASH, short for BAsketball SHoe. Inspired by the Jordan III and basketball shoes skaters used to wear. The only shoe out of the bunch that was continued for a bit longer, with a new vulcanized sole.
The Rudeez are inspired by the Rudeboys culture and ska music. Originally Jamaican, but popularized by the Brits, rude boys were known for their sharp-dressed style, which included tailor-made suits and brogue shoes. The Rudeez have copied the classic details of the brogue, like the wingtip, and added a checkboard patch on the heel, another ska staple. On the front of the shoe you'll find the text Ruder Than You, which is the title of a b-side track by the all-female ska band The Bodysnatchers.
The Greaserz seem to be inspired by the Chuck Taylor All Star, with extra patches on the ollie area and an extra thick toe bumper. The shoe was based on the Francis Ford Coppola movie The Outsiders. The phrase Rise Above is visible on both the BASH and the Greaserz. This title of a classic Black Flag song was also the title for WTaps F/W 2008 collection.

After the first three colorways of the shoes were released the models made a small comeback in a new colorway, which was mostly distributed to WTAPS dealers.
016 8Five2 Versa Mid (2011)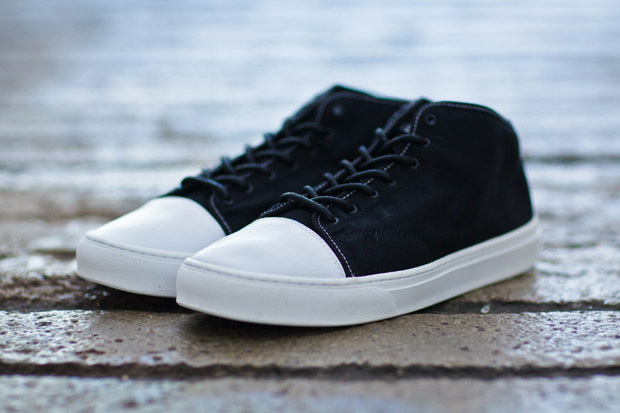 Right after Lakai dropped their long-awaited Fully Flared video, Alex Olson left the company to go skate for Vans. He stuck around for about four years, and then switched footwear sponsors again to end up on Nike. Just before the switch, Vans introduced the Versa, a new cupsoled skate shoe that was designed and inspired by Alex Olson. It will go into history as one of Vans' most underrated shoes and sadly wasn't on the market for too long, but thank the heavens that the guys at 8FIVE2 skateshop in Hong Kong got their hands on the sneaker before Vans took it out of their collection. The Mid version of the Versa is a deconstructed mid-top, giving the shoe a sleeker look. The upper is made out of waxed canvas and is contrasted by white stitching and a beautiful soft white leather toe. Sadly the shoe was an in-store exclusive for 8FIVE2 and never got global Syndicate distribution.
014 Luke Meier Zero Lo (2011)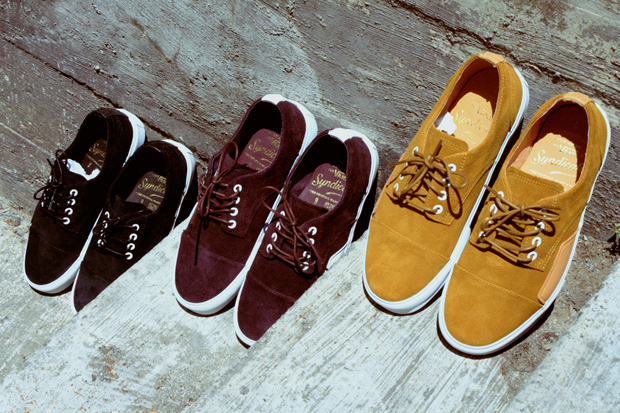 Luke Meier is a designer, who's primarily known for his long stint at Supreme. Meier started designing for the New York company in 1999, and worked with Vans on a variety of Supreme x Vans collaborations. Syndicate gave him the chance to design a complete new Vans shoe, the Zero Lo. The concept for the design was Destroy Luxury. Meier designed a shoe made out of luxe materials that were completely skateble. The extra ollie patch on the side of the shoe was implemented to expand the lifespan of the shoe as its being skated. Meier wanted to put the most expensive material of the shoe, premium leather, on the ollie area, a perfect example of destroying luxury. Vans released four colorways of the Zero Lo, three at Syndicate retailers and a Supreme-exclusive navy edition. After that Vans changed the name to Seylynn and used it for a few more Syndicate projects, including two new Supreme exclusives and a collabo with 8FIVE2. It was also part of the 10th anniversary collection, in an white colorway.
027 DEFCON Sk8-Hi Notchback AOR1 (2013)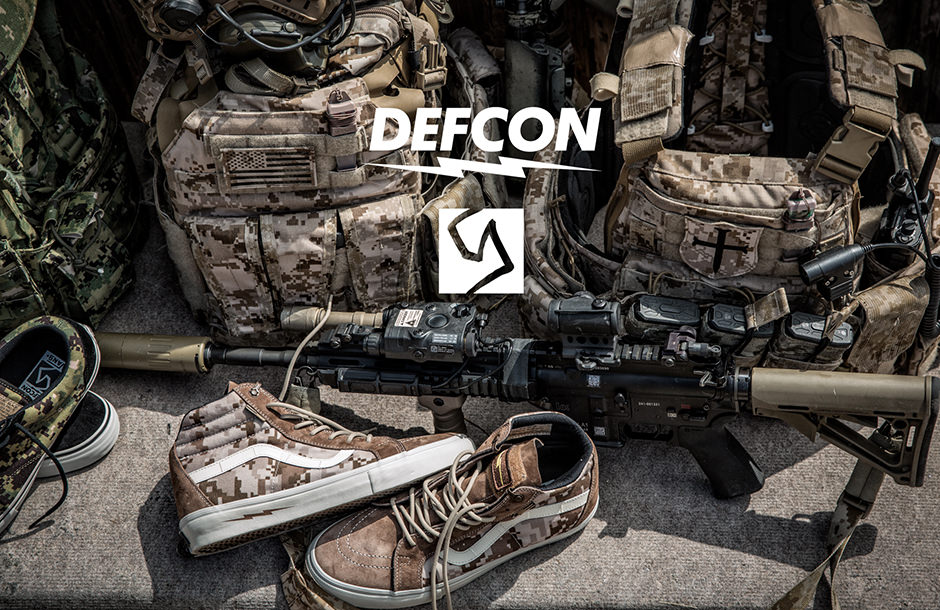 From the get-go, there was a military theme involved with the Syndicate line. One of the first drops included three camo Mid Skools and in every box you found a sealed mission envelope, which contained information about the shoes. Later on, the name 'DEFCON' started popping up, always linked to military inspired Syndicate project. DEFCON is a secret group, headed by Syndicate founders (Hum)Berto Liechty and Jeff Potocar, who always had an interest in the military world. Thanks to them, we saw a variety of military-used camo patterns and military-grade materials like Cordura, Wolverine Leather and MAS. Their eye for detail and quality on these projects has gained them quite the reputation in the world of military enthusiasts and collectors, a testament on how great their Syndicate shoes really are.
Among the various DEFCON releases, my favorite is the Sk8-Hi Notchback AOR1. This Sk8-Hi is covered in AOR1 camo, a pattern that's been designed by Seal Team 6/DEVGRU, the guys that found and took down Osama Bin Laden. The shoe itself is about as close to a military-grade sneaker you can get. The toe is reinforced, the tongue gusseted and the upper is made of Wolverine Suede, which is water, oil, and fire proof.
023 Ice-T SK8-High (2013)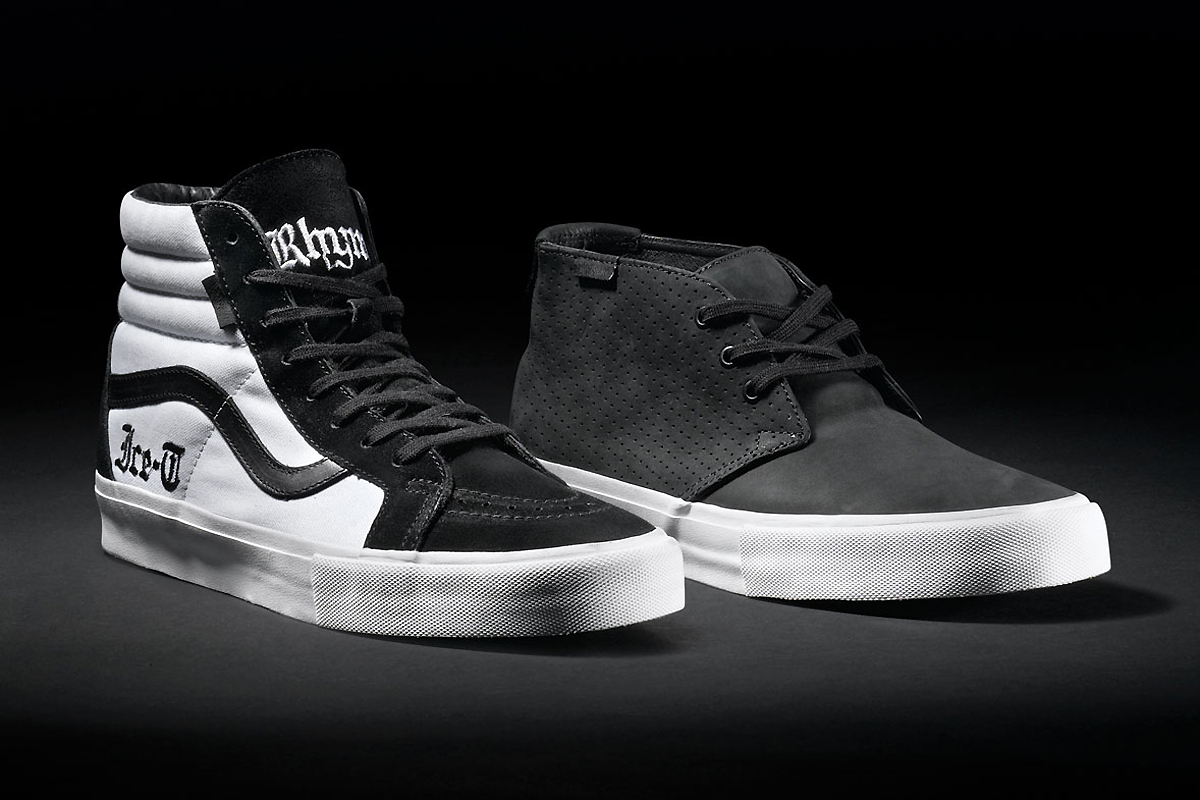 In the late '80s, rapper Ice-T started the Rhyme Syndicate, a crew of west coast MCs and DJs that were a Western alternative to New York's Zulu Nation. Members included DJ Muggs (Cypress Hill), Everlast (House of Pain), Divine Styler, WC, MC Eiht, King T, Mad Circle, and later on, even New Yorker Lord Finesse. Crew members could be recognized by the signature Syndicate snapback hat, which was black and had a thick white SYNDICATE stitching all over the front. Someone at Vans had the brilliant idea to connect one Syndicate to another and another great Syndicate project was born.
The shoe itself has a classic base: white canvas, black suede heel, toe, and tongue, and black laces with golden lace tips. The various Old English embroideries give the shoe its character: on the outside of every shoe is Ice's name, while on the inside of the shoes you'll find the words 'Body' and 'Count', which combine into the name of the infamous punk band, headed by Ice-T. The heels show the word 'O.G.', a term made popular by Ice, and the tongues say 'Rhyme' and 'Syndicate.' The packaging on this one is insane, and is so crazy that they had to bump the retail price up to $120 to make sure they could include all the goodies. The shoes were packed in a black drawer box, which were no longer standard for Syndicate at the time, with a large white ICE-T print on it. Inside you found the shoes, packed in a semi-transparent miniature body bag, inspired by the Home of the Body Bag intro to Ice-T's O.G. Original Gangster album, as well as the packaging for the original Cop Killer album. Inside the box you'd also found a golden revolver key chain, which is a replica of the gun that Ice-T wore on a chain in the '80s.
By sparing no costs to include these details, Syndicate once again showed that the story is what's most important to them, even in the later, less luxurious, stage of the program.