Skaters are stubborn. Give them skate shoes to skate in, tons of them, sponsoring contracts, whatever, and they're likely to have the reflex to go dig out something else—just because. Ask '90s SF legend Drake Jones: "I hated skating in skate shoes," he swears. "If FTC [skate shop] wouldn't trade in my shoes from whatever shoe company I was on that month, I would sell them at Embarcadero and go buy normal shoes to skate and chill in." Period. Initially out of necessity (i.e., when there was no skate shoe industry to betray), there have been since numerous examples of non-skate shoes becoming part of skateboarding's psyche and history.
While it is perfectly normal to address the silliness of the concept every now and then, as Jenkem used to rightfully do with their "Can It Skate?" series, let's also stroll through an obviously non-exhaustive curated catalog of select moments in skateboarding history—these few times when "skateboarding in skate shoes" just didn't happen.
Mike Carroll vs. Puma Clydes
It's always hard to pinpoint where innovations started, but as far as the trend for retro, '70s, sports sneakers (From Puma Clydes and Gazelles to Nike GTS) in early 1990s skateboarding, it seems to have stemmed from Mike Carroll. And the full story is as uncanny as it possibly can get. "One time, [Mike] came back from one of these H-Street houses down in San Diego, or maybe a trade show," Kent Uyehara, the owned of legendary FTC skate shop remembers, "and he was wearing some new but old Pumas—they were like indoor soccer shoes that he bought for 12 bucks." The thing is, Carroll was at the time accessing full legend status already—meaning that everybody in SF wanted a pair of these overnight too. When Uyehara gladly purchased the deader than dead stock from the very surprised San Diego discount store, every skater from the EMB crew was rocking Clydes and Gazelles. The hype took the world by storm.
"I was super hyped on Beastie Boys too, back then, just that style," Carroll reminisces. "I probably saw that kind of shoes on them first. Nick Tershay had a hookup in England that would send him shoes." The mysterious hook up in question, internationally smuggling candy-colored, never-seen-before, retro sneakers overseas, happened to be no else than British pro skater Paul Shier, who would ship the styles he had found in an old wholesale shop in London overseas to the US. "We just came up with a deal where I would send Joey shoes and he would send me product," Shier triumphs. "Mike Carroll and Rick Howard also found out this was going on and also asked for shoes. Mike wanted Pumas and Rick wanted the low top Converse Dr. J's. I sent another box for those guys and in return I got a big box of Plan B and World Industries product."
As the owner of one the very last "for skaters, by skaters" shoe companies today (Lakai), Carroll concludes: "I remember someone at Airwalk said that we were killing the skate shoe industry. Today, I find myself hoping that skate shoes will come back..."
Drake Jones vs. adidas Superstars
There was a pragmatic reason why non-skate shoes originally became iconic shoes in skateboarding's history. "In the '80s, the SMA team—Natas, Tommy Guerrero, and Jim Thiebaud—were all rocking Air Jordans," says Kent Uyehara. "And the reason why all the skaters bought them initially was because they were cheap, like two pairs for $24.99. Once these guys would wear them, everybody in the city would wear them. That's how it progressed." Similarly, Converse Chuck Taylors were worn by Supreme heartthrob Sean Pablo in 2014's Cherry video, hurling them back into the modern world.
Following the Airwalk reign of the 1990s, the initial takeover of 1970s sneakers in skateboarding spearheaded by Mike Carroll led to iconic status for later sneaker models—namely, any shell-toed adidas (and hi and low-top Superstars), heavily rocked by the likes of Drake Jones, Richard Angelides, Kareem Campbell, and Joey Bast—all not sponsored by the brand at the time.
Incidentally, two decades later, adidas awarded them each shoe each as part of their Respect Your Roots project. Suffice to say, this happens almost never, but sometimes it does pay off to be "an early adopter."
As a conclusion, Drake Jones spills the beans on one of skateboarding's biggest mysteries of the '90s: how could he skate with just two rows of unattached laces on his Superstars? "We stuffed taped up socks under the tongues of the shoes so it was nice and snug on your foot," he laughs today. "Could have worn them laceless and still skated." You heard it here first.
Kareem Campbell vs. Reebok Workouts
This was the mid-1990s and it looked like adidas Gazelles, adidas Campus, Puma Clydes, and Nike GTS, had ran their course and served their purpose—the freshest skaters had to experiment with fresher sneakers, for those willing to step out of the "skating in skate shoes" flock. That's how Reebok happened.
First, Rick Howard rocked a pair of white, preppy Club Cs for most of his Virtual Reality part, leaving an indelible mark, and some sort of hope: oh, you can wear anything now, heh?
However, the true Reebok craze started when Kareem "The Dream" Campbell was seen on a Big Brother magazine poster wearing a pair of black/gum sole Reebok Workout Los. The guy, the trick, the graffiti-covered spot (World Industries' private skatepark): everything was on perfect point.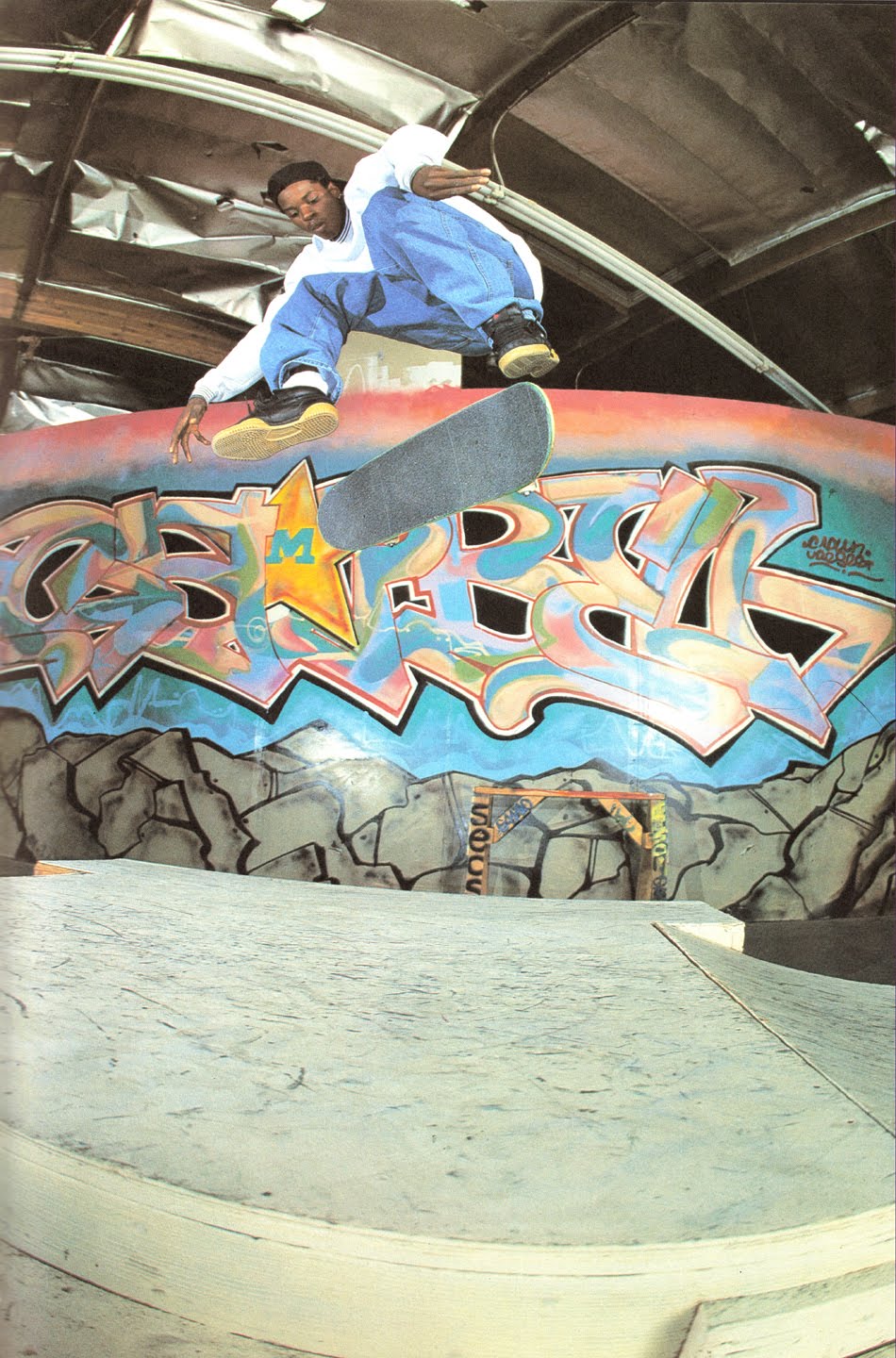 Unsurprisingly, Kareem's first pro-model shoe, the Duff KCK (Kareem Campbell's Kicks), was largely inspired by his Reebok of choice. As was, most definitely, Stevie William's model with Reebok in 2005.
Riding its wave of skate popularity in a low-key fashion, from the short-lived Stevie Williams experience all the way to its recent Palace and Humidity/Sneaker Politics collabs, the British brand has enjoyed its cult following initiated in the mid-'90s in graceful fashion.
Pepe Martinez vs. Timberlands
The possibility of being a Timberland-wearing functioning skateboarder is anything but new: back in 1992, a tiny picture in the news section of Big Brother magazine displayed the it-shoes of the time. Among the mandatory Gazelles, Etnies (with the "E" logo cut off, needless to say) and Airwalk Ones, one of the pros (Steven Cales? Daewon Song?) was wearing Timberlands, with some mention of "carpenter boots" being the new trend.
While Timbs passed the chill shoes test with a badge of honor, it took a few more years to see people actually skating in them. Funnily, upon investigation, the two most famous cases of "skaters skating in Timbos" were not skating in Timbos: Drake Jones varial heelflipped the SF library gap in Nike UGC bricks, and legendary Brit Tom Penny nearly fell asleep aboard a pair of Columbia hiking boots when narcolapsing a mini ramp in his relaxed-to-a-fault, signature casual style.
To see the real deal in action, you'll have to refer to a few other bits and pieces: the late East Coast icon Pepe Martinez, in the part he shared with John Igei in 1997's Prosperity, a few modern-day appearances during the brief Brian Wenning comeback all over every possible dingy NJ skatepark, not to forget Sk8Mafia's superhero Stephen Lawyer.