Hey, Internet. One of the things I like about you the most (aside being able to express my complex emotions with GIFs and having the ability to religiously lurk girls that are out of my league on Instagram) is being able to come across dope, inspirational things that other people out there in the universe are doing with their lives; all from the comfort of my fortress of solitude.
Sometimes, if I'm feeling extra adventurous (or if my WIFI signal is being weak), I'll take myself outside into the real world and meet up with some of these actual, real-life humans. You know, the ones that breath air and aren't made out of pixels. I recently linked up with Ciesay of PLACES+FACES to chop it up and find out what the deal is with his project, and why this dude from London is out taking photos of Yeezy in some Parisian club, whilst I'm at home trying to figure out which emoji combination is going to get me back out of the friend zone.
::
TOM: Yo, wanna introduce yourself?
CIESAY: My name's Ciesay and I'm the founder of the lifestyle and music photography site called PLACES+FACES.
Let's talk about PLACES+FACES straight off the bat, how did that all start?
I was in New York for three months and I was supposed to be making videos while I was out there, but my computer kept bugging out and it was making my life a living hell. Instead of worrying about the videos, I started trying to take photos instead. I was chilling in my uncle's kitchen one day, thinking about all the people I'd been meeting and taking pictures of at shows and it dawned on me that I needed a proper platform where I could share what I'd been up to, rather than just putting them out on Instagram. I hit up my friend Soulz back in London and told him that while I was out in America, he should be taking photos of things going on back home. From there we worked out a good system for sharing and archiving all our images properly and we've been doing it like that since June 2013.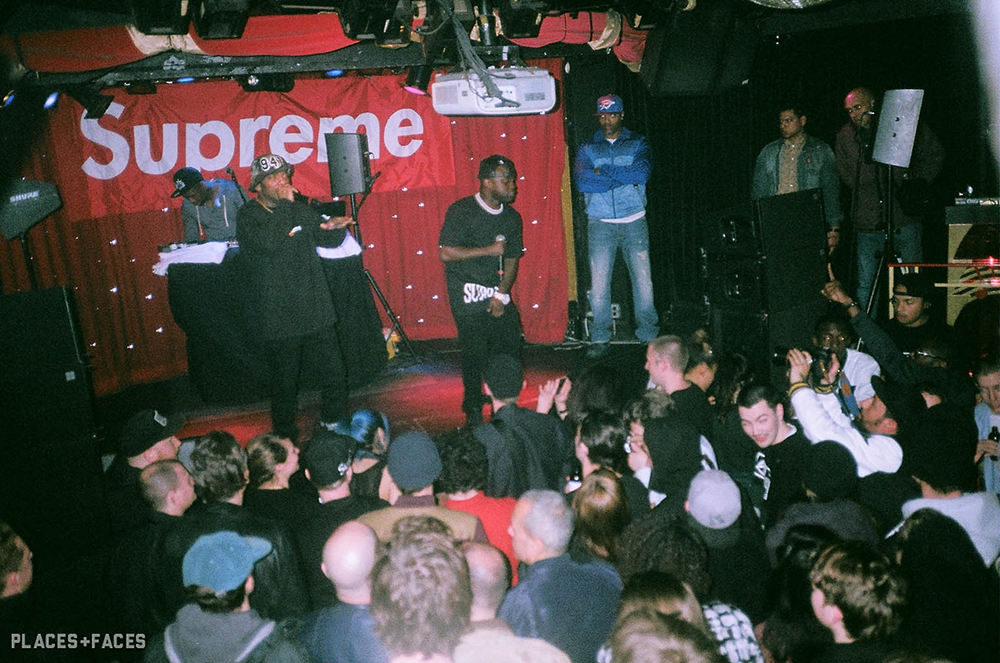 Place: Supreme 'Cherry' After Party, London // Face: Mobb Deep
Dope. So it seems like a pretty natural thing then, rather than something you'd been thinking about for a while?
Yeah, it wasn't really planned at all, it was literally just like "Hey, you're a photographer and I'm not a photographer, but I'm learning, so let's just document what we're doing this Summer."
So you hadn't always been into photography?
No, not at all. In fact, I actually used to hate the idea of photography because I never thought I'd be good at capturing a single moment. I was scared, I guess. Eventually I decided I just had to throw myself in at the deep end and I started learning on the spot as I went along to different events.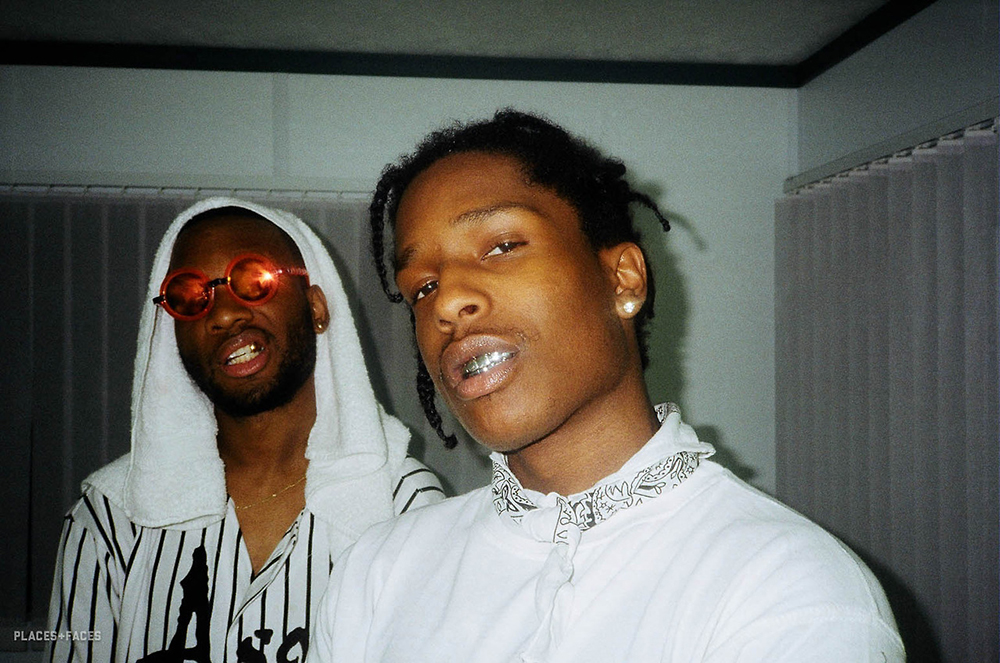 Place: Lovebox Festival, London // Face: A$AP Rocky & J.Scott
I always find that's the best way to approach something new, just to throw yourself into it. It's more exciting that way. Did you start shooting film straight away?
I actually started shooting digital because I already had my DSLR for video, but I've been far more into film lately. The thing with the digital camera is that I found a lot of people would go through to a show and end up taking hundreds of the same or similar pictures. With my film camera, I feel like I'm capturing a more deliberate moment from a more personal perspective. For me, it captures the mood better and sets the tone for the lifestyle I'm trying to portray.
Film cameras are less intrusive than bulky DSLRs, too.
It's just easier to carry around a smaller camera. My DSLR was so heavy, man. I didn't enjoy switching between a bunch of different lenses either. I'm just comfortable with a simple point and shoot.
I appreciate that. Do you still shoot digital as well as film?
Yeah, I mean, I'll still take out a DSLR when I really, really have to. For example, if I'm doing a shoot where I have to get the pictures out quicker, I'll shoot digital. I'll always shoot film alongside the digital shots and keep those shots archived for a later date.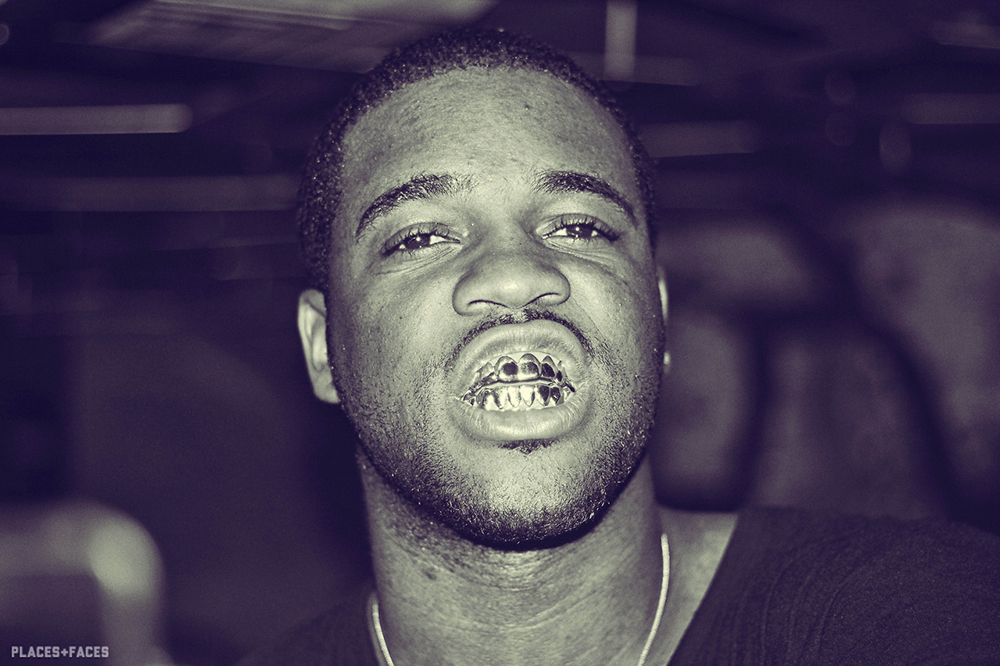 Place: Trap Lord Listening Party, New York City // Face: A$AP Ferg
It's fair to assume that the vast majority of photographers these days shoot solely digital format. Some may have never even picked up a film camera. Would you recommend that they should at least try it out?
I guess it's down to personal preference. I mean, I shot digital for a while before I even thought about picking up film. Once I tried it out, I just found it easier and more comfortable. I think it's good to experiment and see what suits you best.
What about an iPhone?
If someone feels comfortable shooting with their phone and they're happy with the results, then sure, go for it.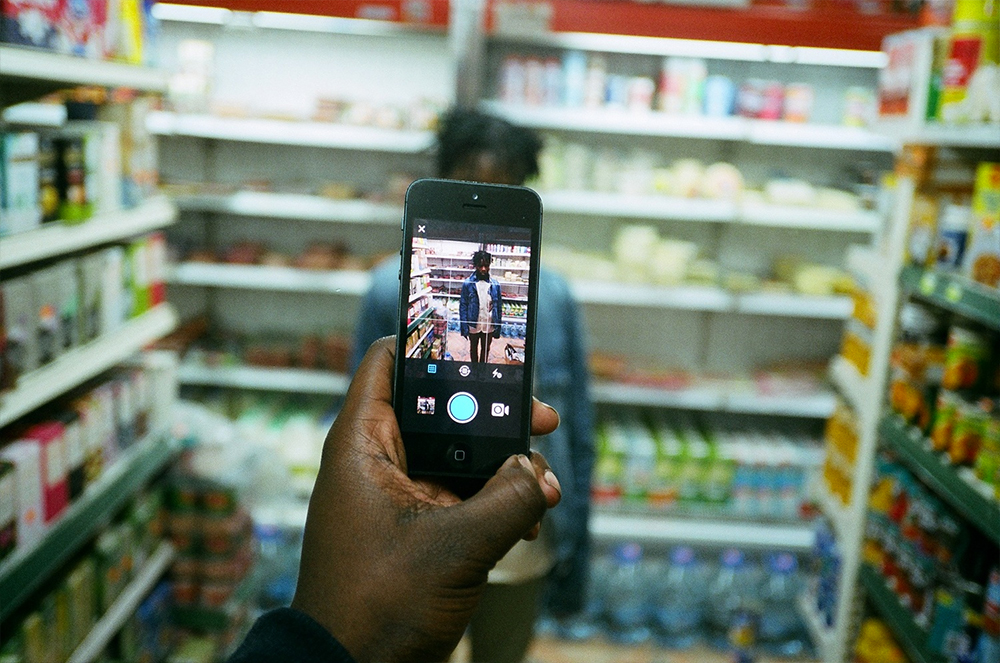 Ian Connor for Human Made
You document the places you visit with portraits of friends and strangers, but you've also shot a whole host of more familiar faces. How did you end up taking pictures of people like Kanye & A$AP Rocky?
If you look back at some of the earliest shots on P+F, you'll see I just started shooting random people I came across in New York. I've become friends with a lot of them now, but at the time they were just strangers that I thought looked interesting. It was when I started taking my camera to shows that I began capturing famous people, I guess. It was never contrived, it was just me documenting wherever I was at and whoever was there. If I see a homeless guy walking down the street with his dick out pissing everywhere, I'm gonna to take a photo of it. Likewise, if I'm up in the same club as Kanye and he's sat there with a smile on his face, I'm gonna capture that too. That's another reason I prefer shooting film, because every shot has to count and mean something.
I feel you. It's more about capturing a specific moment in time, rather that who happens to be in front of the lens.
Exactly. The subject is still important, but my focus is to document a personal experience.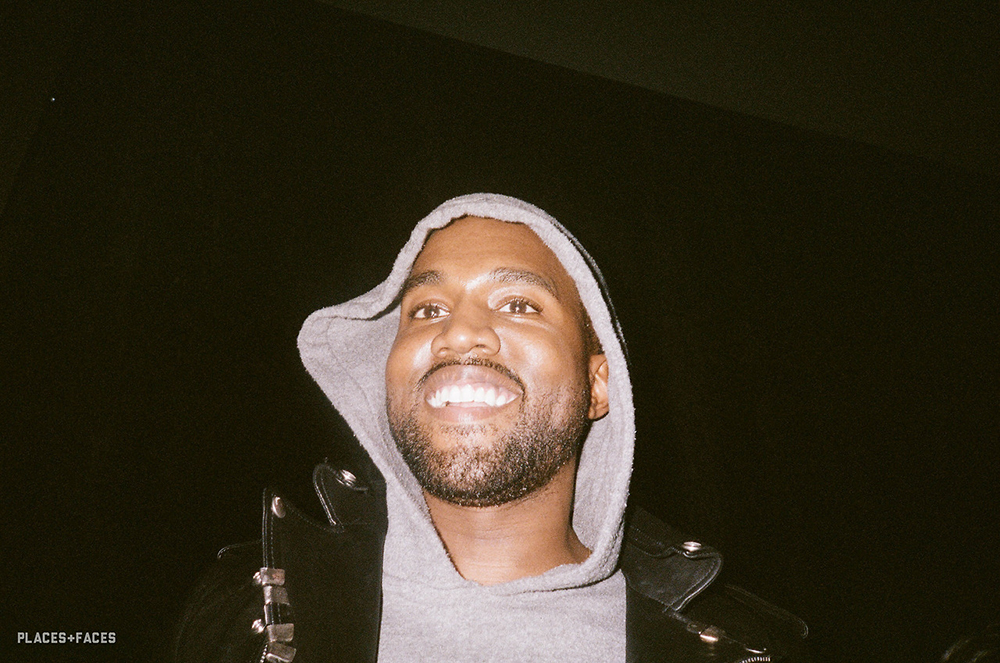 Place: Been Trill Party, Paris // Face: Kanye West
Out of everyone you've captured so far, who are the top 3?
In no particular order, the first one has to be A$AP Ferg. I met him randomly in an elevator in New York just after I started PLACES+FACES. I asked him if I could take a couple of photos and he said he was on his way to the studio but that I was welcome to tag along. Of course, I went down to the studio with him and took a few photos which was cool. I've actually met him 5 or 6 times since then and we'll always try and get a couple of shots and hang a little.
Meeting Kanye in Paris has to be in there for sure. It was a defining moment because that's when people really started recognising what I was doing. People were 'Oh shit, okay, so this guy's out here chilling with Kanye and taking his picture for some reason. Let's keep an eye on this'. So yeah, that was cool. Tumblr went crazy.
Number three is tough, there are so many other people. Actually, there's a set of pictures I took of DMX in New York that will never be released because I can't find it them anywhere. It's been a year and they're still lost somewhere on my hard-drive. But man, he was looking crazy. Like, CRAZY.
It's almost poetic that you'd lose them photos in particular. It's just adds to the craziness. The mystery of the X.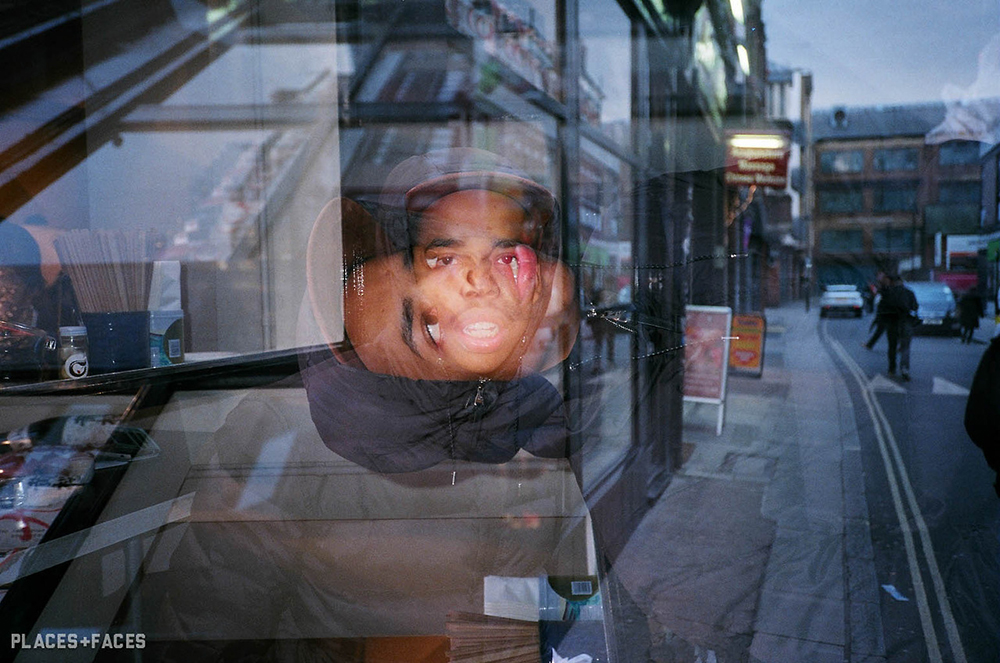 Place: London // Face: Earl Sweatshirt
Who's on top of the to-shoot list right now?
Young Thug. Gucci Mane. Crazy Titch. Although, Crazy Titch has been locked up for so long I'll probably be retired by the time he comes out. I'd love to shoot him in some old school Grime way though. Get a fisheye film camera out.
I've been a big Lil B fan and I missed out shooting him in New York, so I'd definitely want to shoot him. He's rare though. Like, he drops a lot of music videos but you don't really see too many recent photos of him online, you know?
He's like a rare Pokémon. The elusive Lil B. I hope you manage to catch him, man. Aside from the faces, if you could visit any place on earth to take photos. Where would it be?
I'd love to visit India. I feel like I could get a lot of gritty photos there that would contrast heavily against places I've shot already. You know when you see images of hundreds of people jumping and climbing onto the outside of trains out there? That's the raw stuff I want to shoot. All the colours too.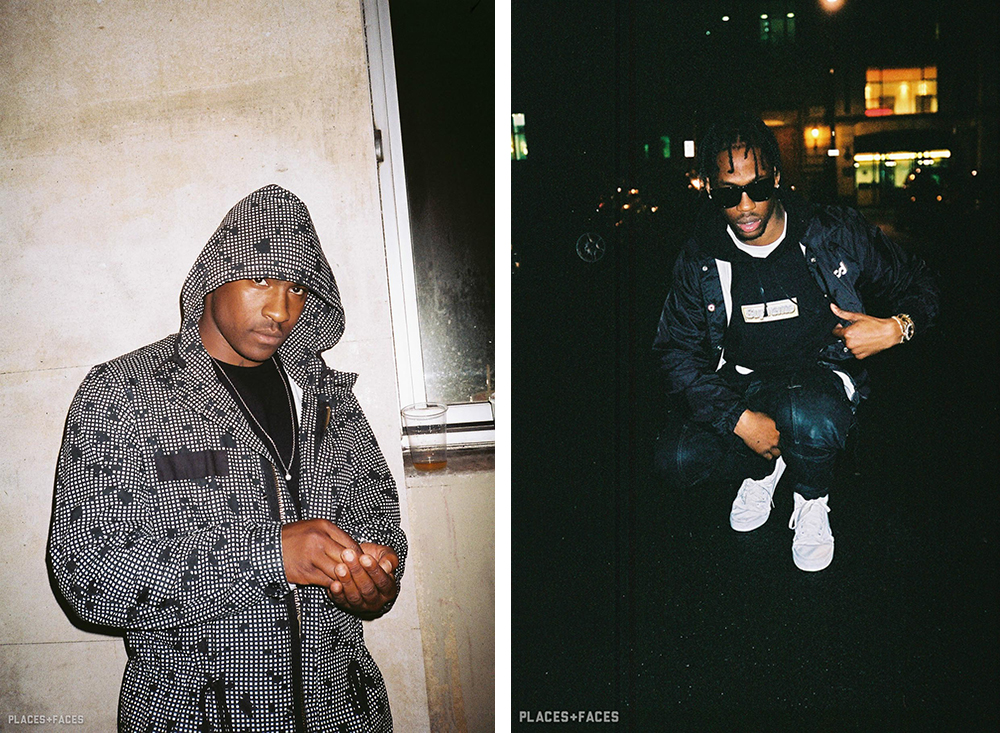 [L] Place: Paris // Face: Skepta    [R] Place: London // Face: Travi$ Scott
Coming back to the UK, London is a pretty awesome city to live in. There's always something going on or someone interesting to shoot. What's your favourite thing about this place?
The mixture of cultures. There's a lot of young people in London who are out here doing their own thing now. There was a time when if you weren't an older grime-head or in with the right people, you wouldn't really stand a chance at music or photography or whatever; you'd just be seen as another young kid and wouldn't be taken seriously.
Because of the internet and this new generation of creative youth, I feel like London is coming up as a whole, culturally. You've got all these kids pushing forwards, trying to make something of themselves because they've seen other kids doing it online and they want to be perceived in the same way. It's just easier now because you can push what you're doing to people outside of London and at the same time you can pull that inspiration straight back into the city.
I agree. The platform for getting yourself out there has changed now. It's a completely different landscape. Like you were saying, back in the day kids were solely influenced by London, but now they're pulling inspiration from all across the globe.
Yeah, it's exactly that. There aren't as many barriers stopping people anymore in terms of location. At the same time, I'd say it's probably more competitive.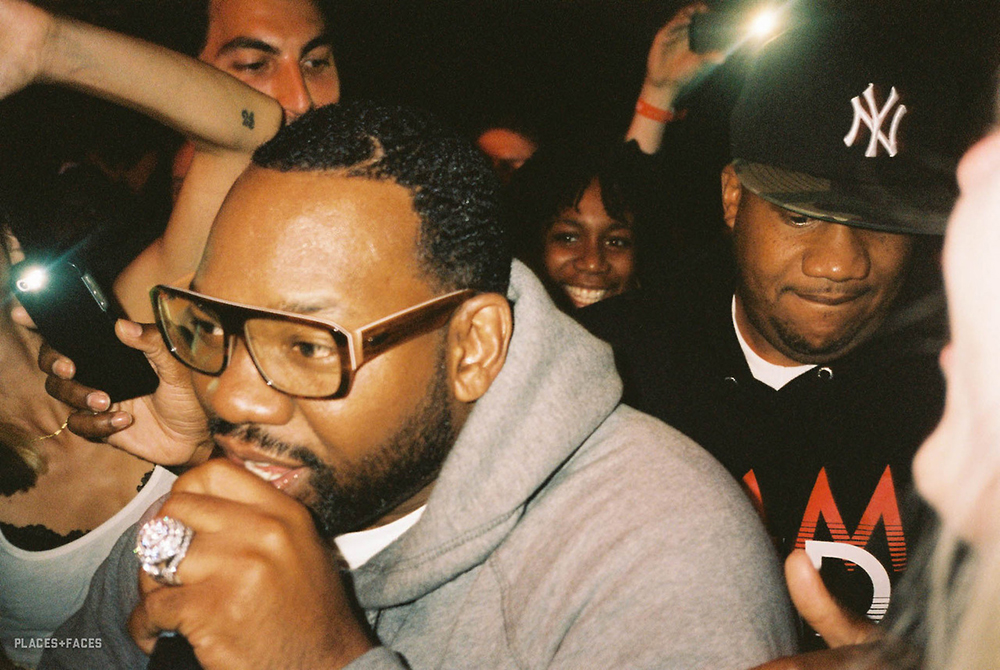 Place: London // Face: Raekwon
I've always seen London as a proving ground for creatives. It's make or break. What advice would you give to a young creative trying to establish themselves here?
Don't be afraid. Also, don't give up if someone says no or says you're not good enough. When I was first starting out, I wouldn't necessarily get into a lot of places because I wasn't on 'the list' or whatever. If It took me lying and saying I work for some big company or if it took me sneaking in through the back door of a venue – I'd find my way in.
I once heard a story about Richard Branson, when he was first starting up Virgin. He used to lie and tell people he had a big office to make him seem more legit. So, when people asked for his business number to call the office, he'd give people a number for a telephone box across the street instead. He'd arrange the call for a certain time and make sure he was at the telephone box to answer and then he'd pretend he was his own receptionist. In the same way, if I need to climb a fence to be where I need to be and get the shots I want, I'll do it. My advice is to be fearless.
Anywhere else in the UK that you enjoy taking photos or visiting?
I haven't really travelled too much within the UK. I'd like to hit up places like Manchester and Birmingham because I know they have cool things going on up there and I'd like to experience that. Even though everyone regards London as the capital city for culture in the UK, there are definitely lots of other places over here that have something to offer.
I'd like to travel more around Europe too. We're lucky to have so many contrasting places on our doorstep. I'd like to travel across Europe and capture the youth culture in each place, to experience it myself first hand and then show other people what's going down.
Let's talk a little more about your future plans for P+F. You've recently starting pushing your own merchandise. Hoodies, t-shirts etc. Is this just to expand and promote the platform or would you like to develop it as a brand in it's own right?
Originally, I only had the hoody made for myself. It's got a reflective 3M print, so when I'd be onstage taking photos at a show, everyone else's flashguns would light up the branding on the hoody and it would stand out. It was just a promo thing, because people would see the name and then want to find out more about it.
Once more and more people saw the hoody, I kept being asked where it was from and I decided it could be cool to sell them and start seeing other people around the world wearing the PLACES+FACES name. We did the 'NO PHOTOS ALLOWED' parody tee after that as I hate having my photo taken, so that was kind of just a joke. None of these things I do are really planned, it's just whatever I think is dope at a certain time. I'm not sure if we'll push the clothes, but if it works, it works.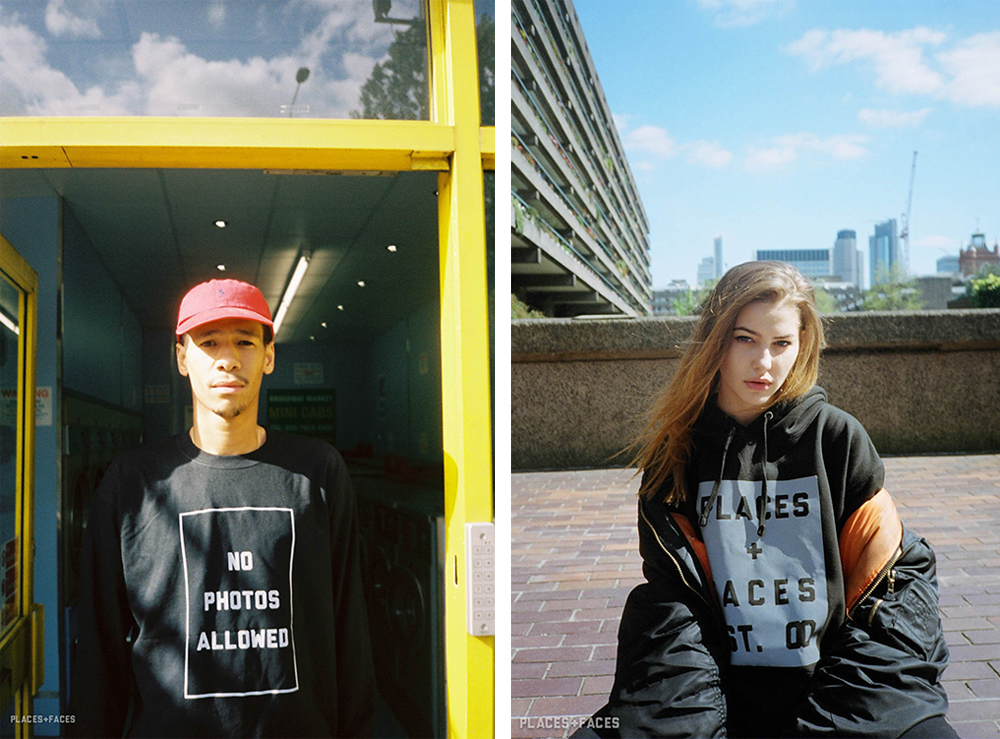 [L] Place: London // Face: Lucien Clarke    [R] Place: London // Face: Sara Grabek
Do you have any upcoming plans for the rest of the year that you'd like to share?
Just to go with the flow really. Travel some more. I'd like to do an exhibition before the end of the year, if not early next year. It would be sweet to produce and release a photo book at some point too.
The book sounds like a rad idea man. It's nice to bring it back to print sometimes. I feel like photos can lose their shine online, but being able to own something physical like that connects with people on a different level. It's appropriate for P+F, for sure.
Let's wrap this up. Any photographers that you look up to?
I try not to look at other photographers work too much because I don't want it to effect how I shoot naturally. Saying that, I met this photographer called Chi Modu who's famous for taking portraits of Biggie, 2Pac, Wu Tang etc. in the '90s. He's pretty dope and I'll check his site from time to time, but really I just focus on what I'm doing.
Biggest inspiration?
The people I've met and the moments I've captured.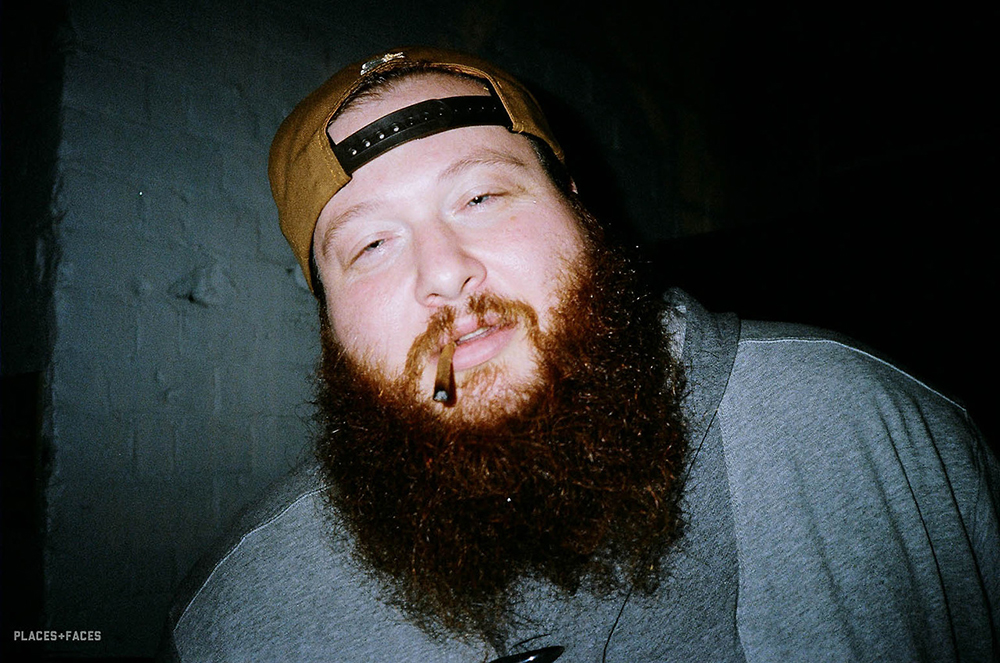 Place: London // Face: Action Bronson AKA Mr Wonderful
Any shout outs?
Shout out my boy Soulz, he co-founded PLACES+FACES with me. Shout out to Kelvin Krash, he's a dope fashion photographer from London. Shout out to MrWize too. Shout out to Darq E Freaker, that's the homeboy. Shout out to Wonder the Ruler, he's got some shit pumping right now.
Shout out London and shout out the youth. Even though it's a cliché, shout out every young person that's trying to make something of themselves rather than being lost in the internet all day.
Amen.
::
Keep an eye on PLACES+FACES to see where Ciesay ends up next. You can also follow P+F on Instagram & Twitter via @PLACESPLUSFACES.