If you know your skateboarding history, you'll know that the board and the walls have always been connected.
Subcultures—especially street cultures—have always developed their own means of visual communication, usually on the walls. The cavemen and women did it with carvings, and the Mexican street gangs of Southern California with graffiti. Rebellious surfers and skaters of the Dogtown "Z-Boy" era were no exception. "Locals Only, No Valleys" sprayed onto drain ditches or around ocean piers clearly spelled out the dichotomy between who was down and who wasn't. Even Craig Stecyk III—arguably modern street skateboarding's first journalist, photographer, and creative—credits local Cholo wall art for a lot of his aesthetic influence. Lettering styles, symbols, and other "territorial pissings" were at the core street skateboarding's genesis. If you could understand the language, you knew where the rituals took place.
The introduction of the flat ground ollie and equipment developments eventually evolved street skateboarding into all-terrain-crushing activity that expanded beyond the slope-laden schoolyards and drained pools. Riders today scour everything from inanimate trash cans and fire hydrants to marble ledges and other architectural elements to shred. Thus came territorial expansion. Now you can find skateboard wheel wallride marks aka black rainbows, wax coating, and even the occasional skate-centric graffiti anywhere from the local skatepark to the local side street. Next to those markings, depending on where you skate and reside, you may also come across a totally new form of visual skateboard expressionism by way of Paper Skaters. The nomadic artist/skater is quietly fusing photos of actual riders—pros and friends—and the art of wheatpasting to create an entirely new medium for appreciating the physical ingenuity skating.
Because of a recent trip to Hong Kong and some understandable identity sensitivity, Paper Skaters agreed to interview via email. After few follow up messages, he was kind enough to elaborate on everything from his influences to future plans for his artwork. His story is an intriguing and humbling combination of small town skate influence meets globetrotting art aspirations. All while striving to inspire other skaters and non-skaters doing it.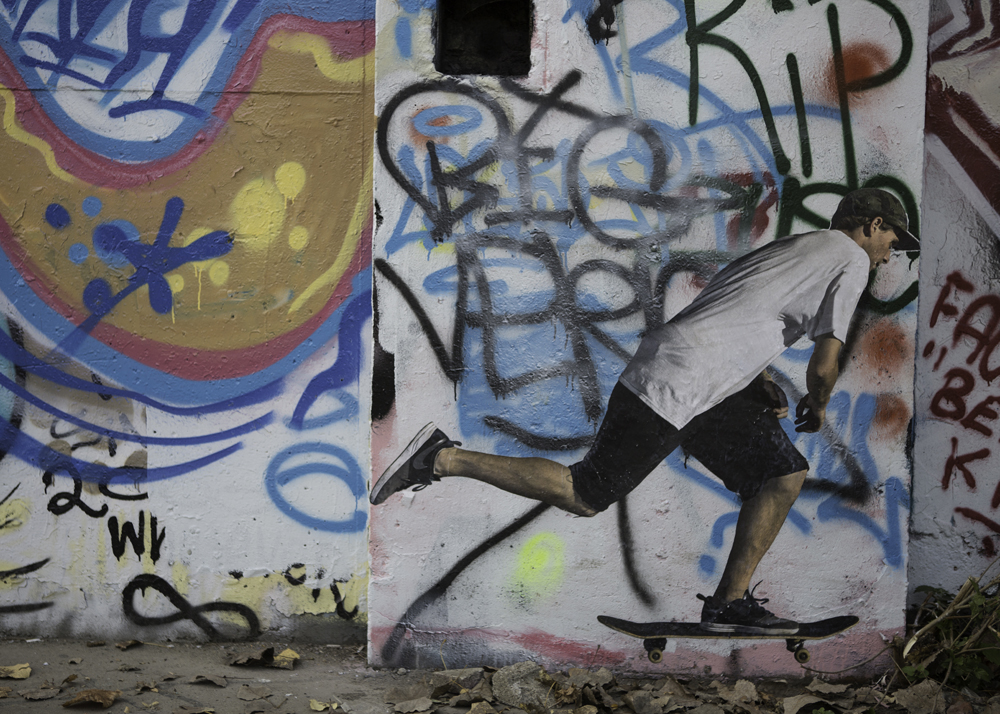 Dana Ericson in Detroit.
RAINEY CRUZ: Tell me about yourself and your upbringing. What led you into wheat pasting?
PAPER SKATERS: I grew up in a small town on the East Coast. I started going to NYC when I was 15 years old, then made the move a few years later. My best friend was into graffiti, so I would always mess around with it. I got arrested a few times doing so. I really enjoyed the rush, but was a way better photographer than painter.
How long have you been doing Paper Skaters and how did the idea originate?
I've been doing it for about two years now. As any skater knows, you look at the world a lot differently. One day, I was stuck in traffic, looking at a building with a bank ramp on the roof, picturing someone skating it. Then it hit me. I need to cut out the skaters from my photos and paste them up in the streets. It seemed like an untouched and original idea.
Do you photograph all of the images yourself? How did you get into photography? What camera(s) do you use?
Yes, I shoot all the photos. I got into photography shortly after I started skating. Being out skating, you see so many interesting things, so I decided I needed to start photographing them. I mostly use a Canon 5D Mark 3.
Are you a skater yourself and how long have you been skating?
Yes, I've been skating for 18 years. I saw some kids rolling around my town and it looked way too fun. I had to get one.
Who are some of your favorite skaters, old or current?
Mike Vallely was my first favorite skater. The first skate magazine I ever got had an interview with him in it. He had a sequence dropping in on a crazy roof. I'm into a lot of different people for different reasons. Too many to name!
Describe the learning curve or process for pasting for those that may not know. What's the hardest part about it? 
It's wallpaper paste. You put it on the wall, then put your piece up, then put more paste over top of it. The hardest part for me is how fragile some of my pieces are and that they have to be at the perfect angle or they will look wack.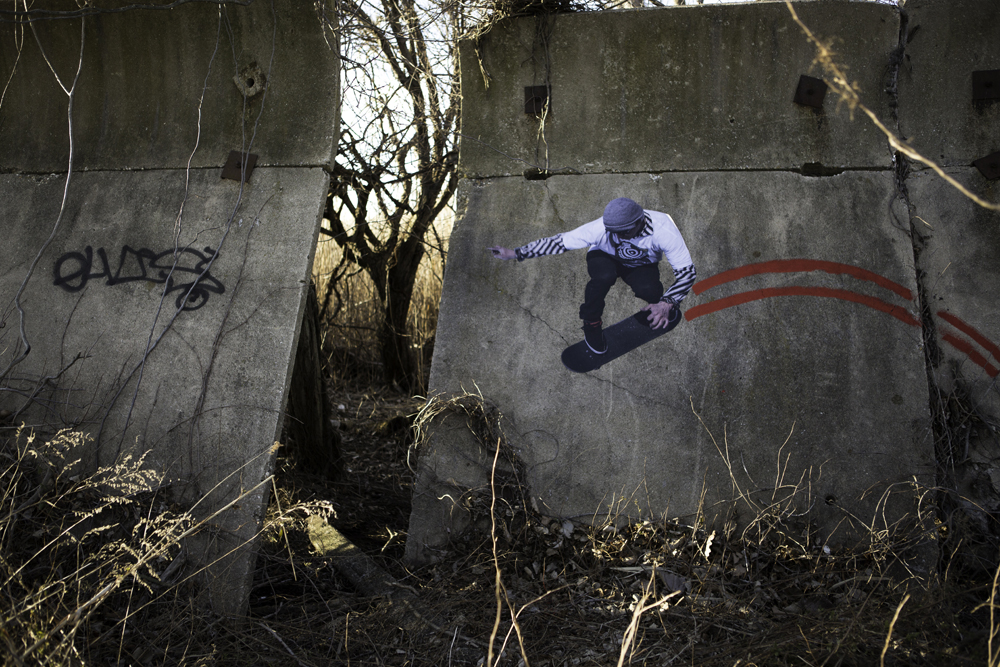 Quim Cardonna wallride in Brooklyn.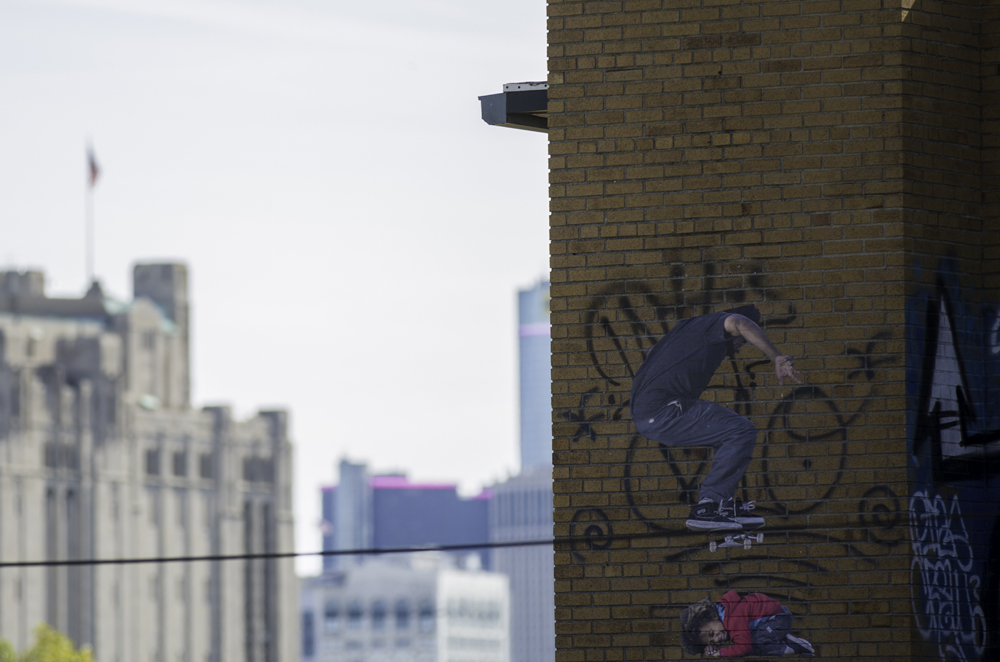 Jahmal Williams and son in Detroit.
What's the step-by-step for a design?
Usually, I shoot some photos, pick out the best one, print it, cut it out, then look for a good spot. Other times, I will see a rad spot and shoot a specific trick for it.
How do you prepare and what are the risks when you go out pasting?
Every time I go out is different. It depends on the spot and the area I'm in. I just play it by ear and feel it out as I go. There is always the risk of going to jail.
Have you ever been approached by cops or anyone? 
I got arrested about a year ago. No fun, but it's part of the game.
Is it important to keep your identity under the radar because of these risks?
Authorities is one reason for sure. Also, I want people to see my work for what it is rather than who is doing it. It makes it harder, but a lot more fun.
What are some of the most remote places you've travelled to or pasted your work at?
Taiwan, South Korea, Hong Kong, Germany, London. I was there to skate with friends.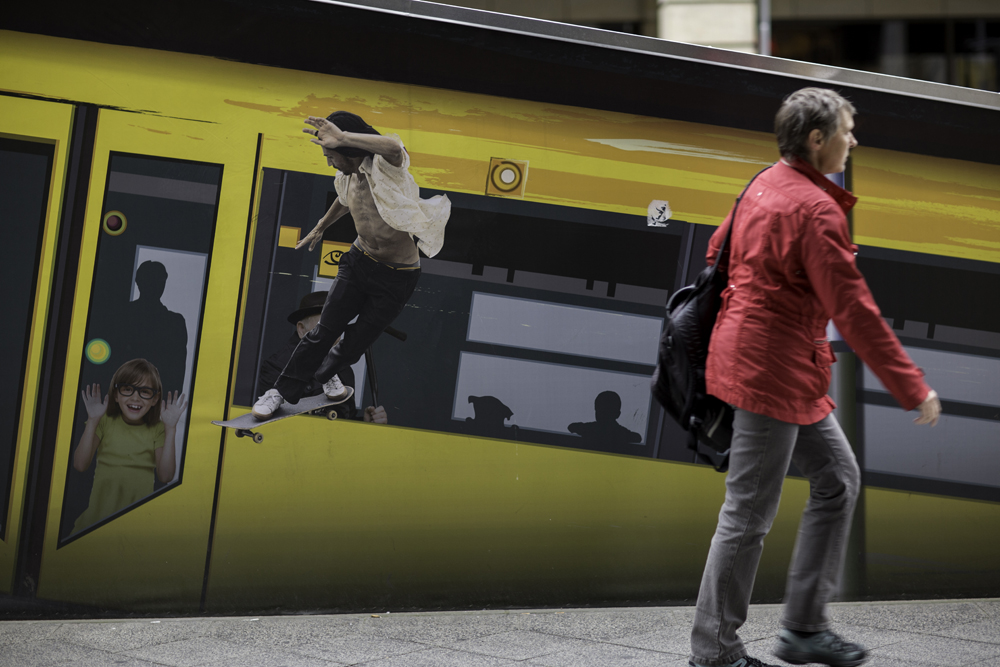 Kenny Anderson back smith in Berlin, Germany.
Have you gotten any responses from skaters, or companies? Which was the most exciting to see?
I've had a bunch of companies [and people] post my stuff. Tony Hawk was by far the craziest. Usually they say they've never seen anything like this before.
What's your connection, if any, to some of the pro skaters that you paste?
Sometimes I know them. Other times, I just ask if I can shoot their photo. They are usually skaters that I respect.
I also notice that you include a lot images of kids skating in your pastes. What's the inspiration or purpose behind that?
Kids come up to me a lot of the times when I'm skating and ask if they can try my skateboard. It brings me back to when I started skating. You can see them get hooked right away. So it's inspiring to me and I enjoy capturing those moments.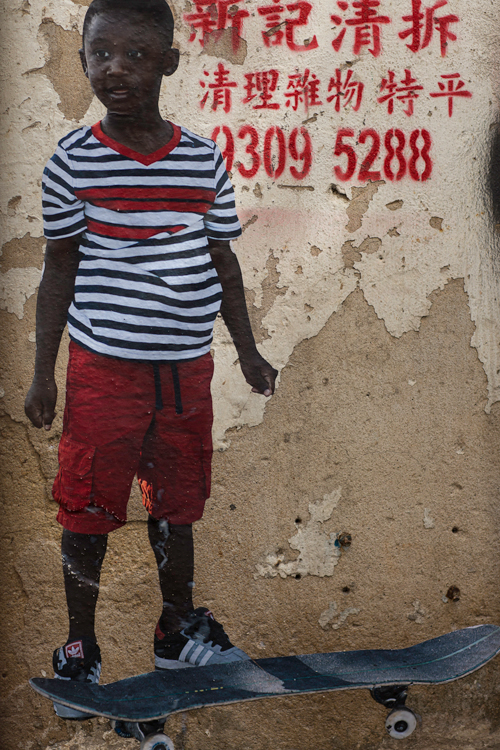 Hong Kong.
What are your plans or upcoming ideas for Paper Skaters?
I have so many ideas I haven't even gotten started. It takes a lot of time. I would like to eventually not just do Paper Skaters and incorporate my other photos into the mix. I don't just shoot skating.
Have you considered going larger scale with your pastes like JR or Shepard Fairey?
Of course I have! You have to pay your dues though. It takes a bit of time before someone gives you a whole building to cover with paper and glue.
Are there any collaborations with skate companies down the line?
You'll have to wait and see.
You were recently out in Hong Kong. What were you doing there?
I went to Asia with some friends to skate and hang out. We had been talking about going out there for a while and finally decided to go for it.
It was wild to be on the other side of the world, literally. There's a lot of good stuff to skate out there.
What was the gnarliest thing about the trip?
Just dealing with the time change and eating some unusual things.
Where you able to get any pieces up?
I managed to get a few pieces up in each city. It was fun, but a bit sketchy not knowing how the cops would react. Luckily, it all went smooth.
Any last shoutouts?
Shoutout to all the people following their dreams.
***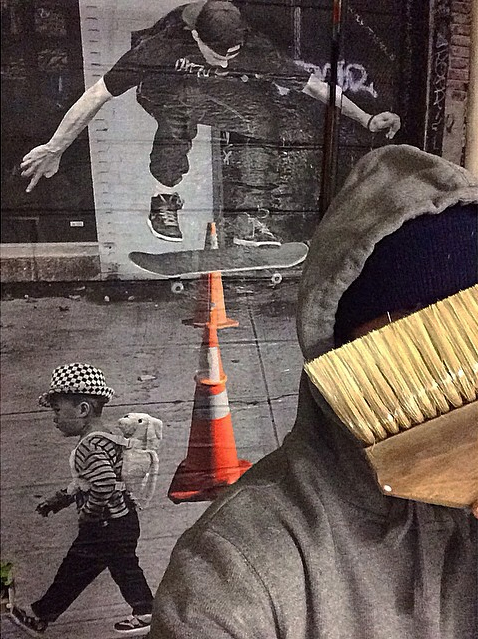 Follow @PAPER_SKATERS on Instagram.