The first time I met Tunji Ige was at Rough Trade in Brooklyn in early 2015. He was 19 at the time, outfitted in jeans and a Chelsea soccer jersey, young and fresh-faced, nervous and shy. He was still reeling from newfound fame: The success of his 2014 debut mixtape The Love Project, catapulted him dead center in the world of emerging artists, particularly because a few months before, Michael Christmas and ILoveMakonnen had jumped on the remix of one of Ige's most popular songs, "Day2Day."
At that moment, "In a basement in Pennsylvania" was quickly becoming the phrase that defined Ige, an expression that placed him in a specific time and place. He was in his second year of school at West Chester University in Pennsylvania when he released TLP, making music in the basement of his dorm room. The lyric consistently appears throughout his debut, on "S.O.T.N." and "For Us"—and on both versions of "Day2Day. "Now you know that you bad / Know know that you bad / And I hate to see you sad / Gave you everything I had but / In a basement in Pennsylvania / Writing songs of my heart just entertain ya," he sings.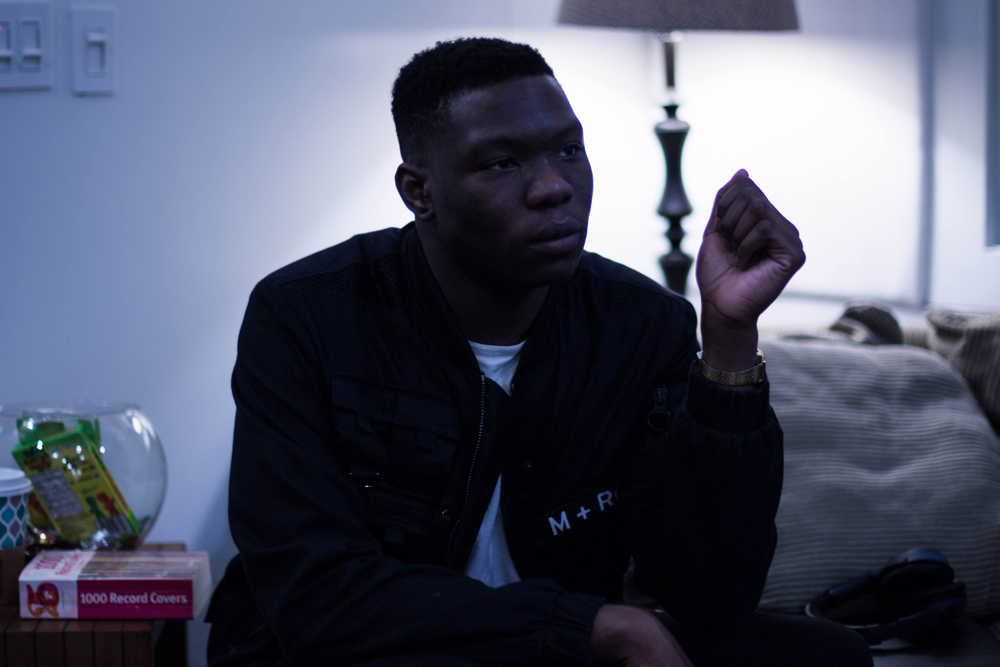 Ige grew up in Philadelphia, but moved to the suburbs in his early teens. Growing up within the city and in the suburbs affected his music, obligating him to connect with, and create a sound that catered to both audiences. He can never remember a time when he didn't want to pursue music.
"I was like a kid in school that was trying to pursue music [but] I was stuck in school, because [I] had to be in school. And the music was the escape," he recalls, "Even in school, just like, 'Oh snap, we're taking notes? Let me go on Logic real quick.' It's always been that. And like putting yourself in a position where [music] can be feasible and real, and that's what like The Love Project is about."
Though he dropped a few singles before his debut, it wasn't until after TLP that it all really clicked. "The album was, like, to evoke trying to get out, and it had a lot of topics that kids could relate to, and a lot of topics that… I felt like represented [my family]—different influences that we listened to in high school, growing up."
Ige actually began working on The Love Project around the age of 16, well after he moved out of Philadelphia. As a first generation Nigerian, his parents played a considerable amount of Afrobeat—especially Fela Kuti—and '80s music: The Parliament-Funkadelic, Prince, and Michael Jackson, artists who have visibly informed Ige's music. His debut is a reflection of his daily experiences as a teenager, from the ages of 16 to 19, running the gamut from love to angst, rebellion to heartache—also taking his ethnic and racial perspectives into account. For his debut, which was entirely produced by Ige, every sample he chopped up was from a love song; and the "Day2Day" remix is how he made his biggest mark. Now, he's producing for other artists, most recently on Makonnen's track "Jag."
My intention with meeting Ige at Rough Trade last year was to interview him for a story, so we went record shopping. At that time, it was apparent that he wasn't entirely sure of himself—but the one thing he was damn sure of were his musical influences. The records he picked up—extending from film scores to house to Afrobeat, jazz, and hip-hop (Common's Be is one of his favorite albums)—showed his wide-range of musical taste and inspiration.
While his expansive influences might not be readily apparent, they are perceptible in the album sequencing of TLP; the progressive house style of "Day2Day"; the soulful, longing hook of "Pocketed Lighter"; and the social commentary of "Ball Is Life."
Indeed, his debut is something of a coming-of-age work, rooted in Ige's experiences as a teenager, on the threshold of self-awareness and self-actualization. As he moves on from The Love Project to his early April follow-up Missed Calls—what he considers his true debut since he doesn't have "mad samples" like he did on his previous mixtape, allowing Missed Calls to be distributed on iTunes, Spotify, and Soundcloud—we see a glimpse of something more, as he edges into adulthood. We see someone a little more bold, and less self-effacing; we see someone more discernible.
"Missed Calls is more so me honing my craft and finding my own sound, and taking those influences and being in a different situation entirely, where I'm like breaking out from being a kid in school, dropping out, and doing tours and doing press and doing like studio sessions in various cities—things of that nature."
With Missed Calls, Ige is still bound to personal goals and world influences, to the rappers who came before him, and his own musical inspiration. In "Fired Up," he maintains a dreamy, synthy, house-like hum, while "Bring Yo Friends" is the party anthem he was always grasping for but hadn't quite seized. "22" is where he delves into reggae and dancehall aesthetics, courtesy of a Vybz Kartel vocal sample—employing a talking drum and various African percussive elements on "All Night" and "22," too. His Nigerian background is something we're seeing more and more of, especially with his documentary Road To Missed Calls, which pairs his family's cultural fundamentals with the American hip-hop culture he's readily joined.
Ige's heritage plays a direct role in Road to Missed Calls: Between shots of city landscapes, studio sessions, and shows, appears a woman's voice—whom we can assume is his mother—talking to him, enlightening us with their shared cultural principles, words that simultaneously uplift and ground the young Philly rapper. Audio from voicemails characterize the documentary, indicating that the album suggests something of his absence—a period of solitude in his life.
"Basically the records represent like everything that's happened in [my new life], and the records connect my fans and people in my life as they listen, to sonically feel what I was feeling at that time, and to justify me like missing out on their phone calls or me missing out on certain events or things in life."
Missed Calls and the documentary chronicle this transitionary period. Between his debut and his latest effort, Ige is changing worlds and sharpening his sound. The developmental proof is there: Missed Calls is able to cater to the electronic and hip-hop domains, showing sonic and lyrical dedication to those who helped shape his path: Common, Kid Cudi, Chance the Rapper, Drake, Kanye. Missed Calls is representative of his current growth, even showing maturity in his co-production credits, by allowing fellow Philadelphia beatmaker Noah Breakfast to put the final touches on many of Ige's beats. According to Ige, "The next album [will be] taking over and putting that to the world. Missed Calls is gonna be the alley-oop for it. It's gonna be a slow burn."
The first time I saw Ige perform was when he opened for Rome Fortune at Webster Hall, one week after The Love Project dropped. It was his first show, and you could feel it: Though he was interacting with the crowd, leading them in call-and-response, his movements and performance weren't as fluid. But this year, seeing him perform at the Hype Hotel at SXSW, we saw the most fearless incarnation of Ige yet. He commanded the crowd's energy—many who didn't even know him—and they cheered him on with fervor, with warmth.
Though Ige will readily admit that he still makes music in his parents' basement in Pennsylvania, the young artist before us now is definitely not the person I met in January 2015. With his latest work, he's carved himself a niche spot between electronic and hip-hop, between singer and rapper, between producer and artist. And Missed Calls is his breakthrough.
***
Follow Tunji Ige on Soundcloud, Twitter @tunjiige, and purchase Missed Calls on iTunes here.
Photos by Renzo Photo.