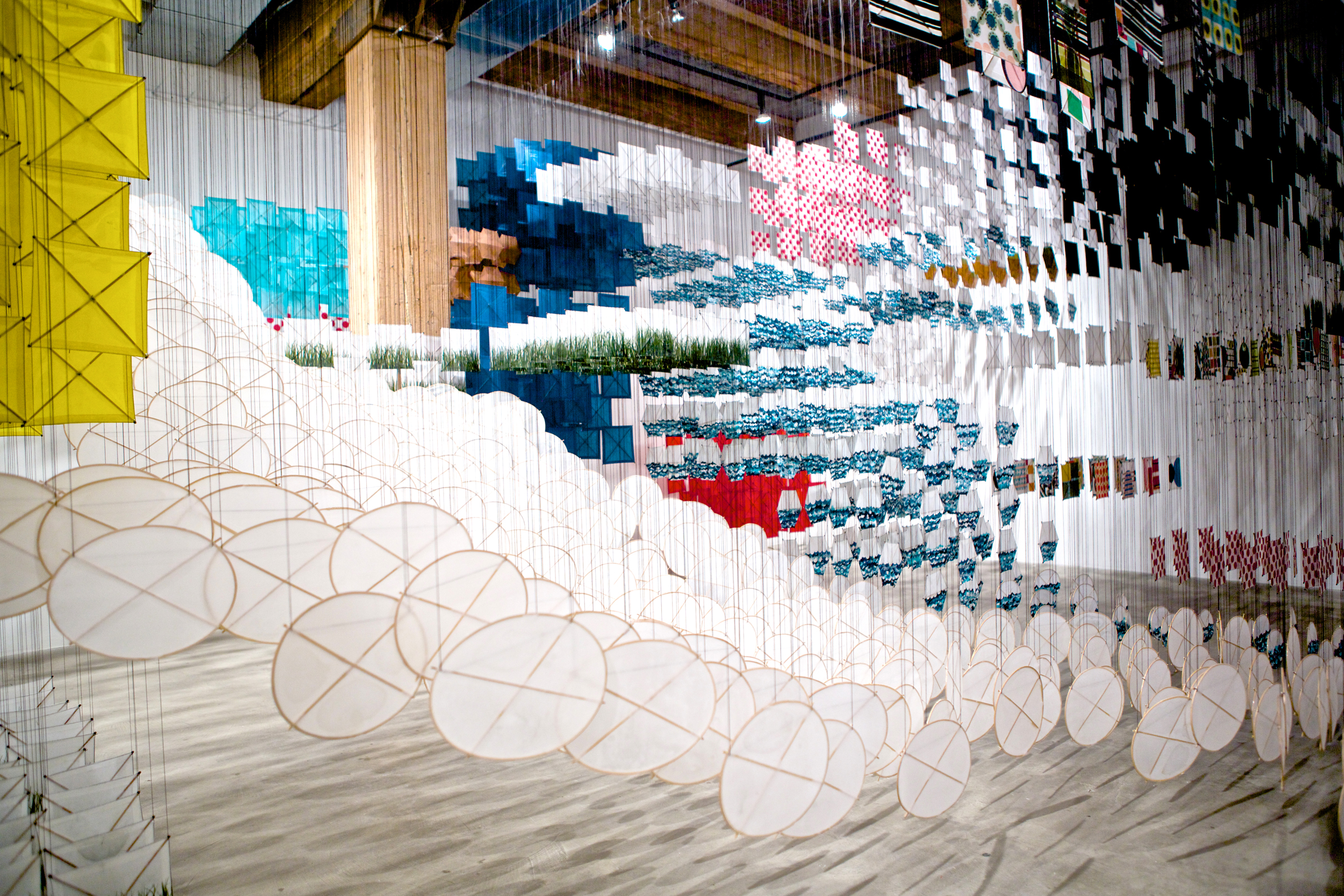 The Museum of Contemporary Art, Los Angeles will present a new configuration of artist Jacob Hashimoto's installation Gas Giant from March 1 to June 8, 2014 at MOCA Pacific Design Center. This exhibition will be the first L.A. presentation of Gas Giant and will mark Hashimoto's first solo museum exhibition in California.
Combining traditional kite-making techniques and collage into sculptural environments, Hashimoto creates massive space-altering installations with thousands of thin paper sheets. For MOCA Pacific Design Center, Hashimoto is producing the third and final edition of Gas Giant. The work was previously exhibited in Venice, Italy in 2013 Fondazione Querini Stampalia presented by Studio la Città and in Chicago in 2012 at Rhona Hoffman Gallery. Beginning on the ground floor with black-and-white clouds of box kites, Gas Giant rises up the stairs and erupts into the second-floor gallery with a kaleidoscopic explosion of light and color.
Hashimoto's work emerges from a history of post-war abstraction, late 19th and early 20th century landscape painting, and traditional pattern-making. And, while the voices of artists such as Agnes Martin and Jessica Stockholder resonate quietly under the surfaces of his creations, Hashimoto has uniquely developed his work into studies of visual experience in space, artifice, and craft that simultaneously combines sculpture and painting. With taut strings tied into thousands of knots holding painted and translucent sheets of paper, the artist binds the aerial and the earthbound, thereby establishing a direct relationship between the work and the viewer.
Hashimoto carefully arranges and grids elements to flow into elegant mimeses of nature, often posing the ethereality of digital production modes and 3D design against the analog physicality of sculpture. Nature and artifice, corporeal and insubstantial, representation and abstraction, earth and sky; Hashimoto deftly unites opposites. Building and layering with simple materials—string, wood, paper and paint, the artist composes wondrous landscapes made only by hand.
Jacob Hashimoto (b. 1973, Greeley, Colorado) lives and works in New York. Previous institutional solo exhibitions include the Museum of Contemporary Art, Chicago; Museo d'Arte Contemporanea di Roma (MACRO) in Rome, Italy; the Bildmuseet in Umeå, Sweden; Querini Stampalia Foundation in Venice, Italy; and a site-specific installation at Schauwerk Sindelfingen, The Peter Schaufler Foundation in Sindelfingen, Germany. Hashimoto regularly exhibits with Mary Boone in New York; Rhona Hoffman Gallery in Chicago; Studio la Città in Verona, Italy; Galerie Forsblom in Helsinki, Finland; and Martha Otero Gallery in Los Angeles.
Jacob Hashimoto: Gas Giant is organized by MOCA Senior Curator Alma Ruiz and Curatorial Assistant Selene Preciado.
RELATED PROGRAMS
ART TALK by Jacob Hashimoto
Sunday, February 23, 2014, 3pm
Ahmanson Auditorium at MOCA Grand Avenue
FREE; reservations strongly encouraged at moca.org/rsvp
INFO 213/621-1745 or education@moca.org
MEMBERS' OPENING
Friday, February 28, 2014, 7-9pm
MOCA Pacific Design Center
Please bring your MOCA membership card to admit you and a guest.
FREE admission; no reservations necessary
INFO 213/621-1794 or membership1@moca.org