On January 18, La MJC released All Gone 2013, the eighth book in the annual series that documents the most sought-after street culture items of the past year. The 248-page 2013 edition features more than 200 products, all hand selected by La MJC founder and street culture connoisseur Michael Dupouy. His carefully curated selection includes items such as Wes Lang's wool blanket, Nike's Flyknit Chukka and the collaboration between The Hundreds and The Shadow Conspiracy, among others. Limited to just 2,500 copies, the book is hardbound and features a splatter-pattern cover designed by Ill Studio and is available in two colors (blue and white or multicolor). Before embarking on a world tour to promote the book, Michael talked with me about his vision for the series, his favorite items inside this edition, his personal art collection and what's next.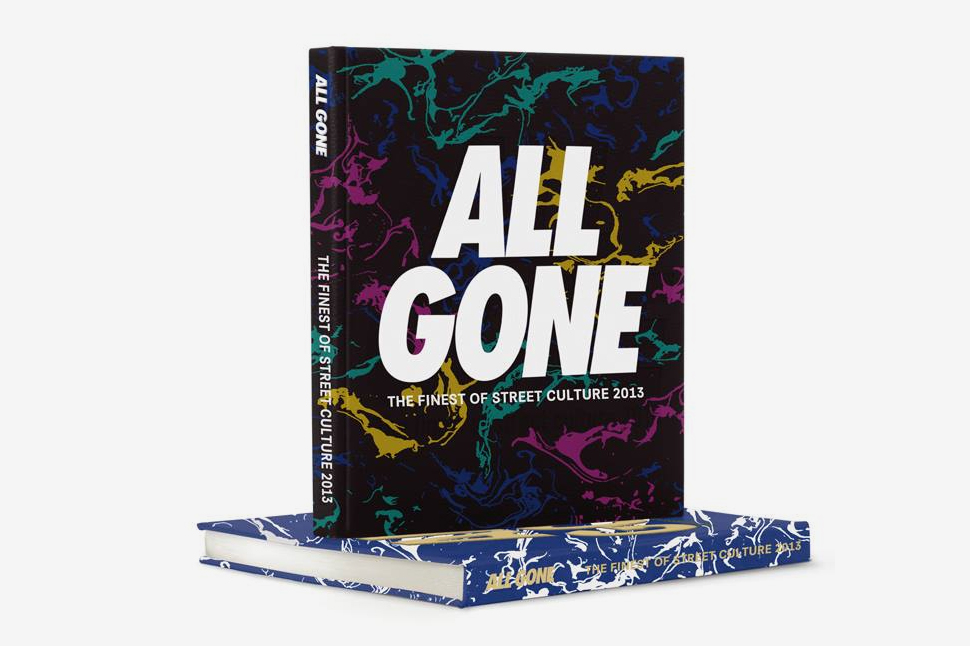 When you released the first edition of All Gone in 2006, I was editing Swindle, a magazine founded by Shepard Fairey and Roger Gastman, and the idea for each issue was to create something that was timeless, that you could keep on your coffee table for years and still enjoy it. It was the opposite of what was happening on the internet at that time, which was an explosion of transient information. Was the creation of All Gone also a sort of reaction from what was happening online?
Exactly. All Gone's primary ambition was to become an almost-biblical reference, paying tribute to street culture's elite. Its goals were to take the finest projects, showcase them, pay tribute to them, decrypt them, set the record straight and, especially, to document them—for eternity. Something the web can't do.
I know a lot of designers who look at old department store catalogs to see what was popular in a certain year. For example, if they are looking to create a 1970s inspired line, they can look at a Sears catalog from 1975 and see exactly what was fashionable at that time. It seems that in 20 or 30 years that designers will be able to do the same with the All Gone books. Did you think about this when you created it?
Yes, it was all about memories. It was all about documenting, and making people remember the past. Giving the readers a point of view, true information… Eight years after its inception, I think All Gone is way more meaningful as it becomes, with each passing year, more of an encyclopedic tool.
What are a few of your favorite items in the new 2013 book? I'm sure it's difficult to choose but...
It's really a tough question. I already chose something like 200 to make the book, and it was hard to do that. It's a bit easier to choose one per category, or one per brand. In no particular order, I really appreciated Wes Lang's wool blanket, Palace Skateboards' Reebok Workout, Supreme for Vans PCL series, Neighborhood for Converse chucks, Undefeated and Bape adidas ZX 5000, Nike Chukka Flyknit HTM, Concepts New Balance 998, KAWS Bobba Fett, A Skating Ape deck, C.E T-shirts collection, Martin Margiela's Converse collection, Puma Suede Sapphire, Supreme Timbos and many more… It's so hard to say!
Is there any product from The Hundreds featured in the new book? I heard Bobby contributed to it...
Yes, Bobby did an amazing creative image specially made for the book, to illustrate the Adam Bomb plush toy. He is also one of the contributors and has his words in the intro with people in the scene such as James Jebbia, Eddie Cruz, Edison Chen, Keith Hufnagel, Sarah Andelman from colette and some others… There is also a page featuring The Hundreds collaboration with The Shadow Conspiracy.
In addition to straight streetwear, there are always items from the art world, such as a Barry McGee book or Todd James sculpture. What fine art do you have in your personal collection? What would you like to add?
I started a couple of years ago to collect and I'm now a lucky owner of pieces from Barry McGee, KAWS, Phil Frost, Scott Campbell, Aurel Schmidt, Lucien Smith, Wes Lang, Cyprien Gaillard, Landon Metz, Todd James, Steve Powers, Futura, James Jarvis, Os Gemeos, José Parlà. If I could afford it, and if I had a bigger space, I would be more than happy to add legends like Willem de Kooning, Christopher Wool, Mark Rothko, Jackson Pollock, Cy Twombly and many more! From my generation, I would love to get pieces from Nate Lowman, Sam Moyer and Ethan Cook, to name a few.
What do you think has been the most successful art/brand collaboration to date? Tom Sachs for Nike, for example...
Tom Sachs for Nike was a really good example, but I think Supreme did the best job ever with their artist deck series. When you look at all the names involved since day one, it's really impressive! Rammellzee, Koons, Hirst, Chapman Brothers, Richard Prince, Nate Lowman, KAWS, McGinness, Dan Colen, Andrei Molodkin, Peter Saville, Larry Clark, Murakami, Maryilyn Minter, Christopher Wool, George Condo, Baldessari, Robert Longo—it's simply an incredible line up!
What's next for you?
A world tour to promote the book and celebrate with all the readers around the planet. I will tour in Europe in January, the U.S. and Mexico in February, then China, Taiwan, Korea and Japan in March. Lots of fun!