On Fairfax Avenue, next to FourTwoFour and across the street from Canter's and Supreme, is Melody Ehsani's shop, a women's boutique nestled in the heart of Los Angeles' streetwear mecca. Her store is simple, the interior white, her jewelry arranged on tables throughout the floor. Iconic neon wings illuminate the back wall, which is lined with clothing pieces from her collection, loud floral prints, lace, and Egyptian-inspired graphics. Her shoe collaboration with Reebok is proudly displayed, as are hats and bags, with various artwork adorning the walls.
But Fairfax is a boys' club, and Ehsani is the odd one out.
She opened her shop three years ago, hoping the decision to have a brick-and-mortar store on Fairfax would bring other women's boutiques to the area. But it hasn't; besides Ehsani, there are no other women's shops in sight. "I [opened the store] because I wanted to create more of a community..." says Ehsani. "I know it sounds kind of weird, but I felt like it would be really cool to have a place where girls can come and just feel supported." Because she didn't grow up with a similar sense of inclusivity, this pushed her to create such a space.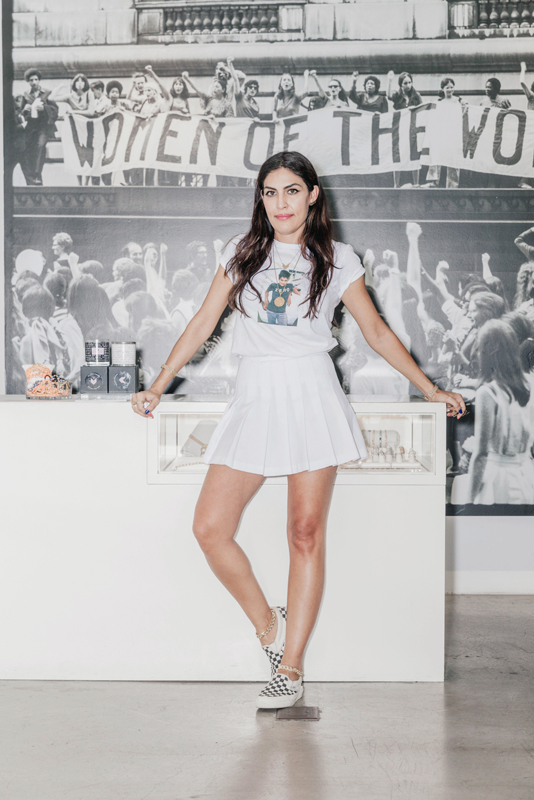 Ehsani grew up maneuvering between her 'American' passions for art competitions and hip-hop—Hieroglyphics, Big Daddy Kane, and The Pharcyde were some of her favorites—with her Persian upbringing, which, more or less, didn't consider such interests valuable. She walked a thin line between her two cultures, listening to N.W.A in the car because her mother didn't understand the lyrics, and secretly attending clubs with her family friend because he was Persian and Ehsani's mother trusted him.
Ehsani's mother is a painter. Yet, because of the social constructs of their Persian culture, her mother never saw any worth in her own art or her daughter's art. Instead of pursuing an artistic career, Ehsani was told she had to attend law school—a common career choice for Persian girls since it made them better candidates for marriage. If she had to pursue law, she was intent on becoming involved in women's advocacy, a field that personally motivated her.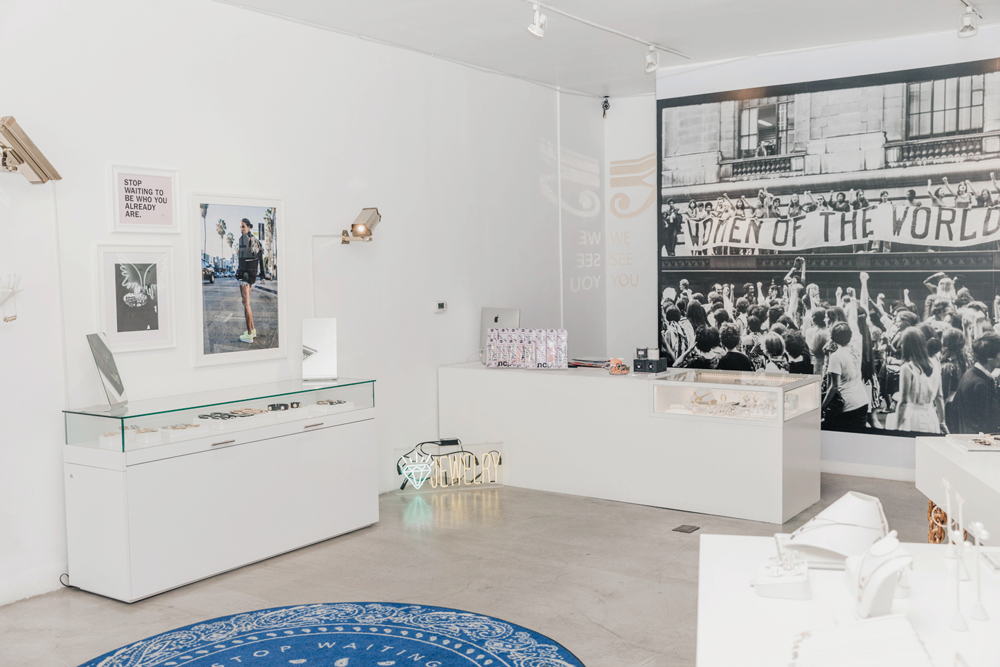 "In Persian culture, it's like your value is more determined by who you marry than what you do... [My family] started trying to make me get married. They tried to like figure out how they could set me up and arrange something, and it was a really hard time for me because it felt like I didn't know who I had grown up with. Like it was all these cultural things that I started waking up to, that I was like, Holy shit, these are the little underlying things that I've always thought but I couldn't identify."
Ehsani only lasted a week in law school. While going through a bout of depression in her post-law school haze, her friend suggested Ehsani see a medical intuitive, a practitioner of alternative medicine who claims they can identify the root of your physical or emotional distress using their clairvoyant abilities. Ehsani was hesitant but reluctantly agreed.
"I spoke to her, and in that one-hour appointment, she kind of changed my life. She just broke me down in a way that nobody had ever broken me down before. I felt like it was the first time in my life where somebody really saw me for who I was.
My mom just never saw me for who I was. She was always trying to fit me into this thing that she thought was best for me, but she never took the time to get to know me or to allow me to get to know myself... That was a challenge, but it just felt like going up against inertia, a lot of inertia."
The intuitive told Ehsani that her calling was to help serve the world through product design. The idea sat heavy with Ehsani, so she explored her options and enrolled at the Art Center College of Design in Pasadena, California. "I showed up to my first night of classes and it was like every star in the sky just aligned. I was like, Oh my god, this is who I am."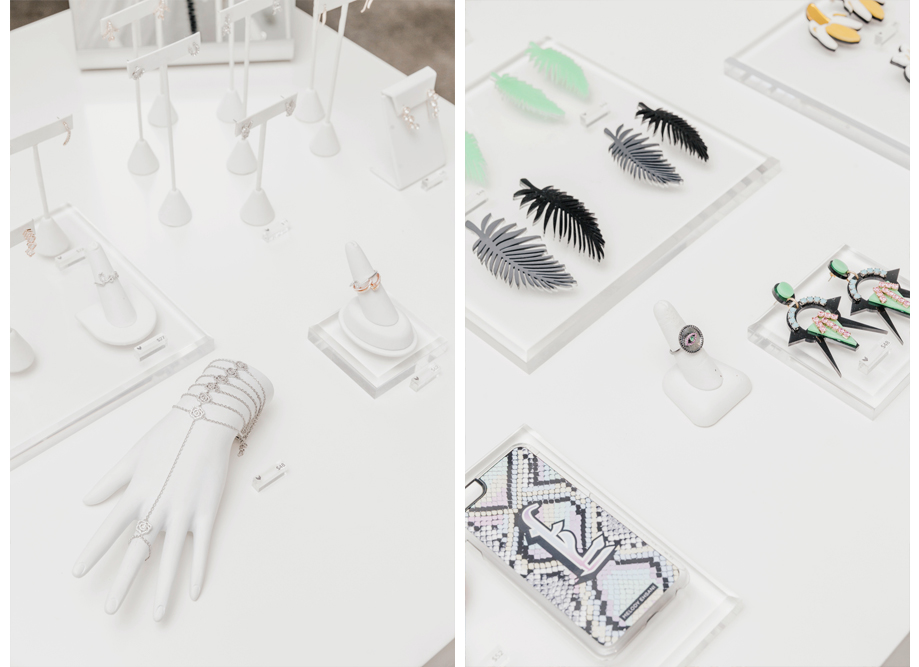 After an internship with Creative Recreation, Ehsani decided to create her own shoe line. She moved to China for four months to locate a factory that would manufacture her designs. Because the downtime between the shoe collections was so long, she began to toy with the laser cutter at school, thinking about the different kinds of jewelry she could make with it. Soon, she began to design the brightly colored, oversized plexiglass earrings that she's so well-known for.
However, after three years of making shoes, one of the shipments holding her entire collection was seized by U.S. Customs. Stuck in a dilemma to pay an exorbitant amount of money to retrieve the product, she decided to stop making footwear. But that didn't end her affair with shoe design: She partnered with Reebok in 2011 and signed the company's first artist collaborative deal. This partnership has since evolved into Ehsani's first-ever apparel collaboration with Reebok Classic.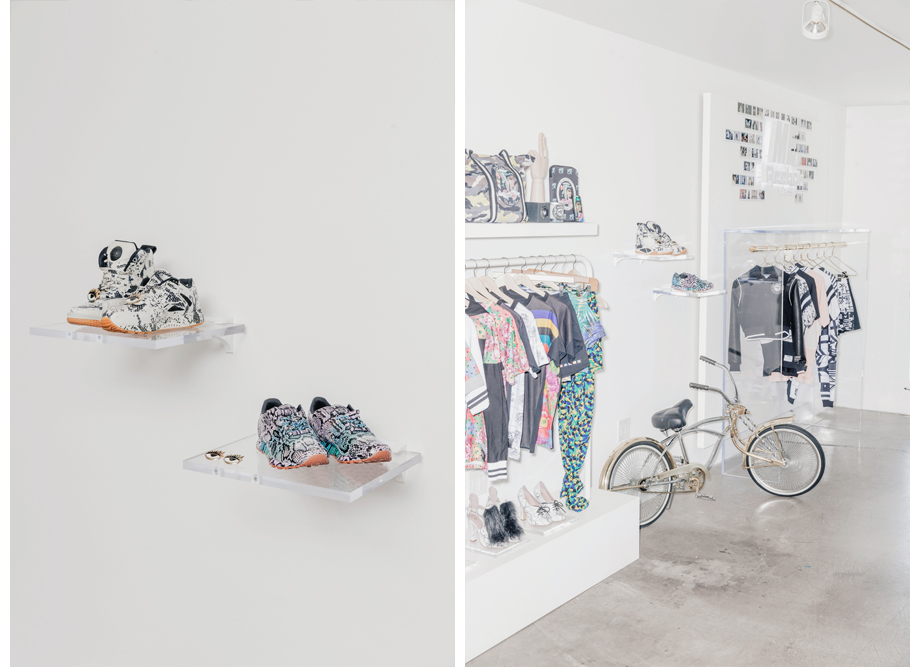 The way in which Ehsani's Persian and American cultural influences are deeply intertwined in her life are reflected within her design work. Graphics like hamsas—protection from evil—and the Eye of Horus, and Arabic scripture give her brand a more global feel, and are evocative of her ethnic background. Some of her apparel pieces, like the Reebok vintage henleys and the women's liberation jacket, are retro-inspired—speaking to hip-hop and punk aesthetics, and her American upbringing. Each piece is a bridge for Ehsani's biculturalism: "I feel like this is my little way... just to kind of remind people [that we need other voices]."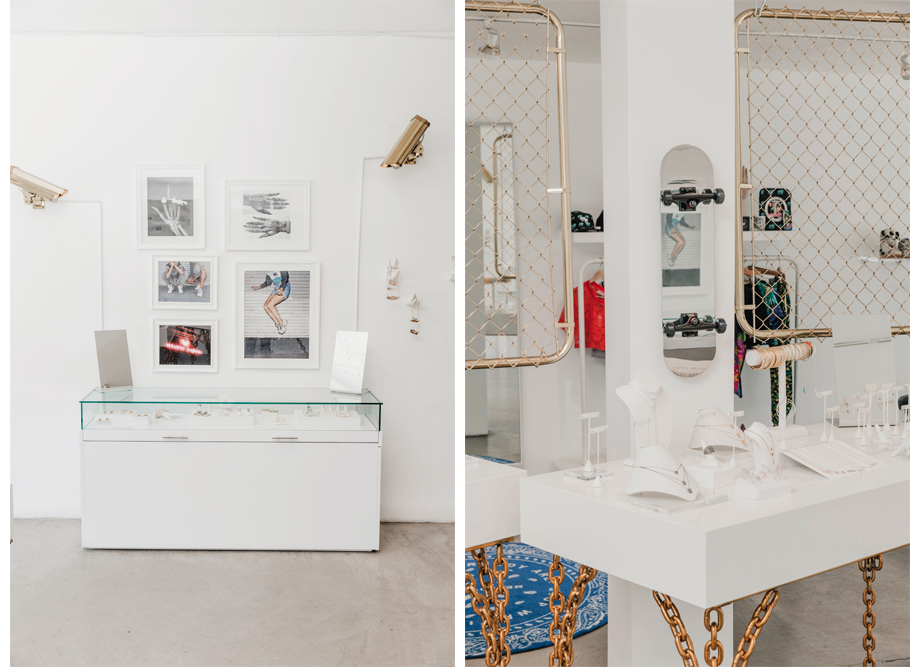 Though Ehsani abandoned her law school aspirations, she never abandoned her call for women's advocacy, a cause that remains instilled within her designs and brand philosophy. Her interest in female empowerment is deeply connected to her Persian heritage, and to the idea that women feel pressured to take a prescribed path. She herself was the first person in her family to break the cycle. "That's why it's so scary, that's why it's so big. You're changing it for everybody that comes after you. That's huge. Every woman in my entire family has done the same thing. Like they've just repeated history, and it's like here you are—breaking it."
For Ehsani, designing and running her namesake brand has become a complete purpose. "When you just do what you love or do what you were created to do, that's everything. It doesn't matter if you're the garbage collector, if you love doing that, then that's the greatest service you could give to the world."
***
Photos by Julian Berman.