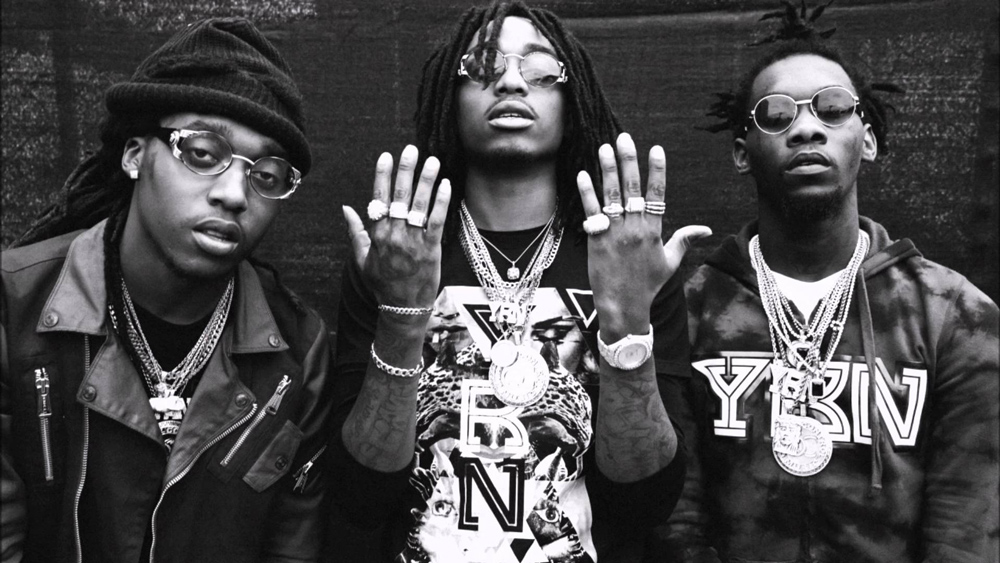 Migos: Takeoff, Quavo, Offset
The first time I heard of the Migos, Reese LaFlare ended his set at SXSW 2013 going crazy to "Bando." The song was so new, most people thought it was his record. The first time I took notice of the Migos was on "R.I.P." when Takeoff sputtered the words, "I'm thinkin' of moving to Canada but I know they still gon' be watching me." Such a simple line but the beauty is in the conviction and truth of the bars coupled with the signature Migos double-time flow. With the subsequent release of their breakout tape, Young Rich Niggas, the Migos announced to the world they had arrived. On the back of melodic auto-tuned hooks from Quavo and lyrical compositions from Offset, the Migos have quietly changed the face of hip-hop; collaborating with Drake, releasing their debut album, watching Offset go to jail not once but twice, getting their own flavor of Rap Snacks (WITH A DAB OF RANCH!), signing to GOOD Music then quietly disassociating from Kanye plus garnering a number one Billboard record with "Bad and Boujee." All the while, the most consistent and baritone member of the group, Takeoff, has been grabbing rebounds and hustling after every loose ball for the team.
Recently, since Quavo's scene-stealing verse on Travis Scott and Young Thug's "Pick Up The Phone," there has been a wild narrative in pop culture calling him the Beyonce to Migos' Destiny's Child. Some memes even went as far as comparing Offset to Kelly Rowland and Takeoff to Michelle Williams. It sounds good on the internet, but in actuality the Migos are more like TLC, with each member playing their role perfectly to make one cohesive union. This union of holy Trap-trimony is best seen on tracks such as "Freak No More." Quavo kicks in the door with a hook that sets the tone for what type of freaks we are dealing with. Offset follows up with true facts about how to treat freaks when "they don't have a house and don't have a vehicle." Tying up any loose ends, Takeoff tells the story of a freak being in her feelings who eventually leaves him speechless when his lady friend tells him she doesn't want to be a freak no more. It's truly a fascinating tale and it really takes a group effort to expose how messy these freak hoes can be.
This isn't the only example of the Migos coming together like Voltron for our greater good. More recently on "T-Shirt," the Migos put together a modern day trap classic while simultaneously paying homage to one of their trap forefathers Shawty Lo. Coming off the bench from "Bad and Boujee," Takeoff flexes his hook-writing ability, assisting Quavo with a Mannie Fresh-inspired pre-hook. He transitions that pre-hook into a nimble 16 bar verse punctuated with his sharp, deep ad-libs. Quavo even takes the backseat, filling in Takeoff's empty space with trap harmonies. He returns for a quick 8 bars proclaiming himself, "Quavo Yoda, pourin', drankin' sodas." Offset rounds this collaboration off with a truly majestical moment where the beat drops and he sums up the rockstar rapper generation, "Divin' off the stage in the crowd it's a mosh pit."
"Call Casting" off of their upcoming second album, Culture, is another example of their great teamwork. Each member starts their verse with a signature ad-lib similar to how they usually start their verse yelling their own name. Takeoff being the Actavis activist starts his verse with a soda pouring and a strong "ack!" Quavo follows up, beginning his verse with the sound of a fork scraping a bowl and a few quick "skrts!" For the grand closing, Offset mimics the sound of owl—or maybe he's just excited for the verse he's about to spit. Anyway, you can't deny the creativity and the execution from the Migos. It's clever and it allows each member to stand out without outshining each other.
Quavo is having a breakout year and Offset got the Migos their first number 1 record, but let's not forget it took a group effort to get them here. When two-thirds of the Migos were flying the "Free Offset" flag, Takeoff was my favorite. Now that Offset is out and finally catching his stride, it's a toss up on every song. One thing I do know is, none of their solo songs compare to the energy, lyricism, and finesse they bring to a track together. So next time Lil Yachty name drops that he's in the studio with Quavoncé Knowles and Offset Rowland, tell him don't forget Takeoff in the bando.
***