At The Hundreds, we do a lot of collaborations every year. Many of these projects represent our favorite aspects of Los Angeles culture, past and present. But one of our recent partners on a collaboration has more impact on LA's future than any other, their finger on the pulse of this city's most pressing issues and an inspiring plan to fix them. We debuted The Hundreds X Homeboy Industries Collection at Family Style Fest a couple of weeks ago, but now that it's seeing a wider release worldwide, we wanted to tell you a little bit more about Homeboy and why you should pick up one or both of the pieces — pronto.
No, Homeboy isn't some upstart streetwear brand with a ton of buzz. It isn't a nostalgic movie making a comeback in pop culture, either. Though, it wouldn't be difficult to turn the mission of Homeboy Industries into a feature film, as they've helped generate tens of thousands of heartwarming redemption stories.
Homeboy Industries was started by Father Gregory Boyle in 1988 after he took over the Dolores Mission Church in East LA, the neighborhood with the highest concentration of gang activity in the city called the Gang Capital of the World. At this time, Los Angeles was in the throes of the "Decade of Death," when gang violence became commonplace and about three people a day were dying at the epidemic's peak.
Father Greg saw the city trying to bandage the issue with law enforcement and mass incarceration and knew it wasn't the answer. He knew people in the city needed a helping hand rather than more punishment and suffering in their lives.
"Gang violence is about a lethal absence of hope." -Father Gregory Boyle
What began as a change in philosophy, treating gang members and men and women who were in and out of prison with empathy and offering support rather than discarding them, has become the largest gang rehabilitation program in the world. Roughly 10,000 people walk through Homeboy Industries' doors annually in search of a new lease on life. Besides offering immediate basic needs like addiction services and help with emergency housing needs, Homeboy commits to these people for the long haul and picks them up if they falter on their path to change.
The impactful reach of Homeboy Industries stretches far beyond the city limits of LA now, too. In 2014, Homeboy Industries launched the Global Homeboy Network. Just five years later, over 400 organizations around the world are part of Homeboy and share its core mission of giving hope and help to the marginalized communities who have been ravaged by gang violence and mass incarceration.
Whether you're in LA and utilizing Homeboy's Bruno St. headquarters or seeking the assistance of one of the more than 400 branches of the Global Homeboy Network, you'll find someone who wants to help you overcome your past.
Homeboy offers career training, parenting courses, anger management, mental health resources, legal assistance, tattoo removal, and a wide range of other services to the men and women that want help. Because if someone really wants the assistance, Homeboy will do better than meeting that person halfway, Co-Director of Navigation and Case Management Steve Avalos told me. They'll go all the way to meet them.
I spoke with Avalos, who walked through Homeboy's doors in search of that helping hand himself, about the immense impact their organization has on the community and their unique approach to breaking the cycle of recidivism.
"It all starts with healing," he told me. "The people who walk through the door may be seen as violent gang members with lots of tattoos but what people don't see is somebody who's broken and hurt.
Homeboy Industries employs about 15 therapists full-time, while many more donate their time and services to help with that healing. And once a person has begun to heal, they can turn over a new leaf. Homeboy offers a long list of no-cost services to help "homies" rebuild their lives from the ground up, whether that means legal services or healthcare.
"We provide services for everyone for free," Avalos explained. "Say, for instance, someone comes in and says, 'I got a job and I really want it but there's a tattoo on my face or neck I got when I was younger and it's holding me back.' We'll remove them for free. If someone comes in here and says, 'I've been doing good but I don't have my papers.' We have lawyers right here that can help them get their social security card or get all of their tickets expunged so they can get their drivers license. We have a GED program, a high school diploma program. These are things that we provide to the whole community. There are thousands of people that want to change, you don't have to force people to change. They come through the door and we ask if they're ready to quit gangbanging, if they're ready to put family first, to put themselves first. People want it."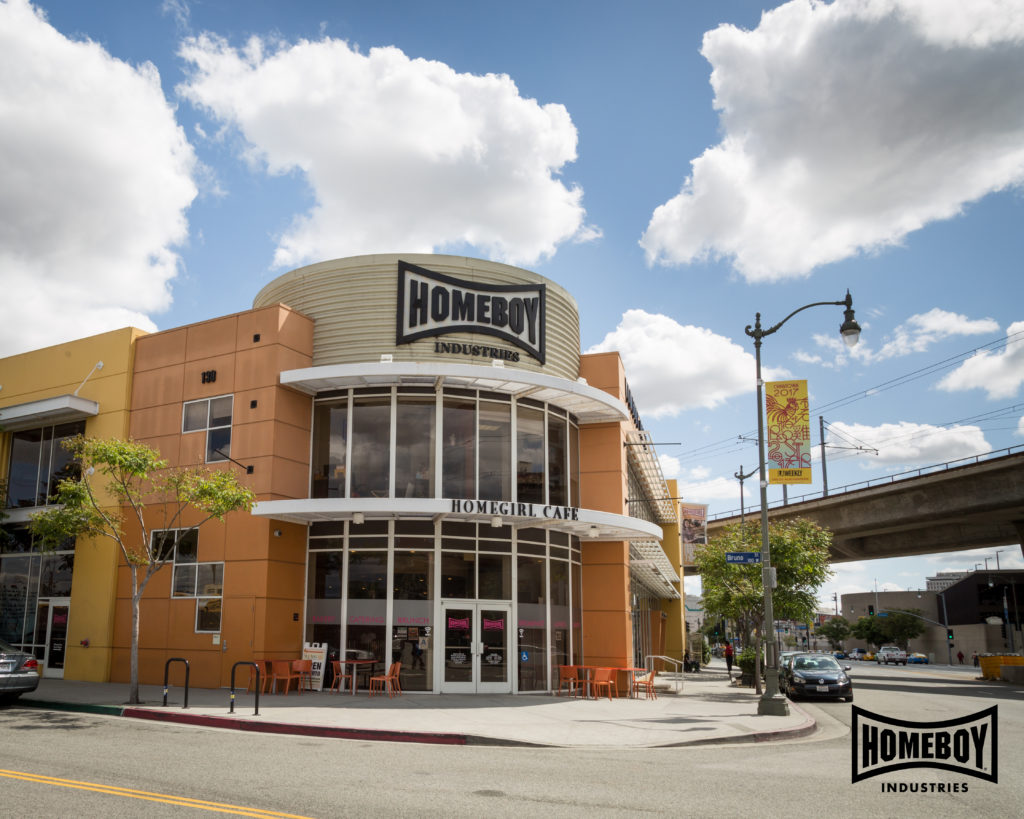 When I asked Avalos what kind of new paths the homies find as they turn the page on that dark chapter of their life, the Homeboy alumni told me, "The sky's the limit."
Most of the time, people are in the program for around 18 months, but it's based on each individual's needs. Some people find a new career within one of the organization's eight social enterprises, where Homeboy provides paid training and job support in a wide range of fields. There is a (delicious) Homeboy Bakery, a computer recycling company, a catering business, and even a solar panel installation program. All of these businesses are operated to give homies the opportunity to progress and to further Homeboy's overall mission of helping the community thrive.
"Our number one thing is to build stability because it's hard to turn around and focus on a career or changing your life when you don't even know where you're going to lay your head, what you're going to eat, or what's going to happen with your kids," Avalos said. "Whatever the homies want, what they dream of, we just try it turn it into a reality."
"What if we ceased to pledge our allegiance to the bottom line and stood, instead, with those who line the bottom?" – Father Greg
All profits from The Hundreds X Homeboy Industries will be donated to support Homeboy's mission to continue changing the lives of former gang members, previously incarcerated men and women, and their families. We're proud to call them our homies and we're thrilled to help bring this collaboration to all of you across the world. Please support Homeboy with us and pick up your favorite pieces from the collection today.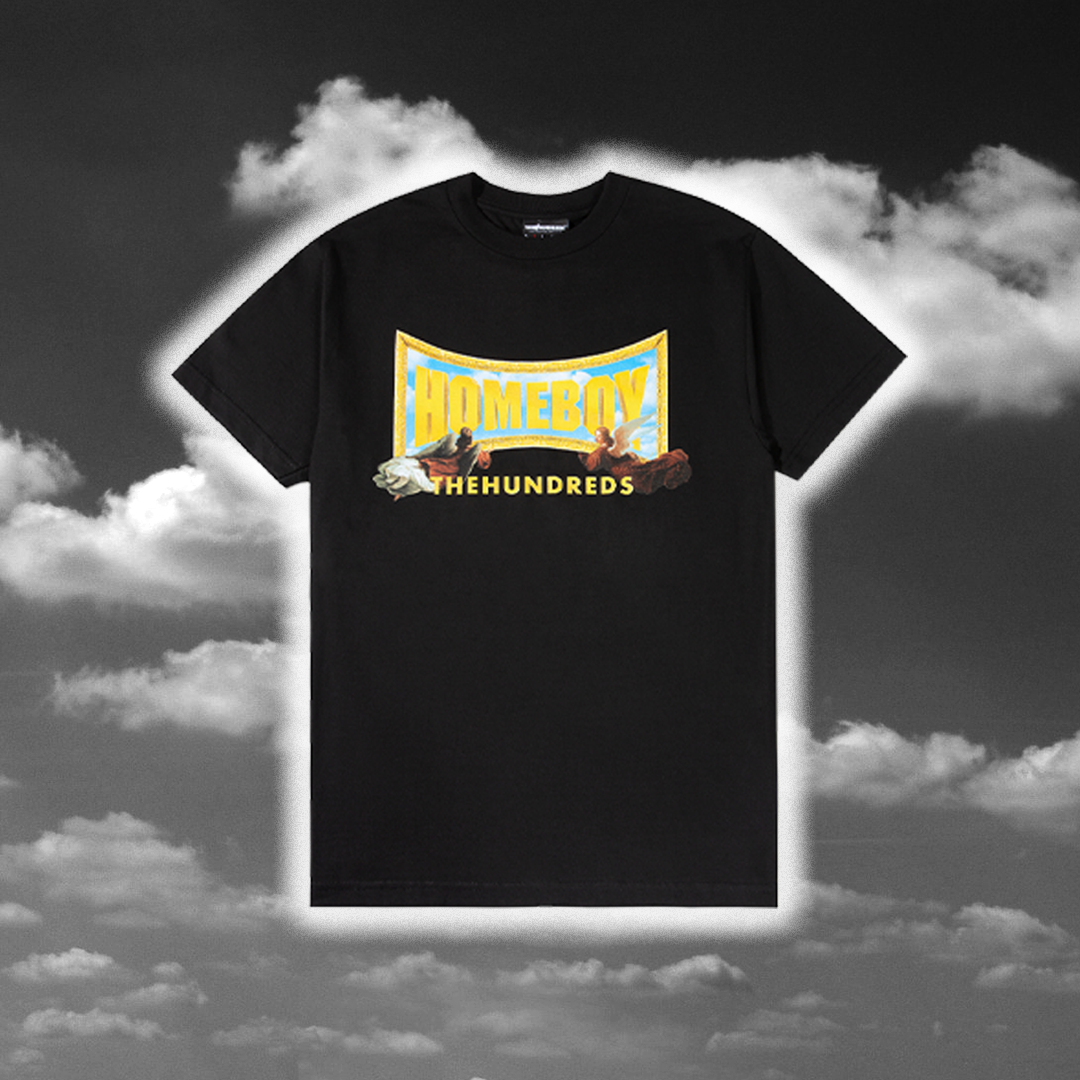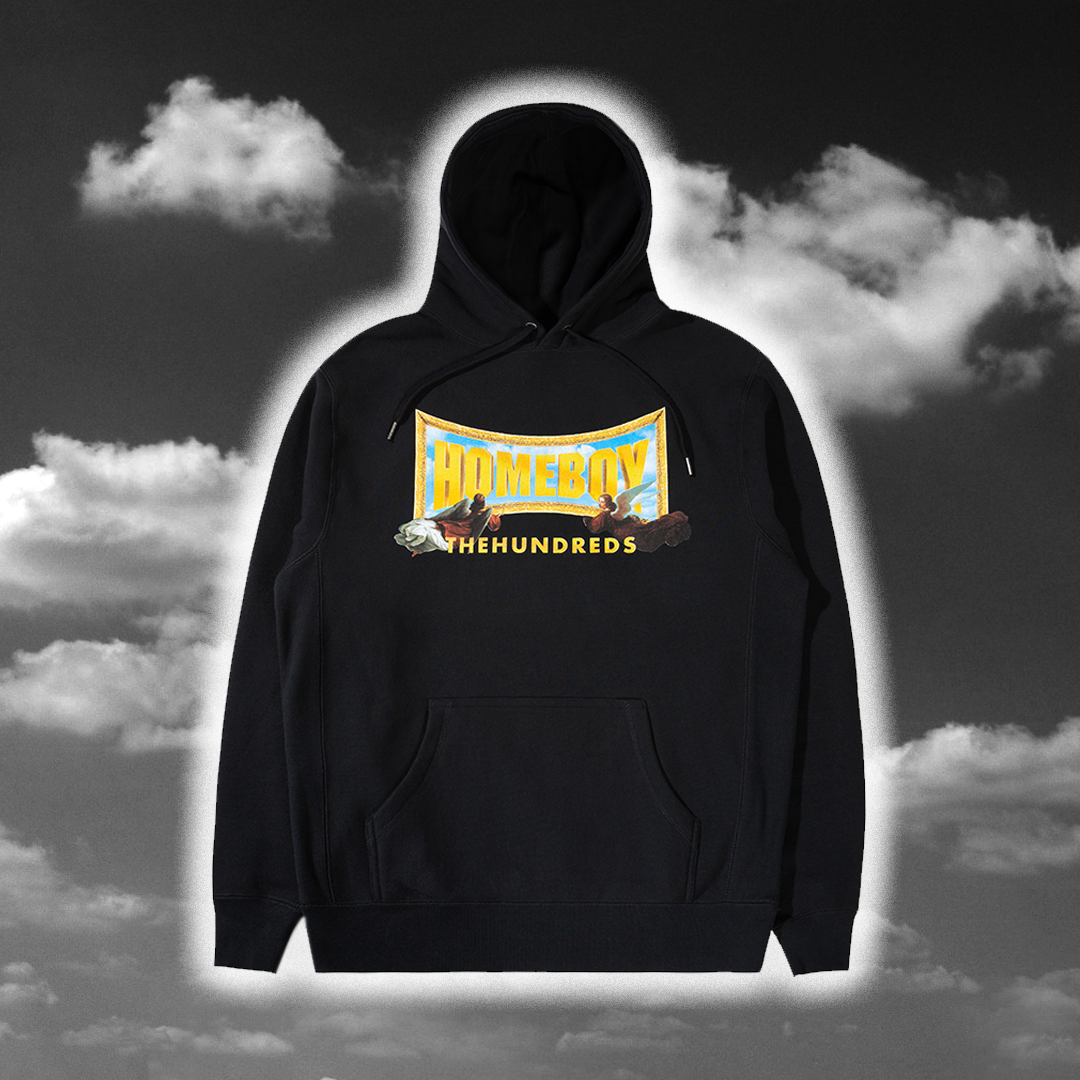 You can learn more about Homeboy Industries on their website or Instagram.
***