Peter Yeh digs into how Grailed.com went from a "hip eBay" of like-minded users, to directly exploiting the hype that is killing streetwear culture.
It's Thursday morning and Grailed.com is buzzing.
Just ten minutes after 8 AM Pacific Standard Time, the HYPE section is abound with screenshots of confirmation emails from the Supreme online shop. In layman's terms: Hordes of users who just bought the latest weekly Supreme drop mere minutes before have already posted up their latest buy for sale, without actually having the goods on hand—a screenshot of the confirmation email will suffice on Grailed.
Grailed is the latest online presence trying to hone in on eBay's stranglehold on collectibles—and it has a bit of charm. The website began as an earnest effort to cull through the internet to bring everything together. As an avid Grailed user we spoke to (we'll call him Grailed User throughout this opinion piece) puts it: "[Grailed means] there is no more need for 'the dig.' Lurking forums, message boards, Instagram, scouring old posts—it's all a thing of the past." Select menswear and streetwear—normally found by combing through Superfuture, StyleForum, StrictlySupreme, Hypebeast, and Reddit—is now listed in a nice, clean fashion across the site, organized intuitively by category with a robust search function. Split into three easy-to-track sections, GRAILED is for those who appreciate high fashion menswear (suggestions on the site include Rick Owens, Saint Laurent, Our Legacy), HYPE is for those drops from Supreme and Jordan Brand, while BASICS is the go-to for casual essentials.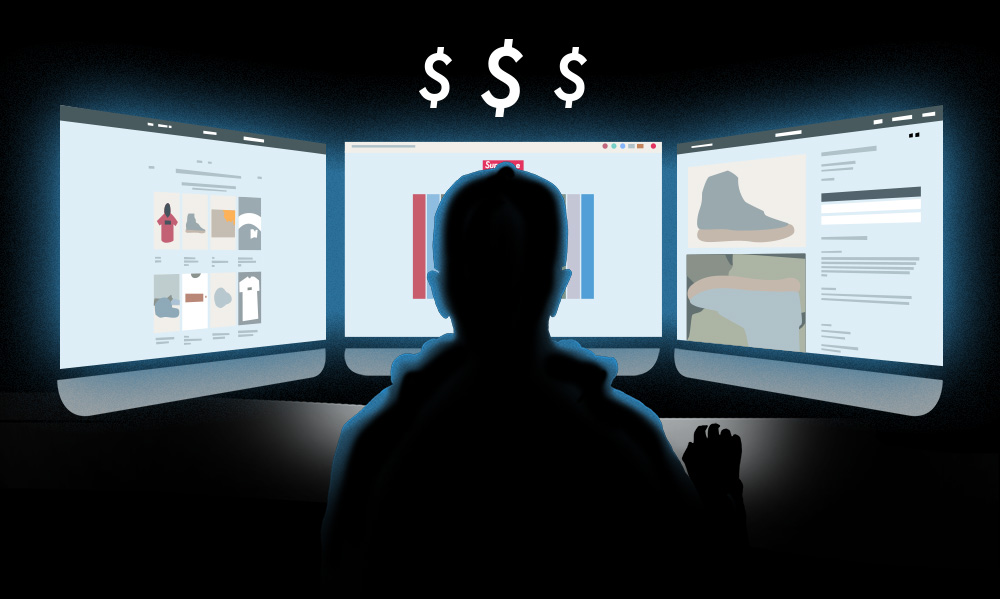 Unlike eBay, there is no bidding, but the format is simple enough for anyone to figure out how to offer their best price, and gives the seller room to negotiate. No more navigating through a forum filled with elitist fuccbois or trusting an Instagram account with a few hundred followers; instead, you could use Grailed, a platform on the cusp of something innovative, with both the panache of forums and the legitimacy of being backed by PayPal protection. Grailed was also free to use, and availed itself to fashion fans across the world. In a few short months, the site was viewed as a savior to those looking for hard-to-find vintage streetwear and rare high fashion items, like obscure Supreme box logo tees and '90s-era Raf Simons pieces. It lacked the camaraderie of a forum, but it was a "hip eBay" with a cadre of like-minded users.
Grailed's site structure is minimalist and personable: your for sale list is deemed "Wardrobe" and your watch list, termed "My Grails." The sellers are made up of a large concentration of folks familiar and interested in the same items, so the platform provided a great way to browse those with similar tastes, and check out each unique seller's curated goods. The most popular search on Grailed is likely "Supreme," and there is no doubt that the New York brand played a pivotal role in Grailed's ascension to popularity. But besides getting older vintage items, it was an opportunity to check out what this old school streetwear nerd had in his closet.
It lacked the camaraderie of a forum, but it was a "hip eBay" with a cadre of like-minded users.
At first, users on the site weren't just typical resellers, but potential wealths of knowledge and taste. I wouldn't care about what a user selling a Supreme x Warhol Ali T-shirt from this season was wearing, but the person who posted that Superman parody deserved a second look. Add the fact that Grailed was free to use, and it's clear why the site became a haven for all streetwear dorks, versus existing as a small sub-niche on eBay. Because of this, Grailed User explains that there's an ease of offering/counter-offering and generally good rapport between buyers and sellers on Grailed. Users tend to be both more approachable and direct than mega-sellers on eBay. "The ability to communicate is almost mandatory within Grailed," he says.
But Grailed's version of the collectible menswear market exploded and eventually led the company to implement a fee-based pricing structure, and a loose set of "rules" that further exploited the hype behind exclusive streetwear goods. Grailed slowly transformed from a solution, to a part of the problem.
[Grailed] further exploited the hype behind exclusive streetwear goods.
Nothing can be free forever, and there was always an understanding that Grailed would have to charge something to cover hosting and development costs, but their fees are now reaching eBay levels. While Amazon charges nearly 15% and eBay isn't far behind at 13% Grailed charges close to 10%. Once you factor in PayPal fees, Grailed becomes a problem. While the fees are a terrible deal for sellers, the lack of protection is bad for victims of fraud. The site offers almost zero protection and all fraud cases are first worked through PayPal. You may win the case, but a seller with a bankrupt PayPal account means you're not getting anything. You better pray you used a credit card, because PayPal funds from your balance or debit card are likely long gone. eBay at least has their buyer protection that compels eBay to cough up the cash, but Grailed offers little more than a contact form and email address. In Grailed's defense, their platform and rating system does allow a buyer to do his due diligence, but anyone that has ventured into a menswear style forum will know that these protocols already exist in the "Buy/Sell" section, plus it's all free. For Grailed to be truly revolutionary, it should examine a flat fee model instead of the percentage system that everyone who sells on eBay already despises.
Another pitfall of Grailed, aside from the marked up fee, is their policy on newly released items. Grailed allows sellers with 5 or more feedback to post screenshots of confirmation emails instead of actual pictures of the product. Without having the item in hand, a seller who has purchased or sold a combination of five items with some Photoshop skills can sell a high-priced item with a doctored email. Getting defrauded isn't even the worst part. What this allows is further speculation and gross market manipulation. Meaning: the prices aren't right. One of the worst problems currently in streetwear and sneakers is the overt inflation of items. Whether it's a teen stumbling into their local Zumiez or a noob hearing about a pair of Yeezys selling for 5x times retail, the streetwear and sneaker game is being flooded with new blood. By fostering these kids into culture vultures-turned-resellers, Grailed has contributed tremendously to the market manipulation issue.
One of the worst problems currently in streetwear and sneakers is the overt inflation of items.
Streetwear and sneaker culture have always been subcultures often characterized by fans who have this overwhelming sense of dedication. For real purists, past seasons hold much more value than the current. New players in the game instantly affect prices, and Grailed further adds to the problem because on the seller side, anyone can become a "hustler." By allowing anyone to post merely a confirmation screenshot, Grailed encourages speculation. Ever wonder why the worst retro Jordans still sell out? 14-year-olds in Montana are playing hooky on a Thursday, buying a hoodie with a big "S" on the chest, and flipping it on Grailed off of a screenshot. Grailed User expresses that this has created a culture of resellers buying "whatever they can get their hands on in hopes of making some bucks"—which results in a 5-30 second sell out time on Supreme flops that only end up making the seller $15-20 after fees. "It's pathetic and a waste of time," he says.
Anyway you cut it, hype kills culture.
This string of events does three things to the streetwear market: Someone who actually wants the product is deprived; secondly, it will undoubtedly and artificially raise the retail price; and finally, the authenticity and integrity of sneaker and streetwear culture deteriorates. Not only are you paying more for a sneaker you remember Jordan rocking when he took his last shot over Bryon Russell, but that herb sitting in Honors Chemistry, who was wearing Obey and Vans Eras just last week, is now rockin' those black/red Retro 14s and a Supreme camp hat.
Anyway you cut it, hype kills culture. But, Grailed came onto the streetwear scene to sellers as an alternative to eBay, and for buyers, it was a one-stop site to shop and browse from those with similar tastes. But over time, Grailed has come to marginalize their market and dick both the seller and buyer. A crooked selling system has allowed speculation to inflate prices, while a percentage fee structure makes it unappealing to sellers who could easily return to the forums are their Instagram followers. The savior of streetwear has become the monster.
***
Illustration by Eddie Viramontes (e.viramontes).