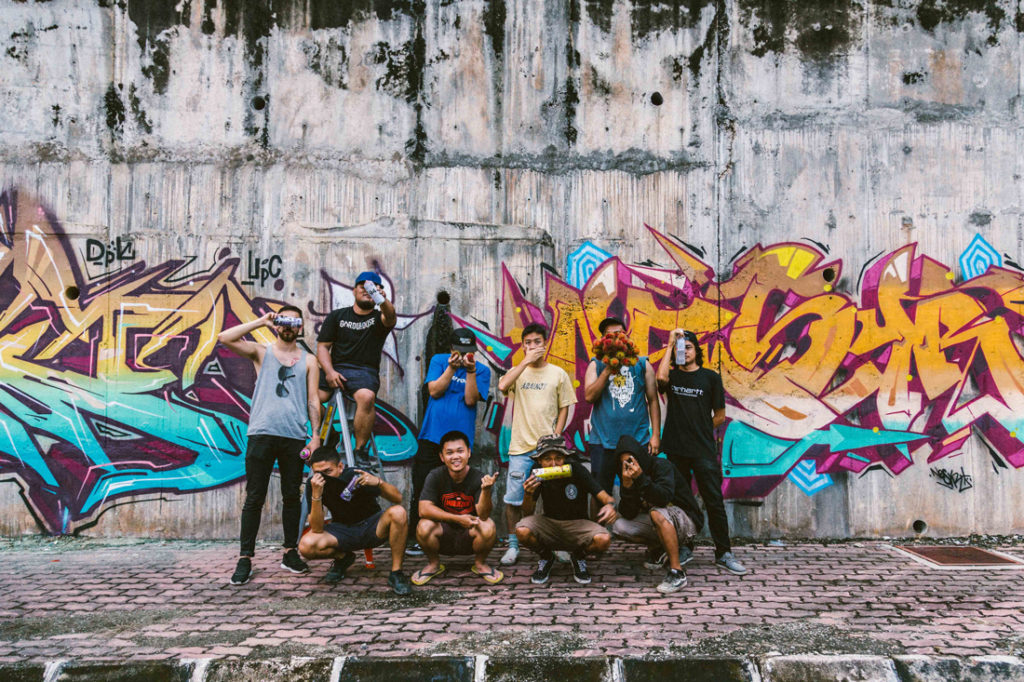 At a long, bare concrete wall 20 minutes from central Kuala Lumpur, a dozen writers link for a chilly graffiti session. It's noon and rainy, and the green hill in the background rises up into a low cloud. This weather is unusual for the Malaysian city, and many have attributed it to a late monsoon season. The artists are from the area's two biggest crews, Zinc Nite Crew and Sly Fox Crew, along with a couple international guests. Pieces like these—colorful and detailed burners—are the staple of the scene.
Driving through one of the endless number of multilane highways that fill KL, there are more palms trees and elevated train tracks snaking their way high in the mist than there is graffiti. But in the central area of this Southeast Asian city, paint on the wall is much more common. In trendy areas like Bukit Bintang and Bangsar, the alleyways are full of multi-color burners. Tags or throws are relatively rare. The District shop and gallery, center of graf life here in KL, is surrounded by a maze of tight back streets full of detailed paintings that pop out from corners and draw viewers into their narrow paths.
Despite all the greenery, common even in the densest areas, pollution from heavy traffic is still very much an issue. An elderly neighbor from above the shop referred to as an "uncle" said he has to clean a layer of soot from his floor every three days or so.
Writers here generally paint first and ask questions later, and since they're beautifying the city with work bursting in popular appeal, they rarely have problems with the public or police. It's a small scene for such a big city, but they're pushing boundaries that have captured attention from around the world.
"I want to show that Malaysia has talent, so we can get people to come here because it's hard for us to go there," a local writer named Katun says, pausing while sketching some new work to look up and make the point. Katun, which means "cartoon" in Malay,  got his start in high school around '03 after seeing a graffiti issue of a local comic book called GEMPAK. He's a fixture at District and one of the city's best known writers, focusing on cartoony characters and pushing Zinc Nite. While he doesn't work at District, he's a one of a number of writers that can usually be found there.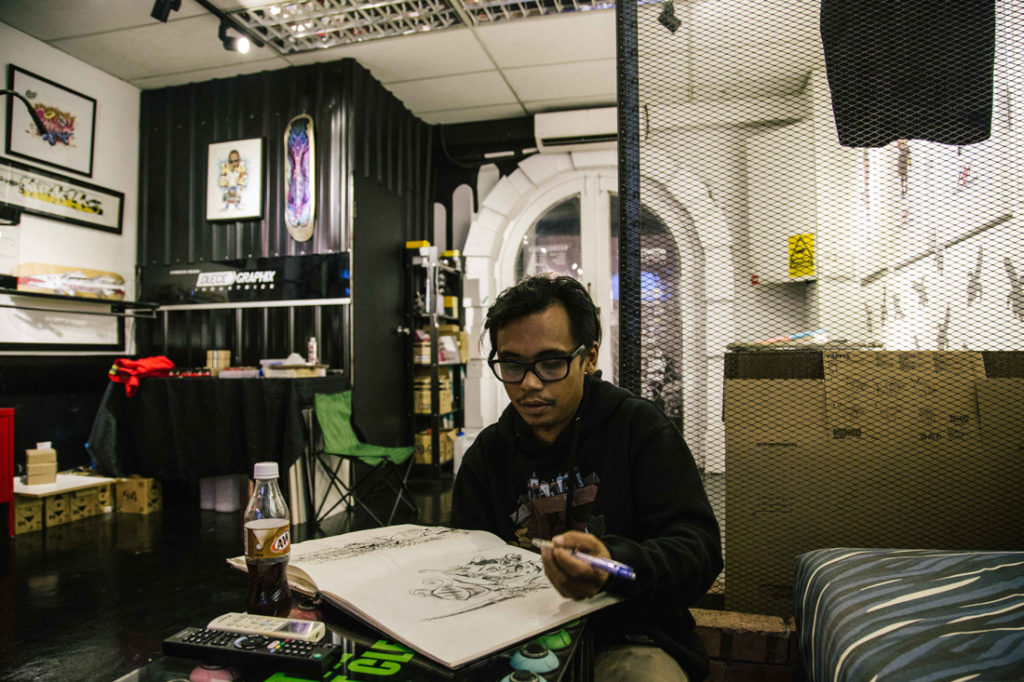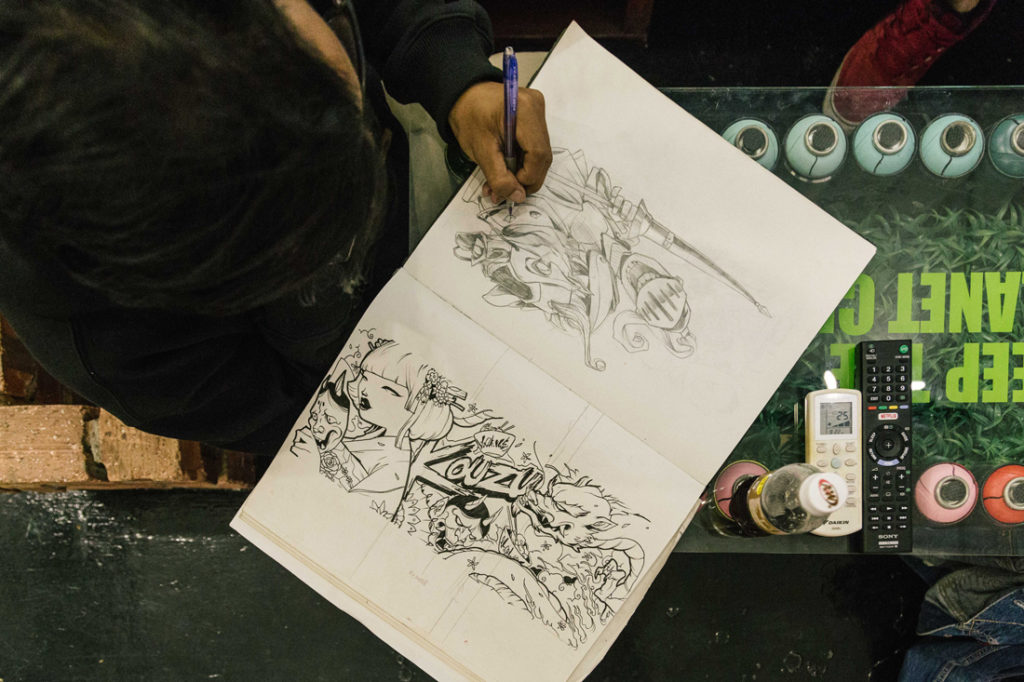 Phobia, also known as Djomo, is the space's founder and one of Malaysia's first writers. He started in his early 20s in 1999 by plastering quick tags and throwies his hometown of Batu Pahat, another state. Eventually the police started looking for him so he moved here to KL. Nenok, also from Batu, and Subway from KL, are other early pioneers. District got its start in 2003 after Phobia was commissioned to paint a mural at the Sungei Wang Mall right up the street in Bukit Bintang. They offered him a small subsidized shop where he did customized sneakers and the like. It's one of the oldest and most famous malls, but has recently fallen into disrepair as malls have become increasingly popular with developers all across KL and shoppers were lured to bigger, fancier spaces.
He moved his shop to its current spot in 2009. More recently, the area has become a neighborhood mainly of Rohingya refugees from Myanmar and Bangladesh. "It's not our hood anymore," laughs Phobia, also a member of Zinc Nite. Most of the skate and streetwear shops have since moved to Bangsar, which is a 20 minute drive away. On the other side of Bukit Bintang is a popular shopping district geared towards wealthy tourists and a big street food market. Despite the changes around District, however, there are still broad, open air plazas with seating and affordable restaurants.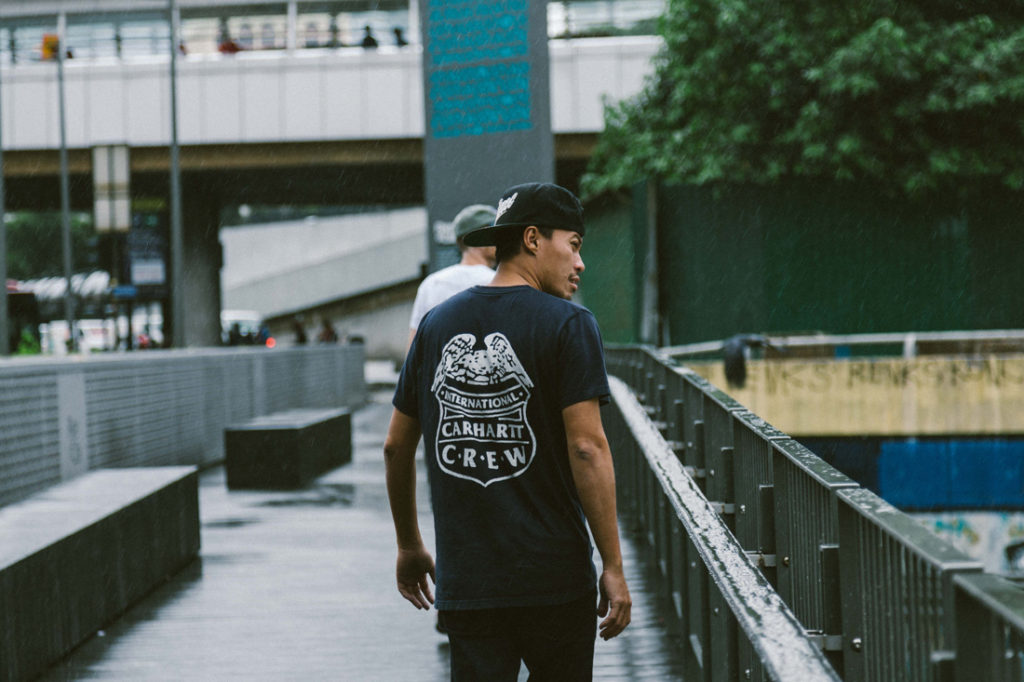 The majority of street spots these days are painted by out of towners visiting, although a few locals definitely get it in with colorful pieces at hot spots. But as commission opportunities began to blossom, the majority of writers focused on refining their craft, whether that be graffiti style lettering or characters and backgrounds. There's even some government support on the local and national level. That includes a book called Graffiti KL that was funded by the National Visual Arts Gallery, and a semi-annual event sponsored by the city council called KULsign Festival along the Klang River in the Sentral neighborhood. With KULsign, they originally only wanted street art and no letters, so Phobia had to put together a proposal to help persuade them. That spot, on the riverbanks of what looks like a large storm drain, remains a popular legal spot (during dry periods anyway).
These opportunities have lured many writers away from the scene, though.  "A lot of people, once they get good with a spray can, they only care about the commissions," notes Phobia with some distaste in his voice. "They haven't matured their skills enough but throw themselves for hire. They briefly paint in the street and then just vanish to become an artist for hire only."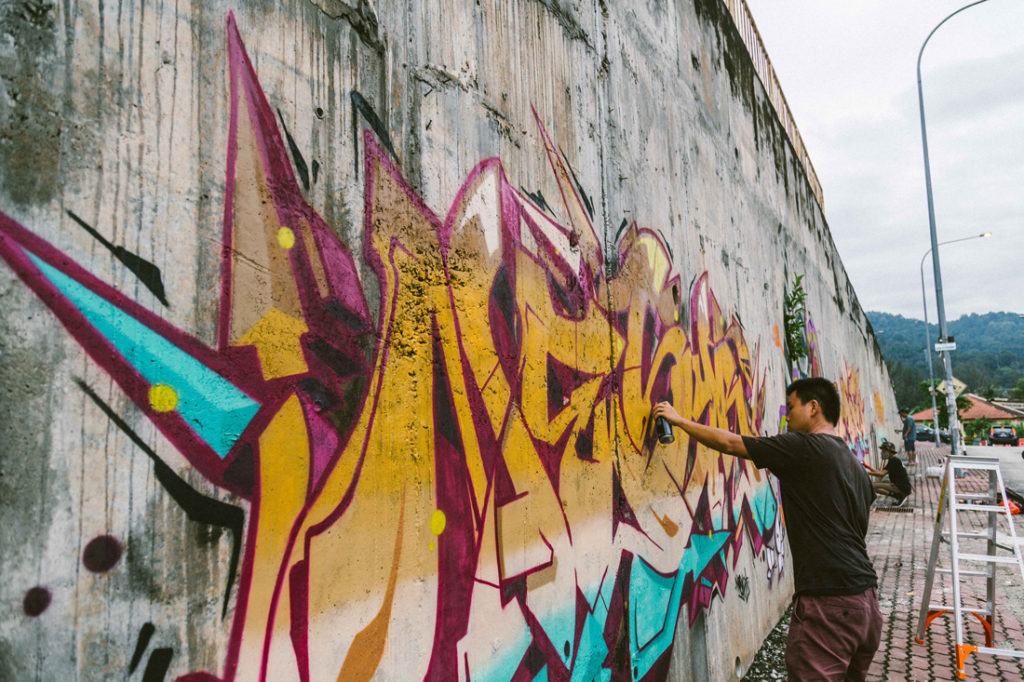 There's dispute about how many active writers there are in KL, but it's somewhere around 40 of them. Twelve are in Zinc Nite. None are female. Other active teams are Sly Fox, Medium Touch, PWC, and PHB KLK (comprised mainly of Zinc members but founded here). A lot of the writers make their careers out of art and graffiti, through a combination of commissions and design work.
Asmoe, who's an assistant architect, is considered a younger writer at 25 but also one of the leading names in KL. "People are always surprised at how new I am," he says. "When I started I wanted to be like Katun, but he wouldn't deal with me because I was toy." Asmoe has also started a graffiti zine in the tradition of graf magazines from the '90s called Strictly Burners. The first issue sold out, but he didn't make a profit and just broke even, which he's happy with, "as long as we make enough to put the next one out."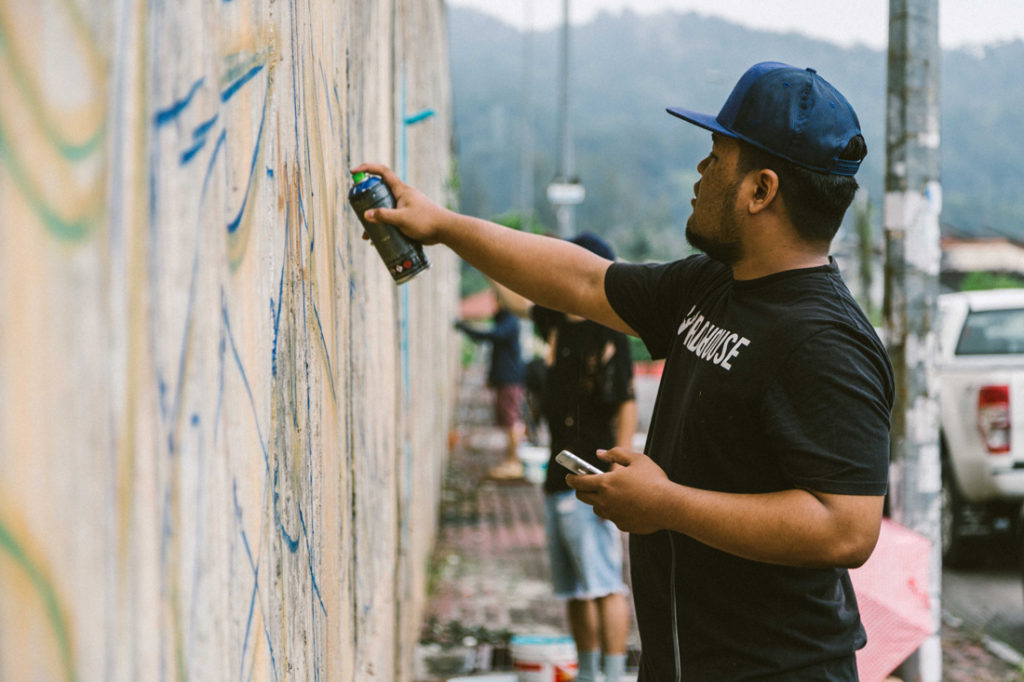 Malaysia is a diverse country with three main ethnicities, including the Malay majority, alongside large Chinese and Indian populations. Zinc Nite is Pan-Asian and was started in Singapore by a writer named Slac. All of the crew members from Malaysia and Singapore are Muslim, and Malaysia has strict Islamic laws for those of the faith, including reprisals for drinking alcohol and having pre-marital sex. There's no converting, it's on their IDs that they're Muslim, and the religious police are known to raid motels and clubs. But graffiti doesn't conflict with their faith. Katun's father, who also happens to be a police officer, simply told him when he started writing, "Be safe and don't get caught."
Sly Fox Crew, on the other hand, is a mixed crew with seven members, all also from Malaysia. CloakWork, who we featured earlier this year, is part of SFC. Even though the two crews have no overlapping members, they're always hanging out and painting together regardless. "It's not very serious, our crew is more of a label anyway," Cloak says.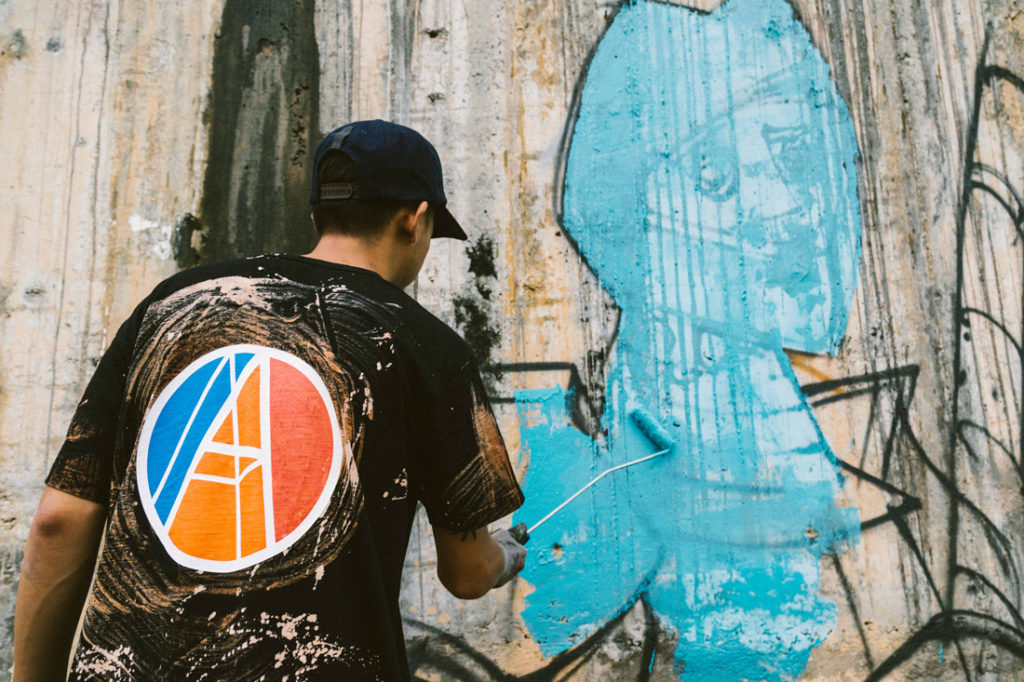 Back at the concrete wall, the rain has passed and it's become humid and hot. Most of them start their outlines with spray paint and fill them with bucket paint primer so that the pieces pop from the wall, which has its own natural, but porous, texture. While District is an MTN store, a lot of the writers here are using a local art brand called Tankos, which is rumored to be a knockoff of Ironlak.
The police show up partway through the session, collecting IDs and questioning the writers, but eventually leave them be. "Those were younger cops," explains Katun. "The police don't usually bother us." The rest of the neighborhood seems to enjoy their presence. Little kids come and play nearby while curious adults take photos and pepper them with questions. One uncle even drops off some local fruits and a box of water. They're definitely welcome in the neighborhood.
Scroll down to see the pics of the finished wall.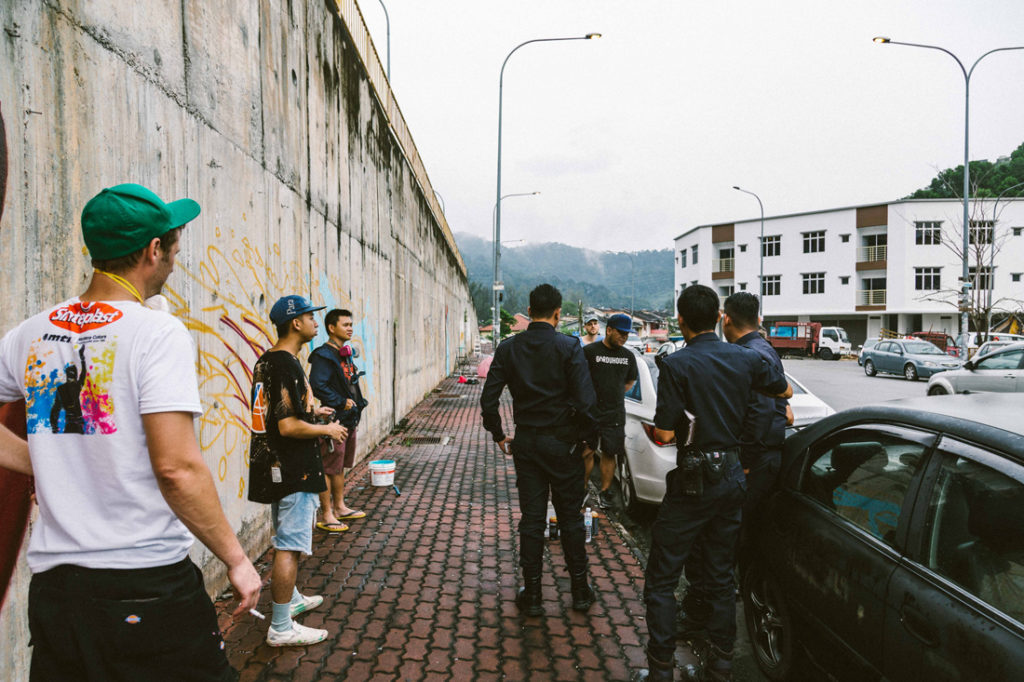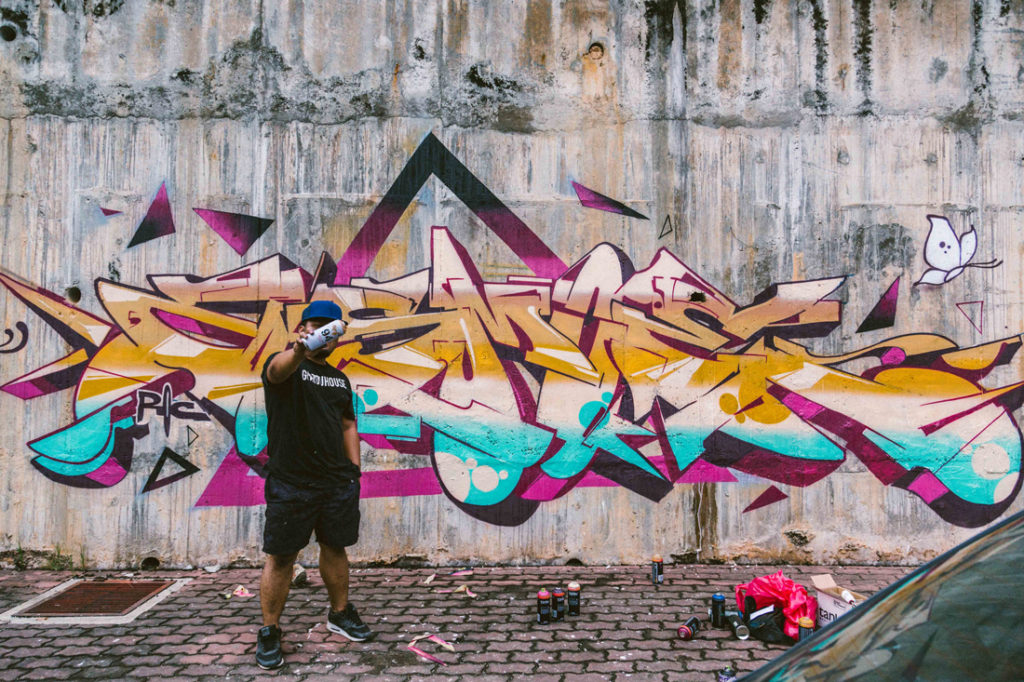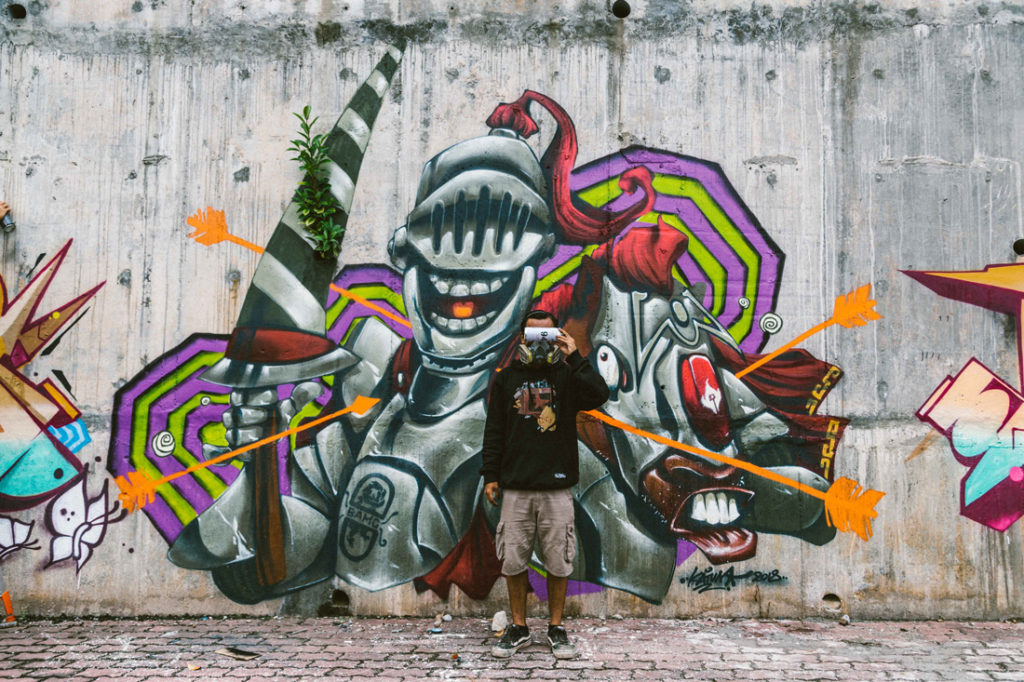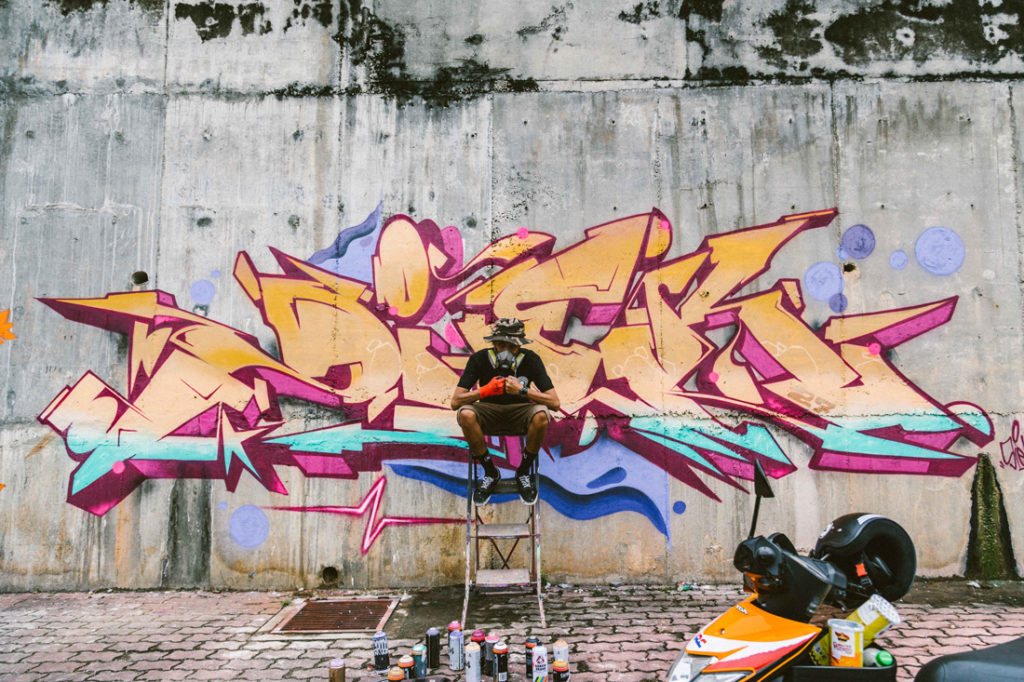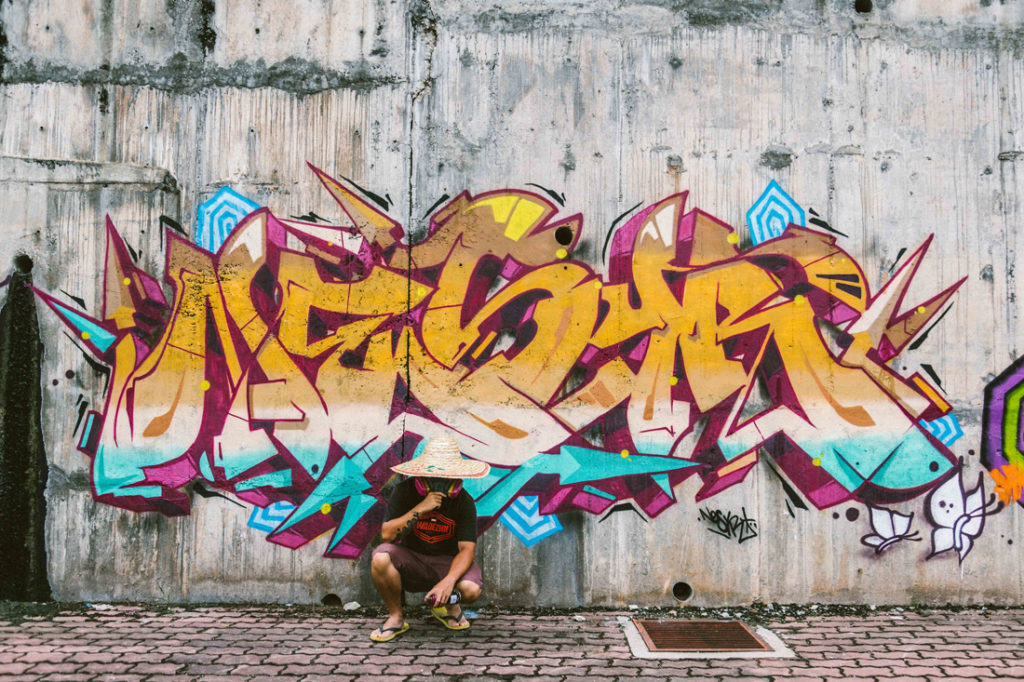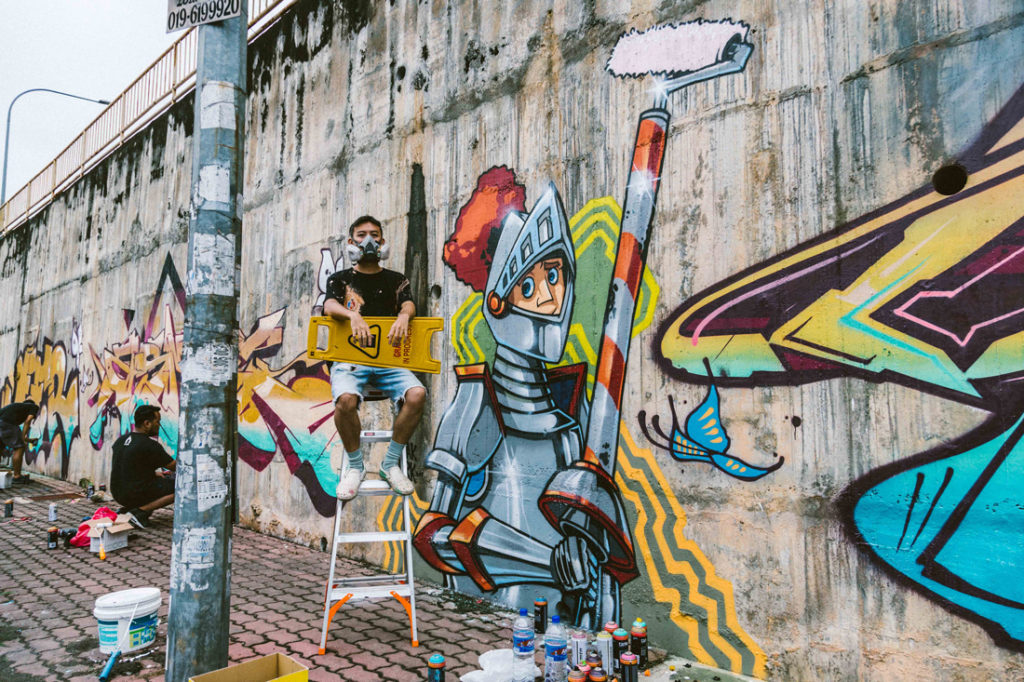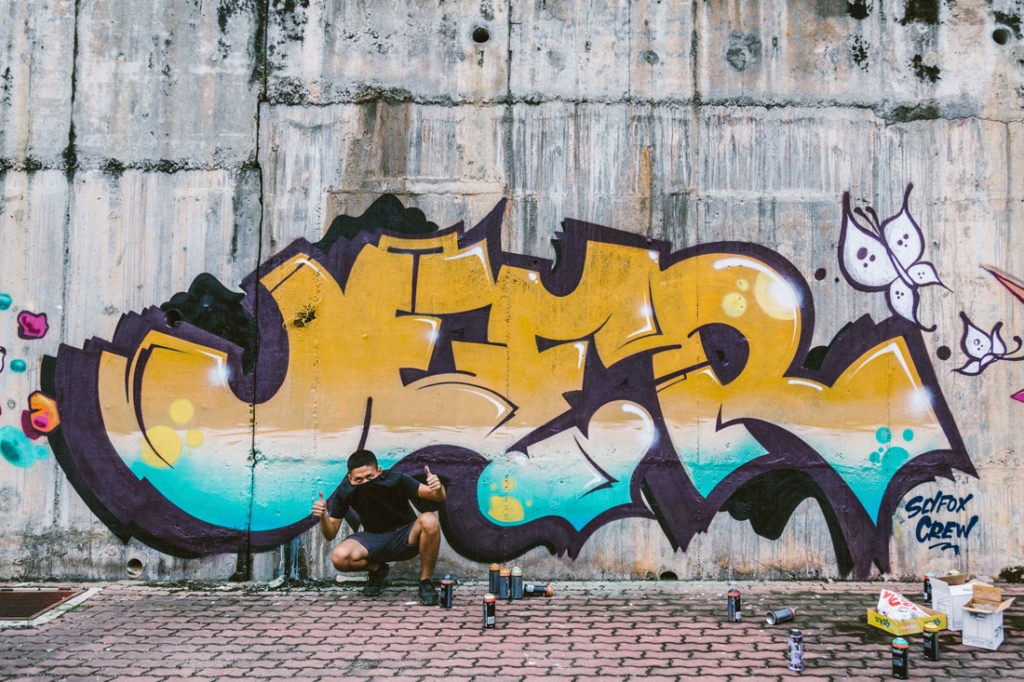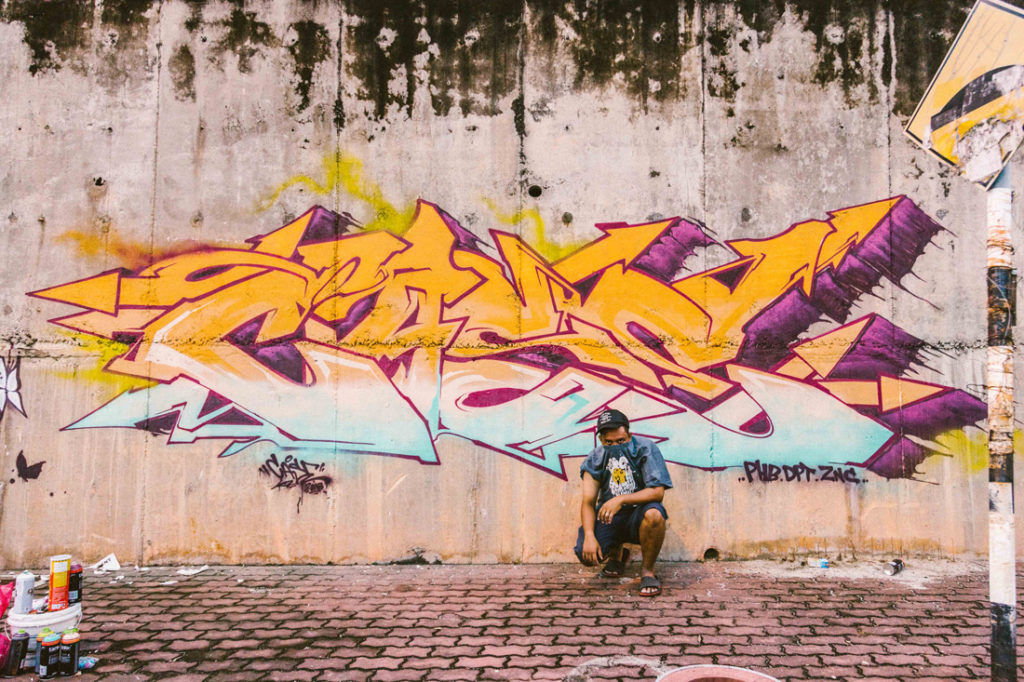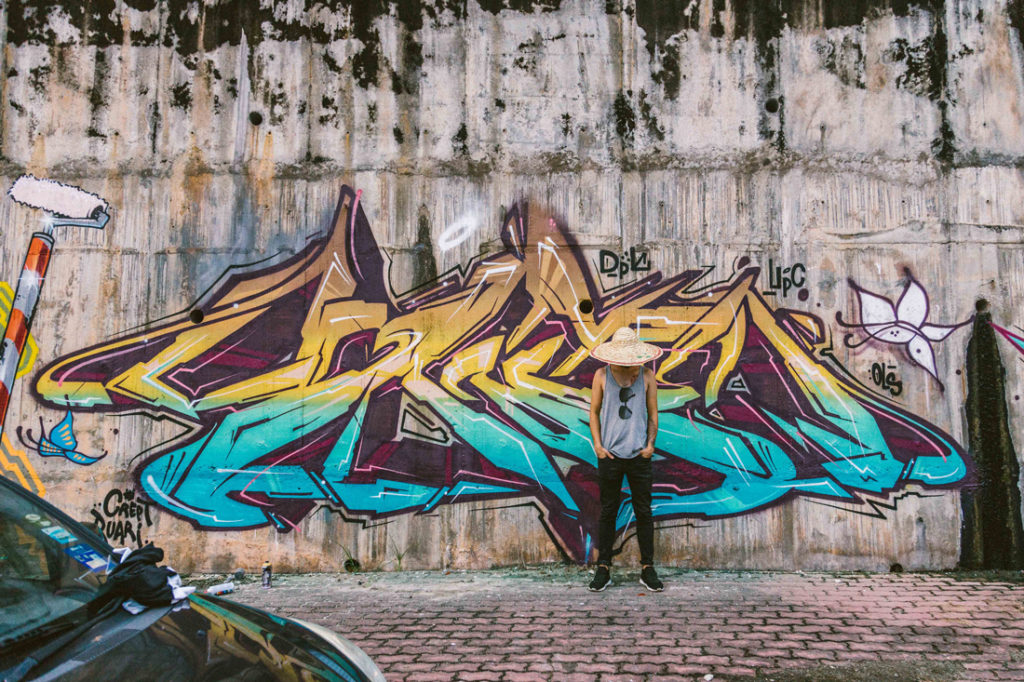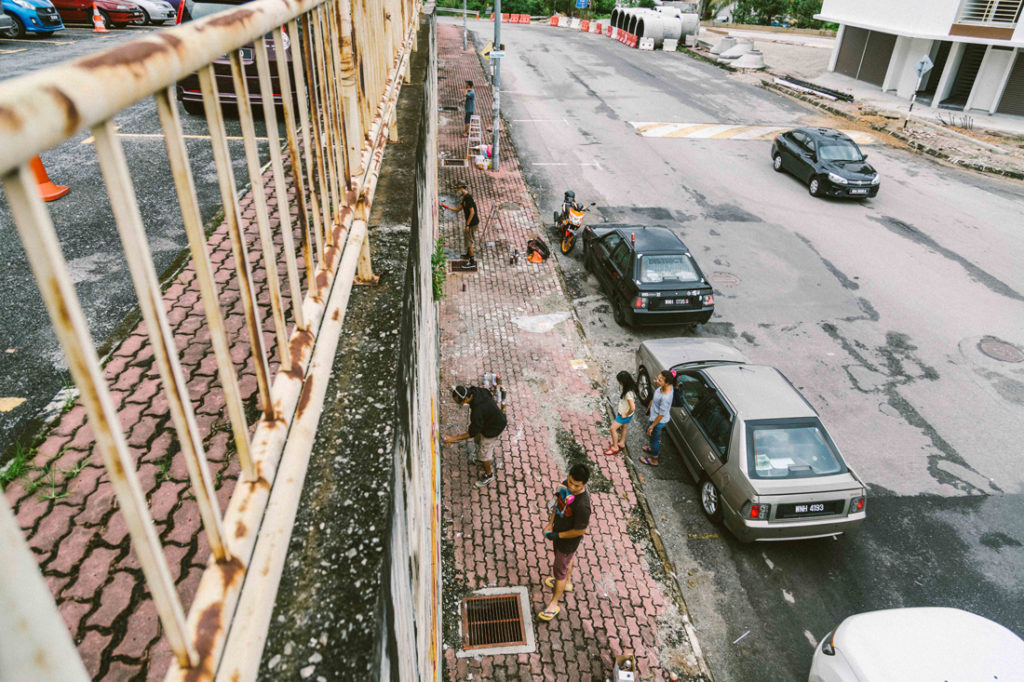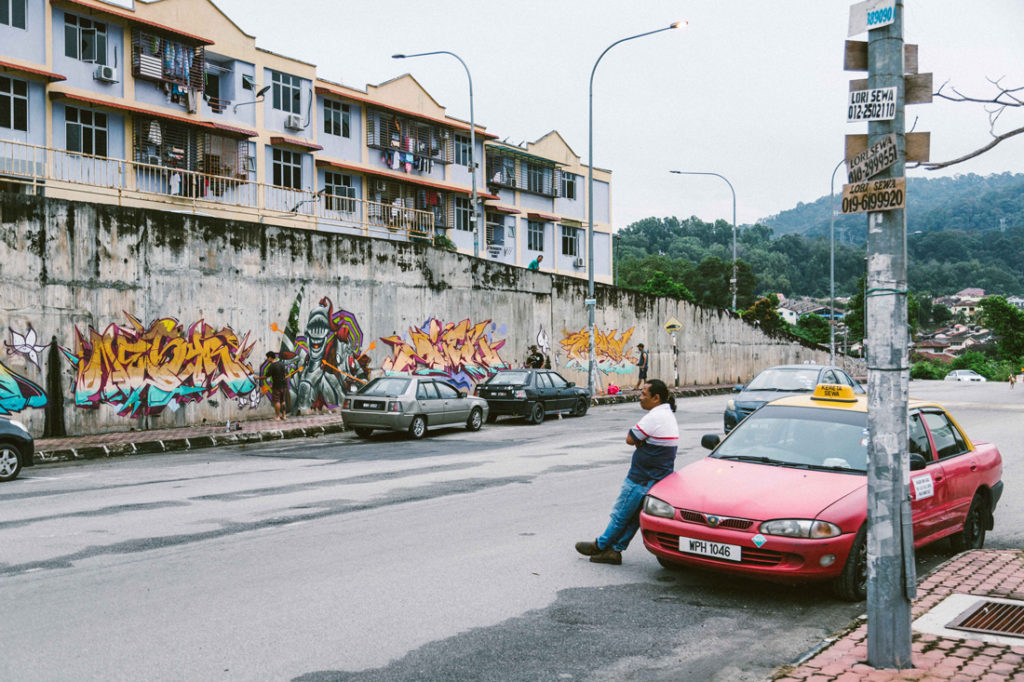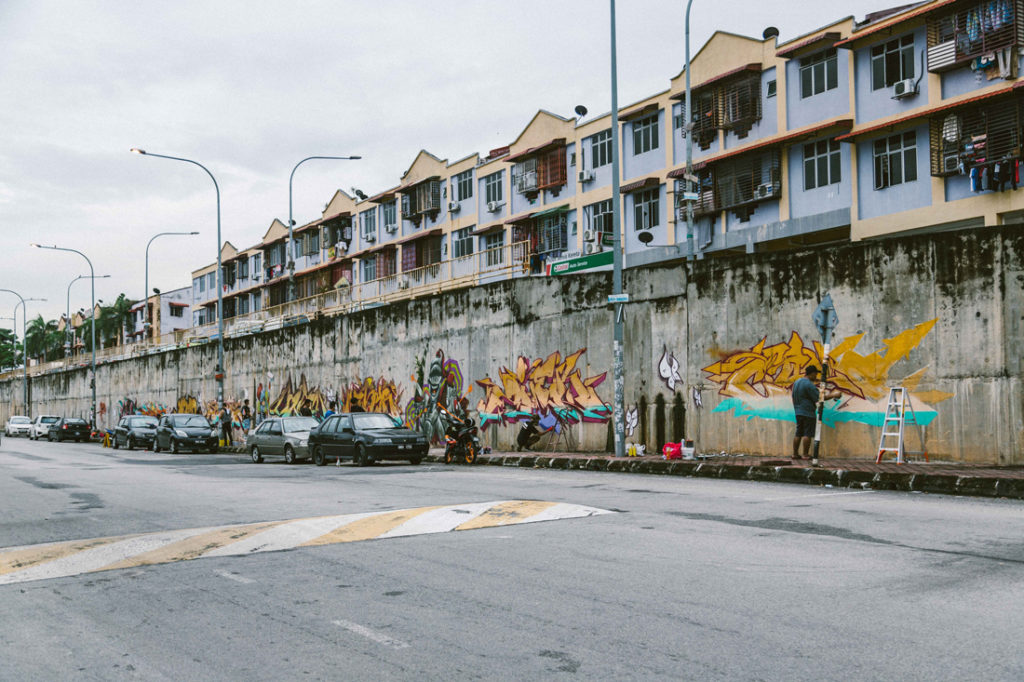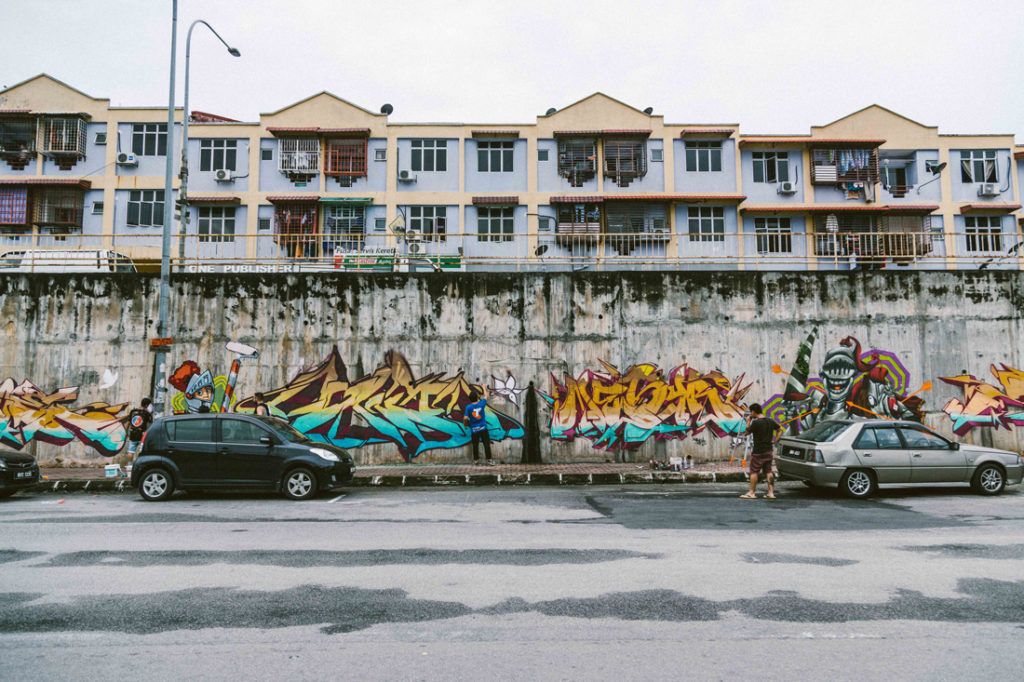 ***
All photos by Razlan Yusof (@Razlany).