Last year, Tokyo street culture magazine FLJ (FILTH x LIBERTINE x JUSTICE) produced an excellent video in light of pioneering West Coast streetwear brand XLARGE's 25th anniversary. Funny that we said "excellent video" (it really is), because it's simply a candid conversation between four OGs: XLARGE founders Eli Bonerz and Adam Silverman, graff legend"OG" Slick, and the undisputed keyboard king Money Mark.
As Slick casually eats a bowl of noodles throughout, the crew drops a ton of history gems and gives us a feel of what the burgeoning scene was like in the early '90s. It's funny, too. We learn about the early days of the "XL" shop on Vermont (Slick says people used to call it "the Beastie Boys store" because of the Mike D connection), where Adam and Eli were the first ones to bring Ben Davis to LA and consciously curate and incorporate workwear into this new street fashion style, which existed at an intersection between skateboarding, music, and graffiti.
"It wasn't an idea, it's just what we wore." -Eli Bonerz
That's how things begin. This was before the term "streetwear" was widely used. There was no plan, but brands like Fuct, Freshjive, and Stussy were beginning to define something new. Pre-XLARGE as a label, they sold deadstock Pumas and adidas shelltoes at the Los Feliz boutique alongside workwear because that it was simply what they liked to wear. Mike D of the Beastie Boys became involved with the XLARGE crew because him and Eli connected over workwear, and specifically Ben Davis. Allegedly Mike was like, "You ever seen this little monkey [logo]?" to Eli after seeing it worn by influential Samoan-American rap group from Carson, CA, the Boo Yaa T.R.I.B.E. Interestingly enough, Adam and Eli would then later buy their Ben Davis from Wilmington, a city adjacent to Carson. South Bay represent.
Money Mark describes XLARGE as akin to the legendary Don Letts shop Acme Attractions—the London storefront that Patti Smith, The Clash, Bob Marley, The Sex Pistols, Debbie Harry, Chrissie Hynde, etc. in punk rock's heyday all hung out before the nightclub Roxy was built (primarily because Roxy founder Andy Czezowski was witnessing the rich youth scene that was building around Acme).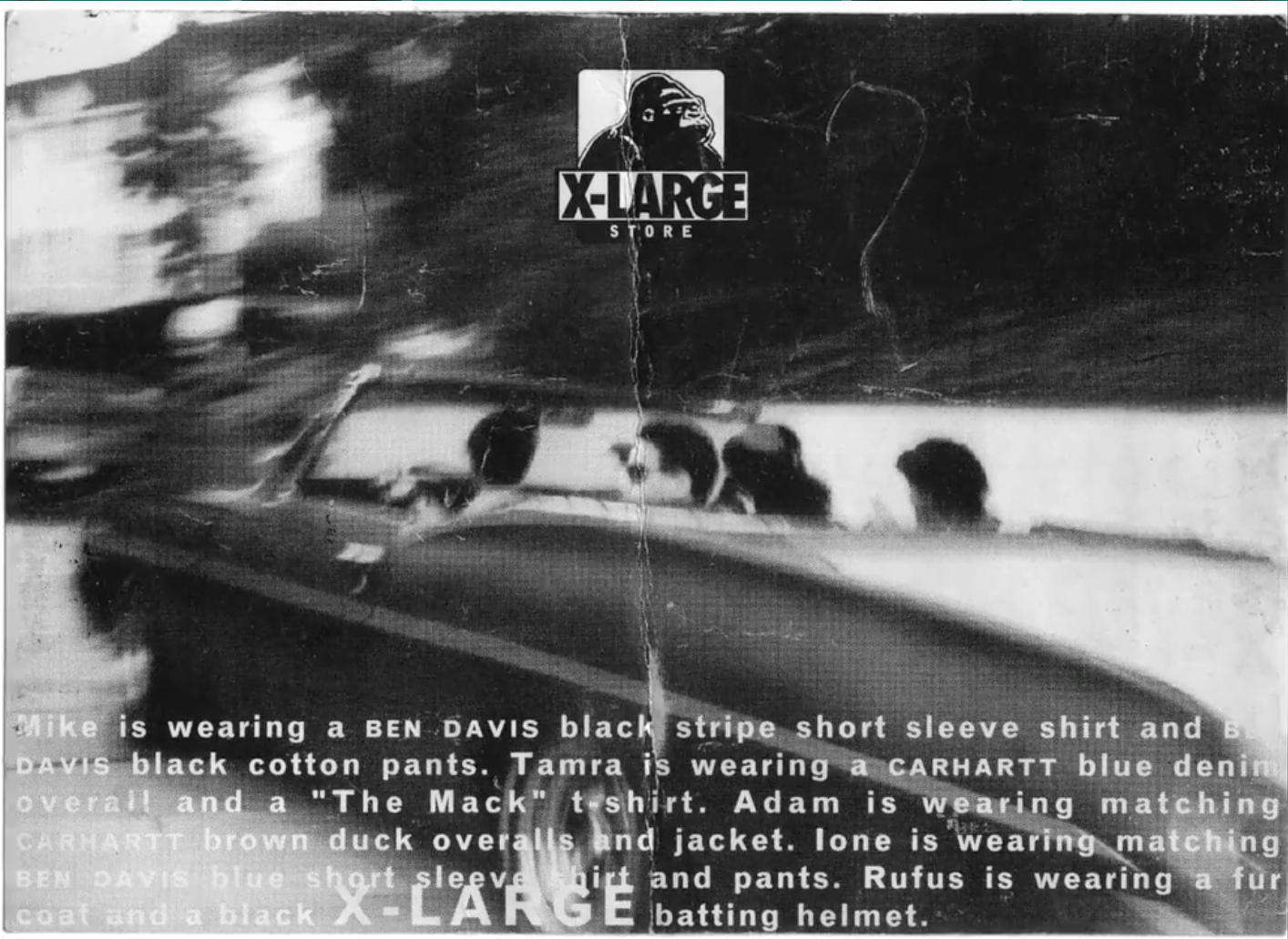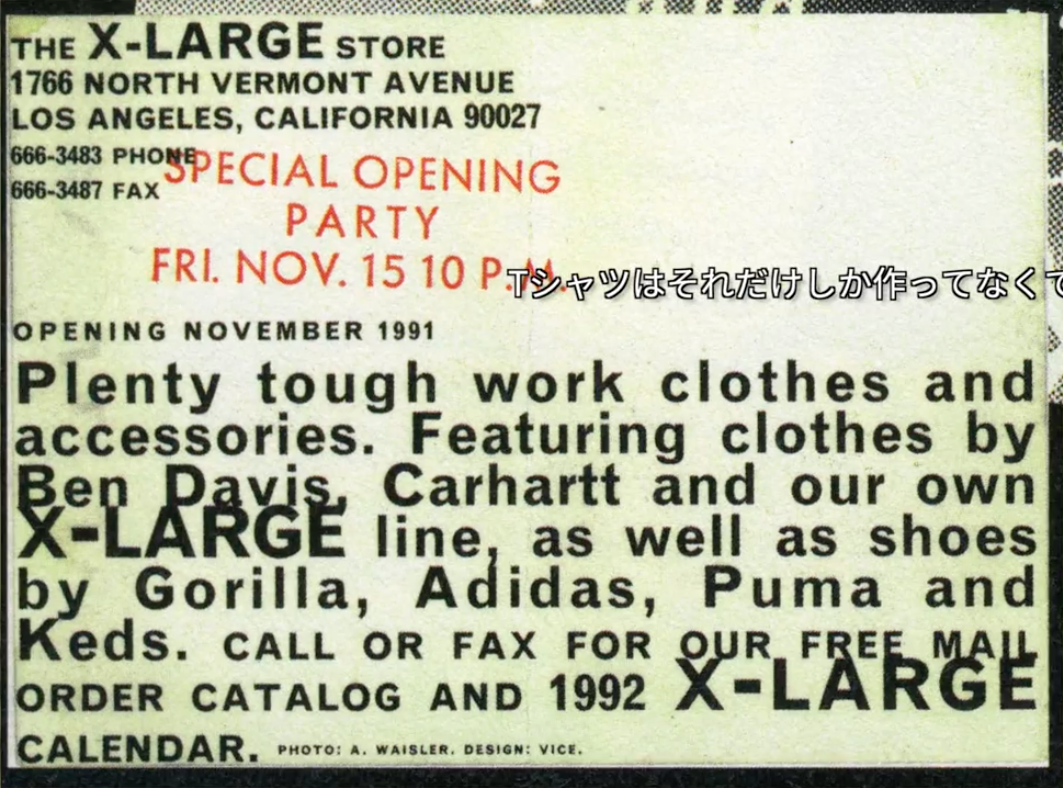 Speaking on West Coast streetwear, The Hundreds co-founder Bobby Hundreds explains: "If you break L.A. street style down to its bare elements, you'll find traces of workwear, surplus, and swap meet fashion in its bloodstream. Brands like Dickies, Carhartt, and Ben Davis uniformed the trade industries throughout the 20th century."
"They were adopted in the early 1990s by Californian skateboarders, b-boys, and graffiti artists who were drawn to workwear's simplicity and durability. It's workwear's no-frills nature that jives with LA's diversity and casual composure… The original XLARGE store in Los Feliz may not have invented the utilitarian style, but it aggregated and curated traditional workwear in a new context."
According to the boys, for them, streetwear also originated from anti-establishment attitude that preceded its current status as a primarily aesthetic/fashion-driven term and now-global "trend." How things change, right?
"[Streetwear] was an attitude." -Slick

 

"Streetwear was disruption." -Eli Bonerz
***
We are very proud to announce our third The Hundreds X XLARGE collaboration, which drops this Thursday, August 31st.
For further reading, check out "Monkey Business :: The Top 10 Apes in Streetwear" written by Bobby Hundreds.