"Was XLARGE the first true underground streetwear shop/brand or not, I'll leave to history to decide, but what I can say for sure and without any doubt is that it didn't bite or copy its concept from anyone. XLARGE was not a skate brand, a graffiti brand, a rave or club brand, it was a streetwear brand, period, end of story... It was an audacious and absurd proposition, all we had to sell was a logo. But it worked and the idea reverberated and we soon had a clique, a following, a scene, and that logo began to represent an emerging subculture for which XLARGE was both prophet and participant." – XLARGE co-founder Eli Bonerz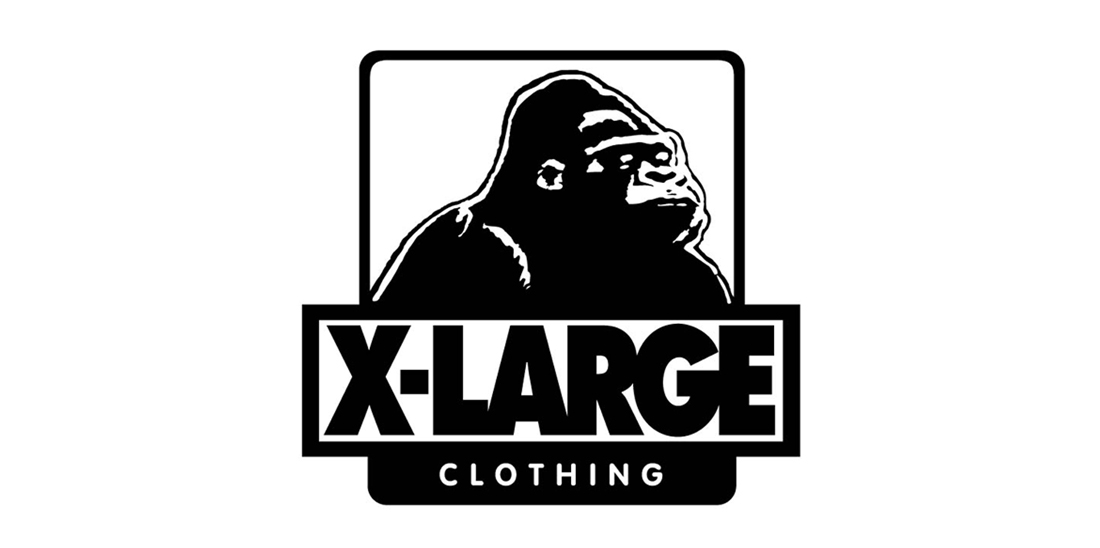 It's difficult to retrace the origins of streetwear. There's always a battle of who planted the flag first, what even defines "streetwear," and whether or not we should be giving credit to the West Coast or East Coast. That being said, the story behind pioneering West Coast streetwear brand, XLARGE, is much less murky—a tale of two college roommates who opened a store to sell clothes they liked to wear.
XLARGE first opened its flagship doors in the East Hollywood neighborhood of Los Feliz, 1766 N. Vermont Street, back in 1991. The idea of forming a brand came to co-founder Eli Bonerz after working as an assistant at an architecture firm and growing bored of his position. "Let's do some kind of new business like... a fashion store," he told his former college roommate, Adam Silverman. Eli's dad gave them some start up money, Adam was down and even had a connection to Mike D of the Beastie Boys (he met him at a dog park!). Mike's mutual interest in this emerging style—which blended workwear brands with sneakers and street fashion—turned into an investment. XLARGE was born.
Initially, the storefront was a place to cop hard-to-find deadstock adidas Superstars and Puma Clydes—which Eli and Adam hilariously sourced by calling factory outlets and shoe warehouses nationwide. See, the aesthetic they were interested in was rooted in L.A. street style—Nike Cortez's from the swap meet, workwear chinos from the Army/Navy shop, a Major League baseball cap from the local liquor store. That's how Eli Bonerz explained it in his foreword to the XLARGE: TRUE OG STREETWEAR book: "The swap meet... the Army/Navy surplus... the neighborhood liquor store... These elements are the building blocks of streetwear and curated by street gangs, gangster rappers, taggers and skaters... It is a fashion that bypasses the fashion industry."
"Streetwear is a state of mind." -Eli Bonerz
Alongside the select footwear, the XLARGE storefront carried a small selection of their own designs, like the "Original Store T-Shirt" (silk-screened on blank Hanes tees, of course) and assorted headwear. The shop catered to a motley crew from the counterculture community, and began to represent an intersection of skateboarding, music, design, art, and graffiti.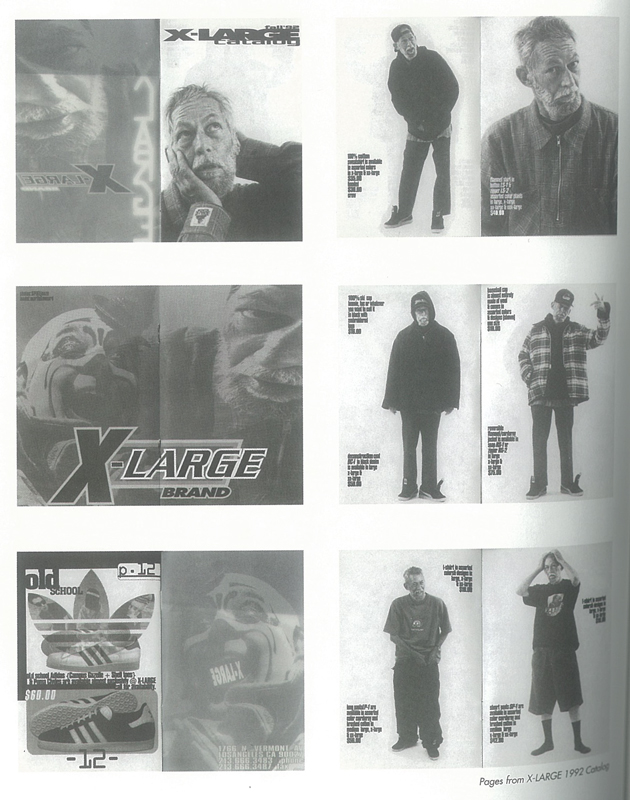 A spread from the 1992 XLARGE catalog, shot by Spike Jonze, featuring an old man Spike found on the street to model.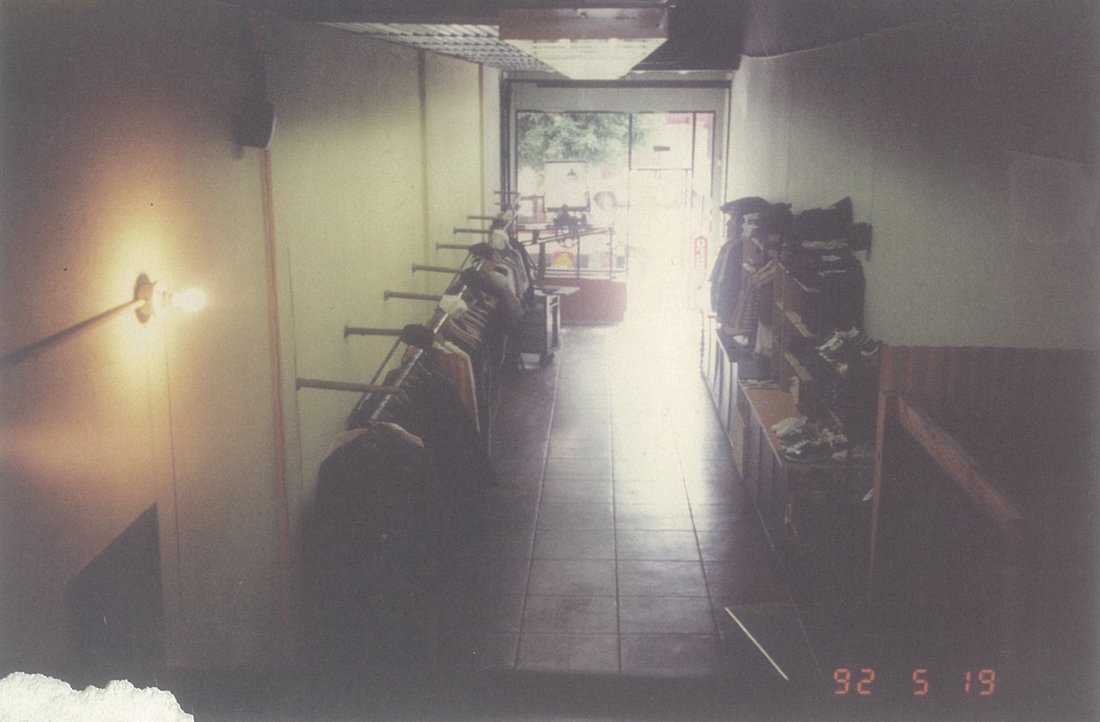 As time progressed, it became clear that XLARGE as a brand was doing something different—and people were noticing. By 1993, XLARGE had a cash flow that was upwards of a million dollars, and Adam and Eli ditched the deadstock sneakers to focus primarily on design and their in-house brand. "Humor, wit, and sarcasm were always a part of the XLARGE design ideology," Eli Bonerz said in TRUE OG STREETWEAR.
"XLARGE was never going to be the brand that stayed true to the game, we were the brand that was going to stay true to the player." -Eli Bonerz
Regarding the iconic XLARGE logo, co-founders Eli and Adam were heavily influenced by tagging, West Coast-style graffiti, but above all Ben Davis, the San Francisco workwear brand. Seeing that Ben Davis's logo featured an ape, the pair decided to make their logo a gorilla (and yes, this was before A Bathing Ape and every other Streetwear ape). The direct inspiration behind the logo stemmed from artist Steven Gianakos's painting "Millions of Gorillas." After coming across the LA-based modern artist's work, Eli called up Steven to ask permission to use it, and Steven literally said, "OK..." writing off the fashion brand as a silly gimmick that wouldn't last long—and the OG logo (which stands for Original Gorilla) was formed. Eli explains in TRUE OG STREETWEAR that they used Futura ExtraBold for the "X-LARGE" typeface in the logo—"the fattest type that we could find and with the kerning set super tight it looked stupid fat."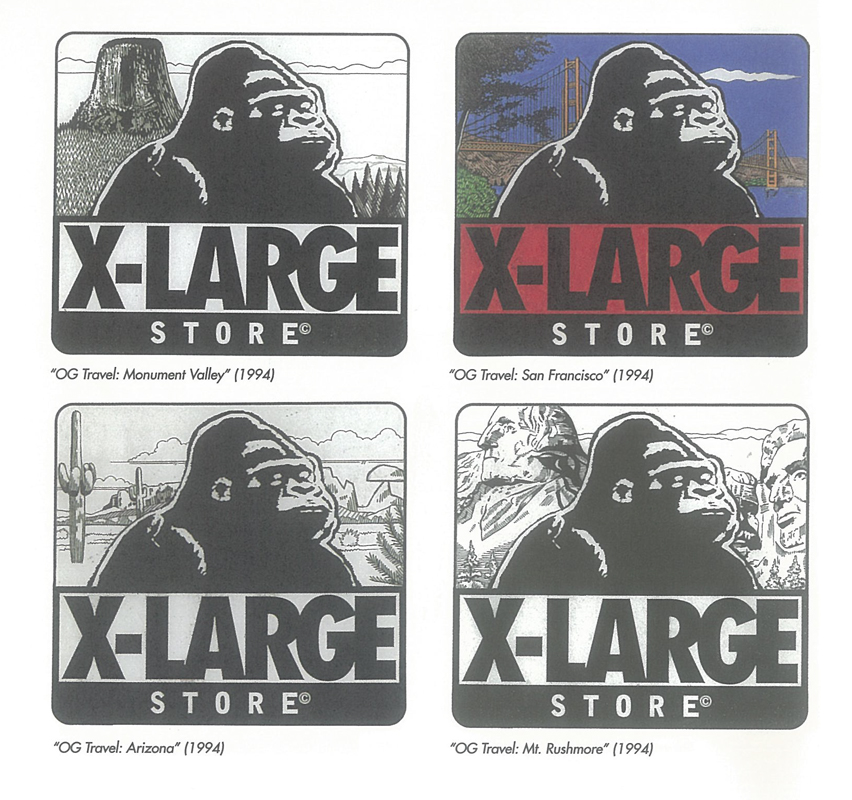 Variations upon the XLARGE "OG" logo.
"Achieving a measure of legitimacy as a brand was major for us, in that era it was very unusual for 20 year old kids to control the design and production and business operations of a real clothing company." -Eli Bonerz
As the '90s progressed, XLARGE continued to grow exponentially, expanding their range of printed T-shirts to include bottoms, outerwear, and accessories. With their graphic tees, they worked with printers from the surf and skate industry to do all-over prints, strange print placements, with off beat colors and inks. One of our personal favorites was the "Dic" shirt (a flip on the Bic logo). Eli Bonerz explains, "The XLARGE Store was the focal point but the brand XLARGE was the real vector."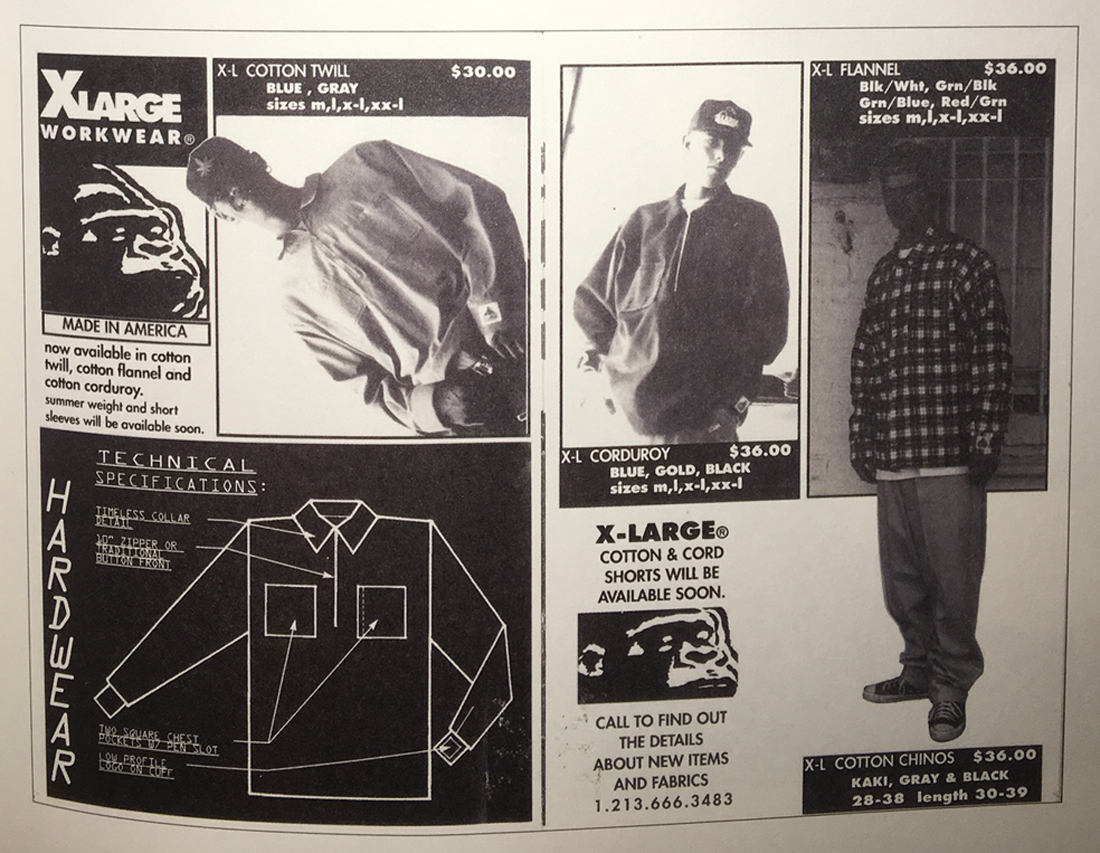 X-Girl was formed in 1994—a women's spin-off brand that quickly established itself with Sonic Youth's Kim Gordon as the brand director and Sofia Coppola on board as a photographer (here's an unreleased 16 minute X-Girl video with Chloe Sevigny, Kim, and Marc Jacobs in it). During that same year, probably one of the first streetwear collaborations to ever exist was also formed: X-FUCT. It was huge to have a product partnership with another streetwear titan during a time when there weren't many, everyone knew each other, and some didn't quite get along.
The brand was growing rapidly. "In 1991, we had about five employees, but their numbers were increased to 15+ by 1995," Eli Bonerz recalls.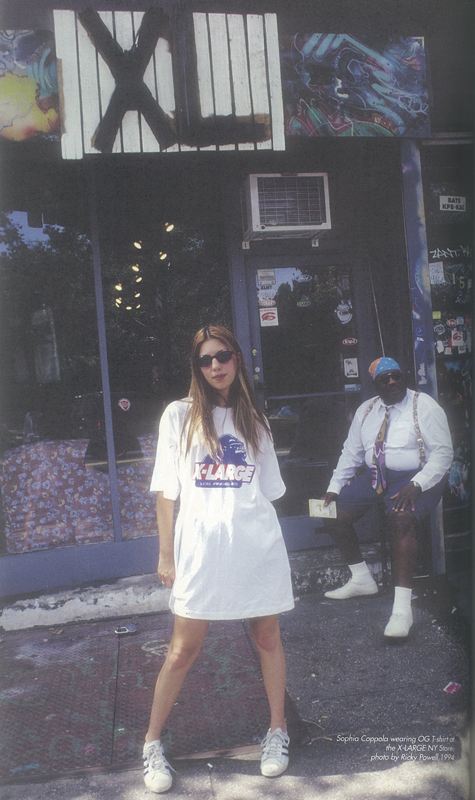 Sofia Coppola in the OG T-shirt at XLARGE NY. Photo shot by the legendary Ricky Powell.
XLARGE's witty spirit and jokester attitude preceded everything that was designed and created. In 1996, XLARGE produced a collection of business suits they called the "Action Suit," developing a campaign featuring John C. Reilly doing various activities in said suit. What resulted was a strange but comedic promotional video that truly embodied what XLARGE was about. In the same vein, XLARGE also held a fashion show for dogs in 1997 (dogs actually wore the shirts). "Those ideas were stupid, but very fun," Eli remembers.
XLARGE enjoyed many years of success. These guys were living the dream and having fun while doing it, opening storefronts nationwide and globally. After a decade, in October of 2008, Eli Bonerz decided to sell the company to their Japanese distributor, B's International. By 2009, the company entered a new stage brand development with a heightened focus on Japan's domestic market. Soon, it became time for the OG streetwear shop to close its Los Feliz doors. In 2013, XLARGE's original Los Angeles closed up shop for the final time, marking 22 years on the block.
However bittersweet it was, the original shop and brand—the one that paved the way for so many others, including The Hundreds—continues to thrive. XLARGE celebrated its 25 year anniversary in 2016.
The brand's influence on street style, its irreverent attitude, raw aesthetic, and dedication to great design remain highly influential to this day.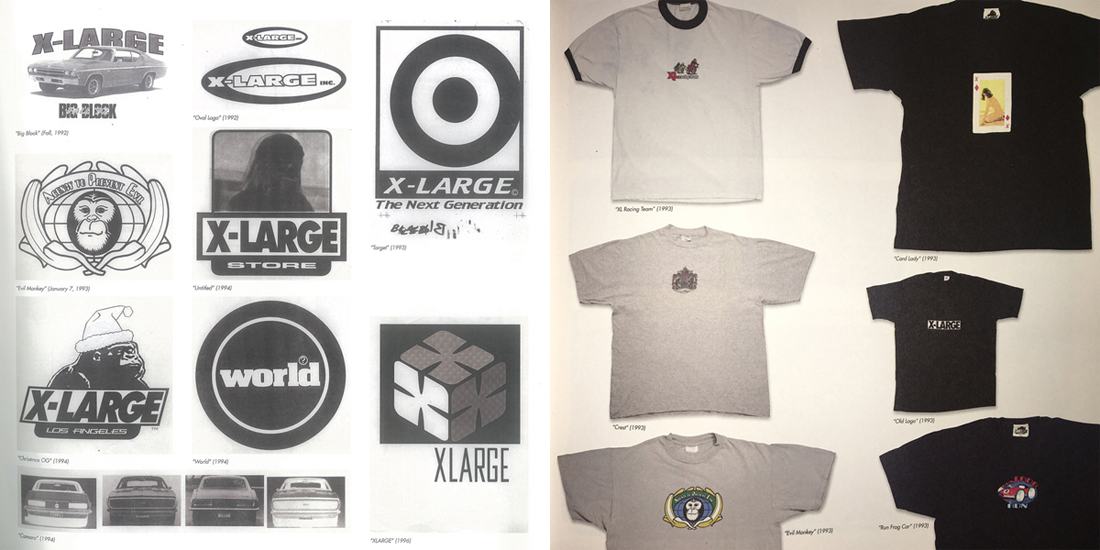 "XLARGE was never going to be the brand that stayed true to the game, we were the brand that was going to stay true to the player… We always had a quid pro quo relationship with our customers; in exchange for their financial support, we gave them our respect—respect that came in the form of smart and intelligent designs that resisted the hysterical and simplistic appropriation of tired and empty images that represented only reflected glory. There wasn't a Che Guevara image in sight at XLARGE nor was there a RIP Biggie t-shirt in our repertoire. We didn't just point at things and say we are cool because we like this shit or that shit… Nope, that was never the game we played, our game engaged the customers as participants, fellow players… For XLARGE, Streetwear is a state of mind." -Eli Bonerz
***
The Hundreds X XLARGE drops tomorrow, August 31. We're honored to have our own take on the OG Original Gorilla.
Last year, during XLARGE's 25th anniversary, FLJ interviewed Eli, Adam, OG Slick, and Money Mark about the early days of West Coast Streetwear. Check that out here.
All photos and quotes from the XLARGE: TRUE OG STREETWEAR book, lovingly made by Rin Tanaka. Words by Kat Thompson and Alina.