Years ago I lived in a city called Leiden. It's located between Amsterdam and The Hague, and is mostly known for its university. Leiden is quite a small city, and I mostly treated it as a place to sleep while enjoyed myself in cities like Amsterdam and Rotterdam during the weekends. The fact that Leiden is the only major city in The Netherlands without a professional soccer team says enough. Another thing the city lacked – which was a bit more close to my heart – was a decent streetwear/sneaker shop. Every major, and as of late, even a few minor cities, has at least one shop in that genre. Now, about three years since I left Leiden, two guys took it upon themselves to finally fill the void and open a brand new store in Leiden's historic city center: Format. I spoke with the founders a week before they opened their shop to find out what this new store is all about.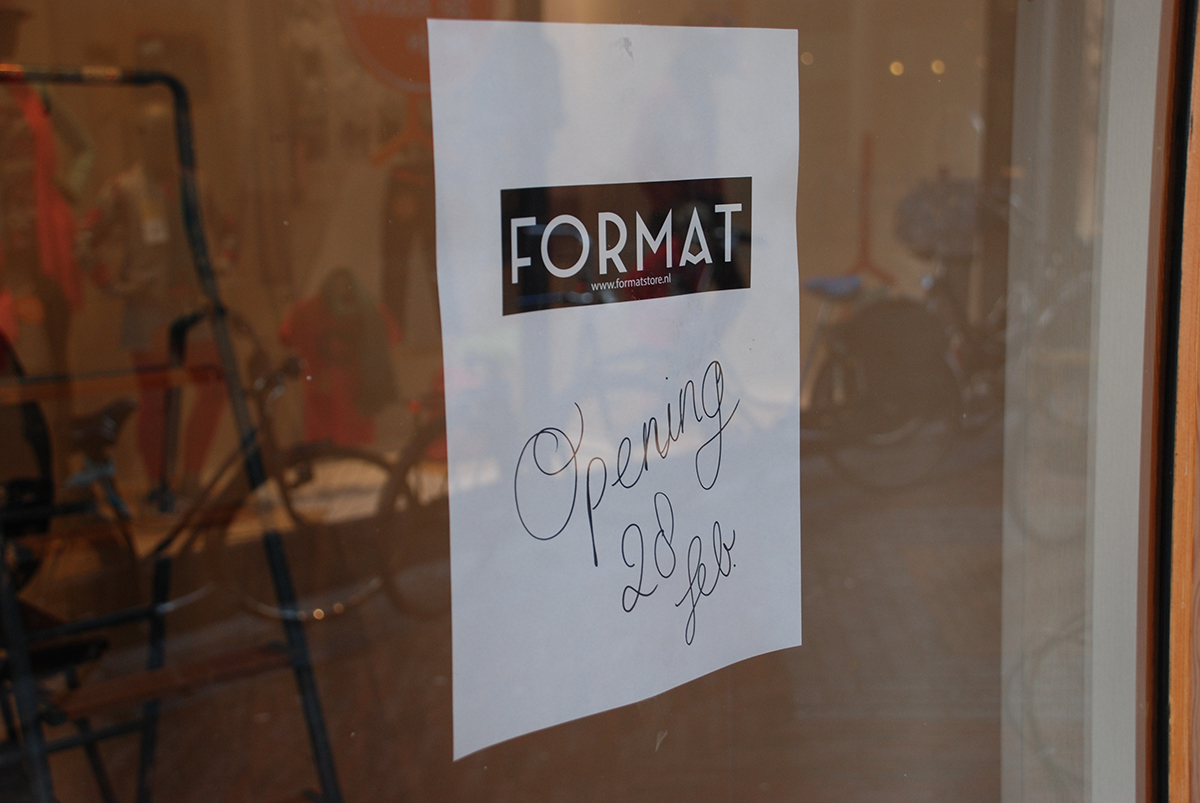 MAARTEN: To start things off, introduce yourselves.
SJOERD: I'm 25 years old, originally from Breda and I've been living in Leiden for about two and a half years now. I've always been interested in and involved with sneakers and streetwear, and like everyone else with that interest, I always dreamt of having my own shop. Then I met Pieter here in Leiden, and he had the exact same idea. And that's exactly what it was for the first year we knew each other, just an idea. After that, we spent about a year saying to ourselves, "We're really gonna do this!" And about six months ago, we started working on what would become Format.
PIETER: 26 years old, grew up in Oude Wetering, near Leiden. I've been skating all my life, and through that, I found an interest in shoes and clothing, mostly from the "performance" side of things. Which shoes hold up well when you skate them, which pants are comfy enough to skate in, things like that. I've worked at the local skateshop here in Leiden, Juhroen, for quite a few years, but then I met Sjoerd and we came up with the plan to start something of our own. There's a void in Leiden. Many of our friends who like the same type of clothing that we're into always go to Amsterdam or The Hague to shop. Why wouldn't they be able to buy those things in Leiden? It's a great city, and there's a tight scene here.
Sjoerd: After we announced that we were opening a store, our phones and Facebook blew up with people being stoked for us and on our idea. I guess that says enough.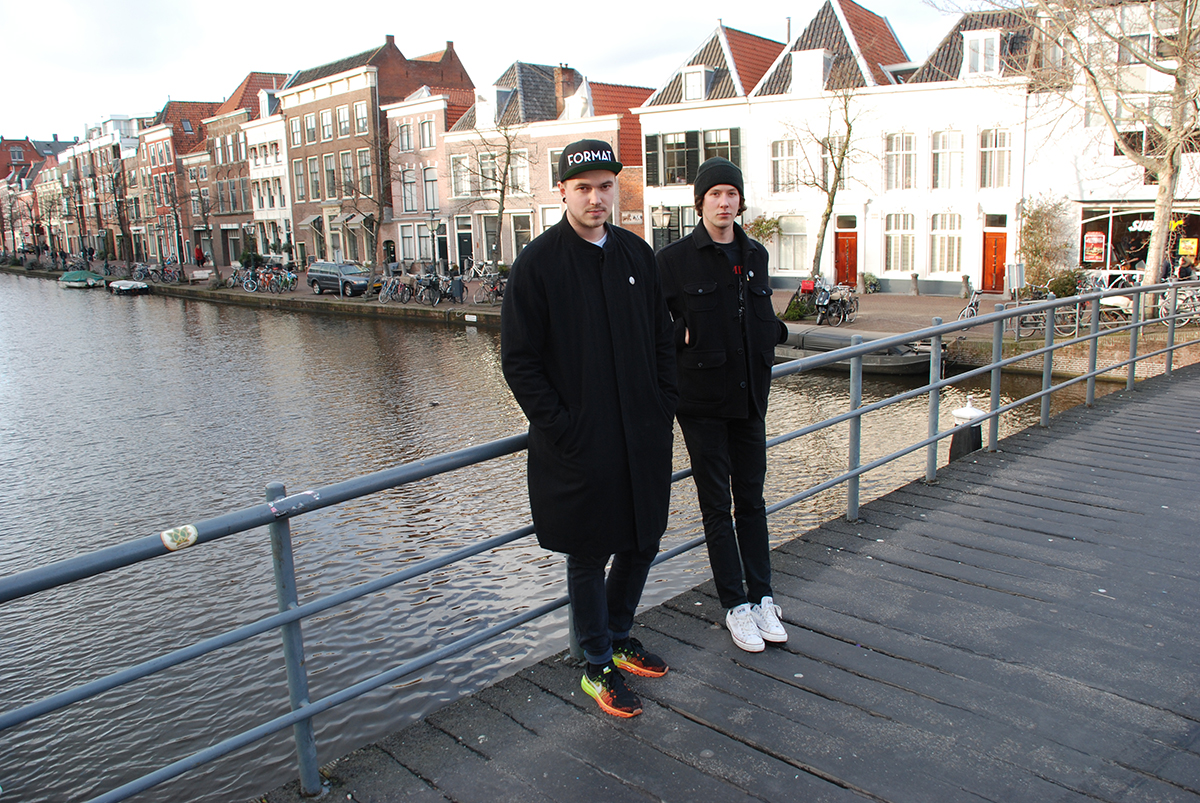 So what's the concept you guys have for the store?
Pieter: We want to be a shop that gives you a great shopping experience. We'd like people who step into the store to feel comfortable. A relaxed atmosphere, good music, and a selection of products that we, as the owners, back for the full 100%. We might be a bit more pricier than other stores in Leiden, but we hand pick our products and bring the customer a bit more exclusivity. But on the other end, we don't want to be so exclusive that the shop's almost like a museum where you're not even sure if you're allowed to touch the product or not.
Sjoerd: So no Supreme-like policies where they give you a nasty look when you grab a shirt from the shelf.
Pieter: And even if they don't buy anything, we still hope that people leave the shop thinking that it was a cool place, and that they will stop by again some other time, even if it's just to be in that atmosphere again. From that, you can build a family, and get the homies involved to contribute art or photos to hang in the shop, or maybe dj some music to further enhance that atmosphere.
Sjoerd: We're also going to sell records and magazines. So it's not just shoes, clothes and accessories, but we want to bring the whole culture into the store.
So as far as brands and product go, the shop is pretty much the sum of you two guys, right?
Pieter: I'm always backing good skate brands. I'm not really a fashion guy, but I like what a lot of those other brands that Sjoerd is into are doing. The skate shop I used to work at was really core, but most of the people that came in there didn't skate. So I could tell them all about the new Kostons, but they have no idea who Koston is and just want the black Nikes with the Diamond blue Swoosh.
Sjoerd: Or some chick who wants a Thrasher hoodie because she saw it on some blog, not because she knows about the magazine.
And that's something you can either hate on or embrace.
Sjoerd: Exactly, and we're going to embrace it.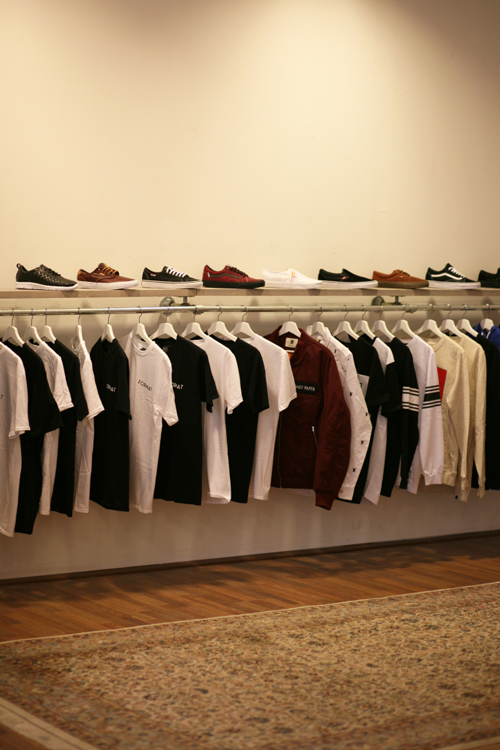 How did you approach the brand selection for the store?
Sjoerd: We started out by looking at the brands that we ourselves and our friends like to wear, but weren't available in this city. This led us to labels like HUF, Stussy, Daily Paper, and By Parra. We also considered brands we like that would bring in easy traffic and sales, so we brought on a brand like Vans.
Pieter: You need certain well-known brands to attract a bigger audience. People might come in because they see Vans, but because of that, they might discover a brand like Publish. We want to be selective in our brands. There have been brands that approached us with some really good deals, which would've made a lot of sense financially, but if we're not feeling it, we're not fucking with it. I'd rather have eight great brands I really support than fifteen brands that are only in there to make us a bunch of money. Because I've worked in a skate shop for so long, I've made a lot of contacts in the industry that are backing what I'm doing, so those accounts were easy to get. Other brands we really had to work on getting, and there are brands that first wanted to see our shop up and running before they were willing to give us an account. For instance, a brand like ONLY NY is something we really wanted in our store, but to them, we were just a bunch of random Dutch dudes emailing them with our plans to open a shop. So once we're up and running, we'll take some photos, send them our brand list, and everything will work out in the end.
I like how you mention ONLY, since they're a brand that's not available in The Netherlands right now. Most shops only pick brands that have a local distribution. Are you planning to bring more brands like that into the store?
Pieter: It's something I'd really like to do, but we're a small shop that just got started. If we bring in a brand and it starts getting successful, there's no doubt that some distributor here will scoop that brand up in a second. But I'd rather be the guy that brings in something new than just another sheep following the herd. We also have a brand called Futur, which is founded by a friend of ours that used to live here but moved Paris, and started the brand there. We're one of the few shops that sells it, along shops like Starcow Paris and FootPatrol, and that's pretty special.
What about footwear – how are you planning to differentiate yourself now that pretty much every store has access to the same accounts? Especially with big retailers like size? and Snipes entering the Dutch main streets…
Pieter: Mainly through the experience that we as a store provide to the customer. We hope that along the way people decide that they'd rather spend their money at us, an indie, than at the big chain store.
Sjoerd: I've always been into sneakers, and opening a store is something that I've been thinking about for quite some time. But then you start approaching these brands for accounts and you find out that it's quite hard to get the things you want. So we kinda flipped it around at decided to focus more on clothing.
Pieter: It's easier for someone to buy a T-shirt from a brand they're not familiar with than to try on a different brand of shoes.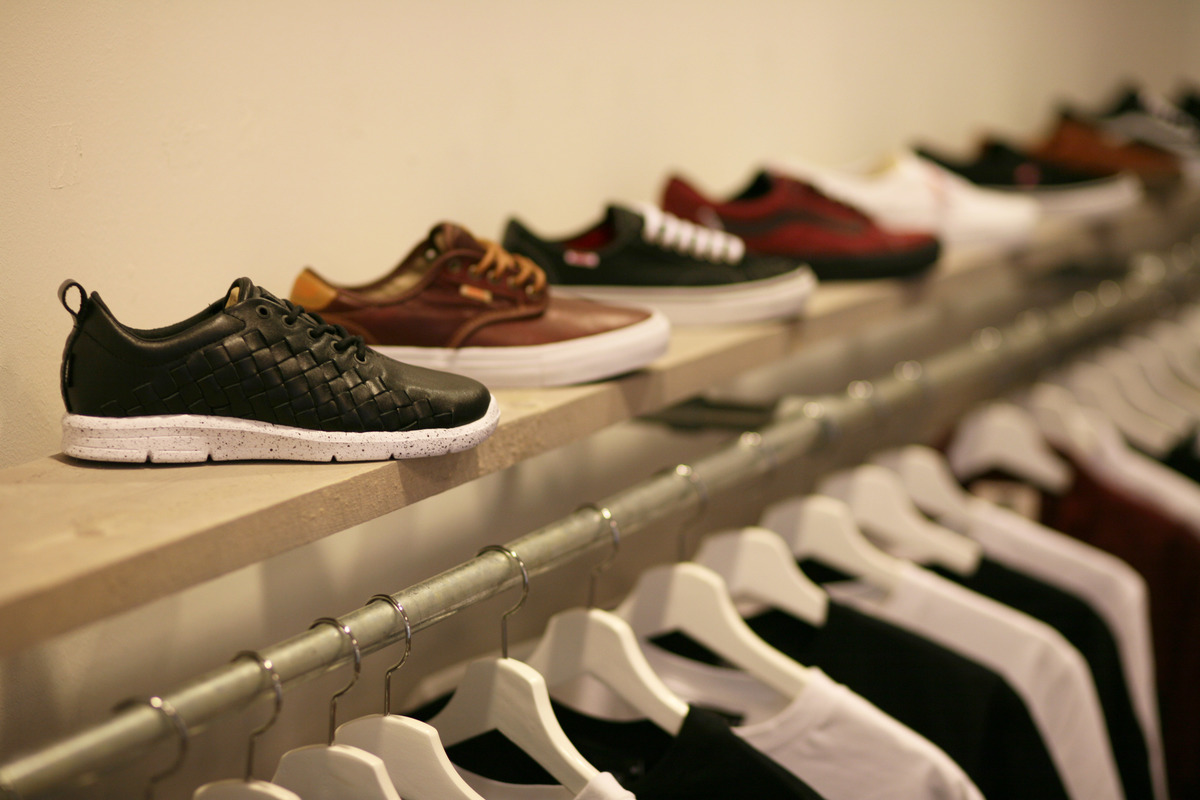 So why do you think no one ever tried to open a shop like this in Leiden before?
Sjoerd: I think people were scared to do it over here. The skate shop here, where Pieter worked for about eight years, the guy who owns it isn't really open to hear input from other people. People suggested he'd do brands like HUF, but he wasn't feeling it, didn't consider it to be "core" enough. And no one wanted tread on his business by opening another skate shop in the city.
Pieter: I feel what we're doing complements what the other skate shop is offering. If people come to our store and ask for some puffy Etnies or a pair of Fallens, or maybe a longboard, we'll direct them towards the other shop. And I hope that he'll do the same when people in his shop are looking for a different type of Vans, for example. There's no hate or whatever – I feel that in the end we'll be able to help each other grow. As far as our skate collection goes, I want to offer like two or three board brands that I'm really into, with good shapes. I don't care about brands like Plan B or Flip, or multi colored trucks. We want to offer the basics, raw trucks, Bones bearings, shit that everyone skates.
The economy is still far from flourishing, there's more shops closing down then there are new ones opening. Does this worry you?
Sjoerd: Of course, and we notice it very much in this city. The end of the main shopping street is slowly dying out. Shops are either empty, or are basically outlets where you can buy a T-shirt for 2 euros. The "normal" stores are suffering, but we believe that when you offer a unique product that has above-average quality, you can still make it in this economy.
Pieter: The city is working to revitalize the city center by renovating one of the main shopping streets and directing more traffic towards that part of the center. And our shop is situated right at the spot where that street ends and people head towards the bars, the canal, and other shops. There will be plenty of foot traffic passing by our store.
Sjoerd: And right now is the perfect time to get that location. In two or four years, the rent will be at least double what we're paying now for a newcomer.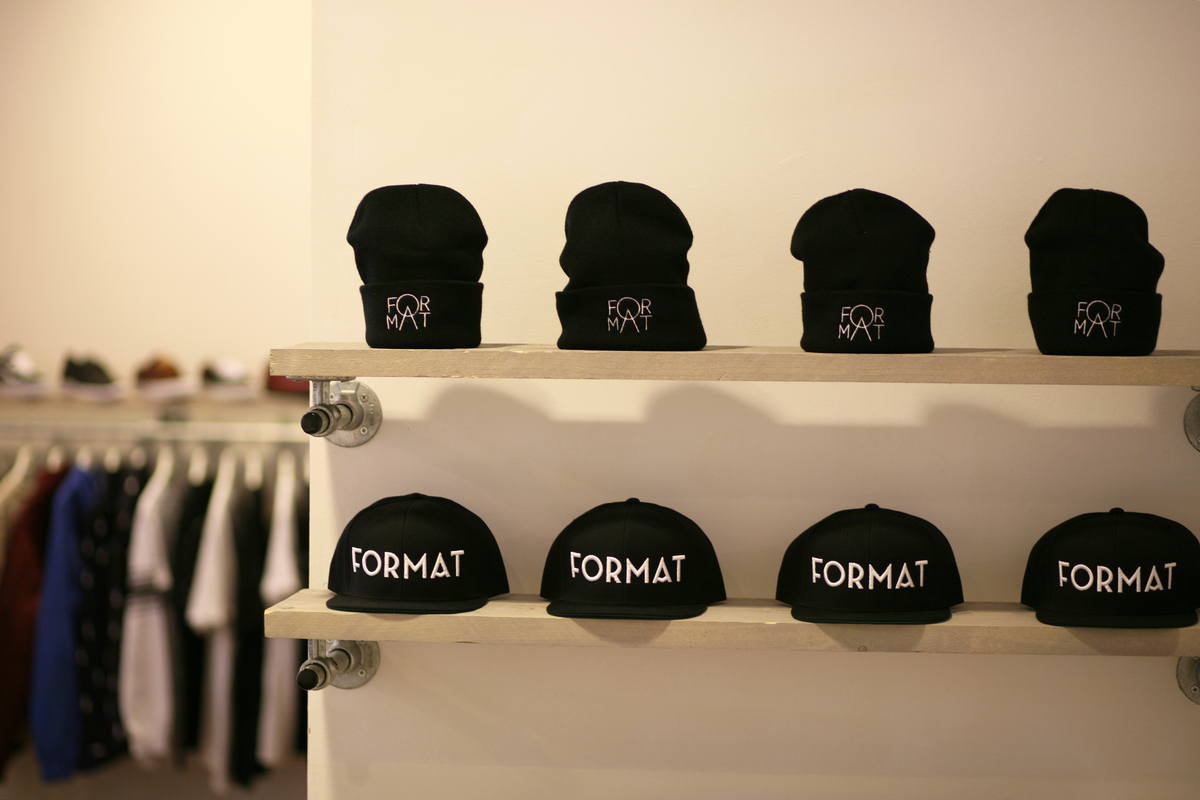 You already have some store merchandise available for the launch, any plans to turn that into a full in-house brand?
Sjoerd: It was a small thing we wanted to do for the opening, but we're amazed by the response we're getting. Before we even opened the shop we almost completely sold out of all the logo T-shirts, caps, and beanies. So it's something we're definitely thinking of expanding. This summer we'll be working with a photographer on an in-store expo, and release some T-shirts that go along with that, and maybe a deck.
Pieter: And it's not a skateboard photographer like most people would expect. He's a high fashion guy, so I think it will surprise some people. And we really want to turn our Format releases into a brand, but for now we wanted to focus on getting our logo out there – make it recognizable. Eventually we'd like to release a little collection every season. We're thinking of possibly doing a windbreaker at the end of the summer. It's not going to be just T-shirts.
What thoughts went into the design of the store?
Sjoerd: We really wanted to do a black/white theme. That gives the product more space to stand out, and not get absorbed into the interior.
Pieter: There were some shops that inspired us. In the end, everyone wants to do what Supreme is doing – they set the standards. But also a shop like Dela in San Sebastián, Spain. They have skate roots, but they recently opened a new store that focuses on more high-end product. They had some racks we really dug, so we asked them where they got it. They gave us this address in Berlin, some guys who could make them for 500 euros a piece. That was a bit outside our budget, so we came up with a way to do it ourselves. And it's not like we're trying to bite them, but it worked really well in our interior.
As you're about to embark on this journey, where do you see Format five years from now?
Pieter: Ideally I'd love to have a little distribution going with some brands we really like. Plus, a second store, so we can really divide them into core skate and more high-end stuff. Monthly parties, monthly drops of our own gear… But we're going to start with baby steps. Keep the shop going, get the name out there, and grow bit by bit. Realistically, five years from now, I hope the shop is still going well and that maybe we can think about doing a core skate shop, or maybe a shop for women and/or kids.
::
Format opens on February 28th. Info about the opening event can be found on Facebook.
Format
Maarsmansteeg 4-6
2311 EE Leiden