Fast fashion has become the second largest pollutant in the world. Fortunately, conscious brands are emerging from the masses with collections that both meet consumer demands and make a minimal impact on the environment. And they're navigating that delicate balance while also maintaining maximum style. It's easier than ever to fold sustainable fits into your streetwear wardrobe and make a difference with the designers you wear.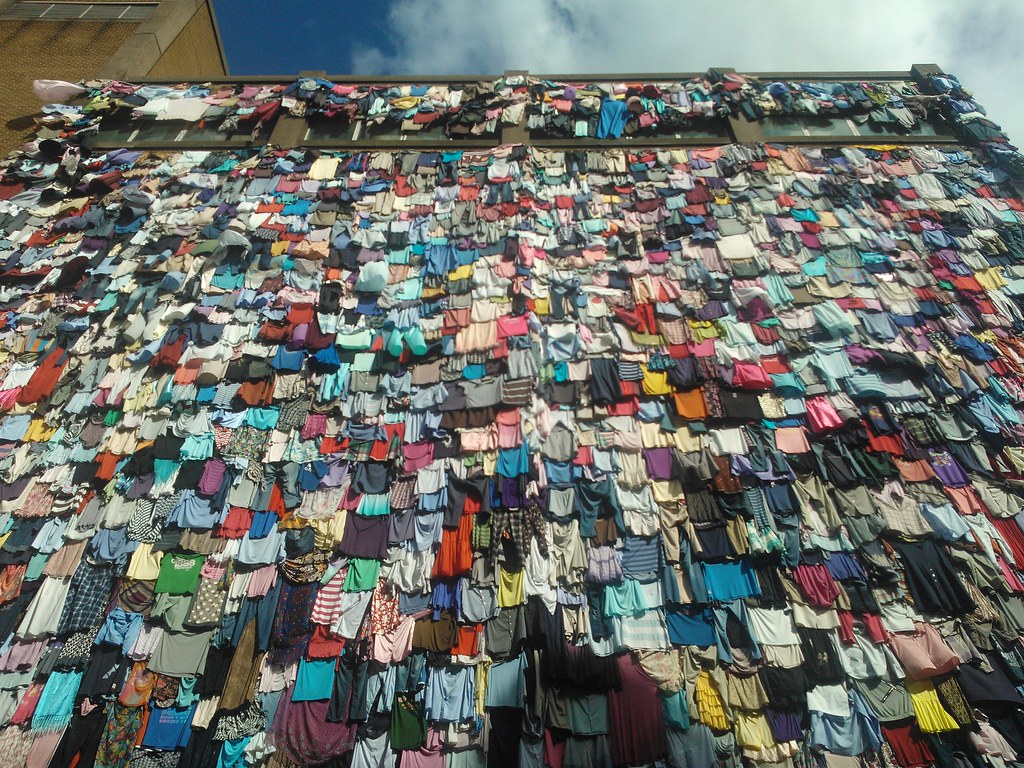 A significant sustainable apparel trend is to repurpose used plastics into upcycled wearable materials, diverting waste from landfills and reducing the negative impact of what we wear. Every hour, 2.5 million plastic water bottles are thrown away. Each piece of plastic ever made still exists — unless it's been incinerated. The only 100 percent regenerative option is to upcycle post-consumer plastic into products that can be recycled repeatedly. This drastically reduces toxic greenhouse gas emissions, the buildup of waste in landfills, and ocean pollution. Over 8 million tons of plastic enter our oceans each year — single-use plastic bottles account for 1.5 million tons of that waste.
Several mainstream brands have been releasing eco-conscious collections that appeal to streetwear heads. Patagonia is a pioneer in sustainable clothing — they've been making one man's trash another man's treasure by creating recycled polyester products from soda bottles since 1993. Today, the brand fuses the plastic fibers with manufacturing waste and old apparel to create eco-conscious products like their puff jacket. Another cult favorite is Everlane's ReNew collection that offers a Fleece Sweatshirt that's made from 35 plastic bottles.
Footwear is one of the major contributors to fashion waste — annually 23 billion pairs of shoes are produced mostly of synthetic materials that won't break down. Roughly 95 percent of these kicks end up in landfills. Iconic footwear brands have debuted impactful collections that appeal to conscious streetwear aficionados.
An almost fully biodegradable sneaker is the Allbirds high tops composed of naturally-derived textiles and recycled materials. The classic kicks are eco-centric with innovative carbon-negative EVA Brazilian sugarcane SweetFoam™, a eucalyptus pulp upper, and laces made from a repurposed plastic bottle. Allbirds makes sustainability accessible with all shoes retailing for $95 and the eco-conscious laces going for $10 for a set of three.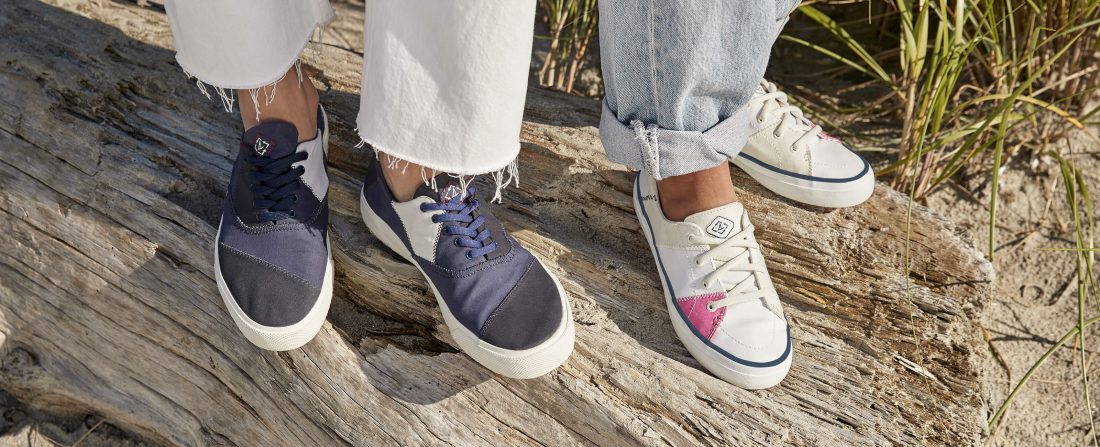 Make an impact as you walk with the newly launched Sperry x BIONIC Collection which partners with Waterkeeper Alliance — the largest clean water nonprofit. Each shoe is made from BIONIC® yarn material spun from 5 plastic water bottles removed from coastal environments. The shoe boxes are made of 100 percent recycled paper material with vegetable ink and water-based glue.
Each shoe in Nike's Flyknit collection is made of six post-consumer recycled plastic bottles. Nike aims to send zero footwear waste to landfills and is installing 100 percent renewable energy in all Nike facilities by 2025. The adidas Ultraboost X Parley Sneakers are made with Parley Ocean Plastic™ that transform waste into kicks everyone wants. Each pair has repurposed 11 plastic water bottles. All of these shoes combat waste by recycling, reusing, and repurposing harmful single-use plastic.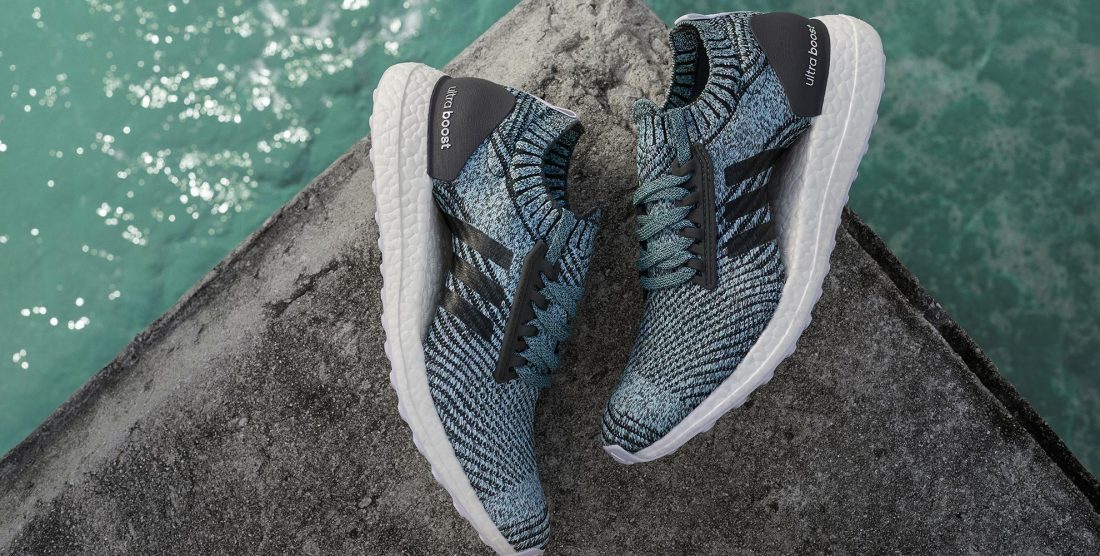 Outdoor brand United By Blue is also confronting plastic waste by removing a pound of trash from the world's waterways for every product sold. Since 2010, an astonishing 1,606,921 pounds of trash have been cleaned from beaches, creeks, rivers, and streams. Founder and CEO Brian Linton wanted to provide eco-friendly alternatives for day-to-day clothing that supports waterway conservation efforts. The brand's responsible and durable goods reduce water waste by using sustainable materials including organic cotton and hemp as well as ultra-soft long-lasting recycled polyester made from used plastic water bottles.
"We're committed to using eco-friendly materials in our products and using our business model to have an even greater positive impact due to our focus on ocean and waterway conservation," Linton says. "By shopping with United By Blue, you are not only purchasing a product that has a lesser impact on the environment than your traditional alternatives but you are also directly contributing to waterway conservation efforts in the form of our cleanups."
Seeking out goods made from organically grown cotton means fewer pesticides and chemicals are polluting the planet. It takes 2,720 liters of water to make a single T-shirt — the same amount of water you'd drink in three years. Producing an organic cotton T-shirt takes 91 percent less water. Up-and-coming athleisure company Wawwa exclusively uses organic materials, water-based inks, and 100 percent recycled yarn. Their fabrics are salvaged from plastic — each T-shirt saves 2 plastic bottles from entering landfills. They also utilize organic cuts offs left over from their clothing by using the scarp textiles in fabrics which keeps landfill waste minimal.
Wawwa's approach is truly full circle. The cruelty-free brand works with factories that use sustainable energy and plastic-free plant-based compostable packaging that decomposes in 30 days. They've planted 1,000 trees and have been recognized for providing living wages to their workers. The buy-one-give-one collection, 1+1, donates an item to someone in need for every purchase. Co-founder Sean Geaney recognizes that to create truly zero-waste fashion is challenging, but he's determined to try. "Doing things as sustainably as possible shouldn't be an option, but the norm," Geaney explained. "The idea of closing the loop is the ultimate goal, meaning a more circular economy which benefits as many people as possible. But the goalposts for us are always shifting, trying to find useful new ways to repurpose stuff into clothes and to provide some type of positive benefit."
Shopping sustainably isn't as limited as you may think, as there are many urban brands with organic cotton T-shirts. Cop a new tee from the ethical collections made by Dedicated, Know the Origin, Brown Boy, Lyme Terrace, Suave Citizen, Klow, Knowledge Cotton Apparel, CAFIN Clothing, Goose Studios, Riley Studio, or Just AK.
Sustainable denim is offered by plenty of brands in the men's streetwear market. Kings of Indigo's Dry Denim uses no chemicals or water and Prana has a collection of organic cotton denim. Kit Culture uses 65 percent recycled polyester from plastic bottles and 35 percent organic cotton for their relaxed sustainable denim. Nudie Jeans are made with 100 percent organic cotton and recycled worn-out pairs. RE/DONE revitalizes vintage Levi's, restructuring them into modern fits at their LA manufacturing center, where policies are in place to minimize water consumption and harsh chemicals are strictly banned.
Sustainable streetwear goes beyond clothing and shoes — you can see the world differently with frames that are ethically made. Norton Point sunglasses are made from ocean plastics and Karun 7 Seas optical glasses are made from recycled fishing nets.
Sustainable living strategist Tracey Martin shares here advice for brands that want to reduce their negative impact on the planet. "If brands want to empower the wearer and make them feel good, they can't exploit the worker on the other end," said Martin. "Using natural fibers is better for the environment, the worker and the consumer. Low impact dyes and finishes make a huge impact in our pursuit of wellness."
The future of the streetwear industry is meek unless more brands ditch their harmful practices for a more conscious approach. Sustainability can be accomplished in many aspects of a clothing brand — from sourcing ethical fabrics, commitment to low-impact manufacturing, and following fair trade labor rights. Style doesn't have to be sacrificed in order to preserve the environment. Instead, being mindful implores brands to get creative on how to reuse, repurpose, and recycle waste materials into dope collections.
***