The term "clock watching" in a sports context is often used to describe a team attempting to salt away a victory by watching precious seconds tick off the scoreboard. While it can often get the job done, it seems counterintuitive to become a slave to time rather than the design of the plan itself which has put a team and its players in a position to win the game.
Time is something that is universally accepted and understood regardless of age, race, or religious affiliation. Precious seconds make up vital minutes which make up critical hours—and so on and so on until everything just stops one day.
While we track what makes up our lifetime with memories, the minutia of everyday is achieved by monitoring the device we've chosen to make sure our affairs are in order and that we abide by a timeline. Prior to the smartphone boom, people turned to the wristwatch.
While today it serves more as an accessory than a necessity, a certain watch proved to be the perfect convergence of functionality, hype, aesthetic beauty, and technological advances. The watch: Casio's G-SHOCK.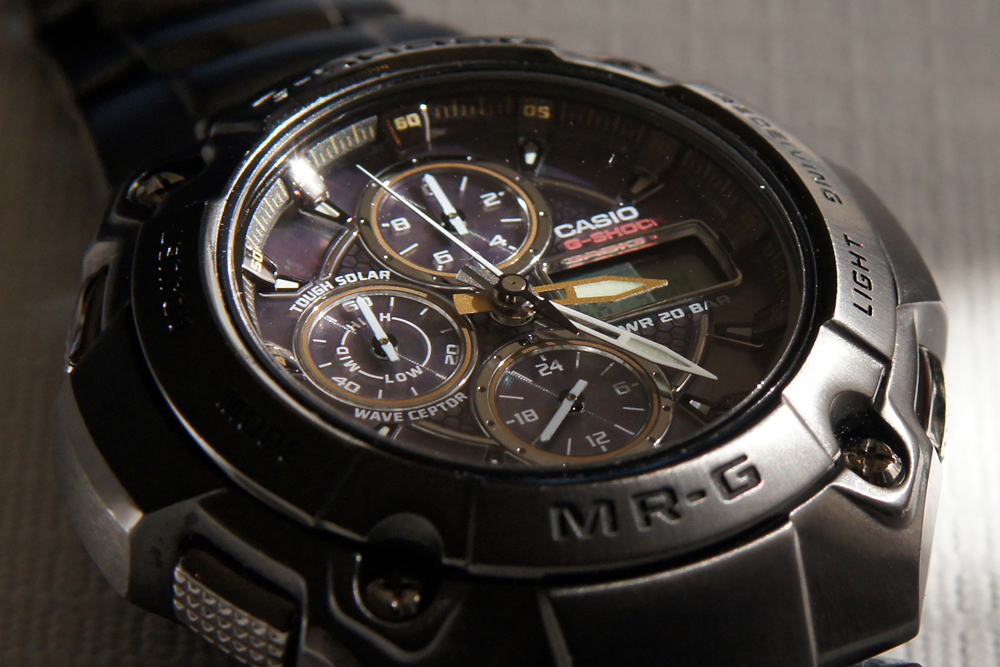 Photo: wikipedia.org
Before G-SHOCK became a cultural phenomenon, Casio was forging its own unique place in the tech space by introducing first-of-its-kind products like the all-electric compact calculator, the world's first ink jet printer, the first electronic wristwatch, and the first electronic musical instrument. By the 1980s, Tadao Kashio's Japanese company was ready to further push the boundaries of what was possible in the world of wristwatches after the general public slowly began to embrace the digital glow emanating from their appendages rather than the customary "tick-tock" of Quartz-movement that had been accepted for centuries.
Enter Kikuo Ibe, a Casio Research and Development Chief Engineer, who after breaking his watch after a 10 meter fall, realized that the fragility of watches was a problem that had to be dealt with.
"It was when I dropped and broke my favorite watch, I've came up with the idea of 'a watch that would not damage easily when dropped' and that was the beginning," Ibe recalls. With a team of eight united under the "Project Team Tough" banner, Ibe and Co. looked to create a prototype for a product which would pass the "triple 10" test; meaning it could withstand a 10 meter drop, was water resistant to 10 bar, and had a battery that would last 10 years. Ultimately, the "G" in G-SHOCKs would come to represent the first initiative which was meant to withstand the inevitable smashing power of gravity.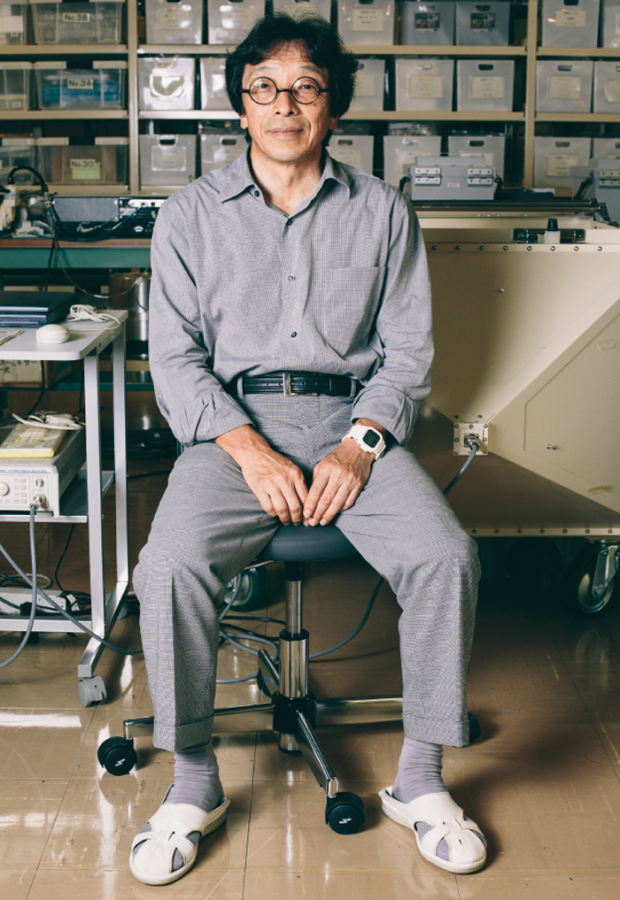 Kikuo Ibe. Photo: gstreet.com.au
In a scene that invokes thoughts of Kramer's exploits in "The Voice" episode of Seinfeld where he attempted to cure the world of oil spills by using a rubber bladder system, Ibe began wrapping Casio watches inside a rubber ball and tossing them out of his office window. "I wasn't confident at all at that time," Ibe said. After throwing 200-300 prototypes out of the window, Ibe then believed he had come up with a solution for the problem that gravity posed—the Floating Module Configuration—which achieved his desired effect to absorb the "shock" of a free-fall. The watch wasn't meant to be unbreakable regardless of how far it fell. Rather, the intent was that the watch would remain working after any fall the wearer could survive. "The G-SHOCK is primarily a structural design," Ibe said. "In other words the shock resistant structure more or less determines the exterior form. Under this circumstance, the designers have communicated toughness through the rugged exterior form."
By 1983, the very first G-SHOCK, the DW-5000C, was introduced to the marketplace—boasting a hollow structure, urethane bezel, and other cushioning materials which protected the crystal oscillator inside the module. Continuing Casio's notable product lineage, the G-SHOCK passed the "triple 10" test with flying colors thanks to its electric shock resistance, gravity resistance, low temperature resistance, vibration resistance, water resistance, shock resistance, and toughness. Aesthetically, its rugged appearance was also a far cry from dainty, analog watches of the past. "My favorite G-SHOCK is the original G-SHOCK (DW5000)," Ibe said.

As the 1980s progressed, Casio released an additional model, the AW-500, as competitors scrambled to mimic both the look and durability of the G-SHOCK.
Casio truly made waves with their "Baby-G" series for women, which hit stores in 1994 and opened up the brand to a wider consumer base thanks to its pop colors and design motifs which were instant hits with teenage girls at the time. In only a decade, Ibe's product had gone from a mere prototype to a certifiable fashion statement that spanned both sexes.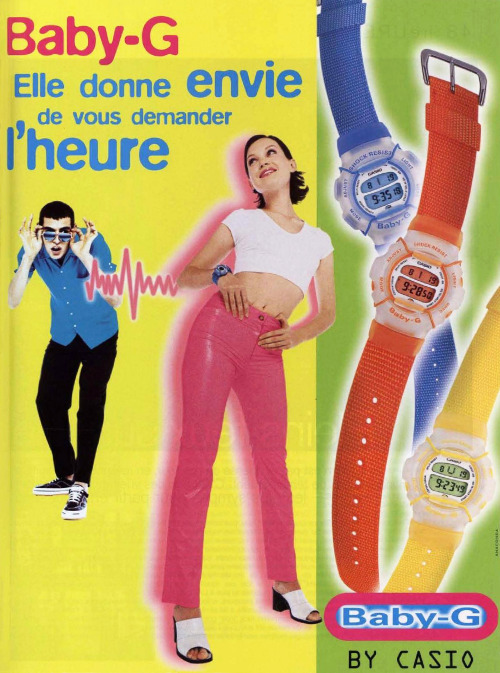 A French Baby-G ad for Jalouse Magazine in 1998. Photo: tumblr.com
"I didn't think it would become a big brand," Ibe said. "But people liked it, and the media supported it. The advent of color [for the cases and straps] in the 1990s was a turning point—young people adopted it with a passion. Our designers then studied even more colorful options."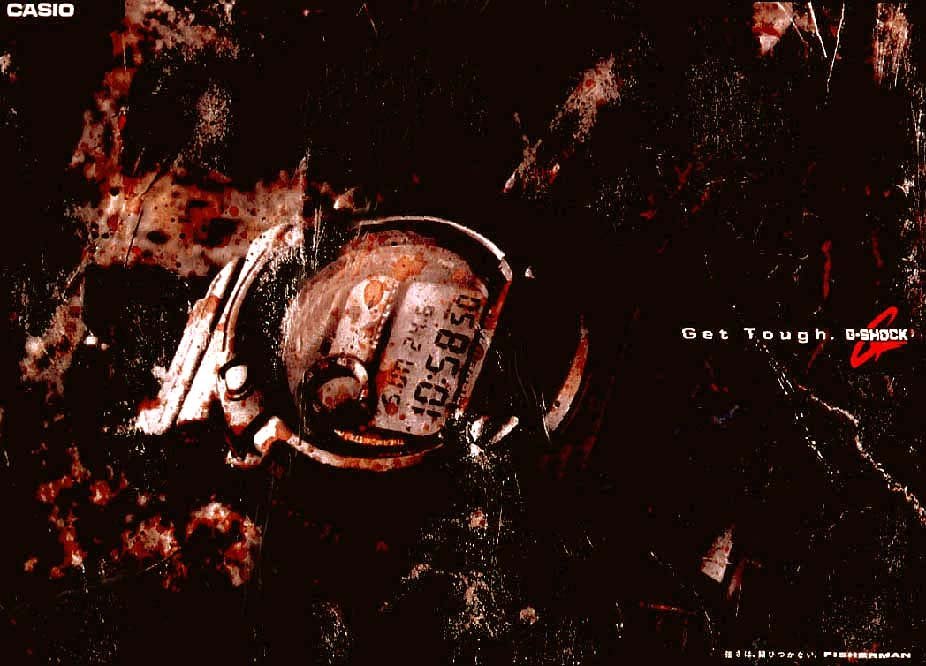 G-SHOCK Frogman print ad, circa 1999. Photo: coloribus.com
G-SHOCK became an item that kids in the '90s deemed a "necessity of cool"—not unlike a Starter Jacket or pair of Air Jordans. Although the new colorways made the watches flashy, they never abandoned the ingenuity or brand integrity in order to make their margins better when people began focusing more on form than function. Instead, they stayed true to their core. The watch was built to last, while trends by their very nature were made to die out.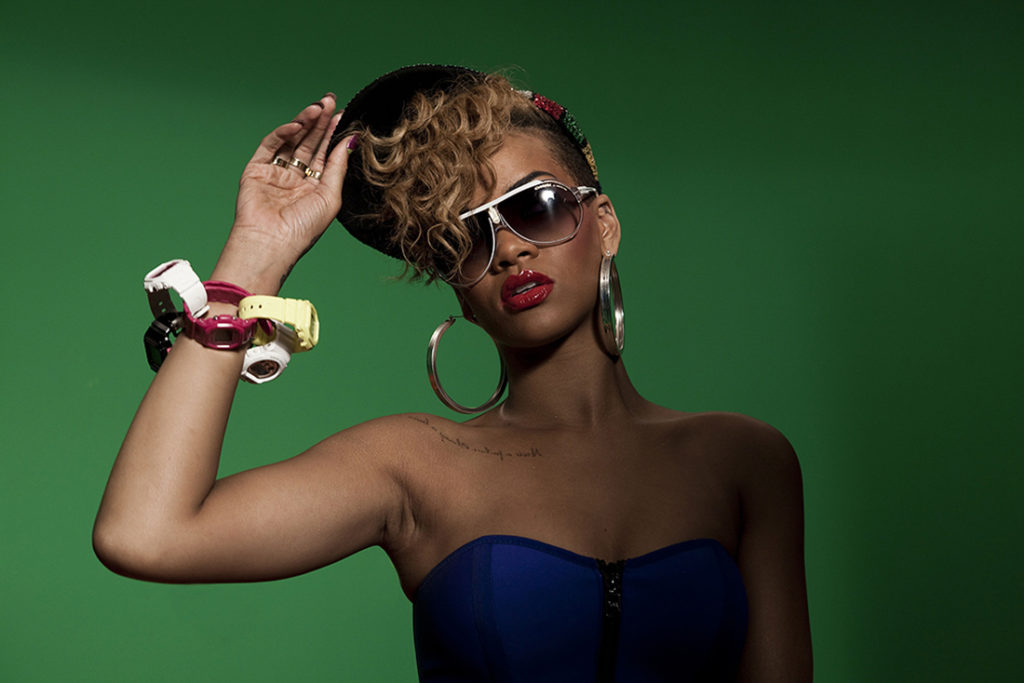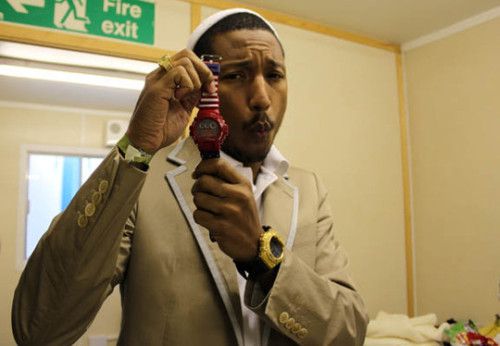 Over the years, there have been additional notable milestones like 1989's first digital model, 1993's Frogman DW-6300—with 20 atmosphere water resistance—and 1995's first titanium model, the Frogman DW-8200. At its absolute peak in 1998, Casio released 221 different G-SHOCK models.
The toughness of a G-Shock has been a constant throughout the years, but as more models were developed, the technology continued to evolve. Among G-Shock's innovations over the years include radio-controlled atomic timekeeping and sensors which calculated direction, barometric pressure and altitude. In 2014, G-Shock released the GPW-1000 model which offered the ability for the watch to receive time-calibration signals from GPS satellites and six radio transmitters worldwide.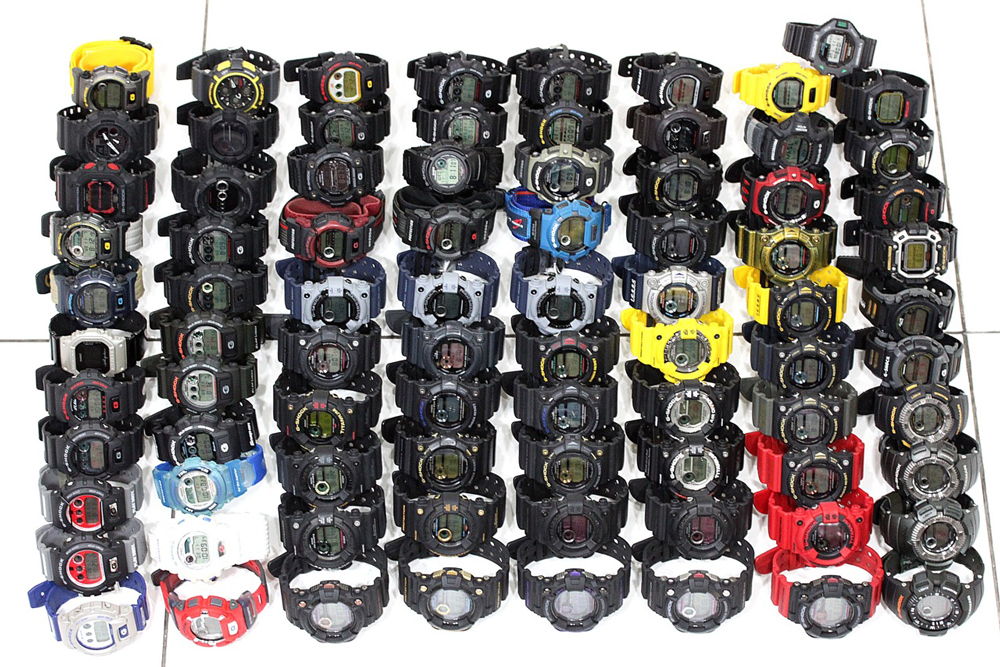 Photo: g-street.com.au
As is the case with brands that get tattooed with the "hype" label in today's world of fashion, several labels looked to form a strategic partnership with Casio to increase their own reach. In 1997, Stussy and Casio produced the collaborative DW-6900 model which featured specialty Stussy highlights and ultimately proved to be Casio's fist interaction with skate and streetwear culture. Following the Stussy collaboration, the subsequent years proved to be highlighted by other key working relationships with Alife, Supra, Johnny Cupcakes, Huf, Maharishi, New Era, Medicom Toy, Undefeated, Maison Martin Margiela, and The Hundreds.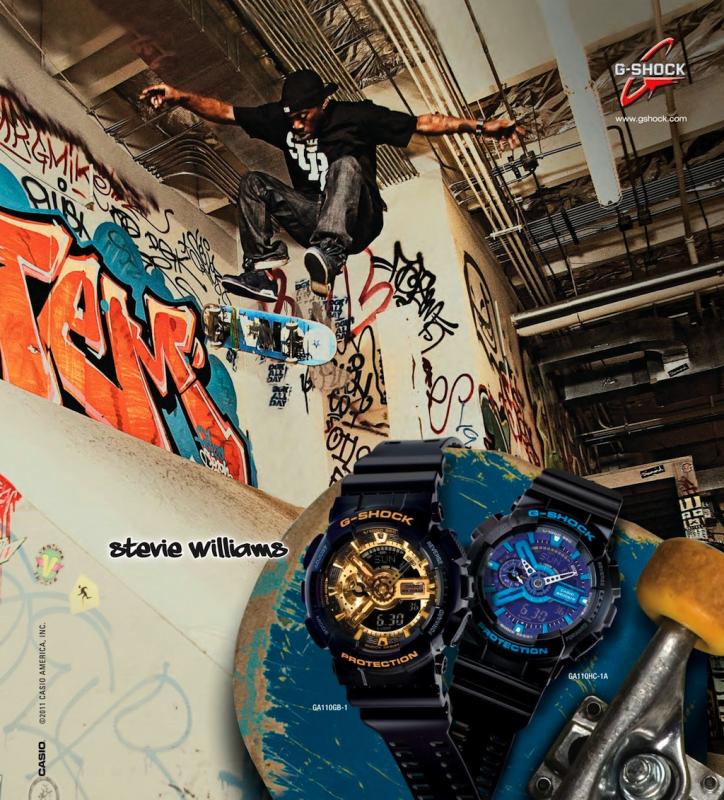 An ad featuring Stevie Williams for G-SHOCK, 2012. Photo: skately.com
"We were able to gain popularity by the dramatic shift in fashion trends of the young people, Ibe said. "At the beginning, our target market was workman who worked in tough environments. Today, product development sees us concentrating 50 percent on the technical and 50 percent on new styles and new colors. What's unchanged is the shock-proof nature of the watch."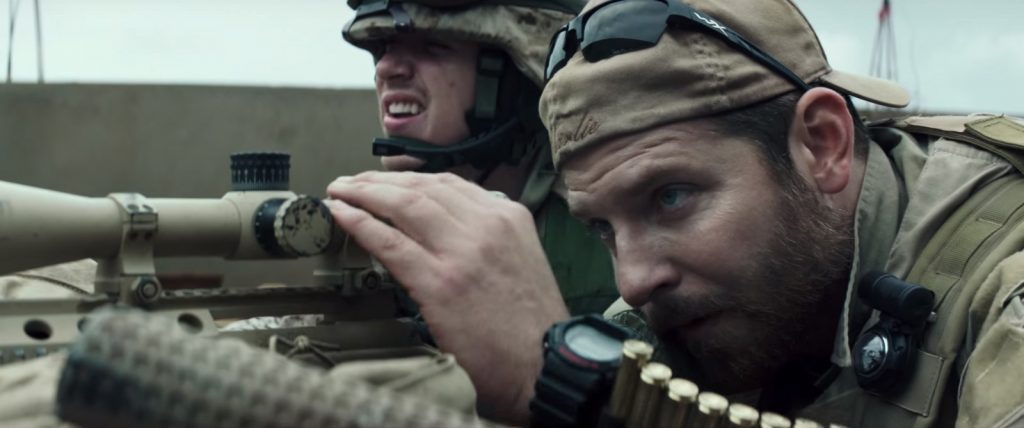 In a recent interview with VICE, Ibe reflected on the development of the G-SHOCK. "After I developed the G-SHOCK, I tried to come up with one more groundbreaking idea," Ibe said. "But for the last 35 years or so, I haven't been able to find another one. It's been really long for me, but I think for some people it's easy. They might come up with one great idea after another. For others, that would be almost impossible. Some folks might spend their lifetime looking for a groundbreaking idea and not succeed."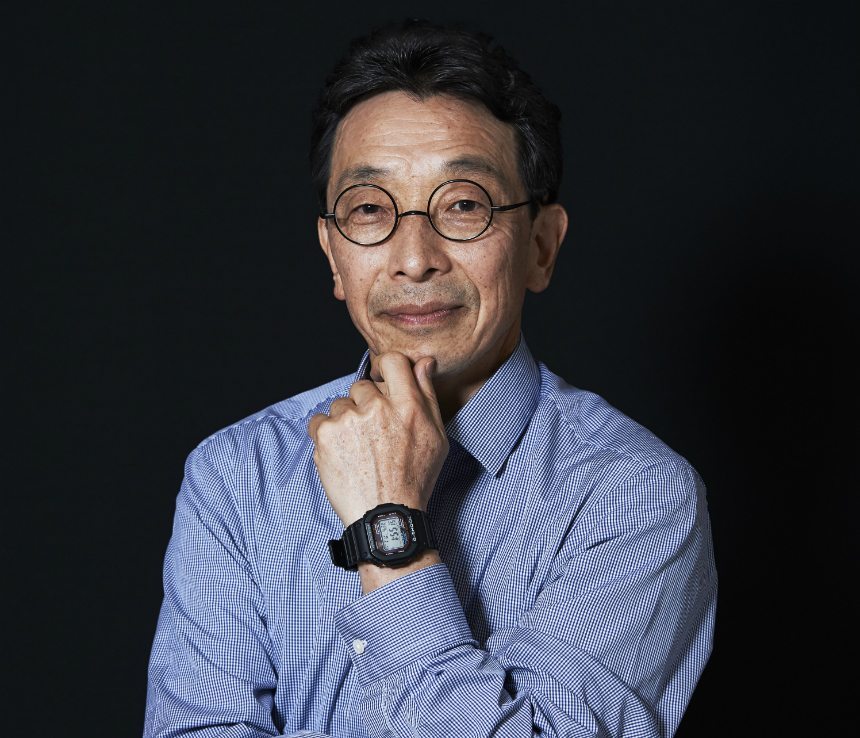 Photo: ablogtowatch.com
While the statement might come with a tinge of disappointment, it also speaks to just how difficult it is to come up with the one idea that truly resonates with a worldwide audience. In the G-SHOCK, Ibe has that as his lasting legacy.
There aren't many brands in existence that remain cool that are stocked at big box stores like Kohl's and Walmart. Yet, year after year, celebrities like Kanye West, Pharrell Williams, Lil Wayne, Dave Chappelle, and more opt for a G-SHOCK—which has sold a staggering 100 million units since 1983.
Notable watch enthusiast, John Mayer, once wrote, "I love Patek Philippe perpetual calendars only marginally more than I dig the Casio Frogman G-Shock—but for different reasons—and if you're wearing either, chances are I'll sidle over to you and start a conversation about it."
***
The Hundreds X G-SHOCK watch will be available for purchase exclusively at the G-SHOCK booth at ComplexCon from November 3 – 4, with a global release date of November 9 at thehundreds.com, select retailers, and gshock.com.